February 11 Peace Love Art Activism
BLACK HISTORY
Quakers
February 11, 1790: The Pennsylvania Society for Promoting the Abolition of Slavery, composed mostly of Quakers and Mennonites, petitioned Congress for emancipation of all slaves. Benjamin Franklin served as president of the society. (see Mar 1)
George Whitmore, Jr
February 11, 1965: Whitmore's attorney, Stanley J Reiben filed a motion asking Justice Malbin to set aside George Whitmore, Jr.'s conviction in the Elba Borrero attempted rape/robbery case on the grounds that police lacked probable cause to arrest Whitmore and that his confession, therefore, whether voluntary or involuntary, should have been suppressed at the trial. The motion stated that Detective Aidala had testified before the grand jury that he had arrested Whitmore on a Brooklyn street — a concession that police lacked probable cause.
The motion also stated that, in an unrelated case, Detective Edward Bulger (the detective who had incorrectly said the picture Whitmore had in his possession was one of  the murdered Janice Wylie) had obtained a confession from 22-year-old David Coleman to the 1960 murder of a 77-year-old woman in Brooklyn — a crime for which Coleman is on death row. (see Whitmore for expanded story)
Michael Griffith
February 11, 1988: Jason Ladone received a sentence of five to fifteen years imprisonment for the death of Michael Griffith. (BH, see October 2; Howard Beach, see July 31, 1989)
Nelson Mandela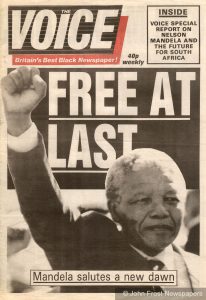 February 11, 1990: Nelson Mandela, 71, released from Victor Verster Prison, near Cape Town, South Africa, after 27 years behind bars. (2015 NY Daily News article) (see June 10)
Stop and Frisk Policy
February 11, 2013: federal District Judge Shira Shindlin granted class-action status to a lawsuit seeking to stop the New York Police Department from conducting some "stop and frisk" searches of people outside certain residential buildings in the city's Bronx borough. Shindlin found that a group of black and Latino residents in the Bronx could bring claims on behalf of a class of hundreds, and possibly thousands, of people at risk of being stopped outside the buildings. (see March 5)
Yale
February 11, 2017: yielding to a swelling tide of protests, the president of Yale announced that the university would change the name of a residential college commemorating John C. Calhoun, the 19th-century white supremacist statesman from South Carolina. The college will be renamed for Grace Murray Hopper, a trailblazing computer scientist and Navy rear admiral who received both a master's degree and a doctorate from Yale.
The decision was a stark reversal of the university's decision last spring to maintain the name despite broad opposition. Though the president, Peter Salovey, said that he was still "concerned about erasing history," he said that "these are exceptional circumstances." (see June 17)
Malcolm X
February 11, 2021: 55 years after Malcolm X's assassination on February 21, 1965, the Manhattan district attorney's office began to review whether to re-investigate the murder.
Some new evidence came from a six-part Netflix  documentary  called "Who Killed Malcolm X?" posited that two of the men convicted could not have been at the scene that day.
Instead it suggested that four members of a Nation of Islam mosque in Newark, N.J. were responsible, depicting their involvement as an open secret in their city. [NYT article] (next BH & MX, see Feb 21)
February 11 Peace Love Art Activism
Anarchism
Emma Goldman
February 11, 1916: Goldman was scheduled to lecture on the "Philosophy of Atheism" at Vorwart Hall,  \NYC. She was arrested as she was about to enter the building, and charged with violating Section 1142 of the New York State Penal Code for lecturing the previous Tuesday on a medical question (birth control) in defiance of the law. Goldman released on $500 bail. (see March 1, 1916; also see Goldman for expanded story)
February 11 Peace Love Art Activism
US Labor History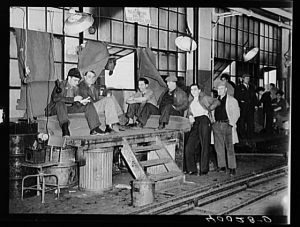 February 11, 1937: the sit-down strike against General Motors ended with the company agreeing to recognize the United Automobile Workers Union. (see Feb 27)
Denver Teacher Strike
February 11, 2019: Denver teachers went on strike. The Denver Classroom Teachers Association and Denver Public Schools made a last-ditch effort to settle their differences two days earlier, but the talks went nowhere. 92,000 students were affected. (see Feb 14)
February 11 Peace Love Art Activism
February 11 Music et al
The Beatles
February 11, 1963: at 10:00 am the Beatles and George Martin started recording what was essentially their 1963 live act and in three three-hour sessions. That day they produced an authentic representation of the band's Cavern Club-era sound as there were very few overdubs and edits. (next Beatles, see Feb 22;  see Please Please Me for more about album)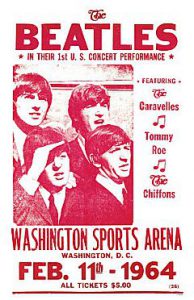 February 11, 1964: because of bad weather, The Beatles took a train to Washington, DC, rather than the scheduled plane to play their first US concert, A crowd of 8,092 fans, most of whom were girls, attended. The Beatles took to the stage at 8.31 pm, and performed 12 songs: Roll Over Beethoven, From Me To You, I Saw Her Standing There, This Boy, All My Loving, I Wanna Be Your Man, Please Please Me, Till There Was You, She Loves You, I Want To Hold Your Hand, Twist And Shout and Long Tall Sally. 
Also on the bill at the Coliseum were The Chiffons and Tommy Roe. However, The Chiffons were unable to make it due to the previous day's snowstorm. Instead, the opening acts were Jay & The Americans, The Righteous Brothers and Tommy Roe. (see The Beatles Meet Washington) (next Beatles, see Feb 12)
Monkees
February 11 – June 16, 1967: the Monkees More of the Monkees is the Billboard #1 album. Their first two albums occupied the #1 album position for 31 consecutive weeks.
Beat Generation
February 11, 2015: Montreal-based publisher Les Éditions du Boréal announced that it would release previously unseen texts by Jack Kerouac after striking a deal with his estate. The collection included a novella that is different from — but also titled — "On the Road" ("Sur le chemin"). Also published would be the beginning chapters of an unfinished novel entitled "La Nuit est ma femme."
"None of them have been published until now, except for a few passages that appeared in his English novels," the  publisher Les Éditions du Boréal said in a statement.
The texts were written in Kerouac's native French and will also be translated into English for the non-profit Library of America by University of Pennsylvania. (Star article) (next BG, see February 22, 2021)
February 11 Peace Love Art Activism
Vietnam
POW release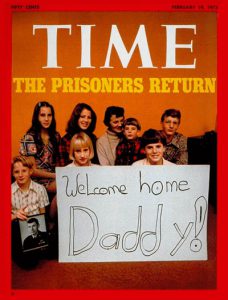 February 11, 1973: North Vietnam released the first American prisoners of war. (see Feb 13)
February 11 Peace Love Art Activism
Environmental  Issues
February 11, 1974:  Washington Energy Conference opens. Attended by 13 industrial and oil producing nations. Called by U.S. to resolve the international energy problems through economic cooperation among nations. Henry Kissinger unveiled Nixon Administration's seven-point "Project Independence" plan to make the U.S. energy independent. (see December 15, 1976)
February 11 Peace Love Art Activism
Native Americans
"Longest Walk"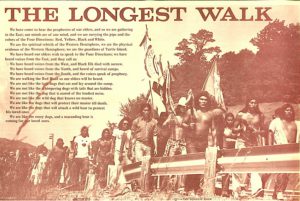 February 11 to July 1978: Indian participants embarked on the "Longest Walk" from Alcatraz Island to Washington, D.C. to symbolize the forced removal of Indians from their homelands and to draw attention to continuing problems. They present a manifesto to the Carter administration. (see Mar 6)
"Walk for Justice"
February 11 – July 15, 1994: AIM leaders undertook a nationwide "Walk for Justice" beginning on Alcatraz Island to bring attention to the continued imprisonment of Leonard Peltier. (Peltier, see October 8, 2012; Native Americans, see May 24, 1996)
Longest Walk of 2008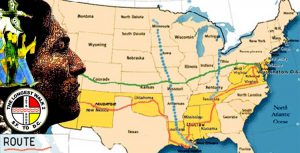 February 11, 2008: more than 800 participants from many Indian nations repeated the Longest Walk of 1978 to draw attention to protection of sacred sites, youth empowerment, and Native American rights. The walk begins with a ceremony on Alcatraz Island in the San Francisco Bay, and the promise to "sit around the campfires along the way, tell our stories, hear the tales that people on our route have to tell us." (see July 11)
February 11 Peace Love Art Activism
Iran hostage crisis
February 11, 1979: followers of Ayatollah Ruhollah Khomeini overthrew Mohammad Rezā Shāh Pahlavi and seized power in Iran, nine days after the religious leader returned to his home country following 15 years of exile. (see Iran hostages for expanded story)
February 11 Peace Love Art Activism
Feminism
February 11, 1989: Barbara Clementine Harris was consecrated as the first female bishop of the Episcopal Church in the USA. (see  March 9, 1990)
February 11 Peace Love Art Activism
CLINTON IMPEACHMENT
February 11, 1998: First lady Hillary Rodham Clinton predicted the allegations against her husband "will slowly dissipate over time under the weight of its own insubstantiality." A retired Secret Service uniformed guard, Lewis C. Fox, claimed in an interview he saw Monica Lewinsky come to the West Wing on weekends with documents she said were for the president. (see CI for expanded chronology)
February 11 Peace Love Art Activism
TERRORISM
February 11, 2008: the Defense Department charged Khalid Sheikh Mohammed with murder and war crimes in connection with the Sept. 11 attacks. (related NYT article) (see July 27)
February 11 Peace Love Art Activism
LGBTQ, Feminism, Sexual Abuse of Children, & Women's Health
February 11, 2013: citing health reasons, the Roman Catholic Church's Pope Benedict XVI announced that he would resign the papacy at the end February. According to the NY Times, "When he took office, Pope Benedict's well-known stands included the assertion that Catholicism is "true" and other religions are "deficient;" that the modern, secular world, especially in Europe, is spiritually weak; and that Catholicism is in competition with Islam. He had also strongly opposed homosexuality, the ordination of women priests and stem cell research." (LGBTQ, see Feb 19; Feminism, see Feb 22; Women's Health, see April 29; Sexual Abuse, see Dec 5)
LGBTQ/Fair Housing
February 11, 2021:  consistent with President Biden's Executive Order that implemented the U.S. Supreme Court's June 15, 2020 ruling in Bostock v. Clayton County,  the US Department of Housing and Urban Development (HUD) put forth a memorandum to enforce the Fair Housing Act to prevent and combat sex discrimination including on the basis of sexual orientation and gender identity. [HRC.org article) (next FH, see June 1; next LGBTQ, see Feb 24)
February 11 Peace Love Art Activism
DEATH PENALTY
February 11, 2014: the governor of Washington, Jay Inslee, announced that no executions would take place in the state while he remained in office, despite the fact that the death penalty was legal there.
Citing "problems that exist in our capital punishment system," Mr. Inslee, a Democrat, said he would issue a reprieve in any death penalty case that crossed his desk, though he would not let any death row prisoners go free. A future governor could reverse this action, he noted, and order an execution to be carried out. (see Mar 11)
February 11 Peace Love Art Activism
Immigration History
Undocumented arrested
February 11, 2017: U.S. immigration authorities announced that they had arrested hundreds of undocumented immigrants in at least a half-dozen states between Monday February 6 and Friday February 10 in a series of raids that marked the first large-scale enforcement of President Trump's January 25 order to crack down on the estimated 11 million immigrants living here illegally.
Officials said the raids targeted known criminals, but they also netted some immigrants without criminal records, an apparent departure from similar enforcement waves during the Obama administration. Trump's order substantially broadened the scope of who the Department of Homeland Security can target to include those with minor offenses or no convictions at all. (see Feb 13)
Trump's Wall
February 11, 2019: Gov. Gavin Newsom of California ordered the withdrawal of nearly 400 of his state's National Guard troops from deployment along the border with Mexico and assigned them to other duties.
The step to rescind state authorization for the border deployment was a sharp rebuke of President Trump's continued warnings that undocumented migrants present a national security risk to the United States.
Under a "general order,"110 California National Guard troops would be redirected to support the state's central fire agency, Cal Fire, and another 100 will work on statewide "intelligence operations" aimed at international criminal drug gangs. (see TW for expanded chronology)
Immigrant families sue
February 11, 2019:  lawyers for eight immigrant families separated under Trump administration policy filed claims against the US government, demanding $6m each in damages for what they describe as "inexplicable cruelty" and lasting trauma.
In claims filed to the Department of Health and Human Services and the Department of Homeland Security, the parents accuse immigration officers of taking their children away without giving them information, sometimes without even a chance to say goodbye.
The claims alleged the children remained traumatized, including a seven-year-old girl who would not sleep without her mother and a six-year-old boy who is reluctant to eat. (IH, see Feb 15)
February 11 Peace Love Art Activism
Nuclear/Chemical News
February 11, 2017:
North Korea launched a ballistic missile toward the sea off its eastern coast in what South Korea called the North's first attempt to test President Trump's policy on the isolated country. The missile was believed to be a modified version of the North's intermediate-range ballistic missile Musudan.
President Trump and his top aides coordinated their response to North Korea's missile test  in full view of diners at Mr. Trump's Mar-a-Lago resort in Floridal, af presidential activity that was almost always conducted in highly secure settings. The scene — of aides huddled over their computers and the president on his cellphone at his club's terrace — was captured by a club member dining not far away and published in pictures on his Facebook account. The images also show Mr. Trump conferring with his guest at the resort, Shinzo Abe, the Japanese prime minister. (see Feb 14)


February 11 Peace Love Art Activism