December 25 Peace Love Art Activism

336 AD, the first Christmas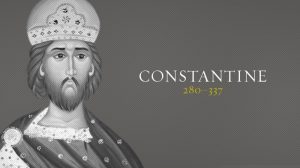 Jesus was apparently 336 years old before Christians celebrated his birthday on December 25. The first recorded date of Christmas being celebrated on that date was in 336 CE  during the reign of the Roman Emperor Constantine (first Christian Roman Emperor). A few years later, Pope Julius I officially declared that the birth of Jesus would be celebrated on the December 25.
Christmas was not a holiday in early America. From 1659 to 1681, the celebration of Christmas was outlawed in Boston. Anyone exhibiting the Christmas spirit was fined five shillings.
December 25 Peace Love Art Activism
Black History
Ellen Craft and William
December 25, 1848: Ellen Craft and William were slaves from Macon, Georgia who escaped to the north in December 1848 by traveling openly by train and steamboat, arriving in Philadelphia on Christmas Day. She posed as a white male planter and he as her personal servant. Their daring escape was widely publicized, making them among the most famous of fugitive slaves. Abolitionists featured them in public lectures to gain support in the struggle to end the institution. As the light-skinned mixed-race daughter of a mulatto slave and her white master, Ellen Craft used her appearance to pass as a white man, dressed in appropriate clothing. (for complete story, see Christmas Slave Escape)
Harriet Tubman
In 1849 Harriet Tubman escaped from slavery in Maryland. She became one of the best-known "conductors" on the Underground Railroad, returning to the South 19 times and helping more than 300 slaves escape to freedom. (SR, see Oct 1, 1851; BH, see Dec 4; Tubman, see April 14, 1853)
KKK blows up house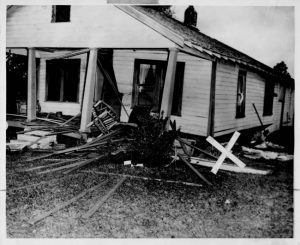 December 25, 1951: Ku Klux Klan blew up the house  of and killed Harry T. Moore and his wife, Harriette Vyda Simms Moore.  The Moores were the first NAACP members to be murdered for their civil rights activism; Moore has been called the first martyr of the 1950s-era civil rights movement.  The Nation later wrote in an editorial: "Harry T. Moore was a fine example of the Southern Negro leader—patient, courageous, determined to wipe out segregation and discrimination. The pictures of such leaders do not appear in the national magazines, and they seldom receive awards for 'promoting interracial harmony'…For them 'civil rights' are not something to talk about at liberal luncheons in New York and Chicago but a milepost on the long, uphill road to freedom. Unfortunately, principles do not defend themselves; they must be defended by people. Southern Negroes of the type of Harry and Harriette Moore undertake the defense with little hope of reward or recognition and always at a price that too many Americans would regard as exorbitant. Their ultimate victory will be a day of triumph for all Americans." (see August 1, 1952)
Bethel Baptist Church bombed
December 25, 1956: Ku Klux Klan members bombed the Birmingham, Alabama, home of civil rights activist Reverend Fred Shuttlesworth. Shuttlesworth was home at the time of the bombing with his family and two members of Bethel Baptist Church, where he served as pastor.
The 16-stick dynamite blast destroyed the home and caused damage to Shuttlesworth's church next door but no one inside the home suffered serious injury.
White supremacists would attempt to murder Shuttlesworth four more times in the next seven years. [EJI article] (next BH, see Dec 26; Bethel, see June 29, 1958)
December 25 Peace Love Art Activism
Anarchism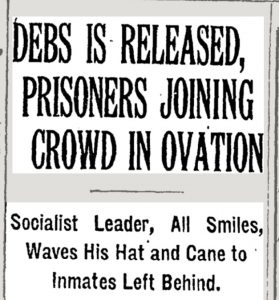 December 25, 1921: President Warren G. Harding pardoned Socialist Party leader Eugene V. Debs who had been sentenced to ten years in prison for his antiwar speech in Canton, Ohio, on June 16, 1918.
President Woodrow Wilson had rejected pleas to pardon Debs after the war ended. Debs was ill while in prison. President Harding pardoned him on the condition that he would get to meet Debs at the White House. Harding greeted him by saying "I have head so damned much about you." Debs was greeted by many well-wishers at Union Station where he took the train home to Terre Haute, Indiana. (see July – December 1922)
December 25 Peace Love Art Activism
December 25 Music et al

Alan Freed
December 25, 1958: Alan Freed's Christmas Rock & Roll Spectacular opened. (see January 23, 1959)
Dave Clark 5
December 25 – December 31, 1965, "Over and Over" by the Dave Clark 5 #1 on the Billboard Hot 100. Ahh–oooo
December 25 Peace Love Art Activism
Vietnam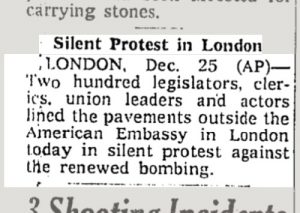 December 25, 1972: the Christmas bombing of North Vietnam caused widespread criticism of the U.S. and Nixon. (see Dec 30)
December 25 Peace Love Art Activism
Dissolution of the USSR
December 25, 1989: near Târgoviște, Romania the Ceaușescus were court-martialed on orders of the National Salvation Front, Romania's provisional government. They faced charges including illegal gathering of wealth and genocide. Ceaușescu repeatedly denied the court's authority to try him, and asserted he was still legally president of Romania.
At the end of the quick trial the Ceaușescus were found guilty and sentenced to death. A soldier standing guard in the proceedings was ordered to take the Ceaușescus out back one by one and shoot them, but the Ceaușescus demanded to die together. The soldiers agreed to this and began to tie their hands behind their back which the Ceaușescus protested against but were powerless to prevent.
The Ceaușescus were executed by three of soldiers though reportedly hundreds of others also volunteered. The firing squad began shooting as soon as the two were in position against a wall. Before his sentence was carried out, Nicolae Ceaușescu sang "The Internationale" while being led up against the wall. (see January 11, 1990)
December 25 Peace Love Art Activism
TERRORISM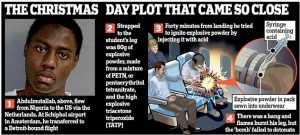 December 25, 2009: passengers aboard a Northwest Airlines flight foiled an attempt to blow up the plane as it was landing in Detroit by seizing suspect Umar Farouk Abdulmutallab, a Nigerian accused of trying to set off explosives in his underwear. (NYT article) (Terrorism & Abdulmutallab: see Dec 26)
Immigration History
December 25, 2018: President Trump said, ""I can't tell you when the government is going to reopen," Trump told reporters in the Oval Office. "I can tell you it's not going to be open until we have a wall, a fence, whatever they'd like to call it. I'll call it whatever they want. But it's all the same thing. It's a barrier from people pouring into our country." (IH see Dec 27; TW, see Dec 31)
December 25
Peace on Earth.
Good will to all.
December 25 Peace Love Activism