December 15 Music et al
The First Family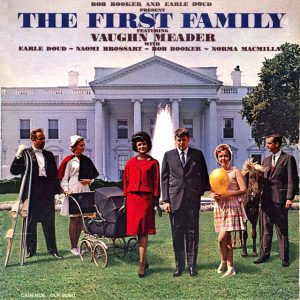 December 15, 1962 – March 8, 1963: Vaughn Meader's comedy album, The First Family Billboard #1 album.
On it, Meader and others parodied the President John F Kennedy and the rest of the extended first family. Released in November 1962 (two years after JFK's election), the album sold at a rate more than one million copies per week for the first 6 1/2  weeks. By January it had sold more than 7 million copies. The two main writers were Bob Booker and Earle Doud. In fact, the actual name of the album is: "Bob Booker & Earle Doud Present The First Family."  Before release, there were some who felt that such comedy was degrading to the Presidency, but its sales hushed those detractors.
The album won the Grammy Award for Album of the Year in 1963. In March 1963 a second album, The First Family Volume Two, had a combination of spoken-word comedy and songs. It peaked at #4 on the album chart in June 1963.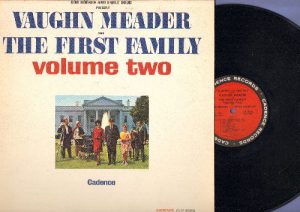 Immediately upon Kennedy's assassination, Cadence Records pulled both albums from stores and destroyed all unsold copies. Not until 1999 did the albums appear again.
December 15 Music et al
Beatles '65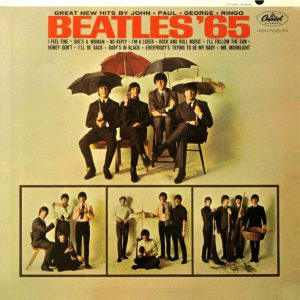 On December 15, 1964,  Capital released The Beatles Beatles '65. In two weeks it became the 9th biggest selling album of 1964.
It was the fifth album Capital issued, the Beatles' seventh American album overall. Like many early Beatle albums, Beatles '65  was not a UK release, but a collection of songs many of which had already appeared on UK releases.
For Beatles '65 the songs were mainly from the UK Beatles For Sale, but also the UK Hard Day's Night. The tracks were:
Side 1

No Reply*

I'm a Loser*

Baby's In Black*

Rock and Roll Music

I'll Follow the Sun*

Mr Moonlight

Side 2

Honey Don't

I'll Be Back*

She's a Woman*

I Feel Fine*

Everybody's Trying to Be My Baby

*written by Lennon/McCartney
Beatle success always influenced the music industry even including album titles. During 1965 the following artists released their own '65 album:
Frank Sinatra, Sinatra '65
Duke Ellington, Ellington '65
Sergio Mendes, Brasil '65
December 15 Music et al
Plastic Ono Band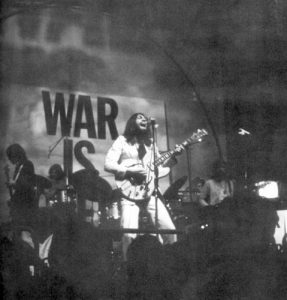 On December 15, 1969 John Lennon gave what turned out to be his last live performance in England. His Plastic Ono Band played at the UNICEF "Peace for Christmas" charity concert at the Lyceum Ballroom in London.
Surprised by the announcement that UNICEF had scheduled him, but wanted to take advantage of the publicity to promote his War Is Over campaign, Lennon quickly invited those who had participated in September's Toronto Rock and Roll Revival: Eric Clapton, Klaus Voormann, and Alan White, and Billy Preston.
On December 15, however, Clapton arrived with almost all of Delaney & Bonnie's touring band, which at the time included George Harrison. Because of Harrison's participation, it was the first time since the Beatles last show on August 29, 1966 that Lennon and Harrison performed in a concert together.
The full line-up, playing before a huge "War is over" backdrop, was: Lennon, Harrison, Clapton and Delaney Bramlett, Ono, Bonnie Bramlett,  Alan White, im Gordon, Billy Preston,  Klaus Voormann, Bobby Keys, and Jim Price. Lennon later referred to it as the Plastic Ono Supergroup.
Don't Worry Kyoko
The band played two songs. For the first Lennon said, "We'd like to do a number. This song's about pain" and then played "Cold Turkey." The second song was "Don't Worry Kyoko" which lasted nearly 40 minutes. Geoff  Emerick recorded the songs and he had to switch tape reels twice. Drummers Alan White and Jimmy Gordon eventually sped up their drumming to the point that the band simply had to run out of steam. Many in the audience had already walked out. Those who remained were, according to Lennon, "in a trance."
The songs remained unreleased until the 2005 reissue of Lennon's Some Time in New York City. "Don't Worry Kyoko" was severely trimmed.  (Songfact article)
The concert also featured the Young Rascals, Desmond Dekker and the Aces, and Blue Mink and Black Velvet. Emperor Rosko was the disc jockey between performances.
The next day, John and Yoko flew to Toronto to begin the next stage of their peace campaign.
December 15 Music et al