January 10 Peace Love Art Activism
US Labor History
Pemberton Mill collapse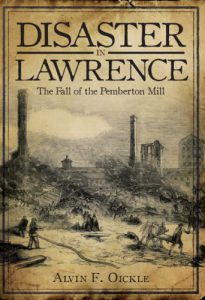 January 10, 1860: the Pemberton Mill – a five-story brick textile factory in Lawrence, Massachusetts – collapsed from excessive load, killing dozens of workers instantly and trapping many more in the rubble. An estimated 145 workers died and 166 were injured in the collapse and subsequent fire that broke out, the majority of whom were young Irish women. (see January 28, 1861)
Joe Hill framed
January 10, 1914: someone shot  and killed Utah grocer John G. Morrison, 47, and his son Arling, 17,  in their Salt Lake City store. Despite evidence suggesting another man was responsible, police arrested labor activist Joe Hill, who will be executed for the murders.  (see Joe Hill for expanded chronology; LH, see Feb 13)
January 10 Peace Love Art Activism
Feminism 
Voting Rights/Susan B. Anthony
January 10, 1878: Senator A. A. Sargent of California introduced a women's suffrage amendment drafted by Susan B. Anthony. The text of the amendment will remain unchanged through its ratification forty-four years later as the Nineteenth Amendment in 1920. (see February 15, 1879)
Alice Paul
After President Wilson delayed for two weeks meeting a delegation of suffragists and then cut the meeting short and walked out on them.  The next day,  January 10, 1917, suffrage leader Alice Paul began leading picketers (whom they called "Silent Sentinels") in front of the White House gates demanding a constitutional amendment granting women the right to vote. Carrie Chapman Catt, President of the National American Women's Suffrage Assocation (NAWSA), the larger and moderate suffrage group, stated that picketing the White House was "an error" on the part of Alice Paul and the National Woman's Party. (next Feminism & Voting Rights, see Mar 4)
House approves women's suffrage
January 10, 1918,:  exactly a year later, the US House of Representatives voted for second time on federal woman suffrage amendment, passing measure by vote of 274 yeas to 136 nays. The Senate will not vote to pass the amendment until June 4, 1919. (see Feb 3)
Malala Yousafzai
January 10, 2013: France awarded Malala Yousufzai the Simone de Beauvoir Prize for Womens' Freedom.(Feminism, see Jan 23; Yousufazi, see Feb 2)
January 10 Peace Love Art Activism
January 10 Music et al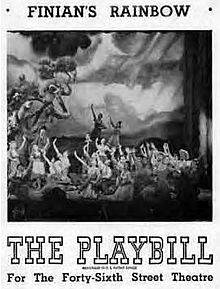 January 10, 1947: Finian's Rainbow opened on Broadway. Among its songs was "When the Idle Poor Become the Idle Rich" written by Yip Harburg. (see Finian's for more)
When the idle poor become the idle rich, 
You'll never know just who is who or who is which,
Won't it be rich when everyone's poor relative becomes a Rockefellertive,
And palms no longer itch, what a switch,
When we all have ermine and plastic teeth,
How will we determine who's who underneath?
And when all your neighbors are upper class,
You won't know your Joneses from your Astors,
Let's toast the day,
The day we drink that drinkie up,
But with the little pinkie up,
The day on which, the idle poor become the idle rich.
"Talking Atom (Old Man Atom)"
In 1948: Pete Seeger recorded the 1945 Vern Partlow song "Talking Atom (Old Man Atom)" which expressed a fear of atomic energy and its possible consequences. (see News for additional mid-century examples)
Introducing the Beatles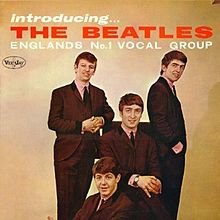 January 10, 1964: although it had originally been scheduled for a July 22, 1963 release, the US label Vee-Jay finally released the Introducing The Beatles LP on this day. Legal and business issues plagued the album. By late fall, it sold more than 1.3 million copies. (see Jan 18)
George Harrison quits Beatles
January 10, 1969,: just as Ringo Starr had temporarily quit The Beatles in August 1968, George Harrison walked out, unable to tolerate any longer the tensions within the group. (see Beatles Officially Legally End) (next Beatles, see Jan 12)
January 10 Peace Love Art Activism
BLACK HISTORY
SCLC
January 10, 1957: Black leaders formed the  Southern Christian Leadership Conference. following the Montgomery Bus Boycott victory and consultations with Bayard Rustin, Ella Baker, and others, Dr. Marthin Luther King, Jr. invited about 60 black ministers and leaders to Ebenezer Church in Atlanta. Their goal was to form an organization to coordinate and support nonviolent direct action as a method of desegregating bus systems across the South. In addition to Rustin and Baker, Rev. Fred Shuttlesworth of Birmingham, Rev Joseph Lowery of Mobile, Rev Ralph Abernathy of Montgomery, Rev C.K. Steele of Tallahassee, all played key roles in this meeting.(BH, see Jan 13; SCLC, see Feb 14)
Vernon Dahmer home fire-bombed
January 10, 1966: Klansmen firebombed Vernon Dahmer's home and attacked his store in Kelly Settlement, Hattiesburg, Mississippi. Dahmer was the President of the NAACP chapter in Hattiesburg, and had been helping black voters by letting them pay their poll tax at his store.
Dahmer helped get his family out of the structure, but was severely burned from the waist up. The fire destroyed their home, grocery store, and car. Dahmer died in the hospital due to his lungs being severely burned and smoke inhalation.
Four of Dahmer's sons were serving overseas and had protective escort from the airport to attend funeral services.(BH, see Jan 11; Dahmer, see March 8, 1968)
Edward W Brooke elected
January 10, 1967:  Republican Edward W. Brooke of Massachusetts, the first black elected to the U.S. Senate by popular vote, took his seat. (see Jan 27)
Terrorism
January 10, 2017: a federal jury sentenced Dylann S. Roof to death. Dylann was the unrepentant white supremacist who killed nine African-American churchgoers in a racial rampage.  (NYT article) (BH, see Jan 11; T, see Feb 22)
January 10 Peace Love Art Activism
LGBTQ
Diane Feinstein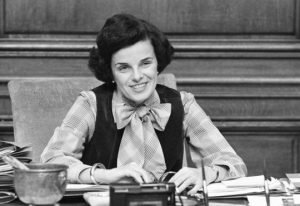 January 10, 1978: Diane Feinstein was elected president of the 11-member SF Board of Supervisors. Harvey Milk and Dan White took their seats on the board for the first time. Milk began his term by sponsoring a civil rights bill that outlawed sexual orientation discrimination. Only one supervisor votes against it. Mayor Moscone signed it into law. (see Nov 7)
Obama admin approves Utah same-sex marriages
January 10, 2014:  the Obama administration said it would recognize same-sex marriages in Utah – even though the state will not do so – and would provide federal benefits to about 1,400 gay couples who wed there before the Supreme Court halted the nuptials this week.
President Barack Obama's Justice Department took the step two days after Gary Herbert, the Republican governor of the conservative, predominantly Mormon state, said Utah would not recognize, at least for now, the marriages of gay couples who rushed to wed after a federal judge's December 20 ruling briefly allowed such marriages. "These marriages will be recognized as lawful and considered eligible for all relevant federal benefits on the same terms as other same-sex marriages," U.S. Attorney General Eric Holder said in a statement.
"These families should not be asked to endure uncertainty regarding their status as the litigation unfolds," Holder said.
The National Organization for Marriage, which opposed same-sex marriages, condemned Holder's move as an overreach of federal authority. (see Jan 14)
Ashton Whitake
January 10, 2018: the the Kenosha Unified School District in Wisconsin has agreed to pay $800,000 to settle a lawsuit filed by Ashton Whitake, a transgender student who said he was forbidden from using boys bathrooms at his high school and felt degraded by administrators.
The school board's decision meant that the matter will not be taken up by the United States Supreme Court.
Whitaker filed the lawsuit was filed in 2016, as a rising senior. Court documents showed that Mr. Whitaker, 18, began to openly identify as a boy when he was a freshman at the high school. After teachers and administrators there told him he could not use the boys restrooms, he sued the school district. (see Jan 10)
Costa Rica
January 10, 2018: a ruling supporting same-sex marriage by the Inter-American Court of Human Rights in a marriage equality case out of Costa Rica was binding not just for Costa Rica but ruling also set a precedent for 19 other countries who had agreed to abide by the court's decisions.
Argentina, Brazil, Colombia and Uruguay already recognized same-sex marriages as did several states in Mexico. Chile and Ecuador currently recognize same-sex civil unions but not marriages.
The ruling was legally binding in Argentina, Barbados, Bolivia, Brazil, Chile, Colombia, Costa Rica, the Dominican Republic, Ecuador, El Salvador, Guatemala, Haiti, Honduras, Mexico, Nicaragua, Panama, Paraguay, Peru, Suriname and Uruguay.
In the Western Hemisphere, homosexuality was criminalized in Barbados, Jamaica, and Trinidad and Tobago. Dominica, Grenada and Jamaica do not submit to the rulings of the court. (see Jan 13)
January 10 Peace Love Art Activism
Nuclear/Chemical news
January 10, 2003: North Korea withdrew from a global treaty had barred it from making nuclear weapons. (see Dec 19)
January 10 Peace Love Art Activism
Iraq War II
January 10, 2007:  President George W. Bush announced he would send a "surge" of 21,500 U.S. forces to Iraq. (see Feb 2)
January 10 Peace Love Art Activism
Environmental Issues
West Virginia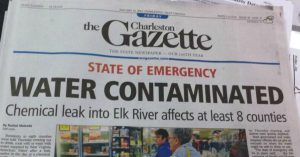 January 10, 2014: federal prosecutors opened an investigation into a chemical spill in West Virginia that had contaminated drinking water used by more than 200,000 residents. State officials said it remained unclear when tap water would be safe to use.
According to the state's Department of Environmental Protection, the spill that has affected Charleston and the nine surrounding counties was discovered around noon January 9 at a storage facility owned by on the Elk River, where a 48,000-gallon tank began leaking 4-Methylcyclohexane Methanol, or MCHM, a compound used to wash coal of impurities. [NYT report] (see Jan 11)
Ocean warming
January 10, 2019: a new analysis, published in the journal Science, found that the oceans were heating up 40 percent faster on average than a United Nations panel estimated five years ago. The researchers also concluded that ocean temperatures had broken records for several straight years.
"2018 is going to be the warmest year on record for the Earth's oceans," said Zeke Hausfather, an energy systems analyst at the independent climate research group Berkeley Earth and an author of the study. "As 2017 was the warmest year, and 2016 was the warmest year." [NYT article] (see Feb 6)
January 10 Peace Love Art Activism
Immigration History
Immigration raids
January 10, 2018: federal immigration agents descended on dozens of 7-Eleven convenience stores across the country before daybreak arresting undocumented workers and demanding paperwork from managers, in what the Trump administration described as its largest enforcement operation against employers so far.
The sweeps of 98 stores in 17 states, from California to Florida, resulted in 21 arrests, according to United States Immigration and Customs Enforcement, which signaled intensified efforts against businesses that hire unauthorized workers.
"Today's actions send a strong message to U.S. businesses that hire and employ an illegal work force: ICE will enforce the law, and if you are found to be breaking the law, you will be held accountable," Thomas D. Homan, the acting director of the agency, said in a statement. [US News report] (see Jan 11)
Trump's Wall
January 10, 2019: as the government shutdown neared the end of its third week, the President Trump left Washington with no additional negotiations scheduled with congressional leaders.
In brief remarks to reporters Trump left open the possibility of declaring a state of emergency, which could allow him to bypass Congress to fund the wall. [NYT article] (next IH, see Jan 15; next TW,  see Jan 19)
January 10 Peace Love Art Activism