January 27 Peace Love Art Activism
BLACK HISTORY
Adam Crosswhite
January 27, 1847: more than 100 citizens of Marshall, Michigan, helped Adam Crosswhite and his family, who had escaped slavery, to flee to Canada rather than be captured by bounty hunters. Crosswhite and his family had fled a Kentucky plantation after he learned his four children were going to be sold. When a deputy sheriff arrived, he wound up arresting the bounty hunters, rather than the Crosswhite family, which made it safely to Canada. Later, the family returned to Marshall. Crosswhite's escape played a part in the passage of the Fugitive Slave Act of 1850. (see Feb 16)
January 27, 1956: ML King received a threatening phone call. (next BH, see Feb 2)
Medgar W. Evers assassination
January 27, 1964: The State prosecution accepted a full slate of white men to sit as a jury in the case of Byron De La Beckwith, accused of the rifle slaying of Medgar W. Evers on June 12, 1963.  (BH, see Jan 31; ME, see Feb 5)
January 27, 1965: The New York Times quotes an unnamed assistant to NY County DA Frank Hogan as saying, "I am positive that the police prepared the confession for George Whitmore, Jr., just as his lawyer charged a few days ago. I am also sure that the police were the ones who gave Whitmore all the details of the killings that he recited to our office."
Robert Lacey, Black and shot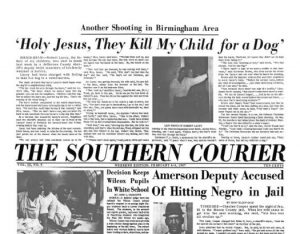 January 27, 1967:Jefferson County, Alabama sheriff deputies went to the home of Robert Lacey, a black father of six, because Mr. Lacey had failed to take the family dog to the veterinarian after it bit a neighborhood child. The health department had instructed the family to take the dog in for a rabies test, but the family did not own a car and had no means of transporting the animal.
The deputies knocked at the door as Mr. Lacey was getting out of the shower, and when he answered the door they told him to get dressed and go with them. Mr. Lacey asked why and told the deputies to just take the dog. The deputies said they weren't interested in the dog and told him to get dressed. As Mr. Lacey was doing so, a gun he kept in his dresser fell to the floor. In response, the deputies pushed Mr. Lacey against the wall and attempted to handcuff him. Mr. Lacey offered to walk to the car with them, but one of the deputies said, "Boy, you gonna leave here with handcuffs on, dead or alive."
Mr. Lacey was a large man; as the deputies attempted to wrestle him down, one of them fell to the ground and the other then shot Mr. Lacey in the leg. The deputies later claimed Mr. Lacey lunged at them before the second shot, but Mr. Lacey's family insisted Mr. Lacey fell to the ground before the deputy shot him again, "between the eyes." Neighbors who ran to the house after the shooting were instructed by police to move the body before the coroner arrived.
Lacey's death marked the second black man killed by Jefferson County law enforcement within nine days, and would be one of ten total law enforcement killings of black men in the Birmingham, Alabama, area within a 14 month period spanning from 1966 to 1967. (see Feb 6)
Eldon Avenue Axle Plant Revolutionary Union Movement
January 27, 1969: a group of Detroit African-American auto workers known as the Eldon Avenue Axle Plant Revolutionary Union Movement led a wildcat strike against racism and bad working conditions. They were critical of both automakers and the UAW, condemning the seniority system and grievance procedures as racist.  (LH, see Dec 31; BH, see Mar 10)
Irene Morgan
On July 16, 1944 Irene Morgan, 27, recovering from a miscarriage, and traveling by bus from Virginia to Baltimore for a doctor's appointment, refused to relinquish her seat [as well as another black woman] to a white couple.
The driver, angered by Morgan's refusal, drove the bus to the Middlesex County town of Saluda and stopped outside the jail. A sheriff's deputy came aboard and told Morgan that he had a warrant for her arrest. She continued to refuse and had to be physically subdued. She was jailed for resisting arrest and violating Virginia's segregation law.
On June 3, 1946, in Morgan v. Commonwealth of Virginia, the U.S Supreme Court (6 – 1 decision) found in favor of Irene Morgan, calling segregated seating on interstate buses an "impermissible burden on interstate commerce."
On January 27, 2001: President Bill Clinton presented the Presidential Citizens Medal to Irene Morgan. (2007 NYT obit) (see Feb 21)
Emmett Till
January 27, 2017: in a Vanity Fair magazine article, Duke University professor Timothy B. Tyson reported that Carolyn Bryant Donham (the woman who accused Till of inappropriate behavior) told him that the story she and others told about Emmett Till were false. Tyson wrote that Donham said of her long-ago allegations—that Emmett grabbed her and was menacing and sexually crude toward her–"that part is not true." (next BH, see Feb 11; see ET for expanded chronology)
January 27 Peace Love Art Activism
Technological Milestones
Incandescent lamp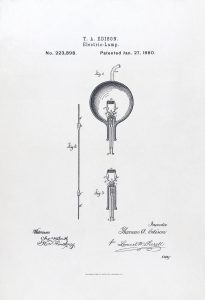 January 27, 1880:  Thomas Edison received a patent for his electric incandescent lamp.  (see March 23, 1883)
Wireway
January 27, 1948: Wire Recording Corporation of America announced the first magnetic tape recorder. The 'Wireway' machine with a built-in oscillator sold for $149.50. (see June 21)
iPad
January 27, 2010:  Apple CEO Steve Jobs unveiled the iPad tablet computer during a presentation in San Francisco. (Video via YouTube)
January 27 Peace Love Art Activism
Nuclear and Chemical Weapons/News
Frenchman Flat
January 27, 1951:  the era of US atomic testing in the Nevada desert began as an Air Force plane dropped a one-kiloton bomb on Frenchman Flat. (video via YouTube) (see Mar 6)
Space treaty
January 27, 1967:  President Johnson and counterparts in London and Moscow signed the "Treaty on Principles Governing the Activities of States in the Exploration and Use of Outer Space." Signatories agree, among other points, that outer space will remain demilitarized (including nuclear weapons), no territorial claims on earth orbit or any planetary bodies will be made and that astronauts or cosmonauts who find themselves landing off course will be returned to their home countries. (see Feb 14)
January 27 Peace Love Art Activism
January 27 Music et al
John Coltrane
January 27, 1960: John Coltrane released "Giant Steps" album, considered a classic jazz album and one that saxophonists still measure themselves by today. The Penguin Guide.
Lindsay Planer wrote in AllMusic, "History will undoubtedly enshrine this disc as a watershed the likes of which may never truly be appreciated. "
Peppermint Twist
January 27 – Feb 16 – "Peppermint Twist" by Joey Dee & the Starlighters #1 Billboard Hot 100.
Instant Karma
January 27, 1970: John Lennon wrote and recorded "Instant Karma" In his words, "I wrote it for breakfast, recorded it for lunch and we're putting it out for dinner." It became the third Lennon single to appear before the official breakup of the Beatles. The only exaggeration in John's description was the part about dinner: wasn't actually released to the public until Feb 6. (see Instant Karma for more) (next Beatles, see Mar 8)
January 27 Peace Love Art Activism
Vietnam
Policy failing
January 27, 1965: President Johnson received a memorandum stating that the current Vietnam policy was clearly not working. The Viet Cong were on the move and on the rise and supplied by North Vietnam. The South Vietnam government was unstable as well. (see Feb 7)
Anti-Vietnam War ads
January 27, 1968: the subways and elevated trains in Chicago began allowing anti-Vietnam War ads on this day. The Chicago Transit Authority (CTA) had refused to carry the ads for two years. The Illinois ACLU sued on behalf of the Chicago Women for Peace and the North Shore Women for Peace, chapters of the Women Strike for Peace organizations. The federal judge dismissed the suit when the CTA capitulated and agreed to carry the ads. The ad, addressed to President Lyndon Johnson, read: "War is Not Peace. Tyranny is Not Freedom. Hate is Not Love. End the War in Vietnam." (see Jan 29)
Paris Peace Accords
January 27, 1973: representatives of the United States, North Vietnam, and South Vietnam signed the Paris Peace Accords, ending the Vietnam War. The United States's chief negotiator, Dr. Henry Kissinger, was awarded the 1973 Nobel Peace Prize for his role in concluding the treaty and ending hostilities. (see Jan 28)
January 27 Peace Love Art Activism
Space Race
January 27, 1967: a fire during routine testing of the Apollo spacecraft (scheduled to be the first manned mission of the Apollo manned lunar landing program, with a target launch date of February 21, 1967) killed three astronauts — Gus Grissom, Ed White and Roger Chafee — in their capsule.
Immediately after the fire, NASA convened the Apollo 204 Accident Review Board to determine the cause of the fire. Although the ignition source was never conclusively identified, the astronauts' deaths were attributed to a wide range of lethal design and construction flaws in the early Apollo Command Module. The manned phase of the project was delayed for 20 months while these problems were corrected. (Washington Post 50th anniversary article) (see Apr 20)
January 27 Peace Love Art Activism
Watergate Scandal
January 27, 1975: in the wake of the Watergate scandal and the attendant abuses of power by the Nixon administration, and also recent revelations of illegal CIA spying on Americans [in The New York Times on December 22, 1974], the Senate created the Select Committee to Study Governmental Operations with respect to the Intelligence Agencies. Known as the Church Committee after its chair, Senator Frank Church (D–Idaho), the committee held public hearings about abuses by the intelligence agencies, and eventually published 14 reports on violations of the rights of American citizens by the intelligence agencies. The vote to create the committee was 82–4, indicating the depth of disgust over alleged abuses by the FBI and the CIA in the Senate.
The Church Committee reports are still an extremely valuable resource on the history of violations of American rights in the twentieth century. The Church Committee was paralleled by the Pike Committee, created by the House of Representatives on February 19, 1975. Following the revelations about the CIA by the Times, President Gerald Ford tried to head off Congressional investigations by creating the Rockefeller Commission to investigate the CIA on January 4, 1975, but that effort failed when Congress created the two committees.
The Church Committee hearings created sensation after sensation, with revelations of CIA assassination plots, and more. The Church Committee reports are still an invaluable source of information about the abuses of the CIA, the FBI, and other federal agencies. The reports also document the involvement of presidents, both Republican and Democratic, in approving many if not most of the abuses by the intelligence agencies. (see Watergate for its expanded story)
January 27 Peace Love Art Activism
LGBTQ
January 27, 1977: the Vatican reaffirmed the Roman Catholic Church's ban on female priests. (see Mar 26)
January 27 Peace Love Art Activism
FREE SPEECH
January 27, 1978: the Illinois Supreme Court reversed the Illinois Appellate Court and the Circuit Court of Cook County's grant of Injunctive Relief in favor of the Village of Skokie and against the Nazi group headed by Frank Collin. The Nazis were free to March in Skokie pending resolution of the federal lawsuit filed by the ACLU on behalf of the Nazis. (see Feb 23)
January 27 Peace Love Art Activism
Jack Kevorkian
January 27, 1994: Michigan Judge Jessica R. Cooper of Oakland County Circuit Court dismissed charges against Jack Kevorkian in two deaths, becoming the fifth lower court judge in Michigan to rule that assisted suicide was a constitutional right. (see JK for expanded chronology)
January 27 Peace Love Art Activism
CLINTON IMPEACHMENT
Paula Jones
January 27, 1998: Paula Jones' attorney, John Whitehead, answered Starr's subpoena with several documents, possibly including Clinton's deposition in the Jones suit. Clinton personal secretary, Betty Currie testified before the grand jury. First lady Hillary Rodham Clinton says in a broadcast interview that a "vast right-wing conspiracy" was behind the charges against her husband. A Portland, Ore., man, Andy Bleiler, alleged he had a five-year affair with Lewinsky, and his lawyer promises to turn over documents and items to Starr's investigators. Clinton delivers his State of the Union address, making no mention of the scandal.
Senate votes
January 27, 1999: in twin 56-44 votes, the Senate refused to dismiss the charges against President Clinton and agreed to seek depositions from Monica Lewinsky, Vernon Jordan and Sidney Blumenthal. (see Clinton for expanded story)
January 27 Peace Love Art Activism
Immigration History
Matthew Nestor convicted
January 27, 2011: a federal jury convicted Matthew Nestor, a former Pennsylvania police officer, of the most serious charge against him in what prosecutors said was a cover-up of the beating death of a Luis Ramirez, a Mexican immigrant. The jury delivered a less severe verdict against a second officer and acquitted a third.
The former officers, Matthew Nestor, Jason Hayes and William Moyer, were accused of helping a group of white teenage football players cover up their parts in the death of Luis Ramírez, an illegal Mexican immigrant who was fatally beaten in July 2008 in Shenandoah, Pa.
Nestor, the former Shenandoah police chief, was found guilty of falsifying records, a charge that could bring up to 20 years in prison, but he was acquitted of conspiracy. Moyer, a former Shenandoah lieutenant, was convicted of lying to the F.B.I., but acquitted of all other counts, including obstruction of justice, and he faces up to five years in prison. Hayes, a former patrolman, was acquitted of all charges. (see Ramirez for expanded chronology)
Refugees denied entry
January 27, 2017: President Trump suspended entry of all refugees to the US for 120 days, barred Syrian refugees indefinitely, and blocked entry into the United States for 90 days for citizens of seven predominantly Muslim countries: Iran, Iraq, Libya, Somalia, Sudan, Syria and Yemen.
The Department of Homeland Security said that the order also barred green card holders from those countries from re-entering the United States. (BBC piece) (see Jan 28)
More difficult
January 27, 2020:  CNN reported that the Supreme Court in a 5-4 vote  cleared the way for the Trump administration to make it more difficult for low-income immigrants seeking to come to or trying to remain legally in the United States.
The so-called public charge rule, unveiled in August, impacted people who rely on public assistance, including most forms of Medicaid, food stamps and housing vouchers.
Advocates and several states immediately opposed the rule, arguing that the changes would penalize immigrants who rely on temporary assistance from the government and impose costs on the states. (next IH, see Jan 31)
January 27 Peace Love Art Activism
Women's Health
January 27, 2017: U.S. District Judge Sam Sparks blocked Texas from requiring that fetal remains to be buried or cremated, saying the rule placed burdens on access to abortion that "substantially outweigh the benefits."
Texas Attorney General Ken Paxton vowed to appeal, setting up another high-stakes battle over Texas' attempts to regulate abortion providers — seven months after the U.S. Supreme Court overturned two Texas regulations that would have left nine abortion clinics operating in the state.
After hearing two days of testimony early this month, Sparks issued a preliminary injunction that indefinitely prohibited Texas from enforcing the rule, which would have required health facilities to ensure that fetal tissue was buried or cremated — with the ashes buried or appropriately scattered — whether from an abortion or miscarriage.
The rule did not apply to miscarriages at home or to early-term, drug-induced abortions that typically take place at home.
Sparks said the new standards were vague, inviting interpretations that would allow state health officials "to exercise arbitrary, and potentially discriminatory, enforcement on an issue connected to abortion and therefore sensitive and hotly contested." (see Feb 18)
January 27 Peace Love Art Activism
Trump Impeachment
January 27, 2020: on the second day of President Trump's lawyers presenting arguments against his impeachment, they told senators that no evidence existed tying the president's decision to withhold security aid from Ukraine to his insistence on the investigations. They say the investigations were requested out of a concern for corruption in Ukraine.
Yet a new account by the President's former national security adviser John R. Bolton weakened that defense when he wrote for a forthcoming book that Trump had conditioned military aid for Ukraine on that country's willingness to furnish information on his political rivals. [NYT article] (next TI, see Jan 28 or see Trump for expanded chronology)
January 27 Peace Love Art Activism
Environmental Issues
January 27, 2021: President Biden signed a series of executive orders that aim to "confront the existential threat of climate change" across the federal government while emphasizing job creation and tackling racial inequity.
"In my view, we've already waited too long to deal with this climate crisis. We can't wait any longer," said Mr. Biden, speaking at the White House. "We see it with our own eyes. We feel it. We know it in our bones. And it's time to act."
The executive orders also set broad new foreign policy goals, including specifying that climate change, for the first time, will be a core part of all foreign policy and national security decisions.
Biden's international climate envoy, John Kerry, said that the United States would host an international climate change summit on Earth Day, April 22. "The convening of this summit is essential to ensuring that 2021 is going to be the year that really makes up for the lost time of the last four years," said Mr. Kerry. [NYT article] (next EI, see Feb 8)
January 27 Peace Love Art Activism
TERRORISM
January 27, 2021: a "National Terrorism Advisory System Bulletin" issued by the Department of Homeland Security [DHS] warned that the deadly rampage of the Capitol on January 6 may not have been an isolated episode,that the United States faced a growing threat from "violent domestic extremists" emboldened by the attack.
The department's terrorism alert did not name specific groups that might be behind any future attacks, but it made clear that their motivation would include anger over "the presidential transition, as well as other perceived grievances fueled by false narratives," a clear reference to the accusations made by President Donald J. Trump and echoed by right-wing groups that the 2020 election was stolen.
"D.H.S. is concerned these same drivers to violence will remain through early 2021," the department said.  [NYT article] (next T, see Mar 16)
January 27 Peace Love Art Activism
Cannabis
January 27, 2021:  a study published in the British Medical Association journal's BMJ concluded that increasing access to marijuana dispensaries was associated "…with reduced opioid related death rates, particularly deaths associated with synthetic opioids such as fentanyl,"
It was a finding that held "…for both medical and recreational dispensaries" the study said.
Researchers looked at opioid mortality and cannabis dispensary prevalence in 23 U.S.states from 2014 to 2018 and found that, overall, counties where the number of legal marijuana shops increased from one to two experienced a 17 percent reduction in opioid-related fatalities.
Increasing the dispensary count from two to three was linked to an additional 8.5 percent decrease in opioid deaths.
Further, the study found that this trend "appeared particularly strong for deaths associated with synthetic opioids other than methadone, with an estimated 21 percent reduction in mortality rates associated with an increase from one to two dispensaries."  [Marijuana Moment article] (next Cannabis, see  Feb 22 or, see CCC for expanded chronology)
January 27 Peace Love Art Activism