February 6 Peace Love Art Activism
BLACK HISTORY
Dred Scott
February 6, 1838:  Dr Emerson married Eliza Irene Sanford. Emerson sent for the Scotts. (see Dred Scott for expanded story)
Robert Tanner Jackson
February 6, 1867: Robert Tanner Jackson, whose parents had been enslaved in the U.S., graduated from Harvard School of Dental Medicine, becoming the first African American to receive a degree in dentistry. (see May 1)
Thomas Brown lynched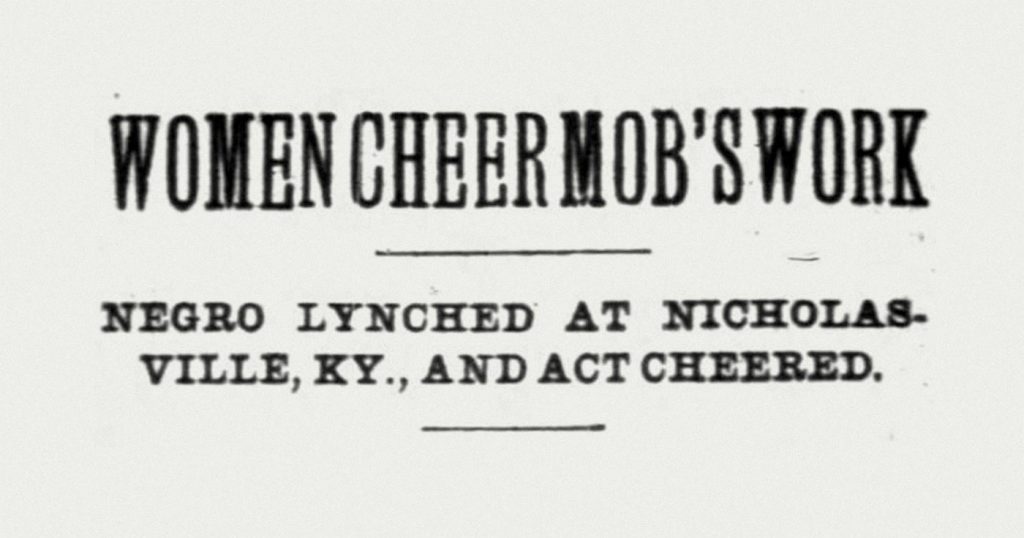 February 6, 1902: Thomas Brown, a 19-year-old black man, was seized from a jail cell and lynched on the lawn of the Jessamine County Courthouse in Nicholasville, Kentucky. Thomas had been arrested for an alleged assault on a white woman but never had the chance to stand trial.
A mob of 200 white men assembled at the jail and seized Thomas Brown from police. They then hung him from a tree in front of the county courthouse. Though news reports identified the young woman's brother as a leader of the mob, no one was ever prosecuted for Thomas Brown's murder and authorities concluded that he "met death by strangulation at the hands of parties unknown." [EJI article]  (next BH, see February 18, 1903; next Lynching, see June 23, 1903 or for for expanded chronology, see American Lynching 2)
Autherine Lucy
February 6, 1956:  a hostile mob assembled to prevent Autherine Lucy from attending classes. She was struck by eggs while being escorted across the campus and windows of the car in which she rode were smashed. Highway patrol officers slipped her away at the height of the demonstration when more than 3,000 students and others were on the campus..
That same day, the Augusta Chronicle ran an editorial, saying that the tragedy was not that Lucy was being denied her rights, but rather that the courts were usurping states' rights by interfering with the University of Alabama's admittance policy. The editorial concluded: It is nothing less than tragic that the Supreme Court has furnished both the dynamite and the match by usurping the power of the various states to operate their schools, and other public facilities, in a manner best fitted to the needs and the welfare of all of their people. For this the court must bear the onus for ushering in an unhappy and tragic era in our history whereas before its decision, all was going well. (BH, see Feb 10; U of A, see Feb 29)
The Greensboro Four
February 6, 1960: more than 1,400 North Carolina A & T students met in Harrison Auditorium that morning After voting to continue the protest, many headed to the F.W. Woolworth store. They filled every seat as the store opened. A large number of counter protesters showed up as well. By noon, more than 1,000 people packed the store.
At 1 p.m., a caller warned a bomb was set to explode at 1:30 p.m. The crowd moved to the Kress store, which immediately closed. Arrests were made outside both stores.  Its manager cleared  and closed the F.W. Woolworth store.
That evening at North Carolina A & T 1,600 students voted to suspend demonstrations for two weeks. Dean William Gamble proclaimed this would give the stores time "to set policies regarding food service for Negro students." (see G4 for expanded chronology)
Muhammad Ali
February 6, 1967: Ali defeated Ernie Terrell in a 15 round decision. Terrell had refused to refer to Ali by his Muslim name and throughout the fight Ali taunted Terrell shouting, "What's my name Uncle Tom…What's my name?"
Many accused Ali of deliberately punishing Terrell and not knocking him out.(2014 Independent article) (BH, see Feb 27; Ali, see April 5)
School Desegregation
February 6, 1986: in Riddick v. School Board of the City of Norfolk, Virginia  a federal court found for the first time that once a school district meets the Green decision factors (1968), it can be released from its desegregation plan and returned to local control.  (June 1986 NYT follow up article) (BH, see "in February 1987"; SD, see January 8, 1989)
DOMESTIC TERRORISM
February 6, 2015: U.S. District Court Judge L. Scott Coogler sentenced Pamela Morris, former secretary of a chapter of the Ku Klux Klan in Ozark, Alabama, to 10 months in prison and three years of supervised release for committing perjury during a grand jury's investigation into a racially motivated cross-burning.  (see Apr 8)
February 6 Peace Love Art Activism
The Red Scare
February 6, 1952: Harvey Matusow, a former Communist Party member and in 1952 an FBI informant, named named Pete Seeger, Ronnie Gilbert, and Fred Hellerman, all members of the  The Weavers, as Communists. The Weavers were in the middle of a concert tour and by mutual agreement with the manager, cancelled their scheduled week-long engagement with the Yankee Inn in Akron, Ohio.
Being named as Communists destroyed the Weavers commercial career. They had been one of the most popular groups in America since 1950, with several number one hits, including Leadbelly's "Goodnight Irene."
The Weavers soon disbanded, but Pete Seeger developed a very successful career performing on college campuses, which were freer of anti-Communist pressures. He was mainly responsible for teaching that  generation Woody Guthrie's "This Land is Your Land."
With Guy Carawan and others, Seeger also revised "We Will Overcome," [an old African-American gospel song that had become a labor union organizing song] into "We Shall Overcome." Carawan taught it to the leaders of the sit-in movement in 1960 and it immediately became the anthem of the civil rights movement.
Matusow had a bizarre career. After being a Communist Party member and FBI informant, he recanted and denied his earlier accusations about who was a Communist. The Justice Department convicted him of perjury and he was sentenced to prison. Upon leaving prison, he became a member of the 1960s counterculture and led a rock group. (see Mar 3)
February 6 Peace Love Art Activism
Nuclear/Chemical News
February 6, 1958: a recovery effort began for what became known as the Tybee Bomb. The Air Force 2700th Explosive Ordnance Disposal Squadron and 100 Navy personnel equipped with hand held sonar and galvanic drag and cable sweeps mounted a search. (NN, see Feb 17; Tybee, see Apr 16)
February 6 Peace Love Art Activism
The Beatles
February 6, 1958: George Harrison joined The Quarrymen. The group, consisted of John Lennon, Paul McCartney, Len Garry, Eric Griffiths and John Lowe.. George Harrison (recalling those early days): "I was very impressed by John, probably more than Paul, or I showed it more. I suppose I was impressed by all the Art College crowd. John was very sarcastic, always trying to put you down, but I either took no notice or gave him the same back, and it worked." (see July 15)
All Those Years Ago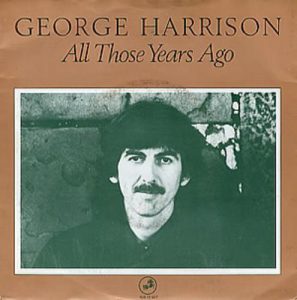 Exactly 33 years later,  and 60 days after John Lennon's murder on February 6, 1981, George Harrison completed the recording of All Those Years Ago, Harrison's musical tribute to Lennon. Ringo Starr had worked with Harrison on the song in November 1981 intending to use it on his own album, but decided not to. After Lennon's assassination,  Harrison changed the lyrics and invited Paul McCartney to join on the vocals. 
It was the first time that the three former band mates had appeared on the same recording since "I Me Mine" in 1970. (see Feb 19)
"You've Lost That Lovin' Feelin'"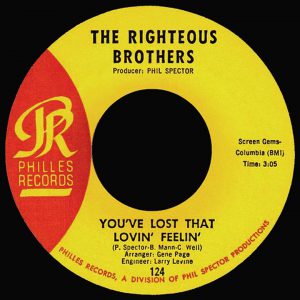 February 6 – 19, 1965: "You've Lost That Lovin' Feelin'" by the Righteous Brothers #1 on the Billboard Hot 100. In 1999, BMI listed the song as the one most often played on American radio and television in the 20th century, with some 8 million plays. (see Righteous for more)
The Road to the Woodstock
February 6, 1969: Michael Lang and Artie Kornfeld met John Roberts and Joel Rosenman for the first time. Lang and Kornfeld propose a music studio retreat in Woodstock, NY that would be an ideal place for musicians to make music in a relaxed atmosphere in an area where many other young musicians live. (see RW for a much expanded chronology)
February 6 Peace Love Art Activism
Vietnam
LBJ meets with Nguyen Cao Ky
February 6, 1966: accompanied by his leading political and military advisers, U.S. President Lyndon B. Johnson met with South Vietnamese Premier Nguyen Cao Ky in Honolulu. The talks concluded with issuance of a joint declaration in which the United States promised to help South Vietnam "prevent aggression," develop its economy, and establish "the principles of self-determination of peoples and government by the consent of the governed." Johnson declared: "We are determined to win not only military victory but victory over hunger, disease, and despair."
He announced renewed emphasis on "The Other War"–the effort to provide the South Vietnamese rural population with local security, and economic and social programs to win over their active support.
In his final statement on the discussions, Johnson warned the South Vietnamese that he would be monitoring their efforts to build democracy, improve education and health care, resettle refugees, and reconstruct South Vietnam's economy. (see Feb 10)
February 6 Peace Love Art Activism
Crime and Punishment
February 6, 1974: in the face of protests by prison reformers, the U.S. Bureau of Prisons announced  that it was cancelling its controversial Behavior Modification program at the federal prison in Springfield, Missouri.
The program involved attempting to change prisoners' behavior by locking them in cells for extended hours and denying them all privileges, and then restoring privileges gradually if they behaved themselves. The decision to end the program came just days before a federal judge was expected to rule in a suit challenging the program, which was filed by the National Prison Project of the ACLU. (see January 22, 1976)
February 6 Peace Love Art Activism
AIDS
Ryan White
February 6, 1986: Indiana DOE again ruled that White could attend school, after inspection by Howard County health officers. (see White for expanded story)
Arthur Ashe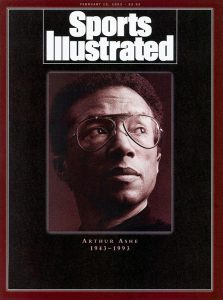 February 6. 1993: Arthur Ashe, 49, died of AIDS. Ashe was believed to have contracted the virus from a blood transfusion during heart surgery 10 years earlier. (see Dec 23)
February 6 Peace Love Art Activism
CLINTON IMPEACHMENT
Clinton won't resign
February 6, 1998: at a news conference, President Bill Clinton said he would never consider resigning because of the accusations against him. "I would never walk away from the people of this country and the trust they've placed in me." 
Monica Lewinsky
February 6, 1999: Americans got a chance to see and hear Monica Lewinsky as House prosecutors and White House lawyers play video excerpts of her testimony in their final summations. (see Clinton for expanded story)
February 6 Peace Love Art Activism
LGBTQ
Alan Turing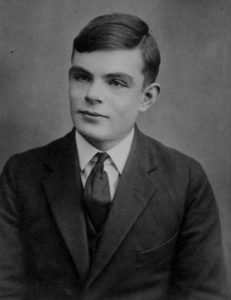 February 6, 2012: Lord McNally declined to pardon Alan Turing. McNalley's statement read:
The question of granting a posthumous pardon to Mr Turing was considered by the previous Government in 2009.
As a result of the previous campaign, the then Prime Minister Gordon Brown issued an unequivocal posthumous apology to Mr Turing on behalf of the Government, describing his treatment as "horrifying" and "utterly unfair". Mr Brown said the country owed him a huge debt. This apology was also shown at the end of the Channel 4 documentary celebrating Mr Turing's life and achievements which was broadcast on 21 November 2011.
A posthumous pardon was not considered appropriate as Alan Turing was properly convicted of what at the time was a criminal offence. He would have known that his offence was against the law and that he would be prosecuted.
It is tragic that Alan Turing was convicted of an offence which now seems both cruel and absurd-particularly poignant given his outstanding contribution to the war effort. However, the law at the time required a prosecution and, as such, long-standing policy has been to accept that such convictions took place and, rather than trying to alter the historical context and to put right what cannot be put right, ensure instead that we never again return to those times.  (LGBTQ, see Feb 7; Turing, see December 23, 2013)
Boy Scouts of America
February 6, 2013: the Boy Scouts of America said that it would postpone until May their decision regarding homosexual members as talk of gays in the ranks has roiled a storied organization that carries deep emotional connection and nostalgia for millions of Americans. (NYT article) (LGBTQ, see Feb 11; BSA, see April 19)
February 6 Peace Love Art Activism
Cannabis
February 6, 2014:  the Michigan Supreme Court ruled that local officials in Michigan may not ban the use of medical marijuana within their boundaries — a unanimous landmark ruling expected to overturn local ordinances in Livonia, Birmingham, Bloomfield Hills, and Lyon Township. (next Cannabis, see Feb 7 or see CCC for expanded cannabis chronology)
February 6 Peace Love Art Activism
Trump's Wall
February 6, 2017: some Republican lawmakers were expressing skepticism that the border wall was worth the price tag and asked that Trump offer off-sets for the cost.
Texas Senator, John Cornyn said: "I have concerns about spending un-offset money, which adds to the debt, period. I don't think we're just going to be able to solve border security with a physical barrier because people can come under, around it and through it." (next IH, see Feb 7; next TW, see Feb 9 or see TWall for expanded chronology)
February 6 Peace Love Art Activism
Voting Rights
February 6, 2018: the Supreme Court partly granted a request from North Carolina Republicans to block a voting map drawn by a federal court there. That court had interceded after finding that a map drawn by state lawmakers for the General Assembly had relied too heavily on race and had violated state laws.
The Supreme Court's order, which was brief and gave no reasons, partly blocked that decision while the justices consider whether to hear an appeal in the case. (see Mar 19)
February 6 Peace Love Art Activism
Environmental Issues
Toxic chemicals
February 6, 2018: the NY Times reported that more than 2,500 sites that handle toxic chemicals are located in flood-prone areas in every American state and that about 1,400 are located in areas at highest risk of flooding. The article also pointed that that as flood danger grows — the consequence of a warming climate — the risk increased. (see Feb 23 )
Record warmth
February 6, 2019: NASA scientists announced that the Earth's average surface temperature in 2018 was the fourth highest in nearly 140 years of record-keeping and a continuation of an unmistakable warming trend.
The data meant that the five warmest years in recorded history had been the last five, and that 18 of the 19 warmest years ever recorded have occurred since 2001. The quickly rising temperatures over the past two decades cap a much longer warming trend documented by researchers and correspond with the scientific consensus that climate change is caused by human activity.
"We're no longer talking about a situation where global warming is something in the future," said Gavin A. Schmidt, director of the Goddard Institute for Space Studies, the NASA group that conducted the analysis. "It's here. It's now." (see Mar 15)
Antarctica record warmth
February 6, 2020: NBC News reported that the U.N. weather agency said that an Argentine research base on the northern tip of Antarctica reported a temperature that, if confirmed, could be a record high for the continent.
World Meteorological Organization spokeswoman Clare Nullis, cited figures from Argentina's national weather service, said the Esperanza Base recorded 18.3 degrees Celsius (64.9 degrees Fahrenheit) — topping the former record of 17.5 degrees tallied in March 2015. (next EI, see Feb 17)
February 6 Peace Love Art Activism
Feminism/Space
February 6, 2020: Christina Koch returned to Earth holding the record for the longest stay by a female astronaut in space, 328 days. (the American record-holder for the longest single stay was Scott Kelly, with 342 days in space, and the record-holder for cumulative time was Peggy Whitson with 665 days spread over three flights.) Koch had volunteered for this mission as part of a long-duration experiment. At his point  NASA had 48 active-duty astronauts, of which 16 were women.  [NYT story] (next Feminism, see Aug 11; next Space, see  May 30)
February 6 Peace Love Art Activism