April 19 Peace Love Art Activism
Feminism
Voting Rights
April 19, 1929: after years of lobbying by National Women's Party and other groups, Puerto Rican women granted suffrage subject to literacy testing. (Puerto Rican  Women's History book text) (Feminism, see November 20, 1930; Voting Rights, see September 9, 1957)
April 19 Peace Love Art Activism
Black History
Scottsboro 9
April 19, 1933: Judge Horton postponed the trials of the other Scottsboro defendants because of dangerously high local tensions. The judge feared that local tensions were too strained to result in a "just and impartial verdict." (see Scottsboro for expanded story)
FREE SPEECH
April 19, 1960: the City of Montgomery filed a $500,000 libel suit against The New York Times in the wake of an advertisement that was critical of Alabama. (see May 30)
Z. Alexander Looby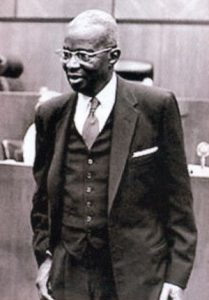 April 19, 1960: KKK terrorists bomb the home of Z. Alexander Looby, a Nashville civil rights lawyer who defended students arrested in Nashville, TN sit-ins.  He and his wife survive. (Black Past dot org article on Looby) (see  Greensboro Four for expanded story)
George Whitmore, Jr
April 19, 1965: in view of the "the antipathy and antagonism" Justice Dominic Rinaldi had shown Whitmore's attorney, Stanley Reiben, Reiben asked to withdraw from the case, saying he can no longer effectively represent his client. Rinaldi denied the request. (see Whitmore for expanded story)
James Earl Ray
April 19, 1968: the FBI announced that  James Earl Ray was being sought under the alias of Eric Starvo Galt for the murder of the Rev. Dr. Martin Luther King Jr. (see Apr 25; Ray see June 8)
Afro American Society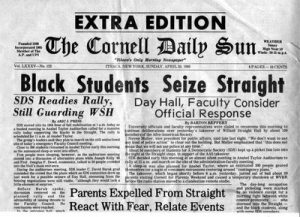 April 19, 1969: more than 80 members of the Afro American Society took over Willard Straight Hall, Cornell University's student union.
The takeover had been prompted by a reprimand of three Black students for an incident the previous December and a cross burning (both incidents occurred the previous day) in front of the Black women's cooperative and other cases of alleged racism. Protesters and administrators reached an agreement and the students left the building a day later. (Cornell U article) (see Apr 25)
Jill E Brown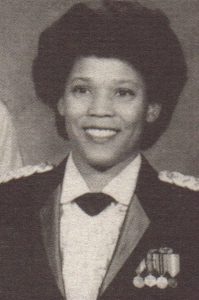 April 19, 1978: Jill E Brown of Baltimore got her flight wings from Texas International Airlines, which made her the first black woman who was known to have qualified as a pilot for a major US airline. Brown, 27, began flying as a teenager and later became a pilot for a local airline in North Carolina before becoming a first officer on TIA.  (Black Past dot org article) (BH, see June 8; next Feminism, see Apr 25)
Confederate battle flag
April 19, 1983:  about 100 African-American students at the University of Mississippi protested against the use of the Confederate battle flag as a symbol of the university. The night before, white students had waved the flag,  sung "Dixie," and shouted racial slurs. The next day, the university chancellor announced the flag would no longer be used as a university symbol. (see June 2)
Rodney King
April 19, 1994: The U.S. District Court in Los Angeles awarded King $3.8 million in compensatory damages in a civil lawsuit against the city of Los Angeles. King had demanded $56 million, or $1 million for every blow struck by the officers. (Black History, see May 10; King, see June 1, 1994)
Freddie Gray
April 19, 2015: Freddie Gray, a 25-year-old black man, died of a spinal cord injury after police arrested  handcuffed, and placed him in a police wagon without a seat-belt. (B & S and Gray, see Apr 27)
April 19 Peace Love Art Activism
April 19 Music et al
Bicycle Day
April 19, 1943: Albert Hofmann intentionally took LSD (250 ug) for the first time. This was the first intentional use of LSD. He asked Susi Ramstein, a  laboratory assistant, to escort him home and, as use of motor vehicles was prohibited because of wartime restrictions, they had to make the journey on a bicycle. On the way, Hofmann's condition rapidly deteriorated as he struggled with feelings of anxiety, alternating in his beliefs that the next-door neighbor was a malevolent witch, that he was going insane, and that the LSD had poisoned him.
When the house doctor arrived, however, he could detect no physical abnormalities, save for a pair of incredibly dilated pupils. Hofmann was reassured, and soon his terror began to give way to a sense of good fortune and enjoyment, as he later wrote:"… little by little I could begin to enjoy the unprecedented colors and plays of shapes that persisted behind my closed eyes. Kaleidoscopic, fantastic images surged in on me, alternating, variegated, opening and then closing themselves in circles and spirals, exploding in colored fountains, rearranging and hybridizing themselves in constant flux …" (see Hofman for more; next LSD, see Apr 22)
Cultural Milestone
April 19, 1961: the Federal Communications Commission authorized regular FM stereo broadcasting starting on June 1, 1961. (see FCC delivers rock for expanded story)
The Beatles & Co
April 19, 1967: in order to control their various business interests, The Beatles' tax advisors suggested they form an umbrella company. It was named The Beatles & Co.
At the time the group had large amounts of capital, which they were in danger of losing to the Inland Revenue. To avoid this occurring they chose to invest in a business venture.
The Beatles & Co. was essentially a new version of Beatles Ltd, their original partnership. Under the new terms, each Beatle took ownership of 5% of the company, and a new corporation – which eventually became Apple Corps – would be collectively owned and would control 80% of The Beatles & Co. (from Beatles & Co) (see May)
April 19 Peace Love Art Activism
Vietnam
April 19, 1971: Vietnam Veterans Against the War began a five-day demonstration in Washington, D.C. Called Dewey Canyon III in honor of the operation of the same name conducted in Laos, about 1,000 veterans participated some throwing their combat ribbons, helmets, and uniforms on the Capitol steps, along with toy weapons.  (VVAW article) (next Vietnam, see April 24)
April 19 Peace Love Art Activism
DEATH PENALTY
Charles Manson
April 19, 1971: Charles Manson was sentenced to death for ordering the murders of Sharon Tate and others. The sentence was then commuted to life after the Supreme Court of California overturned the death penalty in 1972. (see February 18, 1972)
Walter Leroy
April 19, 2018: Alabama executed Walter Leroy Moody Jr., who used mail bombs to assassinate a federal appeals court judge and a civil rights lawyer in 1989, at the Alabama prison where he spent decades denying his guilt.
With his execution by lethal injection, Mr. Moody, 83, became the oldest prisoner put to death in the modern era of American capital punishment, according to the Death Penalty Information Center, a research group. (see Aug 2)
April 19 Peace Love Art Activism
Oklahoma City Explosion
April 19, 1995: car bomb exploded outside federal office building in Oklahoma City collapsing wall and floors. 168 people were killed, including 19 children and 1 person who died in rescue effort. Over 220 buildings sustained damage. Timothy McVeigh and Terry Nichols later convicted in the anti government plot to avenge the Branch Davidian standoff in Waco, Tex., exactly 2 years earlier. (see Apr 21)
April 19 Peace Love Art Activism
LGBTQ
BSA
April 19, 2013: officials of the Boy Scouts of America proposed ending their ban on openly gay scouts but continuing to bar gay adults from serving as leaders. The decision, which follows years of heated controversy within the organization and growing outside criticism, must be approved by the roughly 1,400 voting members of the Scouts' National Council at a meeting in Texas the week of May 20. (next BSA & LGBTQ, see Apr 27)
Transgender students
April 19, 2016: the United States Court of Appeals for the Fourth Circuit in Richmond, Va., ruled in favor of a transgender student who was born female and wishes to use the boys' restroom at his rural Virginia high school.
As a result of the ruling, advocates said, that portion of the North Carolina law that applied to public schools clearly violated Title IX — the federal law that prohibits gender discrimination in schools. (see May 6)
April 19 Peace Love Art Activism
Cannabis
April 19, 2016: the Marijuana Decriminalization Clarification Emergency Amendment Act of 2015 made permanent the former temporary ban on use of marijuana in private clubs or public places in Washington DC. (next Cannabis, see June 8 or see CCC for expanded chronology)
April 19 Peace Love Art Activism
The Cold War
April 19, 2018: Raúl Castro, who had taken over from his brother Fidel 12 years ago, stepped down and handed power to  Miguel Díaz-Canel Bermúdez, 57, a Communist Party loyalist who was born a year after Fidel Castro claimed power in Cuba. (next CW, see Oct 16; next Cuba/CW, see June 5, 2019)
April 19 Peace Love Art Activism
Environmental Issues
April 19, 2019: Judge Brian Morris of the United States District Court of the District of Montana delivered a significant setback to the Trump administration's policy of promoting coal, ruling that the Interior Department acted illegally when it sought to lift an Obama-era moratorium on coal mining on public lands.
Morris's  decision did not reinstate President Barack Obama's 2016 freeze on new coal mining leases on public lands. That policy was part of an effort by the Obama administration to curtail the burning of coal, a major producer of greenhouse gases contributing to climate change.
But the court ruling did say that the 2017 Trump administration policy, enacted by former Interior Secretary Ryan Zinke, to overturn Mr. Obama's coal mining ban did not include adequate studies of the environmental effects of the mining, as required by the National Environmental Policy Act of 1970, or NEPA, one of the nation's bedrock environmental laws.
"Federal Defendants' decision not to initiate the NEPA process proves arbitrary and capricious," Judge Morris wrote. [NYT article](next EI, see Apr 25)
April 19 Peace Love Art Activism
Space
April 19. 2021: 117 years after the Wright Brothers' historic flight on this planet, NASA's Ingenuity helicopter made the first-ever powered flight on another planet,
The flight itself was modest. The 4-pound helicopter rose 10 feet in the air, hovered briefly, and returned to the Martian surface. An images taken from the craft showed Ingenuity's shadow on the surface and another taken from the Perseverance rover showed an airborne Ingenuity.
"We can now say that human beings have flown a rotorcraft on another planet," project manager MiMi Aung announced to her team. [NPR article] (next Space, see Dec 14)
April 19 Peace Love Art Activism
Sexual Abuse of Children
April 19,2022: the Diocese of Camden, N.J., said that it had agreed to pay $87.5 million to settle claims made by hundreds of people who accused clergy members of sexually abusing them, one of the largest such settlements involving the Catholic Church in the United States.
In what may have been a first for such litigation, the ultimate payout to the plaintiffs could be substantially higher, lawyers representing them said, because the settlement allowed for further litigation against insurance companies for the diocese and related entities like parishes and schools.
"This is a triumph of courage, with all credit to the survivors for staying unified and strong," Jeff Anderson, a lawyer for about a quarter of the roughly 300 plaintiffs, said.
In a statement announcing the settlement, Bishop Dennis J. Sullivan, the leader of the diocese, said, "I want to express my sincere apology to all those who have been affected by sexual abuse in our diocese."  [NYT article] (next SaoC, see Sept 8)
April 19 Peace Love Art Activism