April 25 Peace Love Art Activism
US Labor History
8-hour workday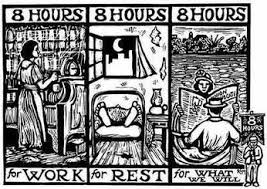 April 25, 1886: The New York Times declared the struggle for an 8-hour workday to be "un-American" and calls public demonstrations for the shorter hours "labor disturbances brought about by foreigners."  (see May 3)
National Child Labor Committee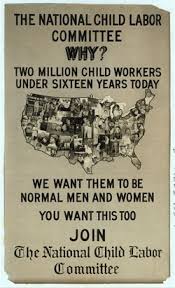 April 25, 1904: the National Child Labor Committee is formed. The NCLC is a private, non-profit organization and incorporated by an Act of Congress in 1907 with the mission of promoting the rights, dignity, well-being and education of children and youth as they relate to work and working. Despite years of enlightened laws and public scrutiny, the work of NCLC's founding visionaries is still relevant and necessary today. (NCLC) (see June 8)
Feminism
April 25, 1978: in the City of Los Angeles Department of Water and Power v. Manhart, the US Supreme Court ruled that employers may not require female employees to make larger contributions to pension plans in order to obtain the same monthly benefits as men. (Oyez article)  (LH, see Apr 27, F, see June 9)
April 25

Peace Love Art Activism
BLACK HISTORY
Voting Rights
April 25, 1898: in Williams v. Mississippi, the U.S. Supreme Court ruled there was no racial discrimination in Mississippi's 1890 Constitution, which required all voters to pay poll taxes and pass literacy tests. This ruling came despite public discussion by the framers of the state Constitution on how to maintain white supremacy and keep African Americans from voting. Many other Southern states followed Mississippi's lead. (decision text from Justia) (see May 12)
Marcus Garvey
April 25, 1916: Garvey visited W.E.B. Du Bois, the editor of The Crisis, the magazine of the National Association for the Advancement of Colored People. (BH, see May 15; see Garvey for expanded story)
Mack Charles Parker lynched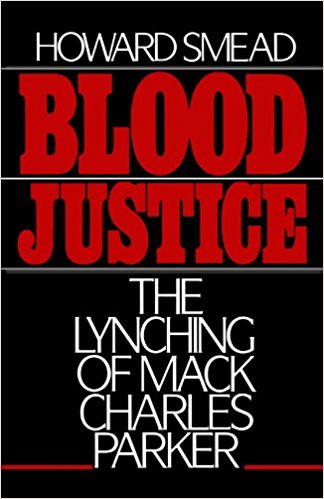 April 25, 1959: three days before his scheduled trial, Mack Charles Parker, a 23-year-old African American truck driver, was lynched by a hooded mob of white men in Poplarville, Mississippi. Parker had been accused of raping a pregnant white woman and was being held in a local jail. The mob took him from his cell, beat him, took him to a bridge, shot and killed him, then weighed his body down with chains and dumped him in the river. Many people knew the identity of the killers, but the community closed ranks and refused to talk. Echoing the Till case, the FBI would investigate and identify at least 10 men involved, but the U.S. Department of Justice would rule there were no federal grounds to make an arrest and press charges. Two grand juries — one county and one federal — adjourned without indictments. (Black Past article) (next BH, see May 1; next Lynching, see March 21, 1981; for expanded chronology of lynching, see also AL4)
George Whitmore, Jr
April 25, 1964: after 26 hours of interrogation, George Whitmore, Jr., a 19-year-old eighth-grade dropout with a 90 IQ, signed a 61-page confession admitting to
a) the murders of Wylie, Hoffert

b) the murder of Minnie Edmond

c) attempted rape of Elba Borrero (see Whitmore for expanded story)
Harlem Riot
April 25, 1968: the Appellate Division ruled that Lieutenant Thomas Gilligan, who fatally shot a 15-year-old James Powell preceding the Harlem riots in 1964, had the legal right to press his claim for more than $5-million in punitive damages against those who had called him a murderer. (BH, see May 3; RR, see May 27)
US Labor History
April 25, 1969: South Carolina Governor Robert Evander McNair  declared a state of emergency in Charleston and ordered more than 100,000 state troopers and members of the National Guard to break a strike by predominantly African American Medical University Hospital workers seeking recognition for their union, Local 1199B of the Retail Drug and Hospital Employees. In the end, the employer promised to rehire the striking workers they had fired, abide by a newly established grievance process, and provide modest pay increases. (LH, see Dec 31)
FREE SPEECH
April 25, 1969:  Black students at West Senior High School in Rockford, Illinois had presented their grievances to school administrators. When the principal took no action on crucial complaints, a more public demonstration of protest was planned.
On this date, approximately 200 people—students, their family members, and friends—gathered next to the school grounds of West Senior High School in Rockford, Illinois. Richard Grayned, brother and twin sisters attended the school, was part of the group. The demonstrators marched around on a sidewalk about 100 feet from the school building, which was set back from the street. Many carried signs which summarized the grievances: "Black cheerleaders to cheer too"; "Black history with black teachers"; "Equal rights, Negro counselors." Others, without placards, made the "power to the people" sign with their upraised and clenched fists.
Grayned was convicted for his part in the demonstration. (BH, see May 4; FS, see May 15; Grayned, see March 31, 1970)
Sean Bell incident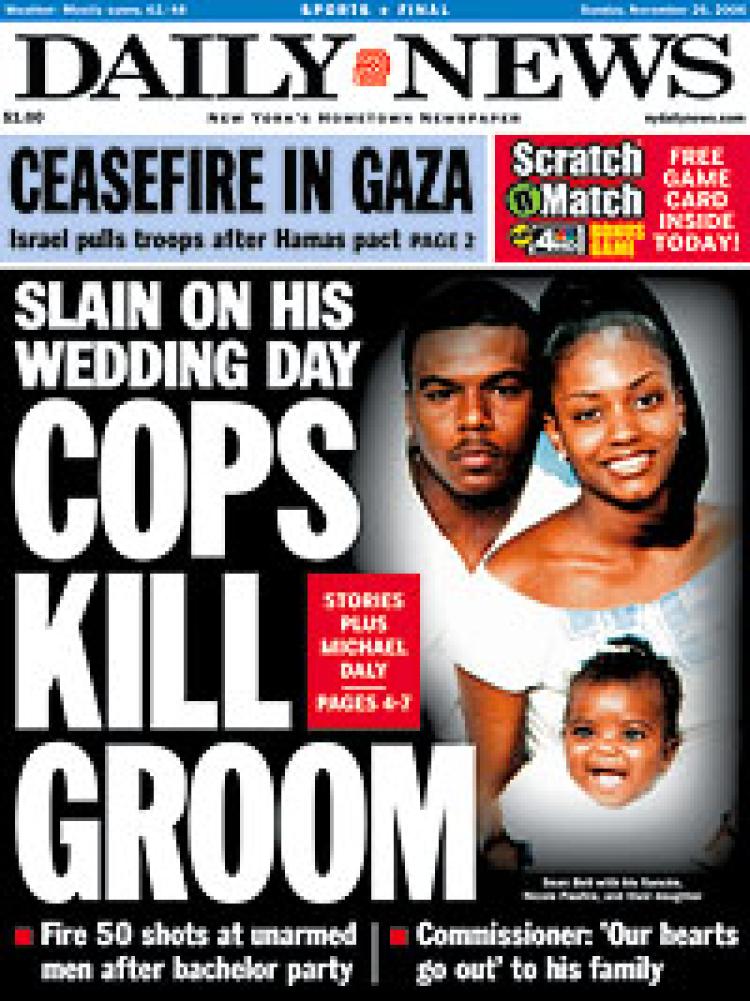 April 25, 2008: three detectives were found not guilty on all charges in the shooting death of Sean Bell, who died in a hail of 50 police bullets outside a club in Jamaica, Queens. The verdict prompted calls for calm from Mayor Bloomberg, angry promises of protests by those speaking for the Bell family, and expressions of relief by the detectives. (NYT Sean Bell articles) (see May 7)
Tamir Rice
April 25, 2016: federal court records indicate that the City of Cleveland announced that the family of Tamir Rice, the 12-year-old boy whose fatal shooting by the Cleveland police in 2014 prompted national outrage, would receive a $6 million settlement from the city.
The settlement, was the latest in a series of seven-figure payouts by major American cities to the families of African-Americans who died at the hands of officers, spares Cleveland the possibility of a federal civil rights trial that could have drawn new attention to Tamir's death and to the city's troubled police force. It also allowed the city to avoid the possibility of an even larger judgment.
Cleveland officials said the settlement was the city's largest in a police-related lawsuit, though under the terms of the agreement, the city does not admit wrongdoing. The $6 million figure is in line with settlements in the deaths of Eric Garner in New York and Freddie Gray in Baltimore. (Cleveland dot com timeline)  (next B & S, see Apr 28; next Tamir Rice, see May 30, 2017)
Botham Shem Jean
April 25, 2019:  NewsOne reported that at least nine people who Amber Guyger had arrested had had their cases dismissed, The development could be damning for Guyger, the former cop who was indicted for breaking into the home of Botham Shem Jean before shooting him to death. (B & S, see June 14; BSJ, see )
Carolyn Bryant Dies
April 25, 2023: Carolyn Bryant, the 21-year-old white proprietress of the store where, according to her testimony in the September 1955 trial of her husband and his half brother for the murder, Emmett Till made a sexually suggestive remark to her, grabbed her roughly by the waist and let loose a wolf whistle and more recently known as Carolyn Bryant Donham, died at 88 in Westlake, a small city in southern Louisiana. [NYT article] (next BH, see June 16; next ET, see July 25 or see Till for expanded chronology)
April 25

Peace Love Art Activism
Women's Health
Margaret Sanger
April 25, 1951: Margaret Sanger managed to secure a tiny grant for researcher Gregory Pincus from Planned Parenthood, and Pincus begins initial work on the use of hormones as a contraceptive at The Worcester Foundation. Pincus sets out to prove his hypothesis that injections of the hormone progesterone will inhibit ovulation and thus prevent pregnancy in his lab animals. (NYT obituary 1966) (see January 1952)
Health funding
April 25, 2019: Judge Stanley A. Bastian of the United States District Court for the Eastern District of Washington State issued a nationwide injunction temporarily blocking a controversial Trump administration rule that barred organizations that provided abortion referrals from receiving federal family planning money.
Bastian said in his order that the rule would cause family planning clinics "to face a Hobson's choice that harms patients as well as the providers."
He wrote that the plaintiffs in the case had "submitted substantial evidence of harm" if the administration's rule were to take effect. "Yet," he wrote, "the government's response in this case is dismissive, speculative and not based on any evidence presented in the record before this court."
The judge's ruling granted an immediate preliminary injunction, preventing the imposition of the Trump administration rule, which was scheduled to take effect on May 3. [NYT article] (see Apr 26)
April 25

Peace Love Art Activism
Technological Milestones
DNA
April 25, 1953: Cambridge University scientists, James D Watson and Francis Crick, published an article in Nature Magazine explaining the structure of DNA and that DNA was the material that makes up genes which pass hereditary characteristics in all life from one parent to another. They concluded that it consisted of a double helix of two strands coiled around each other and could even be considered the "secret of life". (Your Genome article) (TM, see Dec 17; DNA, see April 25, 2003)
Hubble Space Telescope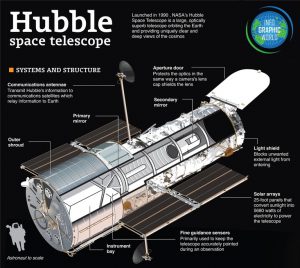 April 25, 1990:  the $2.5 billion Hubble Space Telescope was deployed in space from the Space Shuttle Discovery into an orbit 381 miles above Earth. It was the first major orbiting observatory, named in honour of American astronomer, Edwin Powell Hubble. (NASA article) (see December 3, 1992;  next Space, see May 5, 2018)
Human Genome Project
April 25, 2003: The Human Genome Project to determine the sequence of chemical base pairs which make up DNA of the human genome consisting of 20,000-25,000 genes started in 1990 was published. The project started in the US with James D. Watson who was head of the National Center for Human Genome Research at the National Institutes of Health but over the next 10 years geneticists in China, France, Germany, Japan, and the United Kingdom all worked together on the project helping the project end two years earlier than planned. One of the most important aspects of this research was that it was available to anyone on the Internet and not owned or controlled by any one company or government.
TV Households
2006: half of American households have three or more TV sets. (see January 9, 2007)
April 25

Peace Love Art Activism
April 25 Music et al
Stu Cook
April 25, 1945: Stuart Alden Cook, bassist for Creedence Clearwater Revival born. 
Stuck on You
April 25 – May 22, 1960: "Stuck on You" by Elvis #1 Billboard Hot 100, his first since his Army discharge and his thirteenth overall. (see Aug 15)
Nuclear/Chemical News
April 25, 1962: on the same day that the United States resumed nuclear testing after a 3-year moratorium, Bob Dylan recorded "Let Me Die in My Footsteps" a song was inspired by the construction of fallout shelters. (Nuclear/Chemical News, see May 6; Dylan,  see June 8)
The Road to Bethel
April 25, 1990: the Fender Stratocaster that Jimi Hendrix played at the Woodstock festival was auctioned off for a record $295,000. (see Chronology for expanded Woodstock story)
April 25

Peace Love Art Activism
Vietnam
Gen. William Westmoreland
April 25, 1964: President Lyndon B. Johnson announced that Gen. William Westmoreland would replace Gen. Paul Harkins as head of U.S. Military Assistance Command Vietnam (MACV) as of June 20. (see May 2)
Easter Offensive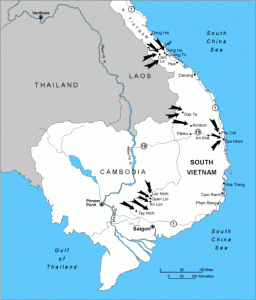 April 25, 1972: North Vietnamese Army close to cutting South Vietnam in two. Hanoi's 320th Division drives 5,000 South Vietnamese troops into retreat and traps about 2,500 others in a border outpost northwest of Kontum in the Central Highlands. This campaign was part of the ongoing North Vietnamese Nguyen Hue Offensive, also known as the "Easter Offensive," which included an invasion by 120,000 North Vietnamese troops. (see Apr 26)
April 25

Peace Love Art Activism
Falklands War
April 25, 1982: British Royal Marines retake South Georgia. Prime Minister Margaret Thatcher refused to answer questions from the press on the operation, saying: "Just rejoice at that news and congratulate our forces and the marines." (see Apr 30)
April 25

Peace Love Art Activism
The Cold War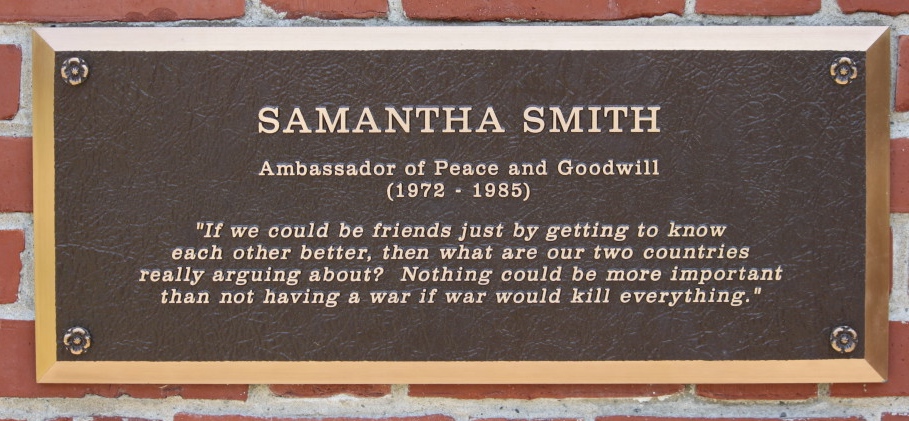 April 25, 1983: the Soviet Union released a letter that Russian leader Yuri Andropov wrote to Samantha Smith, an American fifth-grader from Manchester, Maine, inviting her to visit his country. Andropov's letter came in response to a note Smith had sent him in December 1982, asking if the Soviets were planning to start a nuclear war. At the time, the United States and Soviet Union were Cold War enemies.
Andropov's letter said that Russian people wanted to "live in peace, to trade and cooperate with all our neighbors on the globe, no matter how close or far away they are, and, certainly, with such a great country as the United States of America." In response to Smith's question about whether the Soviet Union wished to prevent nuclear war, Andropov declared, "Yes, Samantha, we in the Soviet Union are endeavoring and doing everything so that there will be no war between our two countries, so that there will be no war at all on earth." Andropov also complimented Smith, comparing her to the spunky character Becky Thatcher from "The Adventures of Tom Sawyer" by Mark Twain.
Smith, born June 29, 1972, accepted Andropov's invitation and flew to the Soviet Union with her parents for a visit. Afterward, she became an international celebrity and peace ambassador, making speeches, writing a book and even landing a role on an American television series. In February 1984, Yuri Andropov died from kidney failure and was succeeded by Konstantin Chernenko. The following year, in August 1985, Samantha Smith died tragically in a plane crash at age 13. (see August 11, 1984)
April 25

Peace Love Art Activism
Iraq War II
April 25, 2007:  Laura Bush stated that "No one suffers more than the President and I do."  (see June 7)
April 25

Peace Love Art Activism
DEATH PENALTY
Connecticut Repeals DP
April 25, 2012:  Connecticut Democratic Gov. Dannel Malloy signed into law a repeal of the death penalty, making it the fifth state in recent years to abandon capital punishment. Malloy stated it was 'a moment for sober reflection, not celebration.' With the law, which replaced the death penalty with life in prison without the possibility of parole, Connecticut joined 16 other states and the District of Columbia that do not allow capital punishment. The repeal in Connecticut applied only to future sentences, and the 11 men on its death row now still face execution. However some legal experts have said defense attorneys could use the repeal measure to win life sentences for those inmates. (see May 2, 2013)
Melissa Lucio
April 25, 2022: in a case that had drawn bipartisan outrage Texas Court of Criminal Appeals ordered a halt to the execution of Melissa Lucio, an Hispanic mother of 14 convicted of killing her 2-year-old child more than a decade ago.
Lucio, had long maintained her innocence, and calls for leniency had become widespread in Texas, including among dozens of Democratic and Republican state legislators, as new evidence and expert testimony emerged that cast strong doubt on her guilt.
The three-page decision ordering the stay to the execution that had been set for April 27, the Court found that several of the claims raised by her lawyers needed to be considered by a trial court, including that prosecutors may had used false testimony, that previously unavailable scientific evidence could preclude her conviction and that prosecutors suppressed other evidence that would have been favorable to her.
The case returned to a lower court to resolve those issues, postponing the execution indefinitely. Ms. Lucio would have been the first Hispanic woman executed in Texas. [NYT article] (next DP, see )
April 25

Peace Love Art Activism
LGBTQ
Apology
April 25, 2012:  Robert Spitzer, MD, apologized to the gay community for a study published in October 2003 that said some people were able to change their sexual orientation. In a letter to Ken Zucker, the editor of Archives of Sexual Behavior (which published the study), Spitzer wrote: "I offered several (unconvincing) reasons why it was reasonable to assume that the subject's reports of change were credible and not self-deception or outright lying. But the simple fact is that there was no way to determine if the subject's accounts of change were valid. I believe I owe the gay community an apology for my study making unproven claims of the efficacy of reparative therapy.") [NYT article] (see May 8)
US Military/LGBTQ
April 25, 2018: at a Senate committee hearing, the Air Force Chief of Staff General Dave Goldfein said that he was not aware of any negative effects of transgender people serving in the military, joining the other three chiefs of staff. [General Dave Goldfein appeared at a Senate committee hearing ]
Senator Kirsten Gillibrand questioned Goldfein. She stated that "In the last two weeks General Milley, General Neller, and Admiral Richardson…told me that they have seen zero reports of issues of cohesion, discipline, morale as a result of open transgender service in their respective service branches," referring to the chiefs of the Army, Marine Corps, and Navy.
She then asked Goldrein if he knew of any reports of such issues. Goldfein said he was not. He said that he talked to a few transgender service members and was impressed by the "commitment to serve by each of them."
Last week, Army Chief of Staff Mark Milley testified that he had heard of "precisely zero reports" of problems with transgender soldiers. Marine Commandant General Robert Neller said he was "not aware of any issues in those areas." Chief of Naval Operations Admiral John Richardson said "it's steady as she goes" regarding transgender people in the Navy. (see May 11)
April 25

Peace Love Art Activism
April 25

Peace Love Art Activism
Voting Rights
April 25, 2016: Judge Thomas D. Schroeder of Federal District Court in Winston-Salem upheld Republican-backed changes to election rules, including a voter identification provision, that civil rights groups said unfairly targeted African-Americans and other minorities.
Schroeder's ruling upheld the repeal of a provision that allowed people to register and vote on the same day. It also upheld a seven-day reduction in the early-voting period; the end of preregistration, which allowed some people to sign up before their 18th birthdays; and the repeal of a provision that allowed for the counting of ballots cast outside voters' home precinct.
It also left intact North Carolina's voter identification requirement, which legislators softened last year to permit residents to cast ballots, even if they lack the required documentation, if they submit affidavits. (see Apr 26)
April 25

Peace Love Art Activism
Immigration History
Sanctuary cities 
April 25, 2017: Judge William H. Orrick of United States District Court for the Northern District of California temporarily blocked the Trump administration's efforts to withhold funding from cities that limit their cooperation with federal immigration enforcement.
Orrick issued a nationwide preliminary injunction against the administration, directing it to stop trying to cut off aid to sanctuary jurisdictions. But the order does not prevent the federal government from moving forward on designating certain places as "sanctuaries," nor does it keep the administration from enforcing conditions for doling out federal money if they already exist, as the Justice Department has already begun to do with some law enforcement grants.  (NYT article) (see May 12)
Reunification
April 25, 2019: Judge Dana Sabraw of the Southern District of California gave President Donald Trump's administration six months to identify migrant children who were separated from their families for reunification, a process the White House previously stated would take up to two years.
The Department of Health and Human Services Inspector General estimated in a report that thousands of children were separated even before the "zero tolerance" policy in May and June 2018 that prosecuted immigrant parents who crossed the border illegally while holding their children separately in HHS custody.
Lawyers representing the Trump administration said in a filing earlier that it would take one to two years to identify potentially thousands of children who fit into the category.
But Sabraw ordered the administration to have its plan completed by Oct. 25. According to Sabraw's order, the timeline may be modified for a "showing of good cause." [NBC News article] (next Immigration, see May 17; next Judge Sabraw, see May 17)
April 25

Peace Love Art Activism
Sexual Abuse of Children
April 25, 2017: CNN reported that Marie Collins had resigned from the commission that Pope Francis had set up to combat sex abuse. Collins, the only active member of the commission who was also a victim of abuse said in a statement that, ""It is a reflection of how this whole abuse crisis in the church has been handled: with fine words in public and contrary actions behind closed doors. (see June 23)
April 25

Peace Love Art Activism
Environmental Issues
April 25, 2019: for the first time renewable energy generated more electricity than coal-powered power plants in the U.S.
An analysis by the Institute for Energy Economics and Financial Analysis (IEEFA), a non-profit that supports the transition to clean energy, showed that in April, renewables were on track to surpass the roughly 2,000 to 2,200 thousand megawatt hours per day generated by coal.
The analysis also pointed out that, "To be fair, there are seasonal considerations. Of particular note, is the long-held practice of taking coal plants offline during the lower demand periods of the spring (and fall) to perform maintenance and upgrades to ensure that they are ready for the higher demand of the summer and winter seasons. In addition, spring tends to be peak time for hydro generation." [Smithsonian article] (see June 10)
April 25

Peace Love Art Activism
ADA
April 25, 2023: Toy company Mattel revealed its first Barbie doll representing a person with Down syndrome.
Mattel collaborated with the National Down Syndrome Society to create the Barbie and "ensure the doll accurately represents a person with Down syndrome," the company said and that the design features of the new Barbie were made under guidance from NDSS,
In addition to portraying some physical characteristics of a person with Down syndrome, the Barbie's clothing and accessories carry special meaning.
The blue and yellow on the doll's dress, accompanied by butterflies, represent symbols and colors associated with Down syndrome awareness. And the three chevrons on the Barbie's necklace represent how people with Down syndrome have three copies of their 21st chromosome.
Also the Barbie wears ankle foot orthotics, which some children with Down syndrome use. [AP article] (next ADA, see )