May 27 Peace Love Art Activism
DEATH PENALTY
Feminism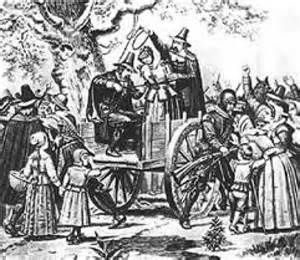 May 27, 1647: Achsah (sometimes rendered "Alice") Young of Windsor, Connecticut, became the first person executed in North America for witchcraft when she was hanged in Hartford, Conn. [Jurist article] (see June 15, 1648)
Hall v Florida
May 27, 2014: the Supreme Court decided 5 – 4 that Florida's threshold requirement, as interpreted by the Florida Supreme Court, that defendants show an IQ test score of 70 or below before being permitted to submit additional intellectual disability evidence was unconstitutional because it created an unacceptable risk that persons with intellectual disabilities will be executed.
Twelve years after leaving it to the states to decide when an individual convicted of murder was too intellectually incapacitated to be executed, the divided Supreme Court withdrew some of that discretion.  The states cannot use a fixed IQ score as the measure of incapacity to be put to death.  "Intellectual incapacity," the Court said, "is a condition, not a number."
But even the new attempt at guidance may have left some uncertainty.  While states were told that they cannot make an IQ test score anywhere above 70 as permission for an individual's execution, it did say that it was not ruling on whether a state could set the fixed score at 75 or above, and use that alone as the measure.  [Oyez article] (see July 16)
Nebraska death penalty
May 27, 2015: Nebraska became the first conservative state in more than 40 years to abolish the death penalty, with lawmakers defying their Republican governor, Pete Ricketts, a staunch supporter of capital punishment who had lobbied vigorously against banning it. After more than two hours of emotional speeches at the Capitol, the Legislature, by a 30-to-19 vote that cut across party lines, overrode the governor's veto of a bill repealing the state's death penalty law. After the repeal measure passed, by just enough votes to overcome the veto, dozens of spectators in the balcony burst into celebration. [DP information center article]  (DP, see June 8; Nebraska, see November 9, 2016)
May 27

Peace Love Art Activism
SEPARATION OF CHURCH AND STATE
May 27, 1668: three colonists were expelled from Massachusetts for being Baptist. (see May 11, 1682)
May 27

Peace Love Art Activism
Black History
Ida B Wells
May 27, 1892: while black journalist Ida B. Wells was away visiting Philadelphia, a white mob attacked and destroyed her newspaper's office in Memphis, Tennessee and threatened her with bodily harm if she returned to the city.
On March 9, three black men had been lynched in Memphis. Ms. Wells, 29, was a local black schoolteacher, editor, and co-owner of The Free Speech and Headlight newspaper, and a friend of the three men. Though Ms. Wells was already a popular journalist and advocate of black causes, the lynchings of her friends inspired her to examine the frequency of racial terror lynching and the false charges often used to justify it. She used the newspaper as a forum to share information she gathered. (next BH, see June 7; next Wells, see July 31, 1896)
Scottsboro Nine

May 27, 1932: the U.S. Supreme Court announced it would hear the Scottsboro cases. (see Scottsboro for expanded story)
Judge Tom P. Brady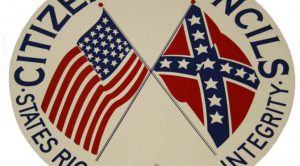 May 27, 1954: Judge Tom P. Brady of Brookhaven, Mississippi delivered a defiant speech called "Black Monday" in response to the U.S. Supreme Court's Brown v. Board of Education decision, inspiring many white leaders to join the white Citizens' Council. The racist diatribe was printed in books and distributed to white schoolchildren across Mississippi. Brady pointed to specific moments in history from ancient times, to the period of the Civil War, as proof of the natural order of subordination of African Americans to whites. He went on to discuss what he saw as the nation's infringement on states' rights, and campaigns against national laws that undermine the way that the people in Mississippi wish to treat African-American people. He argued that anti-civil rights activists needed to take action against civil rights laws and against an empowered African-American people. [1973 NYT obit](see June 10)
George Whitmore, Jr
May 27, 1966: Justice Aaron Goldstein sentenced  Whitmore to five to ten years in prison for the attempted rape and assault. With time off for good behavior and credit for 25 months already served, Whitmore was eligible for release in. (see Whitmore for expanded story)
Green v. County School Board of New Kent County
May 27, 1968: the US Supreme Court ordered states to dismantle segregated school systems "root and branch." The Court identified five factors — facilities, staff, faculty, extracurricular activities and transportation — to be used to gauge a school system's compliance with the mandate of Brown. In a private note to Justice Brennan, Justice Warren wrote: "When this opinion is handed down, the traffic light will have changed from Brown to Green. Amen!"  [Oyez article] (BH, see May 27; SD, see Oct 29, 1969)
Louisville riot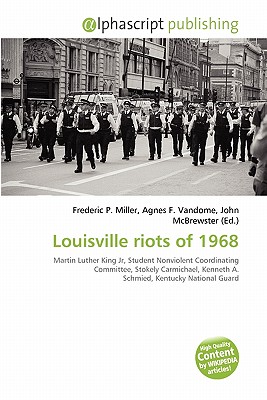 May 27, 1968: Louisville, Kentucky riot in response to the Martin Luther King, Jr assassination. [images] (BH, see Sept 8; RR, see October 31, 1969 )
137 SHOTS
May 27, 2015: authorities said that Cleveland police Officer Michael Brelo allegedly engaged in a fight with his twin brother during a night of drinking. Michael Brelo and his brother, Mark, faced assault charges. The fight between the twins occurred at Michael Brelo's home after 4 a.m. on May 27, according to police in Bay Village, Ohio. (see 137 for expanded story)
May 27

Peace Love Art Activism
US Labor History
Battle of Toledo, day 5
May 27, 1934 (Sunday): almost all picketing and rioting within the now eight-block-wide zone surrounding the Auto-Lite plant ceased. (see Toledo for expanded chronology)
May 27

Peace Love Art Activism
May 27 Music et al
"From Me to You"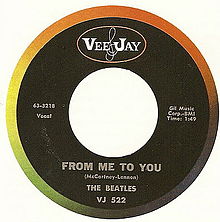 May 27, 1963: The Beatles released their second US single:  "From Me to You." (March 15 was first release) It peaked at #116 on the national charts in August. In Los Angeles, it peaked at the same time at #32.
In 1980, John Lennon said, "We were writing it in a car, I think… and I think the first line was mine. I mean, I know it was mine. (humms melody) And then after that we just took it from there. We were just writing the next single. It was far bluesier than that when we wrote it. The notes, today.. you could rearrange it pretty funky." (see June Peace…)
May 27, 1963: released his second album, The Freewheelin Bob Dylan.
The album cover features Dylan with Suze Rotolo. It was taken in February 1963 by CBS staff photographer Don Hunstein at the corner of Jones Street and West 4th Street in the West Village, close to the apartment where they couple lived.
Critic Janet Maslin summed up the iconic impact of the cover as "a photograph that inspired countless young men to hunch their shoulders, look distant, and let the girl do the clinging." (see Freewheelin' for expanded story)
Side one

"Blowin' in the Wind"

"Girl from the North Country"

"Masters of War"

"Down the Highway"

"Bob Dylan's Blues"

"A Hard Rain's a'Gonna Fall

Side two

"Don't Think Twice, It's All Right"

"Bob Dylan's Dream"

"Oxford Town"

"Talkin' World War III Blues"

"Corrina, Corrina" (Traditional)

"Honey, Just Allow Me One More Chance" 

"I Shall Be Free"
The Road to Bethel
May 27, 1969: press release: the production staff for the festival was completed. Wartoke Concern was the festival's public relations firm. (see Road for expanded story)
May 27

Peace Love Art Activism
Crime and Punishment
May 27, 1964: Attorney General Robert F. Kennedy gave the keynote address at the National Conference on Bail and Criminal Justice on this day. Chief Justice Earl Warren also spoke. The conference launched a national bail reform movement that led to the 1966 federal Bail Reform Act (June 22, 1966) and similar laws in every state. [Justice Dept PDF] (see March 8, 1965)
May 27

Peace Love Art Activism
Vietnam
United States v. O'Brien
May 27, 1968: United States v. O'Brien (see March 31, 1966). In a 7 – 1 opinion, the Supreme Court upheld the 1965 law that made it a crime to burn or otherwise destroy or mutilate a draft card. Chief Justice Warren, writing the majority opinion, rejected the lower court's contention that draft card burning was "symbolic speech" and that Congress was forbidden by the First Amendment's free-speech guarantees to outlaw it. [Oyez article] (Vietnam, see June 14; FS, see June 3; Draft Card Burning, see October 30)
Swedish Humanitarian Aid to NLF
May 27, 1971: in Sweden, Foreign Minister Torsten Nilsson revealed that Sweden had been providing assistance to the Viet Cong (aka, National Liberation Front), including some $550,000 worth of medical supplies. Similar Swedish aid was to go to Cambodian and Laotian civilians affected by the Indochinese fighting. The support was primarily humanitarian in nature and included no military aid. (see June 7)
May 27

Peace Love Art Activism
Nuclear/Chemical News
SALT
May 27, 1972: Soviet President Leonid Brezhnev and U.S. President Richard Nixon, meeting in Moscow, signed the Strategic Arms Limitation Talks (SALT) agreements. At the time, these agreements were the most far-reaching attempts to control nuclear weapons. [Office of the Historian article] (see July 1; SALT, see December  13,  2001)
May 27

Peace Love Art Activism
World Trade Center
George H. Willig fined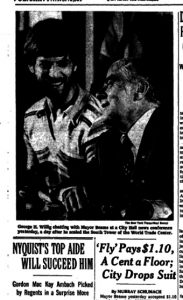 May 27, 1977:  NYC Mayor Beame accepted $1.10 to settle the city's $250,000 suit against George H. Willig, Instead, Willig was fined $1.10, 1 cent per floor, for scaling the World Trade Center. (see February 26, 1993)
May 27

Peace Love Art Activism
Oklahoma City Explosion
Michael Fortier
May 27, 1998: Michael Fortier, the government's star witness in the Oklahoma City bombing case, was sentenced to 12 years in prison after apologizing for not warning anyone about the deadly plot. (see January 2000)
May 27

Peace Love Art Activism
CLINTON IMPEACHMENT
May 27, 1998: Monica Lewinsky's lawyer, Bill Ginsburg wrote an angry "open letter" to Ken Starr which was published in "California Lawyer." "Congratulations, Mr. Starr! As a result of your callous disregard for cherished constitutional rights, you may have succeeded in unmasking a sexual relationship between two consenting adults." It was reported that death threats were made against Linda Tripp when the Lewinsky scandal first broke in January and she was moved to a safe house. (see Clinton for expanded story)
May 27

Peace Love Art Activism
Dissolution of Yugoslavia
Slobodan Milosevic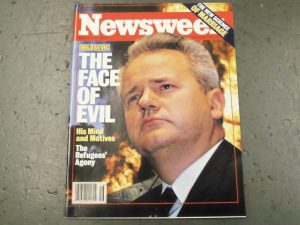 May 27, 1999: in The Hague, Netherlands, a war crimes tribunal indicted Slobodan Milosevic and four others for atrocities in Kosovo. It was the first time that a sitting head of state had been charged with such a crime.  [Slate article on Milosevic] (see June 3)
May 27

Peace Love Art Activism
Family Leave Medical Act
May 27, 2003: In Nevada Department of Human Resources v. Hibbs, the Supreme Court ruled that states can be sued in federal court for violations of the Family Leave Medical Act. (NYT article)
May 27

Peace Love Art Activism
Environmental Issues
Deepwater Horizon Oil Spill
May 27, 2010: President Obama announced a six-month moratorium on new deepwater oil drilling permits in 500 feet of water or more. Based on the oil flow estimates by the Flow Rate Technical Group, the US government increased its estimate from 12,000 to 19,000 barrels (500,000 to 800,000 US gallons per day. (NYT article) (see June 1)
Plains All American Pipeline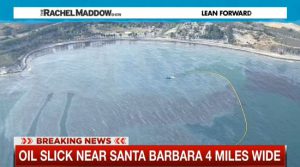 May 27, 2015: the U.S. Environmental Protection Agency (EPA) and the Coast Guard ordered Texas-based Plains All American Pipeline to continue its efforts to clean up the pipeline breach that dumped crude onto a pristine stretch of shoreline and into the Pacific Ocean.
The order required Plains All American Pipeline to submit a written plan by June 6 that will outline measures for analyzing the spill's effects on the environment.
The May 19 spill dumped as much as 2,400 barrels (101,000 gallons, or 382,000 liters) of crude onto a pristine stretch of the Santa Barbara coastline and into the Pacific, leaving slicks that stretched over 9 miles (14 km) along the coast.
"Our action today is to make sure the oil response work continues until the Santa Barbara County coastline is restored," Jared Blumenfeld, an EPA regional administrator, said in a statement. (see June 9)
May 27

Peace Love Art Activism
Native Americans
May 27, 2014: a divided Supreme Court ruled that the Michigan could not block the opening of an off-reservation American Indian casino because the state's legal challenge is barred by tribal sovereign immunity.
In a 5-4 decision, the high court said the state could not shutter the Bay Mills Indian Community's casino about 90 miles south of its Upper Peninsula reservation.
The ruling was a win for Indian tribes, which had increasingly looked to casinos as a source of revenue and had relied on immunity to shield them from government interference. But it's a disappointment for Michigan and more than a dozen others states that say the decision will interfere with their ability to crack down on unauthorized tribal casinos.
Michigan argued that the Bay Mills tribe opened the casino in 2010 without permission from the U.S. government and in violation of a state compact. The tribe had purchased land for the casino with earnings from a settlement with the federal government over allegations that it had not been adequately compensated for land ceded in 1800s treaties. [SCOTUS blog article] (see June 18)
May 27

Peace Love Art Activism
Immigration History
May 27, 2015: the Justice Department said it would not ask the Supreme Court to review the judge's decision that put on hold President Obama's executive action on immigration. (see June 15)
May 27

Peace Love Art Activism
Cannabis
May 27, 2021: a federal report by U.S. Department of Education's National Center for Education Statistics (NCES) analyzed youth surveys of high school students from 2009 to 2019. The report concluded that there had been "no measurable difference" in the percentage of those in grades 9-12 who reported consuming cannabis at least once in the past 30 days.
The report, which relied on data from the Youth Risk Behavior Surveillance System, also found that access remained stable during that time period, with no statistically significant changes in the percentage of youth who say they've been offered, sold or gifted illegal drugs on school grounds in the previous 30 days.
What makes the report notable is the timeline.
Cannabis reform opponents frequently argued that enacting adult-use legalization in states spur more underage people to use marijuana. There were no recreational markets in 2009, and that year, 21 percent of high school students reported past 30-day use. The first legal sales launched in Colorado in 2014—and five years after that, 22 percent of teens said they'd recently used marijuana. [MM article] (next Cannabis see June 22 or see CAC for expanded chronology)
May 27

Peace Love Art Activism