May 17 Music et al
Princeton "riot"
May 17, 1955: Princeton University students played the Bill Haley hit record Rock Around the Clock simultaneously from their dorm rooms. News reports indicated that it really wasn't a "riot," but university administrators were apparently not happy, since four students were later suspended "indefinitely."  Blackboard Jungle, the film that opens with the song, was banned in several cities because of its alleged immoral influence on juveniles (and, apparently, Princeton University students). It was banned in Memphis, Tennessee, on March 28, 1955, and withdrawn as the U.S. entry in the Venice Film Festival on August 28, 1955. (Today In Civil Liberties article)  (see Aug 21)
May 17

Music et al
Monterey Folk Festival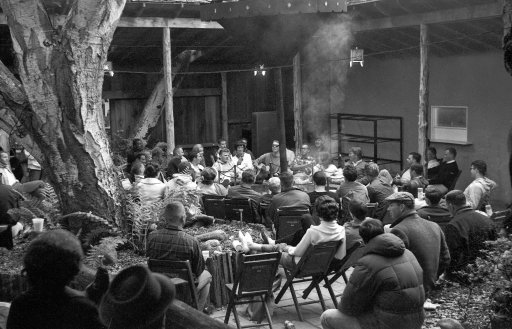 May 17, 1963: the first Monterey Folk Festival took place over three days in Monterey, California. The festival featured Joan Baez, Bob Dylan and Peter Paul and Mary. Baez, had a home in Carmel Highlands, was a huge star at the time, while Dylan was a still a newcomer making a name for himself.
Dylan was not treated kindly by that Monterey audience, who had come to see more traditional folks acts such as Peter, Paul and Mary (who ironically had a hit that summer with Dylan's "Blowin' in the Wind"), the Weavers and the New Lost City Ramblers. As described in the excellent book about that era, David Hajdu's "Positively 4th Street," "The Monterey audience, which was largely unfamiliar with Dylan's style, responded poorly, talking loudly over his singing."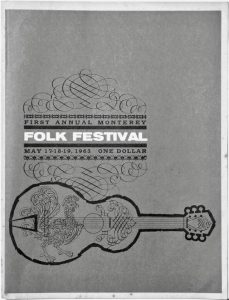 "He went over very badly," said Barbara Dane, the festival's host, in Hajdu's account. "He didn't play very long, and it felt like he was on for an hour. I think people were laughing." Even though he did three of his hardest-hitting protest songs, "Talkin' John Birch Paranoid Blues," "A Hard Rain's A-Gonna Fall" and "Masters of War," the response was so bad it prompted Baez to walk out unannounced and admonish the audience. "She wanted everyone to know, she said, that this young man had something to say," Hajdu wrote. "He was singing about important issues, and he was speaking for her and everyone who wanted a betterworld. They should listen, she said — she ordered them, nearly:Listen!" They performed Dylan's "With God on Our Side" together, their voices an odd match, "salt pork and meringue," but Hadju wrote, "the tension between their styles made their presence together all the more compelling." They left the stage with "people cheering." (see May 27)
May 17

Music et al
Herbie Hancock
May 17, 1965: Hancock released his fifth album, Maiden Voyage. It is a concept album aimed at creating an oceanic atmosphere. Stephen Thomas Erlewine in his All Music review writes: Less overtly adventurous than its predecessor, Empyrean Isles, Maiden Voyage nevertheless finds Herbie Hancock at a creative peak. In fact, it's arguably his finest record of the '60s, reaching a perfect balance between accessible, lyrical jazz and chance-taking hard bop.
May 17

Music et al
"Louie, Louie"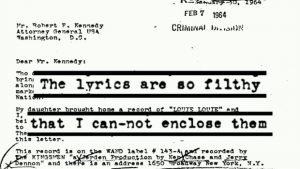 May 17, 1965: the FBI had launched a formal investigation in 1964 into the supposedly pornographic lyrics of the song "Louie, Louie." That investigation finally neared its conclusion on this day in 1965, when the FBI Laboratory declared the lyrics of "Louie Louie" to be officially unintelligible. (TC, see January 8, 1966;  next FoR, see March 26, 1967)
May 17

Music et al
Bob Dylan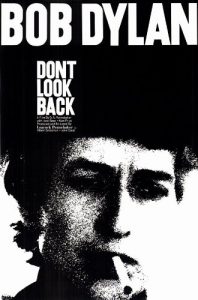 May 17, 1967: D A Pennebaker's film, Dont Look Back, first shown publicly at the Presidio Theater in San Francisco. (see Dec 27)
May 17

Music et al
May 17-19, 1969, Langley, British Columbia
Aldergrove Beach Rock Festival, Canada's First Outdoor Rock Festival.
The Vancouver Sun reported afterwards, "More than 25,000 young people from all over Canada and the Pacific Northwest rocked their way through the holiday weekend here — peacefully.
"There was pot; there was liquor; there was some nudity; and there was some sleeping bag love-ins. But nothing was as bad as the foretellers of doom had predicted."
Among the performers was one Guitar Shorty. He had married a woman from Seattle, where they lived in 1969. Her name was Marcia and she had a half-brother who fell in love with Guitar Shorty's playing. His name was Jimi and as the story goes, Shorty introduced the young Hendrix to the wah pedal and loaned him one when he couldn't afford to buy his own.
John Lennon pleads for mercy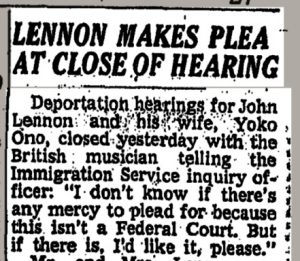 May 17, 1972: deportation hearings for John Lennon Yoko Ono, closed with Lennon telling the Immigration Service inquiry officer: "I don't know if there's any mercy to plead for because this isn't a Federal Court. But if there is, I'd like it, please." (see June 12)
May 17 Music et al