FBI vs Louie Louie
A sailor walks into a bar…
When The Kingsmen released "Louie Louie" in May 1963, the tune already had a long recorded history.
FBI vs Louie Louie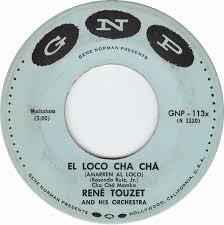 Rene Touzet
Rene Touzet and his orchestra played  "El Loco Cha Cha" in the early 1950s.
FBI vs Louie Louie
Richard Berry
One night singer Richard Berry heard  Touzet's song and decided to use some riffs from it to write his own song. His lyrics were about a sailor missing his girl and talking to a guy named Louie. He released the song in 1956.
It sold well in the Rhythm & Blues market, but he eventually sold the rights to the song so he could get married.
FBI vs Louie Louie
Rockin' Robin Roberts
Rockin' Robin Roberts, a musician from the US Pacific Northwest, heard the song and decided to add it to his band's set list. Because of the song's popularity, many bands began to perform it. Roberts recorded "Louie Louie" in 1961.
FBI vs Louie Louie
Paul Revere and the Raiders
Paul Revere and the Raiders also released the song in 1963. Their version was a hit on the west coast, but…
FBI vs Louie Louie
The Kingsmen
…the Kingsmen's recording, initially released on the small jerden label, was hit in the Seattle area which led to a release on the somewhat larger wand label.
The song spent 16 weeks [December 1963 – February 1964] on the Billboard Hot 100.
FBI vs Louie Louie
Blue R & B
Society sometimes condemns rock and roll for its sexual innuendos, but double-meaning lyrics were an old story. "Anybody Here Want To Try My Cabbage?"  by Maggie Jones (1924)…
FBI vs Louie Louie
"Get 'em from the Peanut Man" by Lil Johnson (1935)…
…and others like "Good Rockin' Tonight" by Wynonie Harris (1947), and "Smooth Slow and Easy" by the Drivers (1956) are just four of the dozens of songs that weren't for polite company during that era.
FBI vs Louie Louie
Sarasota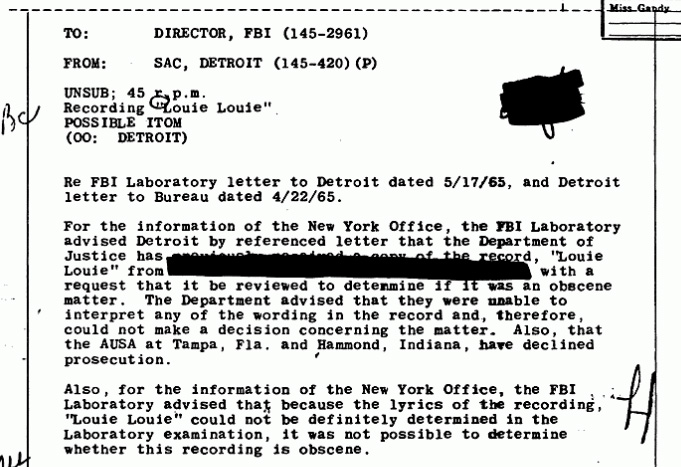 Some adults thought a song's lyrics obscene simply because someone said so. Such was the case with "Louie Louie."  On February 10, 1964 the FBI "received complaint from…Sarasota High School, advising that captioned record is very popular with the high school students, and he has been furnished lyrics for the song, which are very obscene."  And thus was launched the FBI's inquiry "Louie Louie."
In May 1965 the FBI concluded with a 119-page inquiry, which had the basic conclusion: "…there are unintelligible words or sounds in their [the Kingsmen] vocal where those who want to apparently find the obscenity [my emphasis], but these were honest vocal effect without thought of intended obscenity and that neither he nor the others in the group can hear the suggested obscenity…."
According to Wikipedia, "By some accounts "Louie Louie" is the world's most recorded rock song with over 1,600 versions." So much for obscene lyrics.
FBI vs Louie Louie
…and the sailor says to the bartender, Louie…
[Chorus]

Louie Louie, oh no

Sayin' we gotta go, yeah yeah, yeah yeah

Said Louie Louie, oh baby

Said we gotta go

A fine little girl, she waits for me

Catch a ship across the sea

Sail that ship about, all alone

Never know if I make it home

[Chorus]

Three nights and days I sail the sea

Think of girl, all constantly

On that ship I dream she's there

I smell the rose in her hair

[Chorus]

Okay, let's give it to 'em, right now!

See, see Jamaica, the moon above

It won't be long, me see me love

Take her in my arms again

I'll tell her I'll never leave again

[Chorus]

I said we gotta go now

Let's take this on outta here

Let's go!
FBI vs Louie Louie
A few…
So here's THE version by the Kingsmen and some other versions plus a Bruce cover!
Paul Revere and the Raiders
The Kingsmen
Louie Louie by  Bruce Springsteen:
---
FBI vs Louie Louie