February 6 Music et al
George Harrison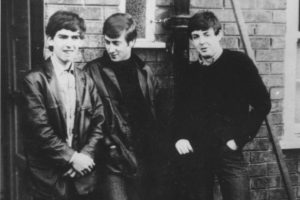 February 6, 1958: George Harrison joined The Quarrymen. The group, named after Lennon's school, featured John Lennon, Paul McCartney, Len Garry, Eric Griffiths and John Lowe.. George Harrison (recalling those early days): "I was very impressed by John, probably more than Paul, or I showed it more. I suppose I was impressed by all the Art College crowd. John was very sarcastic, always trying to put you down, but I either took no notice or gave him the same back, and it worked." (see July 15)
February 6 Music et al
All Those Years Ago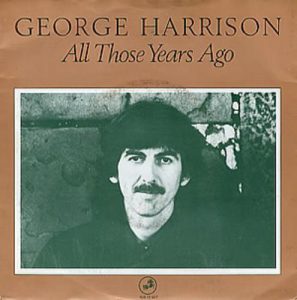 Exactly 33 years later (and 60 days after John Lennon's murder) on February 6, 1981, George Harrison completed the recording of All Those Years Ago, Harrison's musical tribute to Lennon.
Ringo Starr had worked with Harrison on the song in November 1981 intending to use it on his own album, but decided not to. After lennon's assassination,  Harrison changed the lyrics and invited Paul McCartney to join on the vocals. 
It was the first time that the three former band mates had appeared on the same recording since "I Me Mine" in 1970. 
The song's personnel are:
George Harrison – vocals, electric guitars, synthesizer, backing vocals

Al Kooper – electric piano

Herbie Flowers – bass

Ringo Starr – drums

Ray Cooper – tambourine

Paul McCartney – backing vocals

Linda McCartney – backing vocals

Denny Laine – backing vocals
Harrison's Dark Horse label released the song in the United States on May 11, 1981. The song went to #2 in the United States.  (2017 K-SHE'95 article) (see Feb 19)
---
I'm shouting all about love
While they treated you like a dog
When you were the one who had made it so clear
All those years ago

I'm talking all about how to give
They don't act with much honesty
But you point the way to the truth when you say
All you need is love

Living with good and bad
I always looked up to you
Now we're left cold and sad
By someone the devil's best friend
Someone who offended all

We're living in a bad dream
They've forgotten all about mankind
And you were the one they backed up to the wall
All those years ago
You were the one who imagined it all

All those years ago
All those years ago

Deep in the darkest night
I send out a prayer to you
Now in the world of light
Where the spirit free of lies
And all else that we despised

They've forgotten all about God
He's the only reason we exist
Yet you were the one that they said was so weird
All those years ago
You said it all though not many had ears
All those years ago
You had control of our smiles and our tears
All those years ago

All those years ago
All those years ago
February 6 Music et al
Billboard #1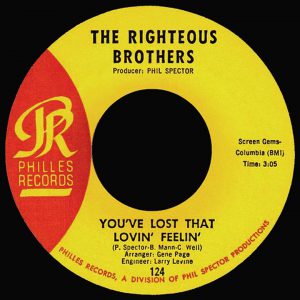 February 6 – 19, 1965: "You've Lost That Lovin' Feelin'" by the Righteous Brothers #1 on the Billboard Hot 100. In 1999, BMI listed the song as the one most often played on American radio and television in the 20th century, with some 8 million plays. That total includes all versions of the song, not just The Righteous Brothers'.
The husband-and-wife songwriting team of Barry Mann and Cynthia Weil wrote the song. For inspiration, the team used  the idea of Four Tops' big hit, "Baby I Need Your Loving." Phil Spector also receives writing credit, although he did not contribute to it. As a powerful producer, he, like others, claimed inspiration and perspiration as sufficient.
The opening line, "You never close your eyes any more when I kiss your lips," was inspired by the Paris Sisters song "I Love How You Love Me," which begins, "I love how your eyes close whenever you kiss me."
The song was the first Righteous Brothers release on Philles Records, and it gave both the duo and the songwriting team their first #1 hit. (see Righteous for more)
February 6 Music et al
The Road to the Woodstock Festival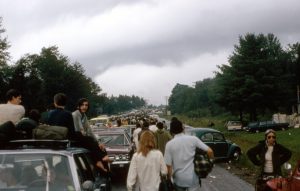 February 6, 1969: Michael Lang and Artie Kornfeld met John Roberts and Joel Rosenman for the first time. Lang and Kornfeld propose a music studio retreat in Woodstock, NY that would be an ideal place for musicians to make music in a relaxed atmosphere in an area where many other young musicians live. (see Road for expanded story)
February 6 Music et al