February 26 Peace Love Art Activism
Immigration History/US Labor History
---
February 26, 1885: Alien Contract Labor Law, also known as the Foran Act, was an act to prohibit the importation and migration of foreigners and aliens under contract or agreement to perform labor in the United States, its Territories, and the District of Columbia. (see Sept 2; Alien Contract Law, see February 7, 1887)
February 26

Peace Love Art Activism
Technological Milestone
---
February 26, 1908: at midnight, service through the Hudson & Manhattan railway tunnels opened to the public, carrying passengers between Manhattan and Hoboken New Jersey. It was the first railroad tunnel under a major river in the U.S. (Hoboken article) (see Sept 26)
February 26

Peace Love Art Activism
BLACK HISTORY
Mink Slide district
---
---
February 26 1946: highway patrolmen entered the Mink Slide district. The officers fired randomly into buildings, stole cash and goods, searched homes without warrants, and took any guns, rifles, and shotguns they could find. When the sweep was over, more than one hundred blacks had been arrested, and about three hundred weapons from the black community had been confiscated. None of the accused were granted bail or allowed legal counsel. (Tenness4me article)  (see Feb 28)
Muhammad Ali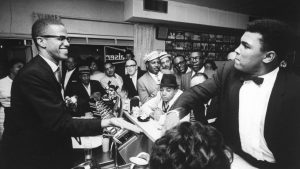 ---
---
February 26, 1964: the day after he defeated Sonny Liston, "Cassius X" announced membership in Nation of Islam. His announcement was a bold step, jeopardizing potential boxing and money-making opportunities. (2017 Time article) (see Mar 6)
Malcolm X
---
February 26, 1965: police arrested Norman Butler for the murder of Malcom X. (MX, see October 15, 1966)
---
February 26, 1965:  Jimmie Lee Jackson died at Good Samaritan Hospital in Selma. After his death, Sister Michael Anne, an administrator at Good Samaritan, said there were powder burns on Mr. Jackson's abdomen, indicating that he was shot at very close range. When civil rights organizer, James Bevel, heard of Jackson's death he called for a march from Selma to Montgomery to talk to Governor George Wallace about the attack in which Jackson was shot.  (BH, see Mar 1; March to Selma, see Mar 7)
February 26

Peace Love Art Activism
Nuclear/Chemical Weapons News
---
February 26, 1952:  Prime Minister Winston Churchill announced that Britain had developed its own atomic bomb. (see Apr 22)
February 26

Peace Love Art Activism
Vietnam
South Korean troops
---
February 26, 1965: the first contingent of South Korean troops arrived in Saigon. Although assigned to non-combat duties, they came under fire on April 3. The South Korean contingent was part of the Free World Military Forces, an effort by President Lyndon B. Johnson to enlist allies for the United States and South Vietnam. By securing support from other nations, Johnson hoped to build an international consensus behind his policies in Vietnam. The effort was also known as the "many flags" program. By the close of 1969, there were over 47,800 Korean soldiers actively involved in combat operations in South Vietnam. Seoul began to withdraw its troops in February 1972. (see Mar 1)
My Lai Massacre
---
February 26, 1971: despite the conclusion that General Koster was the motivating force behind the cover-up, charges against Koster were dropped. Koster's only reprimand comes in the form of a reduction in rank. (see My Lai for expanded story; Vietnam, see "In March")
February 26

Peace Love Art Activism
US Labor History & Feminism
---
February 26, 1965: the TWA employees union challenged the forced retirement of stewardesses on this day. These women were also forbidden to marry and were monitored for their weight. This event was one of a number of growing challenges to the discriminatory policies regarding female flight attendants. By the end of the 1970s, the discriminatory practices against them were gone, and the job had the unisex title of Flight Attendant. (Labor, see January 1, 1966; F, see January 20, 1966)
February 26

Peace Love Art Activism
February 26 Music et al
---
February 26 – March 4, 1966: "These Boots Are Made for Walkin'" by Nancy Sinatra #1 on the Billboard Hot 100.
---
February 26

Peace Love Art Activism
Cultural Milestone
---
February 26, 1970: National Public Radio was incorporated. (see February 17, 1972)
February 26

Peace Love Art Activism
Environmental Issues
---
February 26, 1972: a coal slag heap doubling as a dam in West Virginia's Buffalo Creek Valley collapsed, flooding the 17-mile long valley. 118 died, 5,000 were left homeless. The Pittston Coal Co. said it was "an act of God" (see June 14)
February 26

Peace Love Activism
Terrorism
Beirut, Lebanon
---
February 26, 1984: United States Marines pull out of Beirut, Lebanon. (see Sept 20)
---
World Trade Center
---
February 26, 1993: a van packed with a 1,210-pound bomb exploded in the parking garage underneath the World Trade Center. The explosion left a gigantic crater 200 feet wide and caused over 591 million dollars in damage. Six people were killed and more than a thousand injured. (see Mar 4)
Oklahoma City Explosion
---
February 26, 1998: a federal appeals court affirmed Terry Nichols' conviction and sentence of life imprisonment without parole.  (see May 27)
February 26

Peace Love Art Activism
Iran–Contra Affair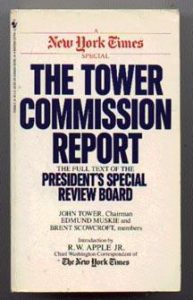 ---
February 26, 1988: the Tower Commission rebuked U.S. President Ronald Reagan for not controlling his National Security Council staff. (see Mar 4)
February 26

Peace Love Art Activism
LGBTQ
Ben-Shalom v. Stone
---
February 26, 1990: refusing to consider the cases of Ben-Shalom v. Stone and Woodward v. U.S., the U.S. Supreme Court effectively upheld the right of the American military to discharge gays and lesbians of the armed forces. (see May 17)
Texas ban on same-sex marriage
---
February 26, 2014:  in San Antoinio, U.S. District Judge Orlando Garcia overturned the Texas ban on same-sex marriage ruling that the prohibition was unconstitutional and stigmatized the relationship of gay couples. The ruling did not allow same-sex couples to immediately marry because the judge stayed the injunction pending any appeal.
---
Garcia ruled that the state's ban deprived same sex couples of due process and equal protection, stigmatizing their relationships and treating them differently from opposite-sex couples. "Today's court decision is not made in defiance of the great people of Texas or the Texas Legislature, but in compliance with the U.S. Constitution and Supreme Court precedent," Garcia said. (see Feb 27)
Zarda v. Altitude Express
---
February 26, 2018: the US Court of Appeals for the Second Circuit in Manhattan ruled that federal civil rights law bars employers from discriminating based on sexual orientation.
---
                The case, which stemmed from the 2010 dismissal of Donald Zarda, a Long Island sky-diving instructor, was a setback for the Trump Justice Department, whose lawyers found themselves in the unusual position of arguing against government lawyers from the Equal Employment Opportunity Commission.
---
               The E.E.O.C. had argued that Title VII of the 1964 Civil Rights Act, which bars workplace discrimination based on "race, color, religion, sex or national origin," protected gay employees from discrimination on the basis of sexual orientation.
---
                But the Trump Justice Department took the position that the law did not reach sexual orientation, and said the E.E.O.C. was "not speaking for the United States."
---
                Chief judge, Robert A. Katzmann wrote (and was joined, in part or whole, by nine other judges ): "We see no principled basis for recognizing a violation of Title VII for associational discrimination based on race but not on sex. Sexual orientation discrimination is a subset of sex discrimination because sexual orientation is defined by one's sex in relation to the sex of those to whom one is attracted, making it impossible for an employer to discriminate on the basis of sexual orientation without taking sex into account."
---
                Zarda died in a jumping accident on October 3, 2014 in Switzerland after the suit was filed. (see Mar 6)
---
February 26

Peace Love Art Activism
IRAQ War I
---
February 26, 1991: Saddam Hussein announced the withdrawal of Iraqi troops from Kuwait. Iraqi soldiers set fire to Kuwaiti oil fields as they retreated. (see Feb 27)
February 26

Peace Love Art Activism
Women's Health
---
February 26, 1992: the Supreme Court of Ireland ruled that a 14-year-old rape victim may travel to England to have an abortion. (see Apr 5)
February 26

Peace Love Art Activism
CLINTON IMPEACHMENT
---
February 26, 1998: White House senior communications aide Sidney Blumenthal testified before the grand jury, answering questions about any role he may have played in spreading negative information about investigators in Independent Counsel Ken Starr's office. Fourteen Democrats in the House write Attorney General Janet Reno complaining about subpoenas issued by Starr. A non-profit group that studies women in the workplace says it will contribute $10,000 as seed money for a legal defense fund for Lewinsky. (see Clinton for expanded story)
February 26

Peace Love Art Activism
STAND YOUR GROUND LAW
Trayvon Martin Shooting
---
February 26, 2012: George Zimmerman, a neighborhood watch captain, shot and killed Trayvon Martin, 17. Zimmerman told police he fired in self-defense. Zimmerman confronted the teen after calling 911 and reporting Martin as a "suspicious person." Though a dispatcher told Zimmerman not to follow the teen, Zimmerman confronted him nevertheless, police said. Martin died from a gunshot wound to the chest. (Stand Your Ground, see Mar 14; Trayvon, see Mar 21)
February 26

Peace Love Art Activism
Marijuana
Washington, D.C
---
February 26, 2015: after months of debate, threats and uncertainty, recreational marijuana became legal in Washington, D.C., at least according to the city government. Adults 21 and over could legally use marijuana, possess up to two ounces and grow up to six marijuana plants in their homes for personal use. Marijuana sales remained illegal, but the District Council was considering a bill that would regulate and tax marijuana sales, similar to laws in Colorado and Washington state. Because of the city's unique oversight by Congress, it was unclear if any measure legalizing marijuana sales and regulation could go into effect before 2016. (see May 3)
February 26

Peace Love Art Activism
Please follow and like us: