May 3 Peace Love Art Activism
 Anarchism in the US
US Labor History
May 3, 1886: Chicago, striking workers from Cyrus McCormick's Harvester plant clash with police. Four workers were killed, and several were wounded. (2011 Taylor & Francis article) (see May 4, 1886)
National Farmers' Holiday Association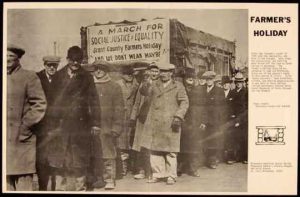 May 3, 1932: Milo Reno, former president of the Iowa Farmers' Union, founded the National Farmers' Holiday Association (FHA). The FHA fought foreclosures, sometimes by blocking the roads and physically preventing a sheriff from selling a farmer's home and land. Other times, they held penny auctions, where everyone refused to bid more than a few pennies for the farm. The farm would then be given back to its original owner with no debt and the bank would only be a few cents richer. (Encyclopedia of the Great Plains article) (see January 4, 1933)
Emma Goldman
May 3, 1935: from the New York Times: [Montreal] Emma Goldman was hailed as "one of the great women of the age," whose qualities of mind and should would be remembered long after she had gone by Rabbi Stern of Montreal last night when friends and admirers of Miss Goldman gave a farewell dinner before she leaves for Europe." (see Goldman for expanded story)
May 3 Peace Love Art Activism
BLACK HISTORY
NAACP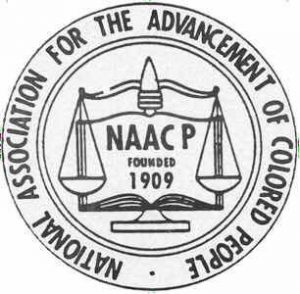 May 3, 1910: the National Negro Committee first met in 1919. On this date it chose "National Association for the Advancement of Colored People" as its organization name. (see June 25)
Scottsboro Boys/Sheriff Matt Wann
May 3, 1932: Sheriff Matt Wann murdered while serving a warrant for the arrest of a Harry Hambrick for the failure to support his wife. Wann had mistakenly arrested Hambrick's brother and Hambrick shot and killed Wann. Hambrick was never caught nor tried in abstencia. Several deputies were with Wann assisting with the arrest.
Scottsboro Boys/Olen Montgomery
May 3, 1934: after a May Day rally to support them, Olen Montgomery wrote to his mother:  "That thing they had here on May Day what good did it do. Not any at all. I'm still locked up in the cell. Instead of the I.L.D. trying to make it better for me here in jail they are making it harder for me by trying to demand the people to do things. Listen, send me some money. Send me three dollars like I told you in my first letter." (see Scottsboro for expanded story)
Continued student protest
May 3, 1963: despite the brutal treatment by police the day before, hundreds more school children marched in Birmingham.  Commissioner of Public Safety Eugene "Bull" Connor directed local police and firemen to attack the children with high-pressure fire hoses, batons, and police dogs. Images of children being brutally assaulted by officers and dogs appeared on television and in newspapers throughout the nation and world, provoking global outrage. The United States Department of Justice soon intervened. (see May 7)
Viola Liuzzo
May 3, 1965: the trial of Collie Wilkins, one of Viola Liuzzo's killers began. (BH, see May 4; see Liuzzo for expanded story)
Northwestern University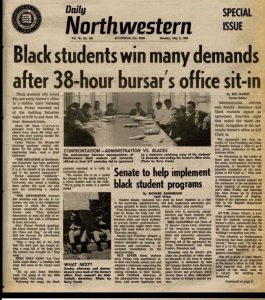 May 3, 1968: more than 100 African-American students took over a building at Northwestern University in Evanston, Ill. They wanted African-American history, literature and art included in the curriculum. Their efforts led to the establishment of an African-American studies department, which now offers a doctoral program.  (NU article) (see May 11)
Matthew Shepard and James Byrd, Jr. Hate Crimes Prevention Act
May 3, 2007: The House of Representatives passed the Matthew Shepard and James Byrd, Jr. Hate Crimes Prevention Act, but the bill gets stuck in Senate committee. (BH, see May 10; see Shepard for expanded chronology; LGBTQ, see June 14)
Autherine Lucy Foster
May 3, 2019: the University of Alabama awarded Autherine Lucy Foster, the first black student to enroll at the University of Alabama, a Doctor of Humane Letters degree
Foster, 89, said in a statement: "I love the University of Alabama, and it is an honor to be recognized in this way I am thankful for opportunities such as this, which allow us to talk about the past while looking to the future." (next BH, see May 22; next Lucy, see August 19, 2020)
May 3 Peace Love Art Activism
Immigration History
Alien Land Law
May 3, 1913: California enacted the Alien Land Law, barring Asian immigrants from owning land. California tightened the law further in 1920 and 1923, barring the leasing of land and land ownership by American-born children of Asian immigrant parents or by corporations controlled by Asian immigrants. These laws were supported by the California press, as well as the Japanese and Korean (later Asiatic) Exclusion League and the Anti-Jap Laundry League (both founded by labor unions) – groups claiming tens of thousands of members.
However, animosity for Asian immigrants was not solely local. In May 1912, President Woodrow Wilson wrote to a California backer: "In the matter of Chinese and Japanese coolie immigration I stand for the national policy of exclusion (or restricted immigration). … We cannot make a homogeneous population out of people who do not blend with the Caucasian race. … Oriental coolieism will give us another race problem to solve, and surely we have had our lesson."
California did not stand alone. Arizona, Arkansas, Florida, Idaho, Kansas, Louisiana, Missouri, Minnesota, Montana, New Mexico, Oregon, Texas, Utah, Washington, and Wyoming all enacted discriminatory laws restricting Asians' rights to hold land in America. In 1923, the United States Supreme Court reviewed various versions of the discriminatory land laws – and upheld every single one. Most of these discriminatory state laws remained in place until the 1950s, though Kansas and New Mexico did not repeal their provisions until 2002 and 2006, respectively. Florida has to date refused to repeal a constitutional provision authorizing its government to enact such discriminatory legislation. (California online archives) (see  December 6, 1915)
Refugee Cap Raised
May 3, 2021: President Joe Biden formally raised the nation's cap on refugee admissions to 62,500 this year, weeks after facing bipartisan blowback for his delay in replacing the record-low ceiling set by former President Donald Trump.
Refugee resettlement agencies had waited for Biden to quadruple the number of refugees allowed into the United States this year since February 12, when a presidential proposal was submitted to Congress saying he planned to do so. [AP article] (next IH, see May 22)
May 3 Peace Love Art Activism
Pledge of Allegiance
Walter Gobitas
May 3, 1937: as the rest of the world headed toward World War II, patriot fervor swept the U.S., as it had before, during and after World War I. One expression of that movement involved state laws requiring public school students to salute the flag each morning. The Jehovah's Witnesses, however, regarded saluting the flag as an expression of a commitment to a secular authority and unfaithfulness to God. As a result, some families had their children refuse to participate in the compulsory salute. On this day, Walter Gobitas (the family name was misspelled in the court case) sued the Minersville, Pennsylvania, School Board, in a case that ended up in the Supreme Court (Minersville School District v. Gobitis; June 3, 1940). The Court upheld the compulsory salute, but, in a dramatic reversal three years later, ruled the compulsory flag salute unconstitutional in West Virginia v. Barnette on June 14, 1943). (see Pledge for expanded story)
May 3 Peace Love Art Activism
Fair Housing
Shelley v. Kraemer
May 3, 1948: the Supreme Court ruled that racially-restrictive covenants violate the Equal Protection Clause of the 14th Amendment to the U.S. Constitution, even covenants between private individuals. In Shelley v. Kraemer, the Court overturned a covenant among members of a neighborhood in St. Louis, Missouri that restricted home sales to only white families. (Oyez article) (see July 15, 1949)
May 3 Peace Love Art Activism
Judicial Milestone
Hernandez v Texas
May 3, 1954:  unanimous Supreme Court decision re the question: Is it a denial of the Fourteenth Amendment equal protection clause to try a defendant of a particular race or ethnicity before a jury where all persons of his race or ancestry have, because of that race or ethnicity, been excluded by the state?
The Court held that the Fourteenth Amendment protected those beyond the two classes of white or Negro, and extends to other racial groups in communities depending upon whether it can be factually established that such a group exists within a community. The Court concluded that the Fourteenth Amendment "is not directed solely against discrimination due to a 'two-class theory'" but in this case covers those of Mexican ancestry. (Oyez article)(see June 16, 1958)
May 3 Peace Love Art Activism
Vietnam
173rd Airborne
May 3, 1965: the lead element of the 173rd Airborne Brigade ("Sky Soldiers"), stationed in Okinawa, departed for South Vietnam. It was the first U.S. Army ground combat unit committed to the war. Combat elements of the 173rd Airborne Brigade included the 1st, 2nd, 3rd, and 4th Battalions, 503rd Infantry; the 3rd Battalion, 319th Airborne Artillery; Company D, 16th Armor; Troop E, 17th Cavalry; and the 335th Aviation company. (see May 8)
James A. Rhodes
May 3, 1970: during a press conference, the Republican governor of Ohio, James A. Rhodes, called anti-war protesters "the worst type of people we harbor in America, worse than the brown shirts and the communist element." Governor Rhodes ordered the National Guard to quell the demonstration at Kent State University. (see Rhodes for expanded story)
Mayday Tribe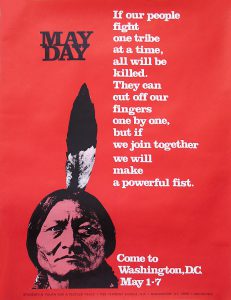 May 3, 1971: the Harris Poll claimed that 60 percent of Americans opposed the Vietnam War. Police arrested about 7,000 antiwar protesters after skirmishes with metropolitan police and Federal troops throughout large areas of the Washington, DC. About 150 were also injured in the six hours of disturbances as the protesters, demanding an immediate halt to the war in Vietnam, were thwarted in their plan to stop government operations. Shortly before 11 P.M., more than 12 hours after most of the arrests were made, Will Wilson, the Assistant Attorney General in charge of the Justice Department's Criminal Division, set up procedures for them to be released. The protesters called themselves the Mayday Tribe.
Rennie Davis, a leader of the Mayday Tribe, a militant activist and one of the Chicago Seven convicted under the Federal anti-riot law, was taken into custody by the Federal Bureau of Investigation about 4 P.M. as he emerged from a news conference in midtown Washington. He was held on $25,000 bond on a charge of conspiring to violate citizens' rights to travel in interstate commerce and to work for agencies of the United States Government. A warrant was issued for the arrest of John Froines, another member of the Chicago Seven, on the same charge. (Vietnam, see May 27; Chi8, see November 2, 1972)
WAR POWERS ACT
May 3, 1973: Clement J. Zablocki (D-WI) introduced the War Powers Act. It intended to check the president's power to commit the United States to an armed conflict without the consent of Congress. (see July 18)
May 3 Peace Love Art Activism
Japanese Internment Camps
 Michi Weglyn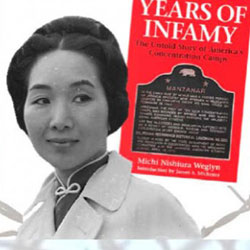 May 3, 1976: Weglyn's Years of Infamy published. It became one of the most widely read and cited books on the internment. (see Internment for expanded story)
May 3 Peace Love Art Activism
DEATH PENALTY
Walter LaGrand
May 3, 1999: Arizona executed German national Walter LaGrand. In addition to US courts, the International Court of Justice in the Hague heard the case where Judge Christopher Weeramantry of Sri Lanka urged the US Government to use "all the measures at its disposal' to prevent the execution. Germany asked the world court to intervene after Arizona Governor Jane Hull rejected appeals from German Chancellor Gerhard Schroeder and Foreign Minister Joschka Fischer to stop the execution. Germany did not have the death penalty and contended Arizona failed to advise the LaGrand brothers of their right to consular assistance at their trials. The LaGrands were born in Germany but came to the United States when they were children.
LaGrand twice refused offers of lethal injeciton and reportedly chose the gas chamber to protest the death penalty. As of Apr. 21, 2010, LaGrand is the last prisoner to be executed by the gas chamber. (see January 31, 2000)
May 3 Peace Love Art Activism
U.N. Human Rights Commission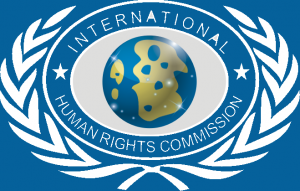 May 3, 2001, the United States was voted off the U.N. Human Rights Commission in Geneva for the first time since its inception in 1947. The commission investigates human-rights abuses around the world. France, Austria and Sweden were chosen for the three seats allocated to Western countries that were up for election. One diplomat speculated that U.S. policies on the Middle East might have swung some countries to reject its candidacy, but according to Reuters, some diplomats said they believed the Bush administration's opposition to the Kyoto climate change treaty as well as its insistence on a missile defense contributed to the loss. (UN Human Rights Council site)
May 3 Peace Love Art Activism
Sexual Abuse of Children
Phoenix Bishop Thomas J. O'Brien
May 3, 2003:  in a five-page agreement with a county prosecutor, Phoenix Bishop Thomas J. O'Brien acknowledged he hid allegations of sex abuse by priests and surrenders some of his authority. The deal is extraordinary, both as a personal statement of wrongdoing and as an agreement between a church leader and civil authority that changes how a diocese does business. (see June 18)
May 3 Peace Love Art Activism
Medical Marijuana
Puerto Rico
May 3, 2015: Gov. Alejandro Garcia Padilla, the governor of Puerto Rico, signed an executive order to permit the use of medical marijuana. (see June 1 or see CCC for expanded chronology)
May 3 Peace Love Art Activism
SEPARATION OF CHURCH AND STATE
May 3, 2018: House Speaker Paul D. Ryan (R-Wis.) reversed course and agreed to keep the Rev. Patrick J. Conroy on as House chaplain after an extraordinary showdown that included the priest alleging anti-Catholic bias by Jonathan Burks,Ryan's chief of staff.
Conroy, who was forced to step down by Ryan on April 15, sent the speaker a letter rescinding his resignation and vowed to remain until the end of the year. Within hours Ryan backed down, ending the possibility of what the speaker feared would be a "protracted fight" over what is supposed to be a unifying and spiritual position in the partisan chamber.
During the tax-cut debate, Conroy delivered a prayer that some took as siding with Democrats. "May their efforts these days guarantee that there are not winners and losers under new tax laws, but benefits balanced and shared by all," Conroy said. (see June 20, 2019)
May 3 Peace Love Art Activism
Voting Rights
May 3, 2019: a three-judge panel from the U.S. District Court for the Southern District of Ohio ruled that Ohio's congressional map was an "unconstitutional partisan gerrymander" and must be redrawn by the 2020 election.
In the ruling the panel argued that the map was intentionally drawn "to disadvantage Democratic voters and entrench Republican representatives in power."
The court argued the map violates voters' constitutional right to choose their representatives and exceeded the state's powers under Article I of the Constitution.
"Accordingly, we declare Ohio's 2012 map an unconstitutional partisan gerrymander, enjoin its use in the 2020 election, and order the enactment of a constitutionally viable replacement," the judges wrote in their decision. (see June 17)
May 3 Peace Love Art Activism
Environmental Issues
May 3, 2021:  the Environmental Protection Agency moved to sharply cut down on the use and production of powerful greenhouse gases used in refrigeration and air-conditioning, part of the Biden administration's larger strategy of trying to slow the pace of global warming.
The first significant step taken by the E.P.A. under President Biden to curb climate change, the proposed regulation focused on hydrofluorocarbons, a class of man-made chemicals that is thousands of times more potent than carbon dioxide at warming the planet.
Michael S. Regan, the E.P.A. administrator, said the agency aimed to reduce the production and importation of hydrofluorocarbons in the United States by 85 percent over the next 15 years. It's a goal shared by environmental groups and the business community, which jointly championed bipartisan legislation passed by Congress in December to tackle the pollutant. [NYT article] (next EI, see May 18)
May 3 Peace Love Art Activism