May 2 Peace Love Art Activism
DEATH PENALTY
Weems v United States
May 2, 1910: in Weems v. United States, the Supreme Court made a ruling that would significantly affect the debate on the death penalty. The case concerned a defendant who had been sentenced to fifteen years of hard labor, a heavy fine, and a number of other penalties for the relatively minor crime of falsifying official records. The Court overturned the sentence, ruling that the penalty was too harsh considering the nature of the offense. Ultimately, in the Weems decision, the Court set three important precedents concerning any sentencing:
Cruel and unusual punishment is defined by the changing norms and standards of society and therefore is not based on historical interpretations.

Courts may decide whether a punishment is unnecessarily cruel with regard to physical pain.

Courts may decide whether a punishment is unnecessarily cruel with regard to psychological pain. (Justia article) (see February 8, 1924)
Maryland
May 2, 2013: Maryland's Governor Governor Martin O'Malley signed a bill repealing the death penalty. The legislation went into effect October 1, 2013. In those cases in which the state had filed a notice to seek a death sentence, 'the notice shall be considered withdrawn and it shall be considered a notice to seek a sentence of life imprisonment without the possibility of parole under specified circumstances,' according to a press release from the Governor's office. (see Oct 30)
May 2

Peace Love Art Activism
Feminism
Voting Rights
May 2, 1914: suffrage parades and meetings held in nearly every state and Washington, D.C. (F, see May 9; VR, see January 12, 1915)
May 2

Peace Love Art Activism
ADA
Buck v Bell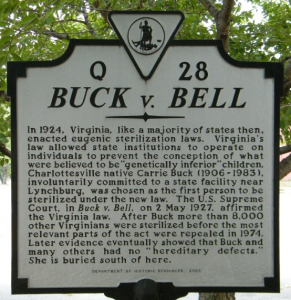 May 2, 1927: with one dissenting vote, the US Supreme Court ruled in Buck v. Bell that the compulsory sterilization of mental defectives such as Carrie S. Buck, a young Virginia woman, was constitutional under "careful" state safeguards. In his majority opinion, Justice Oliver Wendell Holmes wrote:  "(It) is better for all the world, if instead of waiting to execute degenerate offspring for crime, or to let them starve for their imbecility, society can prevent those who are manifestly unfit from continuing their kind…Three generations of imbeciles are enough."
This ruling has never been overturned.
Carrie had became pregnant when she was seventeen as a result of being raped by her foster parent's nephew. Reporters and researchers that visited Buck later in life claimed she was a woman of normal intelligence. Later in life, she expressed regret that she had been unable to have additional children. Carrie Buck died alone in a nursing home in 1983; she was buried in Charlottesville near her only child, Vivian, who had died at age eight. (see May 2, 2002)
At the Nuremberg trials after World War II, Nazi doctors explicitly cited Holmes's opinion in Buck v. Bell as part of their defense. (2016 NPR story) (see January 29, 1929)
Carrie Buck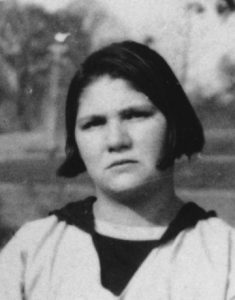 May 2, 2002: Virginia Governor Mark R. Warner offered the "Commonwealth's sincere apology for Virginia's participation in eugenics." at the erection of an historical marker for Carrie Buck in Charlottesville, Virginia where she was born. (see June 20)
Boy Scouts
May 2, 2018: the 108 year old Boy Scouts of America announced that its new name will simply be Scouts BSA. The change would take effect in February 2019. (F, see May 22)
May 2

Peace Love Art Activism
McCarthyism
Joe McCarthy
May 2, 1957: Joe McCarthy died at the Naval Medical Center in Bethesda, Maryland from a condition related to his cirrhotic liver.  He was forty-eight. (NY Daily News Flashback article) (see May 18, 1957)
Dalton Trumbo
May 2, 1975: Hollywood screenwriter Dalton Trumbo finally received the Academy Award for Best Original Screenplay for the 1956 film, The Brave One. The announced winner of the award at the Oscars ceremony on March 27, 1957 was "Robert Rich," Trumbo's pseudonym while he was blacklisted for his political views. (see May 17, 1995)
May 2

Peace Love Art Activism
BLACK HISTORY
Birmingham students fire-hosed
May 2, 1963: more than 700 black children protesting racial segregation in Birmingham, Alabama, were arrested, blasted with fire hoses, clubbed by police, and attacked by police dogs. As part of the Children's Crusade launched by Martin Luther King, Jr. and the Southern Christian Leadership Conference (SCLC) to revive the Birmingham anti-segregation campaign, more than 1000 African American children trained in nonviolent tactics walked out of their classes and assembled at the Sixteenth Street Baptist Church to march to downtown Birmingham. Hundreds were arrested and transported to jail in school buses and paddy wagons but the children refused to relent. (see May 4)
Dee/Moore Murders
May 2, 1964: members of the Ku Klux KIan kidnapped Henry Hezekiah Dee and Charles Eddie Moore from the main street in Meadville, Mississippi and took them to the Homochitto National Forest where they were tied to a tree and beaten. The Klansmen placed Dee and Moore in a trunk of a car and transported them to Tallulah, LA, where they dumped them, while they were still alive, into the Old Mississippi River. (Cold Cases Project article) (BH, see, May 5; see Dee & Moore for expanded story)
Black Panthers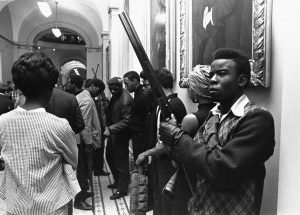 May 2, 1967: armed members of the Black Panther Party entered the California state capital to protest a bill that restricted the carrying of arms in public. Outrage at the incident will lead to the beginning of restrictive gun laws and a backlash of the re-interpretation of the 2nd amendment as the right of individuals (not simply the militia) to bear arms. (BH, see May 6; BP, see Oct 28)
BLACK & SHOT/Walter Scott
May 2, 2017: Michael T. Slager, the former South Carolina police officer who spent years fighting charges of shooting and killing Walter Scott, an unarmed black man, pleaded guilty in his federal case. "We hope that Michael's acceptance of responsibility will help the Scott family as they continue to grieve their loss," Slager's lawyer, Andrew J. Savage III said in a statement. (Scott, see Dec 7)
BLACK & SHOT/Jordan Edwards
May 2, 2017:  police chief Jonathan Haber of the Balch Springs Police Department announced that he had fired officer, Roy Oliver who used a rifle to shoot into a moving vehicle full of teenagers and killed Jordan Edwards, 15, as he was seated in the front passenger seat.
Haber said his decision was based in part on the department's internal affairs investigation, which had been completed, and the body-camera footage from the two officers at the scene, (JE, see May 5)
BLACK & SHOT/Alton B Sterling
May 2, 2017: (see July 5, 2016) the federal government announced that, officers, Blane Salamoni and Howie Lake II, the two white police officers in the fatal shooting on the July 5, 2016 of Alton B. Sterling, a black man in Baton Rouge, La would not be charged. The incident caused widespread unrest. State charges were still pending. (B & S, see May 5; see Sterling, see March 27, 2018)
Rashon Nelson/Donte Robinson
May 2, 2018:  Rashon Nelson and Donte Robinson, the two black men arrested at a Philadelphia Starbucks because they were waiting for a third person and hadn't ordered anything to that point, settled with Philadelphia for $1 each. After the arrests they were released and no charges were filed. City officials also promised to set up a $200,000 program for young entrepreneurs.
Starbucks itself settled wtih Robinson and Nelson for an undisclosed sum and an offer of free college tuition to complete bachelor's degrees through an online program with Arizona State University that Starbucks created four years ago for its employees. (BH, see May 22; Starbucks, see May 29)
May 2

Peace Love Art Activism
May 2 Music et al
Enoch Light
May 2 – 8, 1960: Enoch Light/Terry Snyder and the All Stars' was Billboard's #1 stereo album.  Enoch Henry Light was a classical violinist, bandleader, and recording engineer. As A & R chief and vice-president of Grand Award Records, he founded Command Records in 1959. Light's name was prominent on many albums both as musician and producer. He is credited with being one of the first musicians to go to extreme lengths to create high-quality recordings that took full advantage of the technical capabilities of home audio equipment of the late 1950s and early 1960s, particularly stereo effects that bounced the sounds between the right and left channels (often described as "ping-pong"). He also was the first to use the "gate fold" style album cover that became well-known with the Beatles Sgt. Pepper's album in 1967. (see August 30 – September 3, 1963)
The Beatles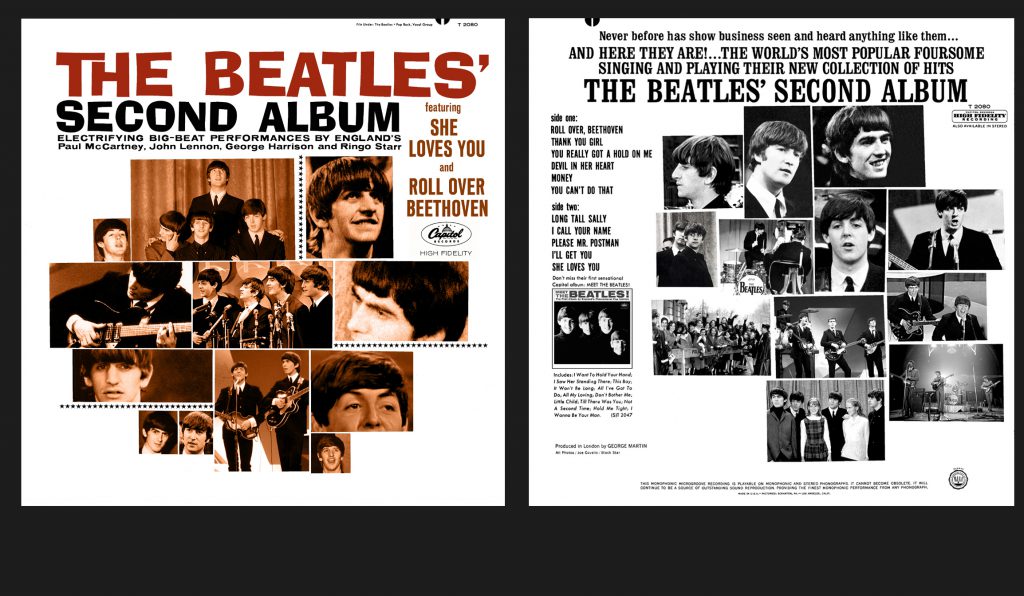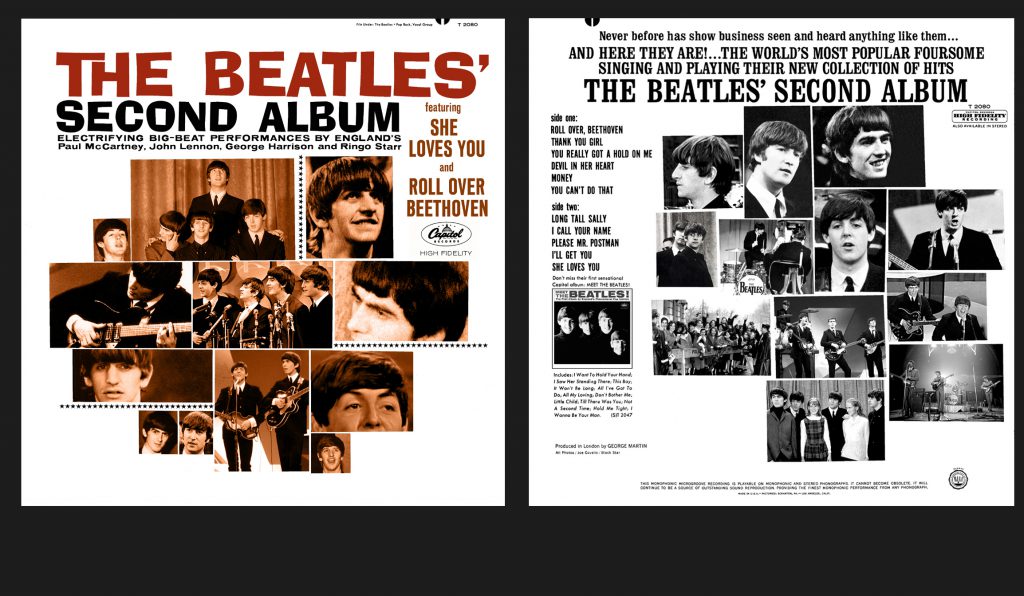 May 2 – June 5, 1964: The Beatles' Second Album (released April 10) became the Billboard #1 album (only four of the twelve songs were written by the Beatles). (see May 11)
May 2

Peace Love Art Activism
Vietnam
Student protests
May 2, 1964: Some 400–1,000 students march through Times Square, New York and another 700 in San Francisco, in the first major student demonstration against the Vietnam War. Smaller marches also occur in Boston, Seattle, and Madison, Wisconsin. (see May 24)
Nixon orders protest ended
May 2, 1971: the Nixon administration canceled the protester's permit. U.S. Park Police and Washington Metropolitan Police, dressed in riot gear, raided the encampment. The police formed up in phalanxes and slowly moved through the park firing tear gas and knocking down tents, forcing out the campers. The campers scattered towards the Reflecting Pool and the Lincoln Memorial. (see May 3)
May 2

Peace Love Art Activism
US Labor History
Sunshine silver mine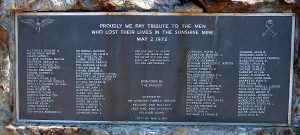 May 2, 1972: a fire at the Sunshine silver mine in Kellogg, Idaho, caused the death of 91 workers who died from carbon monoxide poisoning, likely caused by toxic fumes emitted by burning polyurethane foam, used as a fire retardant. (see June 19)
Writers Guild
May 2, 2017: the Writers Guild of America reached a tentative deal with the major studios and networks for a new film and TV contract for the union's nearly 13,000 members. (Variety article) (see May 9)
May 2

Peace Love Art Activism
FREE SPEECH
Nationalist Socialist party
May 2, 1977: The Skokie Village Board, in response to a request from Nationalist Socialist party for a permit to march in front of Skokie Village Hall, passes three ordinances which 1) require a $350,000.00 indemnity bond to be posted in advance of any march 2) prohibits the distribution of printed material which promotes hatred of groups of people and 3) prohibits demonstrations by individuals wearing military style uniforms (see June 11)
May 2

Peace Love Art Activism
Calvin Graham
May 2, 1978: the Secretary of the Navy authorized the issuance of an honorable discharge to Graham, effective April 5, 1943. (see Graham for expanded story)
May 2

Peace Love Art Activism
Falklands War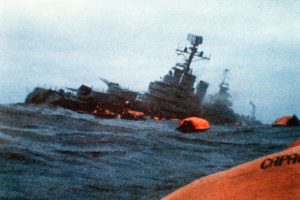 May 2, 1982: the British submarine HMS Conqueror torpedoed and sank Argentine cruiser General Belgrano. More than 320 Argentine sailors died – the single biggest loss of life in the war. Margaret Thatcher faced criticism over the sinking because the vessel was outside the 200-mile exclusion zone around the Falklands. (Falklands, see May 4)
May 2

Peace Love Art Activism
Jack Kevorkian
May 2, 1994:  a Detroit jury acquitted Kevorkian of charges he violated the state's assisted suicide ban in the death of Thomas Hyde. (see Kevorkian for expanded story)
May 2

Peace Love Art Activism
Sexual Abuse of Children
May 2, 2002:  California police arrested Rev Paul Shanley and later charged on three counts of child rape. He denied the charges. (see June 14)
May 2

Peace Love Art Activism
Immigration History
Luis Ramirez
May 2, 2009: Brandon Piekarsky and Derrick Donchak were acquitted of all serious charges against them stemming from the fatal beating of Luis Ramirez, a Mexican immigrant, on July 12, 2008 in Shenandoah, PA. (Immigration, see Oct 30; see Ramirez for expanded story)
May 2

Peace Love Art Activism
TERRORISM
Osama bin Laden
May 2, 2011: a day after his death, U.S. forces buried Osama bin Laden's body at sea, The forces handled the body in accordance with Islamic practice and tradition. The sea buriel prevented a burial site from becoming a "terrorist shrine." (aljazeera dot com article) (see Oct 11)
May 2

Peace Love Art Activism
Please follow and like us: