July 13 Peace Love Art Activism
BLACK HISTORY
NYC draft riots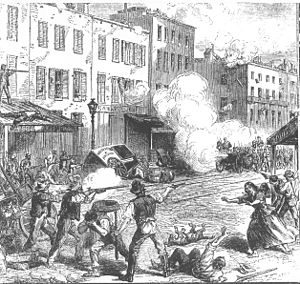 July 13 to July 16, 1863: The New York City draft riots were violent disturbances that arose from the culmination of working-class discontent with new laws passed by Congress that year to draft men to fight in the ongoing American Civil War.
President Abraham Lincoln diverted several regiments of militia and volunteer troops from following up after the Battle of Gettysburg to control the city. The rioters were overwhelmingly working-class men, primarily ethnic Irish, resenting particularly that wealthier men, who could afford to pay a $300 commutation fee to hire a substitute, were spared the draft.
Initially intended to express anger at the draft, the protests turned into an ugly race riot, with the white rioters attacking blacks wherever they could be found. At least 100 black people were estimated to have been killed.  [Black Past article] (next BH, see  April 12, 1864
Leonidas Dyer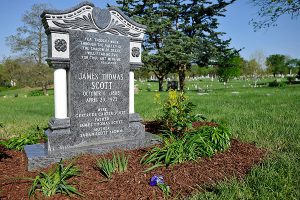 July 13, 1923: US House representative Leonidas Dyer of St Louis stated that he was not surprised at the acquittal of a George Barkwell at Columbia, Missouri on the charge of murder in connection with the lynching of James Scott, a Black. Dyer referred to statistics which, he said, showed that 3,824 lynchings had been recorded during the last thirty-five years and that in all those cases there had scarcely been a conviction. [H of R bio] (next BH & Lynching,  see Aug 24;  see AL3 for expanded chronology of early 20th century lynching)
North Platte Mob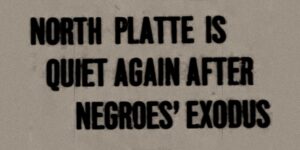 July 13, 1929: a mob of white residents drove out more than 200 Black residents from North Platte, Nebraska . The mob targeted the entire Black community with violence after a Black man was accused of killing a local white police officer.
The day before, two white police officers responded to a domestic violence call at the North Platte home of a Black man named Louis "Slim" Seeman. When Mr. Seeman allegedly shot and killed one of the officers, a mob of white men and police descended on his home and trapped him inside of a chicken coop on the property. The mob then doused the coop with gasoline and set it ablaze with Mr. Seeman inside; when his body was pulled from the wreckage, it was clear he had died from a gunshot wound—either by his own hand or fired by a member of the mob.
Even after Mr. Seeman had been killed, the large gathering of white men remained enraged at the bold violation of racial hierarchy represented by a Black man taking the life of a white man. Determined to punish the entire Black community, 500 angry white citizens wielding sticks and ropes demanded that all local Black people leave the city. Facing the threat of deadly violence, and terrified after seeing Mr. Seeman's fate, North Platte's 200 Black residents departed that night by foot, train, and automobile, leaving behind most of their possessions.
A county sheriff later commented, "It was the understanding when they left that they were to stay away. The idea is to keep them out." [EJI article]  (next BH, see May 29, 1930)
Henry Dee
July 13, 1964: the disarticulated lower torso of Henry Dee was found in the river in the same area as Moore the day before.(next  BH, see July 16;  see Workers for expanded story; see Moore/Dee for expanded story)
Trayvon Martin Shooting
July 13, 2013:  the jury found George Zimmerman not guilty of second-degree murder. He was also acquitted of manslaughter, a lesser charge. (BH, see July 18; Trayvon, see July 19)
July 13 Peace Love Art Activism
Religion and Public Education
July 13, 1935: in an effort to have the Butler law declared unconstitutional, defense attorney Clarence Darrow delivered a long, fiery speech arguing that the law violates freedom of religion. Darrow argues that "we find today as brazen and as bold an attempt to destroy learning as was ever made in the Middle Ages." (see Scopes for expanded story)
July 13 Peace Love Art Activism
John F. Kennedy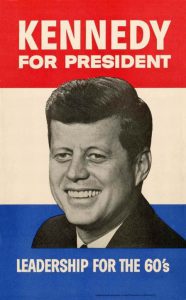 July 13, 1960: Democrats nominated John F. Kennedy for President at the Democratic National Convention in Los Angeles. [Politico article]
July 13 Peace Love Art Activism
Feminism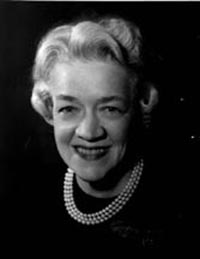 July 13 – 16, 1964: at the Republican National Convention in San Francisco, Senator Margaret Chase Smith of Maine became the first woman whose to be nominated, but Barry Goldwater was eventual nominee. During his acceptance speech, Goldwater  stated that, "Extremism in the defense of liberty is no vice." [Maine History Online article] (see February 26, 1965)
July 13 Peace Love Art Activism
Road to Bethel and the Woodstock festival
July 13, 1969: Ulster County assemblyman Clark Bell, a Republican from Woodstock, released a statement to the press about a letter he'd just sent to Governor Rockefeller requesting the appointment of a coordinator to oversee the festival. He also recommended that the National Guard be alerted. (see Chronology for expanded story)
July 13, 1985 – Live Aid concerts in Philadelphia and London held for famine relief in Ethiopia. (see May 26, 1986)
July 13 Peace Love Art Activism
Vietnam
July 13, 1967: at a press conference that included General Westmorland, President Johnson said that "We are generally pleased with the progress we have made militarily. We are very sure that we are on the right track." Westmorland added, "The statement that we ar ein a stalemate is complee fiction. It is completely unrealistic. During the past year tremendous progress has been made." [expanded text] (see July 27)
Irish Troubles
July 13, 1981:  Martin Hurson (29) died after 46 days on hunger strike. (see Troubles for expanded story)
July 13 Peace Love Art Activism
AIDS
July 13, 1984: the CDC stated that avoiding injection drug use and reducing needle-sharing "should also be effective in preventing transmission of the virus." [CDC article] (see Dec 17)
July 13 Peace Love Art Activism
Cold war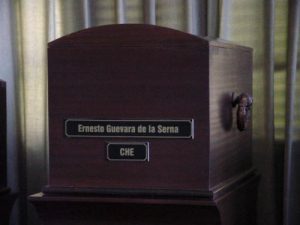 July 13, 1997, the remains of Che Guevara were returned to Cuba for burial, alongside some of his comrades. [AP archive article on Che] (see Oct 17)
July 13 Peace Love Art Activism
Sexual Abuse of Children
Dallas diocese
July 13, 1998: Dallas diocese forced to pay more than $31m to victims of Rudolph Kos.
John Geoghan
In 1999,  former Massachusetts priest John Geoghan was indicted on child rape charges and Bishop J. Keith Symons of Palm Beach, Fla., became the first U.S. bishop to resign after admitting molestation. That scandal was greatly compounded in 2002 when Bishop Anthony O'Connell, the successor Rome appointed to clean house, resigned for the identical reason. (see January 8, 2002)
July 13 Peace Love Art Activism
CLINTON IMPEACHMENT
July 13, 2000: Charles Bakaly, the former spokesman for then Independent Counsel Ken Starr, went to trial on charges that he misled a judge about news leaks during the Monica Lewinsky investigation. (see Clinton for expanded story)
July 13 Peace Love Art Activism
Hurricane Katrina
July 13, 2010: Katrina shootings and cover-up:: a federal grand jury indicted Kenneth Bowen, Robert Gisevius, Robert Faulcon, and Anthony Villavaso in connection with the shooting and subsequent cover-up. Additionally, Arthur "Archie" Kaufman (lead investigator on the case) and Gerard Dugue (another investigator) were charged with falsifying reports and false prosecution in the conspiracy to cover-up the shooting. (see August 5, 2011)
July 13 Peace Love Art Activism
Occupy Wall Street
July 13, 2011: Adbusters, a pro-consumer magazine, proposed a peaceful demonstration on Wall Street. (see Aug 23)
July 13 Peace Love Art Activism
LGBTQ
Fair Housing
July 13, 2015: the Department of Housing and Urban Development issued new guidance on rules to ensure that gay people were protected from discrimination in federally subsidized housing, particularly in programs designed for older Americans.
"HUD's announcement is a strong step toward ending discrimination against LGBTQ people in federally supported senior housing," Michael Adams, executive director of Services and Advocacy for Gay, Lesbian, Bisexual and Transgender Elders (SAGE), said in a written statement. "With a recent report showing that housing discrimination against LGBTQ elders is rampant, this is just the kind of leadership we need from the federal government. Now we need to make sure that these anti discrimination protections are effectively implemented."  [PDF of announcement] (FH, see Aug 19)
Kentucky
July 13, 2015: U.S. District Judge David L. Bunning heard arguments about Rowan County Clerk Kim Davis, who refused to issue marriage licenses after the U.S. Supreme Court's ruling legalizing same-sex marriage.
Davis was one of a handful of local officials across the country who had refused to comply with the court's order. Davis and others said it violated their religious beliefs.
The American Civil Liberties Union sued Davis on behalf of two gay couples and two straight couples who were denied licenses. Davis told the Louisville Courier-Journal said that her "deep religious convictions" prevent her from complying with the Supreme Court's decision, and so she has decided to issue no more marriage licenses to any couple — gay or straight. [CBS News article] (see July 16)
Philadelphia
July 13, 2018: US District Judge Petrese B. Tucker ruled against Catholic Social Services (CSS), which had sued the city of Philadelphia over its purported right to refuse service to same-sex couples. The judge found that the agency had no inherent right to a government contract, particularly given it was operating in violation of the contract it had. The suit arose after Philadelphia had announced in May that it was suspending foster care placements at both CSS and another agency, Bethany Christian Services, after the Philadelphia Inquirer reported that both agencies refused to place children with same-sex couples in violation of the city's Fair Practices Ordinance. Bethany ultimately agreed to comply with the nondiscrimination law, but CSS sued, arguing that it should be allowed to continue providing services while discriminating on the basis of sexual orientation in accordance with its religious beliefs.
Episcopal General Convention
July 13, 2018: a resolution passed during the Episcopal General Convention making it possible for same-sex couples to marry in their desired place of worship. Support for the change in the church was overwhelming. Before its passage, local authority had jurisdiction over whether or not to perform a same-sex marriage. With the resolution, if a bishop objects to performing the marriage ceremony, they can tap another person to take over. (see Aug 27)
July 13 Peace Love Art Activism
Immigration History
July 13, 2018: U.S. District Court Judge Victor A. Bolden ruled that the Trump administration's forced separation of two immigrant children from their parents at the U.S.-Mexico border was unconstitutional.
Bolden ordered the federal government to produce the parents in court in Connecticut next week. The children, who were the focus of a federal lawsuit filed on their behalf that led to the ruling, were staying in a group home in the Noank section of Groton.
"The court agrees that the government violated [the children's] constitutional rights by forcibly removing them from their parents without due process of law,'' Bolden wrote. "The government failed to provide the children with notice or a hearing, instead taking their parents, while distracting the children." (see July 16)
July 13 Peace Love Art Activism
Native Americans
July 13, 2020: less than two weeks after one of his most prominent corporate sponsors urged him to change the name of his football team, Washington owner Daniel Snyder announced pland to retire the "Redskins" nickname and reveal a new team name.
The new name remained unknown, but Warriors, Red Wolves and Redtails have ranked among the post popular choices among fans on social media.
Snyder has long ignored requests of Native American tribes and other organizations to change the name because some deem the term offensive, citing the fact that the dictionary classifies it as a racial slur. [ESPN story] (next NA, see Aug 20)
July 13 Peace Love Art Activism
Healthcare
July 13, 2020: the NY Times reported that the coronavirus pandemic had stripped an estimated 5.4 million American workers of their health insurance between February and May, a stretch in which more adults became uninsured because of job losses than have ever lost coverage in a single year, according to a new analysis.
The study by the nonpartisan consumer advocacy group Families USA, found that the estimated increase in uninsured workers from February to May was nearly 40 percent higher than the highest previous increase, which occurred during the recession of 2008 and 2009, when 3.9 million adults lost insurance.
"We knew these numbers would be big," said Stan Dorn, who directs the group's National Center for Coverage Innovation and wrote the study. "This is the worst economic downturn since World War II. It dwarfs the Great Recession. So it's not surprising that we would also see the worst increase in the uninsured." (next Healthcare, see January 28, 2021)
July 13 Peace Love Art Activism
Women's Health
July 13, 2023: the Food and Drug Administration approved a birth control pill to be sold without a prescription for the first time in the United States, a milestone that could significantly expand access to contraception. [NYT article] (next WH, see Aug 4)
US Labor History
July 13, 2023: joining the ongoing strike by the writers guild (see May 2), SAG-AFTRA, the union representing Hollywood actors and performers, voted to go on strike against major studios. Union president Fran Drescher said in a press conference that it was time for studio executives to "wake up and smell the coffee."
The union's national board made the decision after negotiations broke down with the Alliance of Motion Picture and Television Producers. After a last ditch effort, monitored by a federal mediator, the two sides failed to come to an agreement. [NPR article] (next LH, see Sept 15)