July 6 Peace Love Art Activism
BLACK HISTORY
The Essence of the Reconstruction Question
July 6, 1865: the first editorial in first issue of The Nation was titled, "The Essence of the Reconstruction Question," and it addressed the main topic of public debate in the first summer after the Civil War: "fixing the status of the negro at the South." Andrew Johnson, a Southern Democrat who succeeded to the presidency after the assassination of Abraham Lincoln, seemed willing to quickly re-admit the old Confederate states back into the Union, despite the fact that all reports from the South indicated that whites would re-introduce slavery in all but name at the earliest opportunity. It would mean little to have fought a war to end slavery, The Nation argued, if no provision was made to protect the most basic civil rights of the emancipated slave. "To suppose that he will receive fair play from white legislators, who are not responsible to him, who have no sympathy with him, and who, in their secret hearts, consider him a beast of the field," The Nation warned, "is to violate every rule of democratic government, and to make an open and shameless declaration of want of faith in our own principles." (see Nov 22)
Only a Pawn in Their Game
July 6, 1963: Bob Dylan first performed "Only a Pawn in Their Game" at a voter registration rally in Greenwood, Mississippi.
The song refers to the murder of Medgar Evers. Bernice Johnson Reagon would later tell critic Robert Shelton that "'Pawn' was the very first song that showed the poor white was as victimized by discrimination as the poor black. The Greenwood people didn't know that Pete [Seeger], Theo[dore Bikel] and Bobby [Dylan] were well known. (Seeger and Bikel were also present at the registration rally.) They were just happy to be getting support. But they really like Dylan down there in the cotton country."
Also on this date, Peter, Paul and Mary's cover of Dylan's "Blowin' In the Wind" will reach#2 on Billboard with sales exceeding one million. (BH, see July 7; ME, see July 8; Dylan, see July 26 – 28, 1963; see Pawn for expanded story)
Philando Castile
July 6, 2016: St Anthony, Minnesota police officer Jeronimo Yanez shot and killed Philando Castile after Yanez being pulled over Castile in Falcon Heights, a suburb of St. Paul. Castile was driving a car with his girlfriend, Diamond Reynolds, and her four-year-old daughter as passengers, According to Reynolds, after being asked for his license and registration, Castile told the officer he was licensed to carry a weapon and had one in his pants pocket. Reynolds said Castile was shot while reaching for his ID after telling Yanez he had a gun permit and was armed. The officer shot at Castile seven times. (B & S, see March 26, 2017; Yanez, see June 16, 2017)
July 6

Peace Love Art Activism
US Labor History
Homestead Strike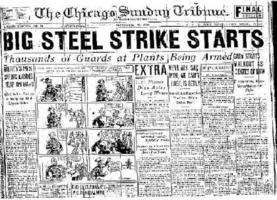 July 6, 1892: Homestead Strike, a lockout at the Homestead Steel Works turns violent as 300 Pinkerton detectives hired by the company arrive at the mills by barge. Workers picketing the plant greet the Pinkerton's with violence and the confrontation soon becomes a full-scale pitched battle, with seven Pinkertons and eleven union members killed. Court injunctions help to crush the union, safeguarding the steel industry from organized labor for decades. [AFL-CIO article] (see Sept 30)
July 6

Peace Love Art Activism
July 6 Music et al
Quarry Men
July 6, 1957: The Quarry Men perform at St. Peter's Church Garden Fete. John and Paul meet and find that they have similar pop idol interests: "Paul, what kind of music do you like?" asked John. "Well I used to like Lonnie Donnegan but now that skiffle is fading out I love the music of Elvis Presley, Eddie Cochrane, Gene Vincent, Little Richard…" "Hey," John interrupted, "they're all the people I'm into." (see Oct 18; RoR, see January 24, 1958; Elvis, see Sept 1)
Easier Said Than Done
July 6 – 19, 1963,  "Easier Said Than Done" by the Essex #1 on the Billboard Hot 100.
The [bumpy] Road to Bethel
July 6, 1969: More bad media news: The NYT reported, "The Newport Jazz Festival was invaded…by several hundred young people who broke down a section of the 10-foot wooden fence surrounding Festival Field and engaged in a rock throwing battle with security guards." (see July 7)
July 6

Peace Love Art Activism
FREE SPEECH
July 6, 1961: the Appellate Division of the NY State Supreme Court unanimously reversed a lower court decision that had supported the city's former ban on folk singing in Washington Square. (see Ban for expanded chronology; next Free Speech, see Aug 11)
July 6

Peace Love Art Activism
INDEPENDENCE DAYS
July 6, 1964: Malawi independent from United Kingdom. [SAHO article] (see ID for expanded list of countries gaining independence in the 1960s)
July 6, 1975: Comoros independent of France. [BBC article] (see July 12)
July 6 Peace Love Art Activism
Feminism
July 6, 1976: the first class of women was inducted at the United States Naval Academy. [2016 WP article] (next Feminism, see July 7)
TERRORISM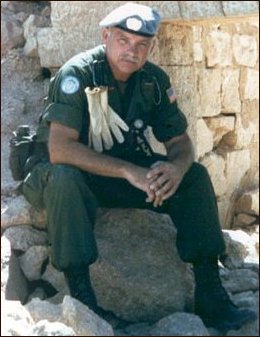 July 6, 1990: the Marines declared William R. Higgins, USMC dead. (T, see December 4, 1991; Higgins, see December 23, 1991)
July 6 Peace Love Art Activism
Please follow and like us: