July 17 Peace Love Art Activism
Feminism & Voting Rights
July 17, 1917:  sixteen pickets arrested and sentenced to an unprecedented 60 days at Occoquan Workhouse, Virginia. President Wilson pardoned "Bastille Day" prisoners three days later. (see July 19)
July 17

Peace Love Art Activism
Religion and Public Education
SEPARATION OF CHURCH AND STATE
July 17, 1925: Judge Raulston ruled in favor of a motion by prosecutors to bar expert testimony by scientists. Raulston argued that the experts' opinions on evolutionary theory would "shed no light" on the issue at hand in the trial — whether Scopes violated the state's anti-evolution laws. Many reporters leave town, believing that the trial is effectively over. Scopes was recruited to write news stories on the trial for some of the delinquent journalists. (see Scopes for expanded story)
July 17

Peace Love Art Activism
The Red Scare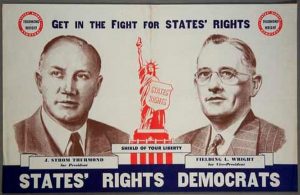 July 17, 1948: States Rights Party. Southern Democrats opposed to President Truman and the Democratic Party's liberal position on civil rights convene in Alabama to form the new States Rights Party (better known as Dixiecrats), which nominated South Carolinian Strom Thurmond for president. [platform] (see July 20, 1948)
July 17

Peace Love Art Activism
John Coltrane
July 17, 1967, Jazz saxophonist and composer John Coltrane died at age 40.
Joint Show
July 17, 1967: the Joint Show opened in the Moore Gallery in San Francisco. It was the first art show to celebrate Psychedelic rock concert poster artists and their work. The show showcased the "BIG FIVE" rock artists of the times: Rick Griffin, Alton Kelley, Victor Moscoso, Stanley Mouse, and Wes Wilson. Each of the five artists created a poster exclusively for the show, which was also made available for purchase. The show helped to create an acceptance of rock concert poster art in the larger art world and the museum community, and led to more gallery shows and the inclusion of these types of works into museum collections. (see Sept 23)
Yellow Submarine
July 17, 1968: The Beatles movie, Yellow Submarine, released in the UK (see Aug 8)
Road to Bethel
July 17, 1969: although initially expressing disinterest in renting land for the festival, Max Yasgur agreed to meet with Woodstock Ventures after hearing that it is the group just kicked out of Wallkill. (see Chronology for expanded story)
July 17

Peace Love Art Activism
BLACK HISTORY
Race Revolts
July 17, 1967: Cairo, Illinois revolt. Three days of rioting following  the alleged jailhouse suicide of Pvt. Robert Hunt, a young African-American soldier on leave. Police said Hunt hanged himself with his t-shirt, (see July 19)
School Desegregation
July 17, 2001: Harvard University's Civil Rights Project published a study on the resegregation of school districts more than 45 years after the Supreme Court's decision in Brown v. Board of Education declared legally-mandated racial segregation in public education unconstitutional. In the study, then-Harvard Professor of Education and Co-director of the Harvard Civil Rights Project, Dr. Gary Orfield, evaluated statistics from the 1998-1999 school year and concluded that school districts across the nation and particularly in the South were resegregating at an alarming rate, with many Southern school districts returning to segregation levels of the early 1970s.
The study found that more than 70% of African American students attended predominantly minority schools in the 1998-1999 school year. This marked a significant increase from the 63% of African Americans who attended predominantly minority schools in the 1972-1973 school year, before the implementation of many full-fledged desegregation plans. The study linked this resegregation trend to a series of Supreme Court cases decided in the early 1990s — Board of Education of Oklahoma City vs. Dowell (1991), Freeman v. Pitts (1992), and Missouri v. Jenkins (1995) — which made it easier for school districts to be released from federal desegregation orders and more difficult for desegregation orders to be reinstated, thereby crippling desegregation efforts and undercutting progress toward racial integration in public schools. (Harvard article) (BH, see March 24, 2002; SD, see November 2, 2004)
BLACK & SHOT
July 17, 2014: New York City police suspected Eric Garner of selling loose, untaxed cigarettes. In an attempt to place him under arrest, officer Daniel Pantaleo put Garner in what New York Police Department Commissioner Bill Bratton described as a chokehold, a move banned by the department. Garner could be seen in a video of the incident saying he can't breathe as Pantaleo holds him. He was later pronounced dead at a hospital. A Staten Island grand jury voted on Dec. 2 not to indict Pantaleo, setting off a wave of national protests. (2015 NYT article) (see Aug 5)
Confederate Flag/US Military
July 17, 2020: the Pentagon, without once mentioning the word "Confederate," announced a policy that essentially banned displays of the Confederate flag on military installations around the world.
In a carefully worded memo that Defense Department officials said they hoped would avoid igniting another defense of the flag from President Trump, Defense Secretary Mark T. Esper issued guidance that lists the types of flags that can be displayed on military installations — in barracks, on cars and on signs.
According to the guidance, appropriate flags include those of American states and territories, military services and other countries that are allies of the United States. The guidance never specifically says that Confederate flags are banned, but they do not fit in any of the approved categories — and any such flags are prohibited.
"Problem solved — we hope," one Defense Department official said, speaking on the condition of anonymity so as not to anger Mr. Trump. [NYT article] (next BH, see July 27)
July 17

Peace Love Art Activism
United Farm Workers
July 17, 1970: six thousand drivers and packing workers in the Salinas Valley in California represented by the Teamsters struck effectively preventing most of the nation's summer lettuce crop from reaching consumers. (Aug 24 NYT abstract) (see July 23, 1970)
July 17

Peace Love Art Activism
INDEPENDENCE DAY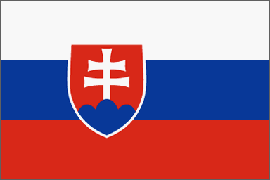 July 17, 1992: Slovakia declared independence from Czechoslovakia [Gentle Revolution] (see January 1, 1993)
July 17

Peace Love Art Activism
CLINTON IMPEACHMENT
July 17, 1998: Supreme Court Chief Justice William Rehnquist denies an extension of the temporary stay on Secret Service testimony. The subpoenaed Secret Service agents appeared before the grand jury, although only three of them testify. Larry Cockell, who is not one of the agents to testify, spends the afternoon waiting. (see Clinton for expanded story)
July 17

Peace Love Art Activism
LGBTQ & BSA
July 17, 2012: the Boy Scouts of America reaffirmed its longtime policy of barring openly gay boys from membership and gay or lesbian adults from serving as leaders. The decision came after what the organization described as a wide-ranging internal review, and despite public protests. The exclusion policy "reflects the beliefs and perspectives" of the organization, the Boy Scouts said in a news release. [NYT article] (LGBTQ, see July 31; BSA, see Oct 8)
July 17

Peace Love Art Activism
Native Americans
July 17, 2013: in a 3-2 decision the South Carolina Supreme Court awarded custody of Veronica Brown, a Cherokee child at the center of a protracted legal battle to a non-Native couple attempting to adopt her. The court ruled that Matt and Melanie Capobianco of James Island, S.C., were the only party properly seeking to adopt the three-year-old girl known as "Baby Veronica" and ordered the lower family court to finalize the adoption. (Indian Country Today article) (see Veronica for expanded story)
July 17

Peace Love Art Activism
US Labor History
July 17, 2018: the Trump administration officially killed a regulation that would have required employers to publicly disclose more information about the union-busting consultants they hire.
The Labor Department rescinded what was known as the "persuader rule," a 2016 reform introduced under former President Barack Obama. The rule would have forced businesses to report more of the spending they steer toward anti-union advisers who help scuttle organizing drives by employees.
The agency said it was spiking the rule because it believed it violated attorney-client privilege "by requiring confidential information to be part of disclosures," an argument that business groups had made to the Labor Department and in court.
\The AFL-CIO union federation criticized the Trump administration for dumping what it described as a commonsense reform that would have brought more sunlight to a "sinister" industry. The rule had been in the works for about five years before the Obama administration released it. (see July 19)
July 17

Peace Love Art Activism
Immigration History
DACA Suspended
July 16, 2021: judge Andrew S. Hanen of the United States District Court in Houston ruled that President Barack Obama exceeded his authority when he created the the Deferred Action for Childhood Arrivals program by executive order in 2012.
The program that had shielded hundreds of thousands of undocumented young adults from deportation. Hanen's ruling threw into question yet again the fate of immigrants known as Dreamers.
But the judge wrote that current program recipients would not be immediately affected, and that the federal government should not "take any immigration, deportation or criminal action" against them that it "would not otherwise take."
The Department of Homeland Security could continue to accept new applications but was temporarily prohibited from approving them, Hanen ruled. Immigrants currently enrolled in the program, most of whom were brought to the United States as children, would retain the ability to stay and work in the country, though those protections could evaporate if the government was unable to rectify a series of legal shortcomings. (next IH, see ; next DACA, see )
July 17

Peace Love Art Activism