July 27 Peace Love Art Activism
Technological Milestone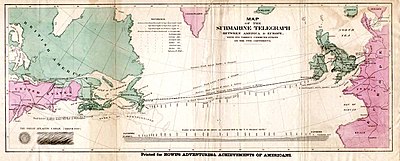 July 27, 1866: the first permanent transatlantic telegraph cable was successfully completed, stretching from Valentia Island, Ireland, to Heart's Content, Newfoundland. (EDN dot com article) (see Dec 6)
July 27 Peace Love Art Activism
BLACK HISTORY
Race revolts
July 27, 1919: an African American teenager Eugene Williams was swimming in Lake Michigan with four friends when they drifted toward the unofficial "whites-only" section of Lake Michigan Beach in Chicago, Illinois. Enraged at the encroachment, a white man on the shore threw stones at the black teenagers and struck Eugene in the head. He lost consciousness and drowned. When police responded, Eugene's friends identified the assailant but a white police officer refused to arrest him.
News of the racially-charged incident spread quickly. White crowds were misinformed that a black teenager had thrown a rock and caused a white man to drown, while black crowds were misinformed that the police had prevented swimmers from rescuing Eugene before he drowned. Both groups erupted in violence that left an African American man and a police officer shot and many more injured.
Racial tension spilled over onto the streets of the Black Belt, a predominantly African American neighborhood in Chicago, in one of the worst riots in American history. (Chicago Tribune article)  (see July 31)
Albany Movement
July 27, 1962: ten demonstrators in front of Albany's City Hall are arrested. After they are arrested a group of 17 demonstrators appear and they too are arrested. (see Albany for expanded story)
Kerner Commission
July 27, 1967: in the wake of urban rioting, President Lyndon B. Johnson appointed the Kerner Commission to assess the causes of  the violence. (full text of report) (see July 30)
Bush Extends VRA
July 27, 2006: Republican President George W. Bush signed legislation extending the Voting Rights Act for an additional 25 years, saying that "the right of ordinary men and women to determine their own political future lies at the heart of the American experiment."
Of the era's political environment, author David Daley wrote for The New Republic in 2020 that "even though Republican presidents were still nominating judges who undermined ballot access, and members of both parties confirmed them to the bench, few respectable, elected voices on either side were willing to publicly countenance a frontal assault on American voting rights." (next BH, see January 24, 2007)
Sean Bell
July 27, 2009: a settlement was reached in the Sean Bell civil lawsuit. NYC agreed to pay Sean Bell's family $3.25 million. Joseph Guzman, 34, who uses a cane and a leg brace and has four bullets lodged in his body and Trent Benefield, 26, two passengers in Bell's car who attended his bachelor party and were wounded in the shooting, received $3 million and $900,000 respectively in the settlement, for a total of $7.15 million. (B & S see October 17, 2010; Sean Bell, see March 24, 2012)
Muhammad Ali
July 27, 2012: Ali participated in the opening ceremony of the Olympic Games in London, England. (BH, see Sept 26; Ali, see June 3, 2016)
Freddie Gray
July 27, 2016: in Maryland, the state's attorney dropped all remaining charges against three city police officers awaiting trial in the death of Freddie Gray, closing the book on one of the most closely watched police prosecutions in the nation without a single conviction — and few answers about precisely how the young man died.
The announcement ended a sweeping, deeply polarizing prosecution that began last spring, as National Guard troops rumbled through the streets, with Baltimore under curfew and residents tense after looting and riots that broke out after Mr. Gray sustained a fatal spinal cord injury in police custody. [2017 Rolling Stone magazine article] (B & S, see Sept 16; Gray, see September 12, 2017)
John L Lewis
July 27, 2020: lawmakers and the American public paid their respects to the civil rights icon and late congressman, Rep. John Lewis of Georgia, as his body lies in state at the US Capitol in Washington, DC.
Lewis was the first Black lawmaker to lie in state at the US Capitol Rotunda, according to congressional historians.
Last year, the late Rep. Elijah Cummings made history as the first Black lawmaker to lie in state at the US Capitol when his body was lain in state in Statuary Hall. [CNN story] (next BH, see Aug 11)
July 27 Peace Love Art Activism
US Labor History
July 27, 1935: President Roosevelt signed the National Labor Relations Act, known as the Wagner Act. The law safeguarded union organizing efforts and authorized the National Labor Relations Board to assure fairness in union elections and during collective bargaining with employers. (NLRB site) (see Nov 9)
July 27 Peace Love Art Activism
Vietnam
Red Scare
July 27, 1953: the Korean War armistice was signed at Panmunjom, ending three years of fighting. (RS, see Aug 12). The geographical division of Korea was seen as a potential model for Vietnam. (2010 CNN article) (Vietnam, see March 13, 1954; Red Scare, see Aug 12)
Increased troops
July 27, 1964: the U.S. announced that it would send 5,000 more military advisers to South Vietnam, bringing the total number of US forces in Vietnam to 21,000. (see July 30)
July 27 Peace Love Art Activism
July 27 Music et al
Herb Albert
July 27 – August 9, 1968: Herb Albert's The Beat of the Brass the Billboard #1 album.
John Lennon
July 27, 1976: John Lennon was granted a green card for permanent residence in US. (NYT article) (see Sept 19)
July 27 Peace Love Art Activism
Watergate Scandal
July 27, 1974: House Judiciary Committee passed the first of three articles of impeachment, charging obstruction of justice. (see Watergate for expanded story)
July 27 Peace Love Art Activism
Iran hostage crisis
July 27, 1980:  Mohammad Reza Pahlavi, deposed Shah of Iran, died in Cairo. (Washington Post article) (see Dec 24)
July 27 Peace Love Art Activism
 Women's Health
July 27, 1996:  Eric Rudolph detonated bomb at Centennial Olympic Park bombing in Atlanta during the 1996 Summer Olympics. The blast killed a spectator and wounded 111 others.(ATF article) (see Nov 29)
July 27 Peace Love Art Activism
CLINTON IMPEACHMENT
July 27, 1998: the U.S. Court of Appeals ruled that attorney-client privilege does not protect presidential confidant Bruce Lindsey from answering all questions put to him before the Lewinsky grand jury. (see Clinton for expanded story)
July 27 Peace Love Art Activism
TERRORISM
July 27, 2008: anthrax attacks: prime suspect Bruce Ivins killed himself with an overdose of acetaminophen. (2009 CNN article) (see Aug 6)
July 27 Peace Love Art Activism
Cannabis & AIDS
July 27, 2010: medical marijuana became legal in the District after the Democrat-controlled Congress declined to overrule a D.C. Council bill that allowed the city to set up as many as eight dispensaries where chronically ill patients can purchase the drug. The law allows patients with cancer, glaucoma, HIV/AIDS and other chronic ailments can possess up to four ounces of the drug…
The law capped a years-long struggle to act on a 1998 referendum in which 69 percent of District residents voted for to allow medical marijuana. Until last year, Congress blocked the city from enacting the referendum. (next Cannabis, see Nov 2  or see CCC for expanded chronology; AIDS, see May 14, 2014 )
July 27 Peace Love Art Activism
LGBTQ
BSA
July 27, 2015: the Boy Scouts of America ended its ban on openly gay adult leaders but the new policy allowed church-sponsored units to choose local unit leaders who share their precepts, even if that means restricting such positions to heterosexual men.
Despite this compromise, the Mormon Church said it might leave the organization anyway. Its stance surprised many and raised questions about whether other conservative sponsors, including the Roman Catholic Church, might follow suit. (NYT article) (LGBTQ, see July 28; BSA, see January 30, 2017)
Transgender in military
July 27, 2017:  Pentagon leaders, scrambling to clarify the confusion surrounding President Trump's abrupt announcement, announced that transgender people can continue to serve in the military.
In a letter to the military service chiefs, Gen. Joseph F. Dunford Jr., the chairman of the Joint Chiefs of Staff, said that the policy on who is allowed to serve would not change until the White House sends the Defense Department new rules and the secretary of defense issues new guidelines.
"In the meantime, we will continue to treat all of our personnel with respect," General Dunford said in the letter. [NYT article] (LGBTQ & Transgender, see Aug 25)
July 27 Peace Love Art Activism
SEPARATION OF CHURCH AND STATE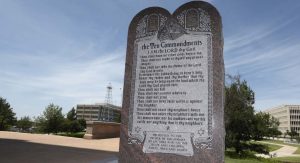 June 27, 2015: the Oklahoma Supreme Court again ordered the removal of a statue of the Ten Commandments from the state capitol grounds after denying an appeal. The nine justices turned down an appeal from the Oklahoma Capitol Preservation Commission to rehear the case less than one month after the court originally ordered for the monument to be taken down.
The court said the Oklahoma Constitution — in Article 2, Section 5 — banned the use of public property "for the benefit of any religious purpose." Even though the Ten Commandments monument was paid for with private funding, the court said it is on public property and benefits or supports a system of religion and is therefore unconstitutional. (Politico article) (see Dec 14)
July 27 Peace Love Art Activism
Nuclear/Chemical News
July 27, 2020: according to North Korean state media, North Korean leader Kim Jong Un said he believed his country will no longer need to fight wars because its nuclear arsenal guarantees its safety,.
"With our reliable and effective self-defensive nuclear deterrent, there will be no more war on this earth, and our country's safety and future will be secured forever," Kim said in a speech, North Korea's Korean Central News Agency (KCNA) reported.
Speaking to a group of veterans on the 67th anniversary of the armistice that effectively ended the Korean War, Kim said that nuclear weapons would allow North Korea to defend itself "against any high pressure and military threats of imperialists and hostile forces." [CNN story] (next N/CN, see January 3, 2021)
July 27 Peace Love Art Activism