October 17 Peace Love Art Activism
BLACK HISTORY
TERRORISM
October 17, 1872: President Grant declared martial law and suspended the writ of habeajs corpus in nine South Carolina counties. Once he did so, federal forces were allowed to arrest and imprison KKK members and instigators of racial terrorism without bringing them before a judge or into court. Many affluent Klan members fled the jurisdiction to avoid arrest but by December 1871 approximately 600 Klansmen were in jail. More than 200 arrestees were indicted, 53 pleaded guilty, and five were convicted at trial. Klan terrorism in South Carolina decreased significantly after the arrests and trials but racial violence targeting black people continued throughout the South for decades. (see Nov 28)
Lunch counter desegregation
October 17, 1960: in response to the sit-ins that had began on February 1, several chain stores announced on this day that they would desegregate their lunch counters in North Carolina, Virginia, Tennessee and seven other southern states. This decision was arguably the greatest single victory for the sit-in movement, but many restaurants continued to segregate. (see Oct 19)
BLACK & SHOT
October 17, 2010: in Pleasantville, N.Y police officer, Aaron Hess shot and killed Danroy Henry, a college running back sitting next to his best friend Brandon Cox from Easton, Mass. Hess fired four rounds, his lawyer said, into the Nissan Altima with Cox and Henry inside, killing Henry, wounding Cox. (B & S, and Henry, see February 14, 2011)
October 17 Peace Love Art Activism
Vietnam
Formation
October 17, 1887: French Indochina was officially formed from Annam, Tonkin, Cochinchina (which together form modern Vietnam) and the Kingdom of Cambodia following the Sino-French war (1884–1885). Laos was added after the Franco-Siamese War in 1893. (see May 19, 1891)
Henry Kissinger peace talks
October 17, 1972:  Kissinger, in Paris again, was said by Hanoi to have "reached agreement on almost all problems." North Vietnam said only two unspecified points of disagreement remained. Mr Kissinger flies to Saigon. (see Oct 18)
October 17 Peace Love Art Activism
Cold War
Loyalty oath invalidated
October 17, 1952 : a loyalty oath for University of California employees was a major controversy for many years, beginning in 1949. The Board of Regents finally adopted a required oath on April 21, 1950. On August 25, UC fired 31 faculty for refusing to sign the oath. On this day, the California Supreme Court invalidated the law in Tolman v. Underhill. (The university oath was separate from, and in addition to, the Levering Act oath, which was required of all California public employees, signed into law by Governor Earl Warren on October 3, 1950.) (see Nov 1)
Che returned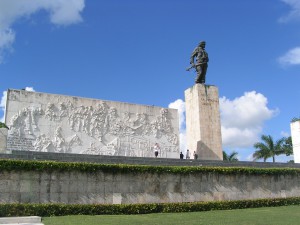 October 17, 1997: Guevara's remains, with those of six of his fellow combatants, were laid to rest with military honors in a specially built mausoleum in the Cuban city of Santa Clara, where he had commanded over the decisive military victory of the Cuban Revolution.  (NYT article) (see April 10, 1998)
Fernald School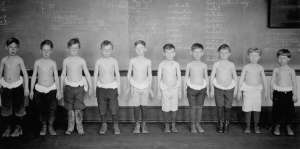 October 17, 1995: in a lawsuit over radiation experiments MIT researchers conducted at a home for mentally retarded children during the 1950s was filed. The lawsuit came only days after an advisory committee to President Clinton released findings about thousands of human radiation experiments conducted during the Cold War, including tests done at the Fernald School. The committee concluded that the experiments were wrong and warranted apologies to the test subjects but that only a few should receive monetary compensation. [CBS story] (ADA, see February 8, 1996; CW, see May 12, 2002)
October 17 Peace Love Art Activism
"Save the Last Dance for Me"
October 17 – 23, 1960: written by Doc Pomus and Mort Shuman, "Save the Last Dance for Me" by the Drifters #1 Billboard Hot 100. The song was written on the day of Pomus' wedding while the wheelchair-bound groom, who had polio as a child, watched from his wheelchair as his bride danced with their guests.
Beatles first Christmas disc
October 17, 1963: among other things, the Beatles recorded a free flexi-disc to be given away to members of the Official Beatles Fan Club. This was the first of seven such recordings made between 1963 and 1969, and was posted to members on 9 December. (see Oct 21)
"Do Wah Diddy Diddy"
October 17 – 30, 1964: "Do Wah Diddy Diddy" by Manfred Mann #1 on the Billboard Hot 100.
Cultural Milestone
October 17, 1967: the play, Hair premiered off-Broadway at the Public Theatre and ran for a limited engagement of six weeks. Although the production had a "tepid critical reception", it was popular with audiences. (CM, see Oct 18; Hair, see  Dec 22)
Brian Epstein
October 17, 1967: John, Paul, George, and Ringo attended a memorial service for Brian Epstein at the New London Synagogue, Abbey Road. (see Nov 27)
October 17 Peace Love Art Activism
LGBTQ
Homosexual League of New York
October 17, 1963: Randolph Wicker, director of the Homosexual League of New York, called for public acceptance of homosexuals as a legitimate minority group. (NYT article) (see Dec 16)
Westboro Baptist Church
October 17, 1998: Matthew Shepard buried. Fred Phelps, leader of the Westboro Baptist Church in Topeka, Kansas, took his church's "God Hates Fags" message to the funeral of Matthew Shepard, held in Casper, Wyoming. Two of his picket signs read: "No Tears for Queers" and "Fag Matt in Hell. (NYT article) (next LGBTQ, see Nov 3; next Westboro, see January 15, 2006; see Shepard for expanded story)
October 17 Peace Love Art Activism
Native Americans
October 17, 1988: The Indian Gaming Regulatory Act established the jurisdictional framework that governs Indian gaming. There was no federal gaming structure before this act. The stated purposes of the act include providing a legislative basis for the operation/regulation of Indian gaming, protecting gaming as a means of generating revenue for the tribes, encouraging economic development of these tribes, and protecting the enterprises from negative influences (such as organized crime). [PDF link] (see January 30, 1989)
October 17 Peace Love Art Activism
Immigration History
Luis Ramirez
October 17, 2013: a unanimous three-judge panel of the U.S. Court of Appeals for the Third Circuit affirmed the federal hate-crime convictions of Derrick Donchak and Brandon Piekarsky in the July 12, 2008 beating death of immigrant Luis Ramirez.
The Third Circuit panel in Philadelphia affirmed both convictions and sentences for Donchak and Piekarsky for violating the civil rights of Ramirez, 25, after a booze-fueled confrontation with a group of white high-school football players in the former mining town of Shenandoah.
Donchak, then 20, and Piekarsky, then 18, were found guilty of the federal charges by a federal jury sitting in Scranton on October 14, 2010. Each was sentenced to nine years in prison followed by three years of supervised release. (see Ramirez for expanded story)
Travel Ban, ruling 1
October 17, 2017: the day before it was to take effect, judge, Derrick K. Watson of Federal District Court in Honolulu issued a nationwide order blocking  President Trump's third attempt at a travel ban. It would have indefinitely stopped almost all travel to the United States from seven countries, including most of the Muslim-majority nations included in his original travel ban.
The ruling was yet another legal setback for one of Trump's earliest and most controversial efforts. Watson had previously blocked Mr. Trump's second travel ban from taking effect in March. A federal judge in Seattle had blocked the White House's first executive order sharply limiting travel from seven predominantly Muslim countries.
This third executive order went further than the original, imposing permanent restrictions on travel instead of the original 90-day suspension. Under the newest version, most citizens of Iran, Libya, Syria, Yemen, Somalia, Chad and North Korea were to be excluded from entering the United States, while citizens of Iraq and some groups of people in Venezuela who attempted to visit the United States would have faced extra barriers to entry. (see Oct 17)
Travel Ban, ruling 2
October 17, 2017:  U.S. District Judge Theodore D. Chuang of Greenbelt, MD imposed a nationwide order against enforcement, in a ruling that was broader than one issued earlier in the day by judge Derrick K. Watson of Federal District Court in Honolulu.
In a 91-page ruling, Chuang, ruled that the third Trump executive order was likely to be struck down as a discriminatory ban on Muslims, a violation of the Constitution.  In Honolulu, District Judge Derrick K. Watson did not rule on the constitutional question.
Both judges did find that the challengers to the third order were likely to win their claim that the third version exceeded presidential power under federal immigration laws.
The two rulings combined provided opponents of the ban with multiple legal attacks as the cases make their way through the appeals process. (IH, see Oct 24; Trump, see Nov 13)
October 17 Peace Love Art Activism
FREE SPEECH, US Labor History & Colin Kaepernick
Kneeling 2017
October 17, 2017: National Football League officials announced that they would not seek commitments from its players to stop kneeling during pregame renditions of the U.S. national anthem.
"We spent today talking about the issues that our players have been trying to bring attention to. About issues in our communities to make our communities better," NFL Commissioner Roger Goodell told reporters. [Washington Post article] (FS & CK, see Oct 18; Labor, see Oct 27)
Kneeling 2018
October 17, 2018: NFL owners announced that their national anthem conduct policy was no longer in effect.
Team owners and commissioner Roger Goodell signaled that message at the exit of the NFL's annual fall meetings in New York when all the power brokers passed on revisiting punishment for forms of social protest by players. The league's anthem conduct policy had been suspended by team owners last July and hadn't been brought back to the table since, despite a handful of players continuing to protest social and racial inequalities during the pregame ceremony.
After the NFL's broadcast partners stopped showing the anthem on television and political rhetoric around the issue died down, the league passed on revisiting forms of punishment in what was billed as a meeting where any changes (if at all) could be made. [Yahoo news article] (FS, see Nov 1; CK, see Oct 25)
US Labor History
October 17, 2019: teachers in Chicago went on strike, forcing the cancellation of classes for more than 300,000 public school students in the nation's third-largest district. [NYT article] (next LH, see Oct  25; strike, see Oct 31)
October 17 Peace Love Art Activism
TERRORISM
October 17, 2017: Umar Farouk Abdulmutallab of Nigeria who was serving multiple life sentences for trying to blow up an airliner with a bomb hidden in his underwear sued the Justice Department, arguing that prison officials were violating his rights by holding him in solitary confinement, restricting his communication with relatives and force-feeding him when he goes on a hunger strike to protest. [DFP article]  (see Oct 31)
October 17 Peace Love Art Activism
Cannabis
October 17, 2018: Canada became the first major world economy to legalize recreational marijuana use, beginning a national experiment that (according to a NYT article) "…will alter the country's social, cultural and economic fabric, and present the nation with its biggest public policy challenge in decades.
Newfoundlanders became the first Canadians to be able to smoke pot legally, when retailers there opened in the country's easternmost province at midnight." (see Oct 31)
October 17 Peace Love Art Activism
Trump Impeachment Inquiry
Sondland testimony
October 17, 2019: US Ambassador to the European Union Gordon Sondland was directed by to work with Rudy Giuliani on Ukraine, he told Congress and was left with a choice: Abandon efforts to bolster a key strategic alliance or work to satisfy the demands of the President's personal lawyer.
Sondland said he wasn't aware until "much later" that Giuliani's agenda might have included an effort to "prompt the Ukrainians" to investigate former Vice President Joe Biden and his son Hunter and to involve the Ukrainians in the President's campaign.
The revealing testimony of the President's top diplomat showcased how Trump put on hold an effort to strengthen relations with the country until top US officials were in contact with Giuliani, who was pursuing an investigation into the Bidens, a potential political rival in Trump's reelection campaign. And Sondland said he was "disappointed" that Trump wouldn't commit to a meeting sought by Ukrainian President Volodymyr Zelensky until they spoke with Giuliani. [CNN article]
Mick Mulvaney quid pro quo
October 17, 2019: Mick Mulvaney, the acting White House chief of staff said that the White House withheld nearly $400 million in military aid to Ukraine to further President Trump's political interests.
Mulvaney told journalists that the aid was withheld in part until Ukraine investigated an unsubstantiated theory that Ukraine, not Russia, was responsible for hacking Democratic Party emails in 2016 — a theory that would show that Trump was elected without Russian help.
Mulvaney took back the statement later in the day. [NYT article] (see TII for expanded chronology)
October 17 Peace Love Art Activism