October 29 Music et al
It's another one of those days that bursts with music history of all types. Mostly happy.
"Jingle Bell Rock"
October 29, 1957: Bobby Helms recorded "Jingle Bell Rock" at the Bradley Film and Recording Studio in Nashville, Tennessee. How many times have you heard this one?
"Smoke Gets in Your Eyes"
October 29, 1958: The Platters released "Smoke Gets in Your Eyes." Greatest version ever?
Bob Dylan
October 29, 1961: Bob Dylan performed on Folksong Festival radio show. Be careful. Many of his comments are simply being fun at the expense of host Oscar Brand.
The Beatles
October 29, 1962: The Beatles performed "Love Me Do" and "A Taste Of Honey" for the television program People and Places on Grenada TV. Here's a 46 second soundbite from the show:
 
October 29 Music et al
Beach Boys
After the Beach Boys released their first single, Surfin', on December 8, 1961, they released their first album, Surfin' on October 29, 1962.
The Hollies
October 29, 1963: The Hollies went into the recording studio for the first time to begin recording their debut album.



The Rolling Stones
October 29, 1963: The Rolling Stones, the Everly Brothers, Little Richard, and Bo Diddley were in concert with two shows at the Gaumont Theatre in Southampton, England.



"Reach Out I'll Be There"
October 29, 1966: The Four Tops had the top R&B song with "Reach Out I'll Be There."
"96 Tears"
October 29 – November 4, 1966: "96 Tears" by ? and the Mysterians #1 on the Billboard Hot 100.
Allison Steele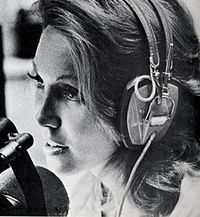 October 29, 1967: WNEW-FM DJ Allison Steele (a rare female DJ) announced that Rosko would be a WNEW-FM DJ. (Allison's announcement) (see April 5, 1983)

Duane Allman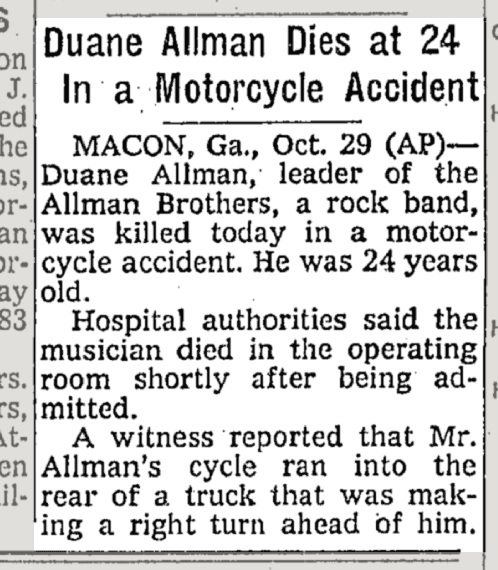 October 29, 1971: Duane Allman died. (NYT article)
Mind Games
October 29, 1973: UK release of John Lennon's Mind Games album, his fourth. He recorded it  at Record Plant Studios, NYC in summer 1973. The album was Lennon's first self-produced recording without help from Phil Spector. It reached number 13 in the UK and number 9 in the US, where it went gold. 

Many more than 96 tears came to my eyes while watching the video. You,too, may need a tissue.
Joan Baez
October 29, 1975: Joan Baez became a member of Bob Dylan's Rolling Thunder Revue.

Pink Floyd
1983: Pink Floyd set a new rock era record as Dark Side of the Moon placed on the album chart for the 491st week.  That broke the mark set by Johnny Mathis for Johnny's Greatest Hits.  The Floyd didn't let up, however, until they got to 780 weeks.


Madonna
October 29, 1983: Madonna's first single debuted on the chart--"Holiday".
Bryan Adams
October 29, 1984:  Bryan Adams released his landmark album Reckless.

Wells Kelly
October 29, 1984:  Wells Kelly, drummer for Orleans and Meat Loaf, died at the age of 45.
Ron Wood
October 29, 1987: Rolling Stone's guitarist, Ron Wood, opened an art exhibition in London called Decades, which featured portraits of friends and rock stars from the past 20 years.

Rock and Roll Hall of Fame
October 29, 1990: The Byrds, LaVern Baker, John Lee Hooker, The Impressions, Wilson Pickett, Jimmy Reed and Ike & Tina Turner were inducted into the Rock and Roll Hall of Fame.
October 29 Music et al, October 29 Music et al, October 29 Music et al, October 29 Music et al, 
Please follow and like us: