October 6 Peace Love Art Activism
US Labor History
"The Jazz Singer"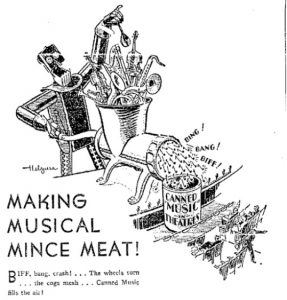 October 6, 1927:  "The Jazz Singer" – the first feature-length sound film in the US – opened in New York City. Within three years, 22,000 theater jobs for musicians who accompanied silent films were lost, while only a few hundred jobs for musicians performing on soundtracks were created by the new technology. (see Nov 21)
UAW
October 6, 1976: the UAW ended a 3-week strike against Ford Motor Co. when the company agreed to a contract that included more vacation days and better retirement and unemployment benefits. (see January 28, 1977)
Feminism
October 6, 1986: female flight attendants won an 18-year lawsuit against United Airlines, which had fired them for getting married. The lawsuit was resolved when a U.S. district court approved the reinstatement of 475 attendants and $37 million back-pay settlement for 1,725 flight attendants. (United Airlines, Inc. v. McDonald, 432 U.S. 385 (1977)) (next Feminism, see Nov 1; Labor, see February 2, 1987)
October 6 Peace Love Art Activism
Vietnam
October 6, 1955: Ngô Đình Diệm announced the referendum would be held on 23 October. The election was open to men and women aged 18 or over, and the government arranged to have a polling station set up for every 1,000 registered voters,  The poll was contested by Bảo Đại, who had spent much of his time in France and advocated a monarchy, and Diệm, who ran on a republican platform. (see Oct 23)
Nuclear/Chemical News
October 6, 1961: the Soviet Union above-ground nuclear test. 4 megaton. President Kennedy, speaking on civil defense, advised American families to build bomb shelters to protect them from atomic fallout in the event of a nuclear exchange with the Soviet Union. [2009 Politico article] (see Oct 23, 1961)
Films about living in fallout shelter
---
October 6 Peace Love Art Activism
1965 World Series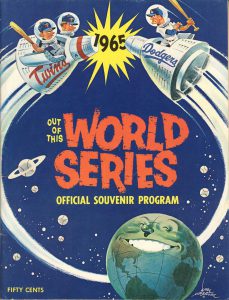 October 6 – 14, 1965, World Series: LA Dodgers against the Minnesota Twins. LA in 7 games. [Foxsports article]
October 6 Peace Love Art Activism
LSD
October 6, 1966: a new federal law made possession of LSD illegal. (see Oct 20)
October 6 Peace Love Art Activism
Cultural Milestone
October 6, 1967: after many young people left the Haight-Ashbury at the end of a tumultuous, those remaining in the Haight wanted to commemorate the conclusion of the event.
A mock funeral entitled "The Death of the Hippie" ceremony was staged on October 6, 1967, and organizer Mary Kasper explained: We wanted to signal that this was the end of it, to stay where you are, bring the revolution to where you live and don't come here because it's over and done with. [2017 Retronewser article]  (see Oct 17)
October 6 Peace Love Art Activism
Arab-Israeli War of 1973
October 6, 1973: the fourth and largest Arab–Israeli conflict begins, as Egyptian and Syrian forces attack Israeli forces in the Sinai Peninsula and Golan Heights on Yom Kippur. [2017 Aljazeera article]
October 6 Peace Love Art Activism
Irish Troubles
October 6, 1981:  Secretary of State for Northern Ireland, James Prior, announced a number of changes in prison policy, one of which would allowed prisoners to wear their civilian clothes at all times. This was one of the five key demands that had been made at the start of the hunger strike. Prior also announced other changes: free association would be allowed in neighboring wings of each H-Block, in the exercise areas and in recreation rooms; an increase in the number of visits each prisoner would be entitled to..(see  Troubles for expanded story)
October 6 Peace Love Art Activism
LGBTQ
Matthew Shepard murder
October 6, 1998: Matthew Shepard met Aaron McKinney and Russell Henderson for the first time at the Fireside Lounge in Laramie, Wyoming. It was decided that McKinney and Henderson would give Shepard a ride home. McKinney and Henderson subsequently drove the car to a remote, rural area and proceeded to rob, pistol-whip, and torture Shepard, tying him to a fence and leaving him to die. According to their court testimony, McKinney and Henderson also discovered his address and intended to steal from his home. Still tied to the fence, Shepard, who was still alive but in a coma, was discovered 18 hours later by Aaron Kreifels, a cyclist who initially mistook Shepard for a scarecrow. (see Shepard for expanded story)
Melissa Ethridge, "Scarecrow"
Showers of your crimson blood
Seep into a nation calling up a flood
Of narrow minds who legislate
Thinly veiled intolerance
Bigotry and hateBut they tortured and burned you
They beat you and they tied you
They left you cold and breathing
For love they crucified youI can't forget hard as I try
This silhouette against the skyScarecrow crying
Waiting to die wondering why
Scarecrow trying
Angels will hold carry your soul awayThis was our brother
This was our son
This shepherd young and mild
This unassuming one
We all gasp this can't happen here
We're all much too civilized
Where can these monsters hideBut they are knocking on our front door
They're rocking in our cradles
They're preaching in our churches
And eating at our tablesI search my soul
My heart and in my mind
To try and find forgiveness
This is someone child
With pain unreconciled
Filled up with father's hate
Mother's neglect
I can forgive But I will not forgetScarecrow crying
Waiting to die wondering why
Scarecrow trying
Rising above all in the name of love
Elton John, American Triangle
Seen him playing in his backyard
Young boy just starting out
So much history in this landscape
So much confusion, so much doubtBeen there drinking on that front porch
Angry kids, mean and dumb
Looks like a painting, that blue skyline
God hates fags where we come from'Western skies' don't make it right
'Home of the brave' don't make no sense
I've seen a scarecrow wrapped in wireLeft to die on a high ridge fenceIt's a cold, cold wind
It's a cold, cold wind
It's a cold wind blowing, WyomingSee two coyotes run down a deer
Hate what we don't understand
You pioneers give us your children
But it's your blood that stains their handsSomewhere that road forks up ahead
To ignorance and innocence
Three lives drift on different winds
Two lives ruined, one life spent
Same-sex marriage
October 6, 2014: the US Supreme Court let stand an appeals court rulings allowing same-sex marriage in five states. The development cleared the way for same-sex marriages in Indiana, Oklahoma, Utah, Virginia and Wisconsin. Gay and lesbian couples started getting married in those states within hours. (see Oct 8)
October 6 Peace Love Art Activism
BLACK HISTORY
October 6, 2009: Beth Humphrey, a white woman from Hammond, Louisiana, called Keith Bardwell, a justice of the peace in Tangipahoa Parish, to ask him to sign a license for her to marry Terence McKay, an African American man. Bardwell's wife informed Humphrey that he would not sign a marriage license for an interracial couple. Bardwell, a justice of the peace for over 30 years, later estimated he had denied marriage licenses to four interracial couples during the previous two and a half years.
After his refusal was publicized and generated controversy, Bardwell defended his actions, insisting in interviews that he is "not a racist" and claiming he denied marriage licenses out of concern for the problems that would face an interracial couple's children. He said he "does not believe in mixing races in that way" and believes "there is a problem with both groups [of whites and African Americans] accepting a child from such a marriage. I think those children suffer and I won't help put them through it."
Humphrey expressed shock at Bardwell's views: "That was one thing that made this so unbelievable. It's not something you expect in this day and age." Louisiana Governor Bobby Jindal called for an investigation and disciplinary action by a state commission that reviews the conduct of lawyers and judges in Louisiana. The ACLU, Center for Constitutional Rights, and local NAACP called on Bardwell to resign from his position, which he did on November 3. (see Oct 10)
SEPARATION OF CHURCH AND STATE
October 6, 2014: the Supreme Court refused to hear the appeal of John Freshwater, an Ohio science teacher, who was fired for teaching creationism instead of evolution. Freshwater taught eighth-grade science at Mount Vernon Middle School until 2011, when the Board of Education removed him after it was revealed that he decorated his science classroom with Bible verses, attacked the theory of evolution, and gave extra credit for attending creationist films. (2010 NYT article) (see Dec 1)
Crime and Punishment
Overcrowding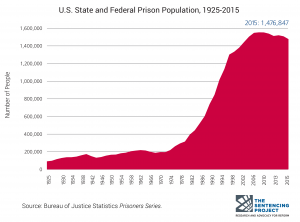 October 6, 2015: according to federal law enforcement officials the Justice Department prepared to release roughly 6,000 inmates from federal prison as part of an effort to ease overcrowding and roll back the harsh penalties given to nonviolent drug dealers in the 1980s and '90s.
The release was scheduled to occur from Oct. 30 to Nov. 2, and would be one of the largest one-time discharges of inmates from federal prisons in American history, said the officials, who spoke on the condition of anonymity because they did not want to be identified discussing matters that had not been publicly announced by the Justice Department. (see Nov 24)
DEATH PENALTY
October 6, 2015: District Judge Jeffrey Sherlock blocked Montana from using a particular drug in lethal injections, effectively halting executions in the state until an adequate substitute can be found or lawmakers change the law.
The barbiturate pentobarbital does not meet the state law's standards for executions, Sherlock said. He stressed that his ruling was not on whether the death penalty was constitutional or whether the drug's use constituted cruel and unusual punishment, but only whether the drug satisfied the law.
"Scrupulous adherence to statutory mandates is especially important here given the gravity of the death penalty," Sherlock said in his order. [CBS News story] (see January 12, 2016)
October 6 Peace Love Art Activism
Sexual Abuse of Children
October 6, 2016: the Archdiocese of New York announced the establishment of an independent program that would allow victims of sexual abuse by members of the clergy to apply for compensation from the church, even for abuse claims that are decades old. [NYT article] (see March 1, 2017)
October 6 Peace Love Art Activism
Women's Health
October 6, 2017: President Donald Trump's administration issued a new rule that allowed all employers to opt out of including birth control in their health insurance plans for any moral or religious reason, rolling back the Obama-era requirement that guaranteed contraception coverage at no cost to 62 million women.
Requiring insurance plans to cover birth control imposes a "substantial burden" to the free exercise of religion guaranteed by the U.S. Constitution, and could promote "risky sexual behavior" among adolescents, the administration told reporters. [NYT article] (see Oct 24)
October 6 Peace Love Art Activism
Nuclear/Chemical News & ICAN
October 6, 2017: The Nobel Committee awarded the 2017 Peace Prize to The International Campaign to Abolish Nuclear Weapons [ICAN]. The committee stated: "for its work to draw attention to the catastrophic humanitarian consequences of any use of nuclear weapons and for its ground-breaking efforts to achieve a treaty-based prohibition of such weapons" as the reason for selecting ICAN for this award. [NPR story] (Nuclear, see Oct 13; ICAN, see Nov 30)
Environmental Issues
October 6, 2021: the Biden administration announced that it would restore climate change protections to the nation's bedrock environmental law, the National Environmental Policy Act, which former President Donald J. Trump had weakened in an effort to speed the approval of projects like mines, pipelines, dams and highways.
The proposed changes would require the federal government to evaluate the climate change impacts of major new projects as part of the permitting process. They come as Congress is weighing a plan to spend trillions of dollars on infrastructure improvements across the United States.  [NYT article] (next EI, see Nov 2)
October 6 Peace Love Art Activism
Cannabis
October 6, 2022: President Biden pardoned thousands of people convicted of marijuana possession under federal law and said his administration would review whether marijuana should still be in the same legal category as drugs like heroin and LSD.
The pardons cleared everyone convicted on federal charges of simple possession since it became a crime in the 1970s. Officials said full data was not available but noted that about 6,500 people were convicted of simple possession between 1992 and 2021, not counting legal permanent residents. The pardons also affected people who were convicted under District of Columbia drug laws; officials estimated that number to be in the thousands.
The pardons would not apply to people convicted of selling or distributing marijuana. [NYT article] (next Cannabis, see Nov 8 or see CAC for larger chronology)
October 6 Peace Love Art Activism