October 14 Peace Love Art Activism
BLACK HISTORY
Marcus Garvey
October 14, 1919: a man named George Tyler visited Garvey at his office in Harlem. Tyler pulled out a gun and shot Garvey in the right leg and head. Garvey sustained injuries but survived the attack. Tyler was arrested but is reported to have committed suicide the day after his arrest. (NYT article) (see Garvey for expanded story; next BH, see Dec 27)
 District of Columbia Bar Association
October 14, 1958: the District of Columbia Bar Association voted to accept black lawyers for the first time. Attorneys in the District of Columbia were not required to belong to a professional bar association in the 1950s, but the District maintained several voluntary bar associations that lawyers could choose to join. The Bar Association of the District of Columbia became known as the "white bar," while the Washington Bar Association served as the "black bar." Washington has a long history of racial separation and in the Jim Crow era, mandatory segregation laws remained in force. While black and white lawyers practiced in the same courtrooms, most other facilities in the District remained separated by race and the bar associations furthered that custom. Even Washington's law library, located within a federal courthouse, refused to admit African American attorneys.
The Bar Association of the District of Columbia finally desegregated due in a large part to the efforts of Charles S. Rhyne, a white man who ran for president of the organization on a pledge to desegregate. Though he faced intensely hostile reactions from many of his colleagues, Rhyne eventually was able to amend the bar association's constitution and remove the race-based membership criteria. Several years later, on October 14, 1958, the Bar Association of the District Columbia voted to integrate and begin accepting African American members. The "black" Washington Bar Association nevertheless opted to continue operation, open to all but with a focus on the needs and concerns of black lawyers in Washington. Both associations still exist today. (see Oct 25)
MARTIN LUTHER KING, JR
October 14, 1964: Martin Luther King, Jr., awarded the Nobel Peace Prize. At 35 years of age, King was the youngest person ever to receive the award. (NYT article) (BH, see Oct 31; MLK, see Nov 18)
George Whitmore, Jr
October 14, 1965: Richard Robles went on trial before a jury and New York County Supreme Court Justice Irwin D. Davidson for the Wylie-Hoffert murders. (see GW Jr for expanded story)
Atatiana Jefferson
October 14, 2019: in the morning, Fort Worth interim police chief Ed Kraus said the yet-unnamed officer who fatally shot Atatiana Jefferson in her home had resigned. Kraus added that the officer might face criminal charges.
Fort Worth Mayor Betsy Price said the killing of Jefferson was unjustified.
"I'm so sorry. On behalf of the entire city of Fort Worth, I'm sorry," Price told reporters Monday. "To Atatiana's family, it's unacceptable. There is nothing that can justify what happened…. Nothing."
That afternoon police arrested officer Aaron Y. Dean and charged him with murder. (next B & S, see Oct 15; next AJ, see )
October 14 Peace Love Art Activism
Technological Milestone
October 14, 1947: Air Force test pilot Charles E. Yeager became the first person to break the sound barrier when he flew the experimental Bell X-1 rocket plane over Edwards Air Force Base in California. (see December 23, 1947)
October 14 Peace Love Art Activism
Cold War
FREE SPEECH
October 14, 1949: eleven top leaders of the American Communist Party were convicted of violating the Smith Act, which made it a crime to advocate the overthrow the government. The guilty verdict was appealed. [Rare Newspapers article]  (Red Scare, see Nov 2; Free Speech, see March 31, 1950; trial appeal, see June 4, 1951)
Cuban Missile Crisis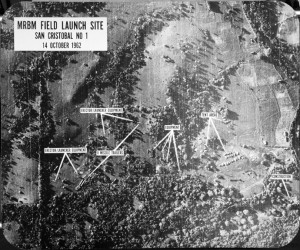 October 14, 1962: a US Air Force U-2 plane on a photo-reconnaissance mission captured proof of Soviet missile bases under construction in Cuba. (see CMC for expanded story)
Nikita Khrushchev
October 14, 1964: Nikita Khrushchev was ousted as both premier of the Soviet Union and chief of the Communist Party after 10 years in power. He was succeeded as head of the Communist Party by his former protégé Leonid Brezhnev, who would eventually become the chief of state as well. (NY article)  (see January 23, 1967)
October 14 Peace Love Art Activism
Peace Corps
October 14, 1960: Democratic presidential candidate John F. Kennedy suggested formation of a Peace Corps during a talk at the University of Michigan.
October 14 Peace Love Art Activism
October 14 Music et al
October 14 – 27, 1967: Bobbie Gentry's Ode to Billie Joe the Billboard #1 album.
October 14 Peace Love Art Activism
Vietnam
October 14, 1968: U.S. Defense Department officials announced that the Army and Marines would be sending about 24,000 men back to Vietnam for involuntary second tours because of the length of the war, high turnover of personnel resulting from the one year of duty, and the tight supply of experienced soldiers. This decision had an extremely negative impact on troop morale and the combat readiness of U.S. forces elsewhere in the world as troops were transferred to meet the increased personnel requirements in Vietnam. (see Oct  22)
October 14 Peace Love Art Activism
LGBTQ
October 14, 1977, LGBTQ  gay rights activists pie Anita Bryant during a press conference in Des Moines, Iowa. (next LGBTQ, see Nov 8)
National March on Washington for Lesbian and Gay Rights
October 14, 1979: an estimated 75,000 people participate in the National March on Washington for Lesbian and Gay Rights. LGBTQ and straights demanded equal civil rights and urged the passage of protective civil rights legislature.   (NYT article) (LGBTQ. see July 9, 1980; Feminism, see July 7, 1981)
October 14 Peace Love Art Activism
Immigration History
October 14, 2010: Derrick M. Donchak, 20, of Shenandoah, and Brandon J. Piekarsky were found guilty on all counts (including hate crimes) in the July 12, 2008 beating death of immigrant Luis Ramirez.
They had previously been acquitted of murder charges in state court and convicted of simple assault. (see Ramirez for expanded story)
October 14 Peace Love Art Activism
Women's Health
October 14, 2014: the Supreme Court blocked a federal appeals court ruling that had forced many abortion clinics in Texas to close. The Supreme Court's order, which was five sentences long, allowed the clinics to remain open while appeals proceeded.   (NYT article) (BC, see Dec 22; Texas, see June 27, 2016)
October 14 Peace Love Art Activism
Sexual Abuse of Children
October 14, 2014: the Diocese of Kansas City-St. Joseph agreed to settle 30 sexual abuse lawsuits for $9.95 million. The agreement resolved all 30 outstanding claims – including some involving priests in Independence – filed from 2010 to early 2014 alleging abuse by priests from the diocese from 20 or more years ago. [KC Star article] (see Nov 6)
October 14 Peace Love Art Activism
Crime and Punishment
October 14, 2020: an estimated 5.2 million Americans cannot vote in the 2020 election because they have been convicted of felonies, according to a report released Wednesday by the Sentencing Project — a number that most likely depresses turnout for Democrats.
Only about a quarter of those people are actually incarcerated, the report says, and more than 4 in 10 have completed their full sentence but remain barred from the polls..
The new report found that Black Americans are disenfranchised by felony records at almost four times the rate of others. In seven states — Alabama, Florida, Kentucky, Mississippi, Tennessee, Virginia and Wyoming — more than one in seven Black adults are disenfranchised, it found. That is more than twice the national average of Black felony disenfranchisement. [NYT article] (next C & P, see January 26, 2021)
October 14 Peace Love Art Activism