October 25 Peace Love Art Activism
BLACK HISTORY
Slave Revolts
October 25 – November 2, 1859: trial of John Brown. Following is John Brown's last speech after his trial by by the Commonwealth of Virginia in Charles Town, Virginia (now part of West Virginia). Brown stated:
I have, may it please the court, a few words to say. In the first place, I deny everything but what I have all along admitted — the design on my part to free the slaves. I intended certainly to have made a clean thing of that matter, as I did last winter when I went into Missouri and there took slaves without the snapping of a gun on either side, moved them through the country, and finally left them in Canada. I designed to have done the same thing again on a larger scale. That was all I intended. I never did intend murder, or treason, or the destruction of property, or to excite or incite slaves to rebellion, or to make insurrection.
For Brown's complete speech see PDF. (next BH, see Dec 2)
School desegregation
October 25, 1958: more than 10,000 marched in Washington, DC for integrated schools. Martin Luther King was scheduled to speak, but he had been stabbed shortly before the march (see Sept 20) and his speech his wife Correta Scott King delivered it. (SD, see April 18, 1959)
In 1959 Charles Mingus released "Fables of Faubus" aimed at Arkansas governor Orval Fabus. Uncomfortable with the lyrics, Columbia records turned the song into an instrumental (see Jan 12)
MARTIN LUTHER KING, JR
October 25, 1960: King sent to Reidsville (GA) State Prison for parole violation stemming from his May 4, 1960 arrest for driving without a license. ((BH & MLK, see Oct 26)
Stephon Clark
October 25, 2018: seven months and seven days after 22-year-old Stephon Clark was killed on the patio in the backyard of his grandmother's home, the Sacramento Police Department concluded its investigation into the shooting that led to his death.
The department said the results of the investigation had been turned over to Sacramento District Attorney Anne Marie Schubert and California Attorney General Xavier Becerra. It was now up to Schubert to decide whether or not to bring charges against the two officers who shot and killed Clark after mistaking his cell phone for a gun. (B & S, see Nov 5; SC, see January 28, 2019; BH, see Nov 9)
October 25 Peace Love Art Activism
US Labor History
Doctor Matthew Shields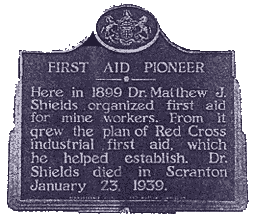 October 25, 1889: twenty-five anthracite coal miners from the Jermyn Coal Colliery in northeastern Pennsylvania attend what is believed to be the first formal training on first aid. Believing that many lives could be saved with quick, efficient medical care until a physician arrived, local doctor Matthew Shields set up a series of courses for the miners who, upon completion, were prepared and able to render first aid to their co-workers. (see Oct 29)
October 25 Peace Love Art Activism
Technological Milestone
October 25, 1951: the manufacturing of color televisions was put on hold at the request of Defense Mobilizer Charles E. Wilson and the National Production Authority due to scarcity of metals and the conflict in Korea.
By the end of 1951, 23.5% of US homes will have a TV set. (see Nov 10)
October 25 Peace Love Art Activism
INDEPENDENCE DAY
October 25, 1955: Austria independent again. (see January 1, 1956)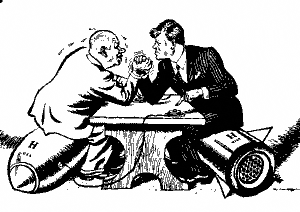 October 25, 1962
the Chinese People's Daily announced that "650,000,000 Chinese men and women were standing by the Cuban people".
at the United Nations, ambassador Adlai Stevenson confronted Soviet Ambassador Valerian Zorin in an emergency meeting challenging him to admit the existence of the missiles.Soviets responded to the blockade by turning back 14 ships presumably carrying offensive weapons. (NYT article) (see Crisis for expanded story)
October 25 Peace Love Art Activism
October 25 Music et al
Bob Dylan
October 25, 1961: Dylan and Columbia Records drew up a contract. It was a 5-year contract that gave Dylan a small advance against 4% royalties. Columbia would release one album and then decide whether he merited a second. (see Nov 4)
Rolling Stones
October 25, 1964: the Rolling Stones performed on The Ed Sullivan Show for the first time. [Ultimate Classic Rock article] [for expanded story, see RS]
October 25 Peace Love Art Activism
Space Race
October 25, 1968: The Soviets launch the unmanned Soyuz 2. A day later Soyuz 3, piloted by Georgii Beregovoi, launches and completes a rendezvous with Soyuz 2 in orbit. (see Nov 10)
October 25 Peace Love Art Activism
Feminism
October 25, 1972:  The first female FBI agents were hired. (NYT article) (see January 22, 1973)
October 25 Peace Love Art Activism
FREE SPEECH
October 25, 1976: at its regular meeting, the Board of Commissioners of the Skokie Park District direct Daniel D. Brown, Director of Parks and Recreation, to respond to Mr. Collin of the Nationalist Socialist Party that Skokie has no "Birch Park". In addition, the Board passes an ordinance relating to "Parades and Public Assemblies" which required that prospective marchers to 1) obtain a permit at least thirty days in advance of the parade date and 2) post an insurance bond equal to $350,000.00. (see April 28, 1977)
October 25 Peace Love Art Activism
LGBTQ
Lewis v. Harris
October 25, 2006: The New Jersey Supreme Court issued a unanimous ruling in Lewis v. Harris that same-sex couples were entitled to all state-level spousal rights and responsibilities. The court defered to the legislature on the question of how to extend these rights and responsibilities, suggesting the state either permit couples to marry or create a separate legal status for same-sex couples, such as civil union.  [Wikipedia article] (NJ, see, Dec 14; LGBTQ, see November 7, 2006)
Attorney General Eric Holder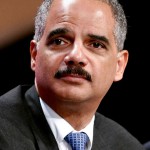 October 25, 2014:  Attorney General Eric Holder announced that the federal government would recognizing gay marriage in Alaska, Arizona, Idaho, North Carolina, West Virginia and Wyoming and extended federal benefits to those couples. Gay marriage had recently became legal. (Time magazine article) (see Oct 27)
October 25 Peace Love Art Activism
Occupy Wall Street
October 25, 2011: Oakland, CA. Police use force to disband a group of Occupy protesters and Iraq War veteran, Scott Olsen, was severely wounded. (see Nov 15; Olsen, see March 15, 2012)
October 25 Peace Love Art Activism
Immigration History
October 25, 2017: federal immigration authorities in Texas detained 10-year-old Rosa Maria Hernandez with cerebral palsy after she passed through a Border Patrol checkpoint on her way to a hospital to undergo emergency gall bladder surgery.
Hernandez, who was brought over the border illegally to live in Laredo, Tex., when she was three months old, was being transferred from a medical center in Laredo to a hospital in Corpus Christi around 2 a.m. on October 24 when Border Patrol agents stopped the ambulance she was riding in, her family said. The agents allowed her to continue to Driscoll Children's Hospital, the family said, but followed the ambulance the rest of the way there, then waited outside her room until she was released from the hospital.
By the evening of October 25, according to family members and advocates involved in her case, immigration agents had taken her to a facility in San Antonio where migrant children who arrive alone in the United States from Central America were usually held, even though her parents, who both lack legal status, live 150 miles away in Laredo. [NYT article] (IH & RMH, see Nov 3)
October 25 Peace Love Art Activism
Colin Kaepernick
October 25, 2018: on line sales of Nike's Colin Kaepernick t-shirt sold out in 7 hours. (see Nov 1)
October 25 Peace Love Art Activism
TERRORISM
October 25, 2018: Cesar Sayoc, Jr mailed bombs to Robert DiNiro and Joe Biden. None explode. (see Oct 26)
October 25 Peace Love Art Activism
Please follow and like us: