October 27 Peace Love Art Activism
SEPARATION OF CHURCH AND STATE
October 27, 1659: during the late 1650s, the government of colonial Massachusetts felt deeply threatened by the Quaker religion. Puritan leaders thought it could destabilize society by undermining their culture and religion. Laws were passed that outlawed Quakerism. Being a Quaker, meeting with or aiding a Quaker, or publishing Quaker material was punished by banishment from the territory, on pain of death.
The first Quakers to break the laws were Marmaduke Stevenson, William Robinson, Mary Dyar, and Nicholas Davis. On September 12, 1659, they were banished from Massachusetts, and told that if any of them returned, they would be put to death. Dyar and Davis left Massachusetts. Stevenson and Robinson ignored the ruling, and went to Salem, MA to spread their gospel. The pair were quickly apprehended and imprisoned in Boston. Dyar left Massachusetts but was compelled to return, and she was also locked up.
On October 27, 1659, Stevenson, Robinson, and Dyar were paraded by 200 armed men through the town of Boston to the place of execution at Boston Neck. They tenderly hugged each other, and each cheerfully climbed the gallows-ladder while praising the Lord. Stevenson and Robinson were executed, but Dyar received a reprieve. She demanded to be hanged like her brethren, but was not executed. Dyar was banished once again, and was eventually hanged in 1660 for returning to the colony. (see May 27, 1668)
October 27 Peace Love Art Activism
US Labor History
Technological Milestone
October 27, 1904: New York City Mayor George McClellan took the controls on the inaugural run of the city's innovative new rapid transit system: the subway. While London boasts the world's oldest underground train network (opened in 1863) and Boston built the first subway in the United States in 1897, the New York City subway soon became the largest American system. More than 100 workers died during the construction of the first 13 miles of tunnels and track. (NYT subway) (TM, see December 24, 1906; Labor, see January 2, 1905) 
DNAinfo
October 27, 2017: the National Labor Relations Board conducted a vote of workers at DNAinfo after its owner, Joe Ricketts, had refused to recognize the union. The result was that 25 out of 27 workers voted to join the Writers Guild, which meant that management would be required to bargain with the union.
DNAinfo, which specialized in covering the city neighborhood by neighborhood, had broken big stories and earned respect since its founding in 2009, but it had never turned a profit. Gothamist, with a smaller staff but wider readership, was a blog with attitude that combines original reporting, cultural coverage and aggregation. [NYT article] (Labor, see Oct 29; DNAinfo, see Nov 2)
October 27 Peace Love Art Activism
The Red Scare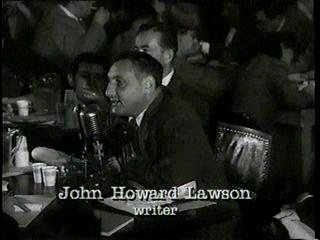 October 27, 1947: the famous confrontations between the "Hollywood Ten" and the House Un-American Activities Committee (HUAC) began on this day. The first "hostile witness" was the screenwriter John Howard Lawson, who like the other members of the Hollywood Ten who followed, was aggressively confrontational with the committee, refusing to answer questions and challenging the committee's legitimacy.
HUAC had launched an investigation into alleged Communist influence in Hollywood that is probably the most famous event in the entire history of the committee. The hearings had begun on October 20, 1947, with a series of "friendly" witnesses who testified that there was Communist influence in Hollywood. Beginning on this day, a group of so-called "unfriendly" witnesses who refused to testify about their beliefs and associations resulted in stormy confrontational hearings. This group of directors and screenwriters became known as the "Hollywood Ten." In retrospect (and for many people, almost immediately), it was apparent that the aggressive, confrontational tactics of the Hollywood Ten only alienated potential support across the country.
The hearings ended on October 30, but HUAC conducted another set of hearings in 1951, which resulted in more blacklisting. (NYT article) (see November 24, 1947)
October 27 Peace Love Art Activism
BLACK HISTORY
US Labor History
October 27, 1951: the National Labor Council was formed in Cincinnati to unite Black workers in the struggle for full economic, political and social equality. The group was to function for five years before disbanding, having forced many AFL and CIO unions to adopt non-discrimination policies. (BH, see Dec 25; Labor, see Dec 21)
MARTIN LUTHER KING, JR
October 27, 1960: King released from jail. Word about President Kennedy's call circulated widely in the African-American community. Some political commentators believed the publicity gained Kennedy enough African-American votes to give him victory in the November presidential election, but others dispute this interpretation.. (BH, see Oct 29; MLK, see Nov 26)
Ruby Bates
October 27, 1976: Ruby Bates died at age sixty-three. [NYT article] (see Scottsboro Travesty for expanded story)
October 27 Peace Love Art Activism
Cuban Missile Crisis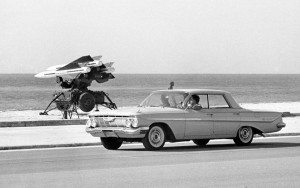 October 27, 1962: Radio Moscow began broadcasting a message from Khrushchev. The message offered a new trade, that the missiles on Cuba would be removed in exchange for the removal of the Jupiter missiles from Italy and Turkey.  Cuba shot down a US U2 plane with surface to air missile killing the pilot, Rudolph Anderson. U.S. Army anti-aircraft rockets sat, mounted on launchers and pointed out over the Florida Straits in Key West, Florida. (see Cuban missile crisis for expanded story; Anderson, see Nov 6)
October 27 Peace Love Art Activism
October 26 Music et al
Love Me Do
October 27, 1962, The Beatles before their US appearance:  "Love Me Do/PS I Love You" #48 on UK Melody Maker hit parade. (see Nov 26)
Future Woodstock Performers
October 27, 1967: Ten Years After released its first album, Ten Years After. Alvin Lee, age 22.
In 1968 these artists will release their first albums:
Johnny Winter (age 22) released  The Progressive Blues Experiment
Sweetwater released Sweetwater
Bert Sommer (age 18) released , The Road to Travel. It was produced by Artie Kornfeld. Sommer was a schoolmate of Leslie West. (see Feb 21)
LSD
October 27, 1970: The Comprehensive Drug Abuse Prevention and Control Act  passed. Part II of this is the Controlled Substance Act (CSA) which defined a scheduling system for drugs. It placed most of the known hallucinogens (LSD, psilocybin, psilocin, mescaline, peyote, cannabis, & MDA) in Schedule I. It placed coca, cocaine, and injectable methamphetamine in Schedule II. Other amphetamines and stimulants, including non-injectable methamphetamine were placed in Schedule III. [text of Nixon's remarks at signing] (see September 3, 1971)
October 27 Peace Love Art Activism
Vietnam
October 27, 1968: in London, 50,000 protest the Vietnam war. (NYT article) (see Oct 30)
INDEPENDENCE DAYS
Saint Vincent and the Grenadines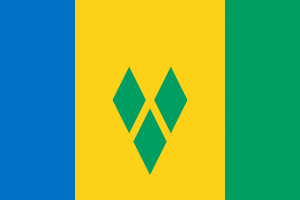 October 27, 1979: Saint Vincent and the Grenadines independent of the United Kingdom. (see April 18, 1980)
Dissolution of the USSR
October 27, 1991: Turkmenistan declared its independence from the Soviet Union. (see Dec 16)
October 27 Peace Love Art Activism
Crime and Punishment
October 27, 1986: President Ronald Reagan signed the Anti-Drug Abuse Act of 1986. The law created a significant disparity in the sentences imposed in federal courts for crimes involving powdered cocaine versus the sentences imposed for crimes involving crack cocaine. The law imposed certain mandatory minimum sentences for crimes involving certain quantities of powdered cocaine, but those mandatory sentences could also be triggered by crimes involving only one percent of that quantity in cases of crack cocaine. For instance, a drug crime involving five grams of crack cocaine resulted in a mandatory minimum sentence of five years in federal prison, but crimes involving less than 500 grams of powdered cocaine would not trigger the five year minimum sentence.
This one hundred-to-one sentencing disparity, which was not based on credible scientific evidence about differing biological impacts between cocaine in powder form versus crack form, has had a significant impact on the mass incarceration of African Americans. In the years following the enactment of the Anti-Drug Abuse Act, admissions of African Americans to federal prison spiked from approximately 50 admissions per 100,000 adults to nearly 250 admissions per 100,000 adults, while there was almost no change among whites. Disparities in sentence lengths also increased. In 1986, African Americans received drug sentences that were 11% longer than sentences received by whites, on average, but that disparity increased to 49% in the years following the law's enactment. This law, and similar laws, had a significant role in increasing the incarcerated population from approximately 500,000 in 1980 to nearly 2.3 million in 2013. (see May 26, 1987)
October 27 Peace Love Art Activism
Jack Kevorkian
October 27,  1997: the Oregon Death with Dignity Act, which was approved by referendum on November 8, 1994, and which allows voluntary end of life, took effect on this day. The law allows individuals to voluntarily end their own lives by ingesting a life-ending drug that is prescribed by a licensed physician. The law has survived two challenges. Oregon voters rejected a repeal measure by a margin of 60 percent in 1997. And in 2006, the Supreme Court upheld the law, in Gonzales v. Oregon. (see JK for expanded story)
October 27 Peace Love Art Activism
LGBTQ+
Frank Schaefer
October 27, 2014: the Judicial Council of the nation's second-largest Protestant denomination ruled that a Pennsylvania church jury was wrong to defrock Frank Schaefer last year after he would not promise never to perform another same-sex wedding.
The council ruled on technical grounds and did not express support for gay marriage in general. Its decision was final. [CBS News story](next LGBTQ+, see Nov 6)
Passports
October 27, 2021, LGBTQ+: the U.S. State Department  issued the first official passport with the gender marker "X" in order to make the documents more inclusive for people who identify as nonbinary, intersex or gender-nonconforming.
The department would be able to offer the option to all passport applicants once it finished updating its systems and forms by early 2022, according to State Department spokesperson Ned Price.
"I want to reiterate, on the occasion of this passport issuance, the Department of State's commitment to promoting the freedom, dignity, and equality of all people – including LGBTQI+ persons," Price said in a statement. [NPR story] (next LGBTQ+, see June 10, 2022)
October 27 Peace Love Art Activism
Nuclear/Chemical News & ICAN
October 27, 2016: the United Nation's First Committee adopted a landmark International Campaign to Abolish Nuclear Weapons [ICAN] -supported resolution to launch negotiations in 2017 on a treaty outlawing nuclear weapons.
ICAN called on all states to participate in the negotiations, stating that "every nation has an interest in ensuring that nuclear weapons are never used again, which can only be guaranteed through their complete elimination." (Nuclear, see January 6, 2017; ICAN, see July 7, 2017)
October 27 Peace Love Art Activism
TERRORISM
October 27, 2018:  46-year-old Robert Gregory Bowers entered the Tree of Life – Or L'Simcha Congregation synagogue in the Squirrel Hill neighborhood of while Shabbat morning services and a bris were being held. He shouted "All Jews must die" and began shooting. Eleven people were killed, and nine were injured.  [NYT article] (T, see Oct 29; PSS, see Oct 30)
October 27 Peace Love Art Activism