Hendrix Bassist Billy Cox
Happy birthday
Born October 18, 1941
Old Army Buddy
A July 12, 1969 article entitled Jimi Hendrix Has a Brand New Bass in Rolling Stone said in part: Jimi Hendrix has named an old Army buddy as the bass player he may soon be recording with and hinted during a recent visit to Los Angeles that as soon as contracts allow, the Jimi Hendrix Experience may make the transition from trio to creative commune.
The bassist is Billy Cox, who was stationed with Hendrix at Ft. Campbell, Ky., several years ago when both were in the Army and then for three years following the service, in the Clarksville, Ky., and Nashville areas. Since that time, Cox has remained in Nashville, playing pickup dates and touring occasionally with Wilson Pickett, Gene Chandler and most recently, Buddy Miles.
Wheeling, West Virginia
From his site: Billy Cox was born in Wheeling, West Virginia. His father was a Baptist minister and teacher of mathematics and his mother was a classical pianist. Billy was blessed with the best of both worlds. One world revolved around the strong intellectual discipline of his father and the other world revolved around the loving tenderness and sensitivity of his mother.

Hendrix Bassist Billy Cox
Hall of Fame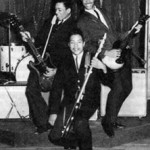 From his site: legendary bassist and Musicians Hall of Fame inductee Billy Cox, is synonymous with almost any reference to Jimi Hendrix and Rock-n-Roll history. From their army days, Billy would always have an extended friendship with Jimi Hendrix. The kindred spirits would have a musical chemistry that was nurtured over the years as both performed regularly as sidemen for the most prominent blues and R&B acts of the day. The bond between the two men would write a new chapter in music history.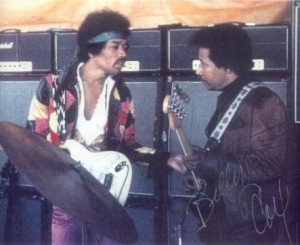 Hendrix Bassist Billy Cox
Billy Cox and his Hendrix Experience band at the Allen Blues Festival
Billy Cox has released four solo albums:
Nitro Function, 1971
Last Gypsy Standing, 2009
Old School Blue Blues, 2011
Unfiltered, 2014
From Wikipedia: Today, Billy Cox owns a video production company. He has produced numerous blues and a myriad of gospel shows. He co-authored the books, Jimi Hendrix Sessions and Ultimate Hendrix with John McDermott and Eddie Kramer. Billy has been the recipient of numerous awards and honors among which: In 2009 Billy Cox was inducted into The Musicians Hall Of Fame; Billy received The Founders Award in 2010. It was given by Microsoft co-founder, Paul Allen and in 2011 Billy was inducted into the West Virginia Music Hall Of Fame. Billy released his latest album, Old School Blue Blues, in 2011 and continues to tour with "The Experience Hendrix Tour" each year and his own Band of Gypsys Experience. He released the single Run featuring the androgynous singer and songwriter Marlon Alarm in November 2011.
Hendrix Bassist Billy Cox