December Peace Love Art Activism
BLACK HISTORY
Dred Scott's Decembers
In December 1843: the forty-year-old Dr John Emerson died suddenly. His widow, Irene, inherited his estate. For the next three years, the Scotts worked as hired slaves with the rent going to Irene Emerson. (next BH, see January 30, 1844)
In December 1854: Scott appealed to the Supreme Court alleging that Judge Wells had made an error in charging the jury that Scott was not entitled to his freedom. The appeal reached Washington too late for the 1854 term, so the Supreme Court held the case over for the December 1855 term and finally heard arguments in February 1856. (next BH, see May 1, 1855)
In December 1856: the US Supreme Court heard arguments and also asked questions about the constitutionality of the Missouri Compromise. It was an election year and perhaps for political reasons, the Court declined to render a decision until the spring of 1857.(see Dred Scott for an expanded chronology)
Intermarriage ban
December 1912: Rep. Seaborn Roddenbery (D-GA) made a second attempt to amend the U.S. Constitution in order to ban interracial marriage in all 50 states. Roddenbery's proposed amendment read as follows: "That intermarriage between negroes or persons of color and Caucasians or any other character of persons within the United States or any territory under their jurisdiction, is forever prohibited; and the term 'negro or person of color,' as here employed, shall be held to mean any and all persons of African descent or having any trace of African or negro blood."  (2004 NYT article) (next BH, see April 13, 1913)
Scottsboro Decembers/Supreme Court
In December 1936: after the Supreme Court again reversed the convictions of the Scottsboro Boys in 1936, Alabama Attorney General Thomas E Knight, Jr met secretly with their lawyer Samuel Leibowitz in New York to discuss a possible compromise.  Knight told Leibowitz he was "sick of the cases," and that they were causing Alabama considerable political and economic harm.  According to Leibowitz, Knight by that time had come to believe that Price was lying and no rape had ever occurred.  Nonetheless, he thought jail time appropriate because at least some of the Scottsboro Boys were guilty of assault for having thrown the white boys off the train.  After several meetings between the two, a compromise was reached that would result in the release of four of the defendants and a reduction of sought charges for the others. (next BH, see May 17, 1937)
Scottsboro Decembers/Barroom fight
In December 1950: Haywood Patterson involved in a Michigan barroom fight resulting in the death of another man.  Haywood charged with murder. FBI arrested Haywood Patterson, but Michigan's governor refused extradition to Alabama.
Black Panthers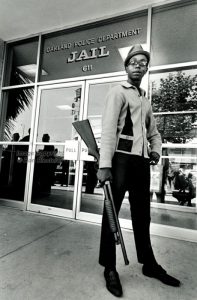 In December 1966: sixteen-year-old Bobby Hutton becomes the first male recruit of the Black Panther Party.  [NPR story on Hutton] (BH, see Dec 5; BP, see "In January 1967")
December Peace Love Art Activism
Native Americans
In December 1862: 303 Sioux were convicted of murder and rape (Some trials lasted less than 5 minutes. No one explained the proceedings to the defendants, nor were the Sioux represented by a defense in court) [1862 Sioux war]  (see Dec 26)
December Peace Love Art Activism
Environmental Issues
In December 1908: the U.S. National Conservation Commission which prepared the first inventory of the natural resources of the United States. It was divided into four sections, water, forests, lands, and minerals, each section having a chairman, and with Gifford Pinchot as chairman of the executive committee gave its three-volume report at the the Joint Conservation Congress   20 governors, representatives of 22 state conservation commissions, and leaders from various national organizations attended. (see January 19, 1919)
December Peace Love Art Activism
Feminism & Voting Rights
In December 1910: The National League for Opposing Woman Suffrage founded in London 1910 to oppose the extension of the voting franchise to women in the United Kingdom. It was formed as an amalgamation of the Women's National Anti-Suffrage League and the Men's League for Opposing Woman Suffrage. Its first president was Lord Cromer, and its executive committee consisted of seven men and seven women. (next F, see Early News Music ; VR, see March 3, 1913)
December Peace Love Art Activism
Cultural Milestones
Hugh Hefner
In December 1953: Hugh Hefner published the first issue of Playboy magazine. (see April 6, 1954)
December Peace Love Art Activism
Women's Health
In December 1960: birth control pill goes on sale. (see February 23, 1961)
December Peace Love Art Activism
LSD
Professor J S Slotkin
In December 1952: Professor J. S. Slotkin published Menomini Peyotism in the Transactions of the American Philosophical Society.
In it, Slotkin has wrote that "the habitual use of Peyote does not seem to produce any increased tolerance or dependence. I know many people who have been Peyotists for forty to fifty years. The amount of Peyote they use depends upon the solemnity of the occasion; in general they do not take any more Peyote now than they did years ago. Also, there is sometimes an interval of a month or more between rites, and they go without Peyote during this period without feeling any craving for it. Personally, even after a series of rites occurring on four successive weekends. I neither increased the amount of Peyote consumed nor felt any continued need for it." It is evidently with good reason that "Peyote has never been legally declared a narcotic, or its use prohibited by the federal government." However, "during the long history of Indian-white contact, white officials have usually tried to suppress the use of Peyote, because it has been conceived to violate their own mores. But these at- tempts have always failed." In a footnote Dr. Slotkin adds that "it is amazing to hear the fantastic stories about the effects of Peyote and the nature of the ritual, which are told by the white and Catholic Indian officials in the Menomini Reservation. None of them have had the slightest first-hand experience with the plant or with the religion, yet some fancy themselves to be authorities and write official reports on the subject."
Dr. Humphry Osmond
In 1953: Dr. Humphry Osmond began treating alcoholics with LSD.
Doors of Perception
In 1954: The Doors of Perception, a philosophical essay by Aldous Huxley, released as a book. It detailed his experiences when taking mescaline. The book took the form of Huxley's recollection of a mescaline trip that took place over the course of an afternoon in May 1953. The book took its
title from a phrase in William Blake's 1793 poem The Marriage of Heaven and Hell. Huxley recalled the insights he experienced, which ranged from the "purely aesthetic" to "sacramental vision".
Conference
In 1955: First conferences focusing on LSD and mescaline took place in Atlantic City and Princeton, N.J. (see 1955)
Aldous Huxley
In 1955: with Al Hubbard's assistance, novelist Aldous Huxley first took LSD. (see March 14, 1957)
December Peace Love Art Activism
December Music et al
Bob Dylan
Mid-December 1960: Dylan leaves Minnesota for New York. He will stop at a number of places along the way. (see January 24, 1961)
Thelonius Monk
In December 1961: Thelonius Monk with John Coltrane album released.
Bob Dylan
In mid-December 1961: shortly after recording his first album for Columbia, Dylan moved into his first rented apartment in the middle of West Fourth Street, a tiny, scruffy place above Bruno's Spaghetti Shop, and persuaded his girlfriend, Suze Rotolo, to move in with him. (see January 1962)
Jimi Hendrix
In December 1965: The Leaves released single of "Hey Joe" later covered by Jimi Hendrix. (September 24, 1966)
News Music
In December 1966: Simon and Garfunkel's Seven O'clock News/Silent Night Beginning softly at first, a newscast reports various discomforting events and gradually overrides Simon and Garfunkel singing of Silent Night.
Rock Venues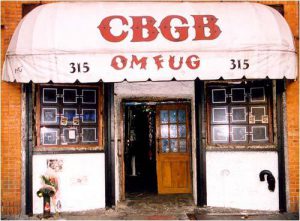 In December 1973: New York bar owner Hilly Kristal opened CBGB in December 1973 at 315 Bowery in Manhattan, the site of his former establishment, Hilly's on the Bowery. Before that, Kristal had put most of his energy into a West Village nightclub. When noise complaints forced him to close, he focused on his property in a less desirable part of town. (see October 11, 2006)
December Peace Love Art Activism
Vietnam
In December, 1967: "Stop the Draft" movement organized by 40 antiwar groups, nationwide protests ensue; 486,000 American troops in Vietnam, of the 15,000 killed to date, 60% died in 1967 (see Dec 5)
Daniel Ellsberg/Pentagon Papers
In December 1968:  Ellsberg first met with Henry Kissinger, national security adviser to president-elect Richard Nixon, to advise him on options in the U.S. military. (see Ellsberg for full story)
December Peace Love Art Activism
CLINTON IMPEACHMENT
Monica Lewinsky moves
In December 1995: Monica Lewinsky moved into a paid position in the Office of Legislative Affairs, handling letters from members of Congress. She frequently ferried mail to the Oval Office.
Monica Lewinsky leaves
In December 1997: Monica Lewinsky left the Pentagon. (see CI for expanded chronology)
AIDS
In December, 2007: Centers for Disease Control reported over 565,000 people had died of AIDS in the U.S. since 1981. (see October 30, 2009)
December Peace Love Art Activism
Stop and Frisk Policy
December 2005 report
In 2005, 399,043 New Yorkers were stopped by the police. [196,977 were black (49 percent); 115, 395 were Latino (29 percent); 40,837 were white (10 percent)]
December 2006 report
In 2006, 508,540 New Yorkers were stopped by the police. [268,610 were black (53 percent); 148,364 were Latino (29 percent); 53,793 were white (11 percent)] (see February 5, 2007)
December 2007 report
In 2007, 468,732 New Yorkers were stopped by the police. [242,373 were black (52 percent); 142,903 were Latino (31 percent); 52,715 were white (11 percent)] (see April 15, 2008)
December 2008 report
In 2008, 531,159 New Yorkers were stopped by the police. [271,602 were black (51 percent); 167,111 were Latino (32 percent); 57,407 were white (11 percent) (see May 1, 2009)
December 2009 report
In 2009, 575,304 New Yorkers were stopped by the police. [308,941 were black (54 percent); 179,576 were Latino (31 percent); 53,466 were white (9 percent)] (see May 13, 2010)
December 2010 report
In 2010, 601,0 55 New Yorkers were stopped by the police. [317,642 were black (53 percent); 190,491 were Latino (32 percent); 55,083 were white (9 percent)] [see ACLU site for reports] (see April 26, 2011)
December Peace Love Art Activism
Nuclear/Chemical News & ICAN
In December 2014: more than 600 International Campaign to Abolish Nuclear Weapons [ICAN] campaigners gathered in Vienna on the eve of the Vienna Conference on the Humanitarian Impact of Nuclear Weapons. ICAN told conference participants "a new legal instrument prohibiting nuclear weapons would constitute a long overdue implementation of the Non-Proliferation Treaty." At the conference conclusion, Austria issued historic Humanitarian Pledge to work with all stakeholders "to fill the legal gap for the prohibition and elimination of nuclear weapons." (Nuclear, see January 25, 2015; ICAN, see August 6 – 7, 2015)
December Peace Love Art Activism