April 26 Peace Love Art Activism
Emma Goldman
William Buwalda
April 26, 1908: Goldman lectured on patriotism at Walton's Pavilion in San Francisco. A United States soldier Pfc William Buwalda, attended the lecture in uniform and was witnessed shaking her hand. Within two weeks, he was court-martialed in violation of the 62nd Article of War, and found guilty by a military court, dishonorably discharged and sentenced to five years at hard labor on Alcatraz Island, San Francisco, California. (text from The Damnedest Radical by Roger A Bruns) (see May 22)
April 26 Peace Love Art Activism
US Labor History
House Joint Resolution No. 184
April 26, 1924: the U.S. House of Representatives passed House Joint Resolution No. 184, a constitutional amendment to prohibit the labor of persons under 18 years of age. The Senate approved the measure a few weeks later, but it was never ratified by the states and is still technically pending. (see Apr 28)
Yale Hunger Strike
April 26, 2017: eight Yale graduate students began a hunger strike to pressure administrators to negotiate for union recognition. If a student has to stop fasting, another union member would take their spot.  (NPR story)  (Labor see May 2; Yale, see May 9)
Arizona Teacher walk-out
April 26, 2018: thousands of Arizona teachers walked off the job with no idea how long the strike would last, or under what circumstances they would return to their students.
Leaders of Arizona Educators United, the grass-roots group pushing for more education funding, had been noncommittal about how long the strike would go on and what realistic solution could bring it to a close, saying those decisions were going to have to come from the teachers themselves and that the organization was taking it day by day.
Gov. Doug Ducey had ignored the group's demands to meet with him. Lawmakers had shown no real effort to approve the more than $1 billion in new revenue educators demanded to bring education funding back to pre-recession levels. (see May 21)
April 26 Peace Love Art Activism
Free Speech
April 26, 1938: Jehovah's Witness members Newton Cantwell and his sons, Jesse and Russell, were arrested in New Haven, Connecticut, and charged on this day with breach of the peace. They were later convicted. The Cassius Street neighborhood was 90 percent Catholic, and people took offense at the anti-Catholic propaganda the Cantwells played on a portable record player. (Justia article) (FS, see Nov 21; Cantwells, see May 20, 1940)
Dombrowski v. Pfister
April 26, 1965: a case brought forth by Dr. James Dombrowski along with William Kunstler, founder of the Center for Constitutional Rights, against the governor of Louisiana, law enforcement officers, and the chairperson of the state's Legislative Joint Committee on Un-American Activities for prosecuting or threatening to prosecute his organization under several state subversion statutes.
A a three-judge Federal district court had dismissed the claim, stating that Dombrowski had failed to show evidence of irreparable damage and asserted the abstention doctrine, stating that State Courts had the right to refrain from ruling in Constitutional questions.
Represented by attorney and civil rights leader Arthur Kinoy, Dombrowski appealed the case directly to the Supreme Court under then-operational procedures. The Court overturned the earlier dismissal, making note of the "chilling effect" the ruling below would have had on First amendment rights. (Oyez article) (see May 24)
Fuck the Draft
April 26, 1968: police arrested 19-year old Paul Robert Cohen for wearing a jacket bearing the words "Fuck the Draft" inside the Los Angeles Courthouse in the corridor outside the division 20 of the municipal court. He was convicted of violating section 415 of the California Penal Code, which prohibited "maliciously and willfully disturb[ing] the peace or quiet of any neighborhood or person [by] offensive conduct," and sentenced to 30 days in jail. (Vietnam, see Apr 27; FS, see May 27; see Paul Robert Cohen for expanded story)
April 26 Peace Love Art Activism
Technological Milestone
Salk polio vaccine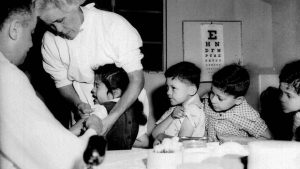 April 26, 1954: the Salk polio vaccine field trials, involving 1.8 million children, begin at the Franklin Sherman Elementary School in McLean, Virginia. Children in the United States, Canada and Finland participated in the trials, which used for the first time the now-standard double-blind method, whereby neither the patient nor attending doctor knew if the inoculation was the vaccine or a placebo. (TM, see Oct 18;Polio, see April 12, 1955)
April 26 Peace Love Art Activism
April 26 Music et al
April 26 – July 25, 1969: the original cast album Hair is the Billboard #1 album.
April 26 Peace Love Art Activism
Vietnam
Force level
April 26, 1971: the U.S. command in Saigon announces that the U.S. force level in Vietnam is 281,400 men, the lowest since July 1966. (see Apr 29)
Increased withdrawal
April 26, 1972: President Nixon, despite an ongoing communist offensive, announced that another 20,000 U.S. troops would be withdrawn from Vietnam in May and June, reducing authorized troop strength to 49,000. Nixon emphasized that while U.S. ground troops were being withdrawn, sea and air support for the South Vietnamese would continue. In fact, the U.S. Navy doubled the number of its fighting ships off Vietnam. (see May 7)
April 26 Peace Love Art Activism
Student Rights
Matthew Fraser
April 26, 1983: Matthew Fraser, a Pierce County, Washington high school senior, gave a speech nominating classmate Jeff Kuhlman for Associated Student Body Vice President. The speech was filled with sexual innuendos, but not obscenity, prompting disciplinary action from the administration. School officials suspended Fraser from school for three days, prohibited him from speaking at his graduation ceremony, and struck his name from the ballot used to elect three graduation speakers. (SR, see May; Fraser, see July 7, 1986)
April 26 Peace Love Art Activism
Nuclear/Chemical News
Chernobyl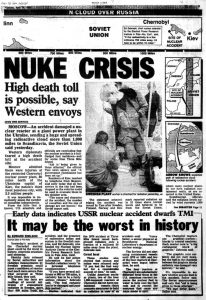 April 26,1986: an explosion occurred at one of  the four nuclear reactors at the Soviet Union's Chernobyl power plant. The resulting fire burned for nine days and released at least 100 times more radiation than the atom bombs dropped on Nagasaki and Hiroshima. Radioactive deposits were found in nearly every country in the northern hemisphere. Two people died in the explosion and another 28 from acute radiation sickness in the immediate aftermath. Some experts predicted thousands of extra cancer deaths as a result of the disaster. A huge cover, known as the New Safe Confinement, was expected to be completed by 2015 remains unfinished. (Chernobyl Gallery dot com article) (see Aug 22)
April 26 Peace Love Art Activism
Women's Health
Rachelle "Shelley" Shannon
April 26, 1994: Rachelle "Shelley" Shannon, who admitted shooting and wounding George Tiller (see August 19, 1993) outside his clinic, was sentenced in Wichita, Kan., to nearly 11 years in prison. (1995 NYT article) (see Dec 30)
Kansas ruling
April 26, 2019: The Kansas Supreme Court blocked a law that would have banned the most commonly used procedure for second-trimester abortions, arguing that the state Constitution protected the right of women to "decide whether to continue a pregnancy."
The court sided in a 6-1 majority with the plaintiffs in the case, two physicians who performed the procedure, in a sweeping ruling that opened the door for abortion rights activists to challenge a series of other restrictions that the state's Republican-controlled Legislature has enacted. [NYT article] (see May 2)
April 26 Peace Love Art Activism
LGBTQ
Vermont
April 26, 2000: Vermont became the first state in the U.S. to legalize civil unions and registered partnerships between same-sex couples. (see June 28, 2000)
April 26 Peace Love Art Activism
Stop and Frisk Policy
April 26, 2011: the NYPD argued that Stop-and-Frisk helped find illegal weapons, but an investigation by WNYC shows it may be leading to more low-level marijuana possession arrests. (see May 26)
April 26 Peace Love Art Activism
Environmental Issues
April 26, 2015: the City of Abilene (Texas) Water Department experienced a spill of domestic wastewater from the City's wastewater collection system. The area of the spill was cultivated agricultural farm land. The estimated spill volume was about 1.5 million gallons. The spill occurred due to a failure of the sewer force-main pipeline.
The city advised persons using private drinking water supply wells located within one half mile of the spill site or within the potentially affected area to use only water that was been distilled or boiled at a rolling boil for at least one minute for all personal uses including drinking, cooking, bathing, and tooth brushing. Individuals with private water wells should have their well water tested and disinfected, if necessary, prior to discontinuing distillation or boiling. (see May 19)
April 26 Peace Love Art Activism
Voting Rights
April 26, 2016: U.S. District Judge Lynn Adelman struck down the Wisconsin's voter ID law, saying it violated the Voting Rights Act and the U.S. Constitution.
The law known as Act 23 had already been blocked by a state judge.
"There is no way to determine exactly how many people Act 23 will prevent or deter from voting without considering the individual circumstances of each of the 300,000 plus citizens who lack an ID," Adelman wrote in his 70-page ruling. "But no matter how imprecise my estimate may be, it is absolutely clear that Act 23 will prevent more legitimate votes from being cast than fraudulent votes." (see July 29)
April 26 Peace Love Art Activism
Native Americans
Maine/Indigenous Peoples' Day
April 26, 2019 Maine replaced Columbus Day with Indigenous Peoples' Day, joining an increasing number of states and localities that have made the change.
"There is power in a name and in who we choose to honor," Gov. Janet T. Mills of Maine said in a statement about the bill. [NYT article] (see May 20)
April 26 Peace Love Art Activism
Sexual Abuse of Children
April 26, 2019:  the Roman Catholic Archdiocese of New York released the names of 115 priests and five deacons who had been "credibly accused" of sexually abusing children.
In a letter to members and family of the archdiocese, New York's archbishop, Cardinal Timothy Dolan, asked forgiveness "for the failings of those clergy and bishops who should have provided for the safety of our young people but instead betrayed the trust placed in them by God and by the faithful." [NPR article] (see June 11)
April 26 Peace Love Art Activism
Black History
BLACK & SHOT and Ahmaud Arbery
April 26, 2020: for two months, the shooting received little attention outside Brunswick, GA. As the coronavirus pandemic dominated headlines and shut down communities around the country, The NY Times spoke with Mr. Arbery's friends and family, who were by then concerned the case might quietly disappear in their Deep South community, because social distancing restrictions had made it difficult for them to gather and protest. [NYT article]  (next B & S and AA, see May 5 or see AA for expanded chronology)
April 26 Peace Love Art Activism