Ahmaud Arbery Running While Black
Ahmaud Arbery
May 8, 1994 – February 23, 2020
Regardless of their mundane activity–walking, jogging, dancing, or simply standing–Black men have been and still are often targets. So was the case for Ahmaud Arbery. A 25-year old who, like millions of other young people, loved to run.
A father and a son saw that love as a threat. They pursued, shot, and killed Ahmaud.  And it was weeks before their actions came to national light.
Ahmaud Arbery Running While Black
Pursuit permitted
February 23, 2020: Travis McMichael, 34, and his father, Gregory McMichael, 64, shot and killed Ahmaud Arbery who had been jogging near his home on the outskirts of Brunswick, Ga.
Gregory McMichael told the police that he thought Arbery looked like a man suspected in several break-ins in the area. The Brunswick News, citing documents obtained through a public records request, reported that there had been just one burglary in the neighborhood since January: the theft of a handgun from an unlocked truck parked outside Travis McMichael's house.
February 27, 2020: the Brunswick[GA] District Attorney's Office and the Glynn County Police Department conducted the initial investigation into the killing of Ahmaud Arbery.
On this date, the Brunswick district attorney, Jackie L. Johnson, recused herself from the case, pointing out that Gregory McMichael, a former Glynn County police officer, had been a longtime investigator in her office until his retirement in May 2019.
Ahmaud Arbery Running While Black
Limited investigation
April 1, 2020: after a public records request, The Brunswick News [GA] reported details of the Glynn County Police Department's records on the shooting of Ahmaud Arbery. The police report was based almost entirely on the responding officer's interview with Gregory McMichael. The records claimed that after the McMichaels pursued Arbery, Travis McMichael and Arbery "started fighting over the shotgun, at which point Travis fired a shot and then a second later there was a second shot."
George E. Barnhill, the Waycross district attorney, took over the case and advised the police that there was insufficient cause to arrest Mr. Arbery's pursuers. He argued that they had acted legally under Georgia's citizen arrest and self-defense laws, according to documents obtained by The New York Times.
Under pressure from Arbery's family, Barnhill then recused himself from the case because his son had worked in the Brunswick prosecutor's office with Gregory McMichael. Mr. Barnhill asked the Georgia Attorney General's Office to help find another district attorney to handle the case.
Ahmaud Arbery Running While Black
A Third Prosecutor
April 13, 2020: the Aubery case was transferred to a third prosecutor, District Attorney Tom Durden of the Atlantic Judicial Circuit.
April 26, 2020: for two months, the shooting received little attention outside Brunswick, GA. As the coronavirus pandemic dominated headlines and shut down communities around the country, The NY Times spoke with Mr. Arbery's friends and family, who were by then concerned the case might quietly disappear in their Deep South community, because social distancing restrictions had made it difficult for them to gather and protest.
Ahmaud Arbery Running While Black
Video Emerges
May 5, 2020: a video of the encounter had begun to circulate online. Recorded from inside a vehicle, it showed Ahmaud Arbery running along a shaded two-lane residential road when he came upon a white pickup truck, with a man standing beside its open driver-side door. Another man was in the truck bed. Arbery ran around the vehicle and disappeared briefly from view. Muffled shouting could be heard before Arbery emerges, tussling with the man outside the truck as three shotgun blasts echo.
That same day,  District Attorney Tom Durden of the Atlantic Judicial Circuit.said that he wanted to send the case to a grand jury to decide whether to bring charges. The Georgia Bureau of Investigation said that night that it would be taking over the case at Durden's request.
CBS News report:
Ahmaud Arbery Running While Black
Arrests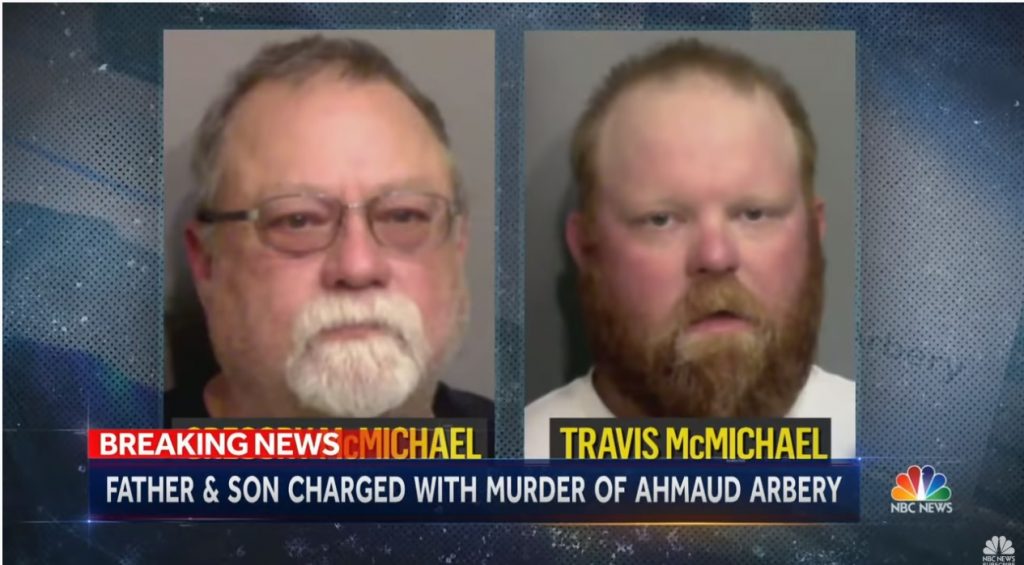 May 7, 2020: according to the Georgia Bureau of Investigation, authorities arrested Gregory and Travis McMichael and booked them into a jail in Glynn County, Both were charged with murder and aggravated assault.
Thousands Say #IRunWithMaud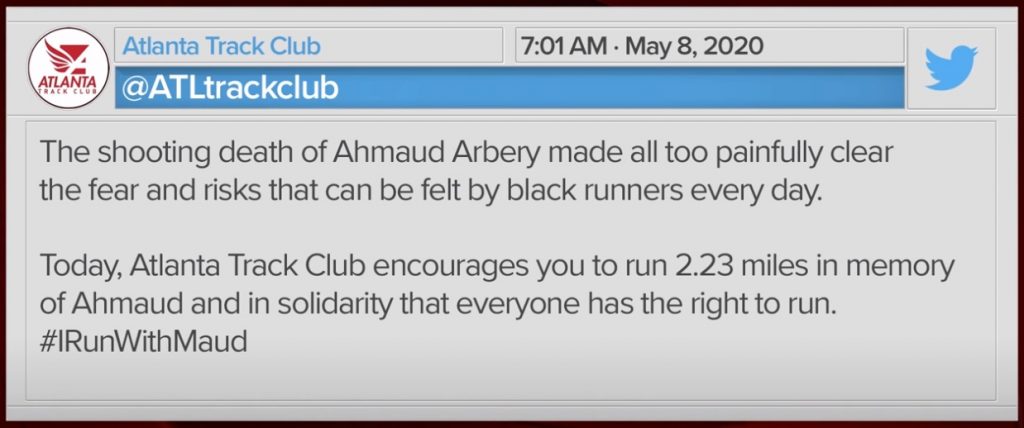 May 8, 2020: to commemorate his birthday, supporters of  Ahmaud Arbery's family ran 2.23-mile — a reference to the date of his killing. And at a time when many people were prevented from gathering in person to rally, some were connecting instead on social media using the hashtag #IRunWithMaud.
DOJ asked to investigate
May 10, 2020: Georgia Attorney General Chris Carr asked the Department of Justice on Sunday to conduct an investigation  into the handling of the Ahmaud Arbery case. [NPR story]
Fourth Prosecutor
May 11, 2020: Georgia Attorney General Chris Carr named Joyette M. Holmes to oversee the case of Ahmaud Arbery
Holmes, comes from Cobb County in the Atlanta metropolitan area, where she was the first African-American to serve as district attorney. She was the fourth prosecutor assigned to lead a case that has bounced among district attorneys and law enforcement agencies. [NYT article]
Ahmaud Arbery Running While Black
William Bryan arrested
May 21: the NY Times reported that authorities had arrested William Bryan, 50, the man who filmed the pursuit and shooting death of Ahmaud Arbery. Bryan was arrested  in connection with the killing, Georgia authorities said.
The Georgia Bureau of Investigation (GBI) said in a statement that the  Bryan was arrested on charges of felony murder and criminal attempt to commit false imprisonment.
Bryan, who is white, had recorded the confrontation.
Lawyers for Mr. Arbery's family said they were "relieved" by the arrest. "His involvement in the murder of Mr. Arbery was obvious to us, to many around the country and after their thorough investigation, it was clear to the G.B.I. as well," the statement said.
Ahmaud Arbery Running While Black
Sufficient Probable Cause
June 4: Richard Dial, an assistant special agent in charge for the Georgia Bureau of Investigation, testified that William Bryan, a neighbor one of the three white, heard defendant Travis McMichael, 34, use a racist slur moments after firing the three shotgun blasts  that killed Aubery.
The  revelation, suggesting overt racism was at play in the case, came in a hearing in Brunswick, Ga., that ended with Judge Wallace E. Harrell of Glynn County Magistrate Court determining that sufficient probable cause existed to support the murder charges brought against the three men.
There were several fiery moments in the hearing. At one point, after a lawyer for one defendant referred to the Book of Amos, the special prosecutor Jesse Evans cited another Bible verse.
"I've got one," he said. "What about 'Love thy neighbor'?" The three defendants, Mr. Evans said, had hunted down a "defenseless" man. "He was tormented, he was hunted, he was targeted," Mr. Evans said. [NYT story]
Ahmaud Arbery Running While Black
Indictments
June 24, 2020: CNN reported that Cobb District Attorney Joyette M. Holmes had announced that Travis McMichael, Greg McMichael, and William R. Bryan were indicted by a grand jury.
"We will continue to be intentional in the pursuit of justice for this family and the community at large as the prosecution of this case continues," said Holmes, the specially appointed prosecutor in the case.
The charges also include aggravated assault, false imprisonment and criminal attempt to commit false imprisonment, according to the indictment.
Ahmaud Arbery Running While Black
Memorial shot up
July 16, 2020:  Police investigated the destruction of a memorial to Ahmaud Arbery on the front lawn of a home on Route 304, Winfield, GA. .
"About 10 p.m our roommate heard three pops and looked out the window," said Samara Halperin, who was staying at the house as well. "A car with its headlights off zoomed away. It was pretty clear that was who shot at the memorial."
"We called in the state police," Halperin said.
"It's so sad, and proves a point," she said. "These racists are very cowardly and out of control. This is why the memorial was put up in the first place."
"This is very disturbing," Shoemaker said on Friday. "The act of it itself proves the need for this kind of art, or this kind of conversation — people talking to their neighbors, their family, about racism because it is here. Bringing it into focus can only help change it."
Trooper Mark Reasner, State Police, Milton barracks spokesman, said the incident is under investigation.
Ahmaud Arbery Running While Black
Not-guilty pleas
July 17, 2020:  Travis McMichael, Gregory McMichael and William "Roddie" Bryan entered the not-guilty pleas through their lawyers. They faced a litany of charges, including murder for killing Aubrey as he jogged through their neighborhood.
The hearing was partially virtual because of the coronavirus. The defendants joined from the jail via video conference. And several lawyers appeared on computer. Those in the courtroom wore masks and sat far apart. Georgia was under a judicial coronavirus emergency, which has delayed the case. And as Judge Timothy Walmsley noted, those delays will continue. [NPR story]
Ahmaud Arbery Running While Black
Not-guilty pleas again
October 16, 2020:  Gregory McMichael, his son Travis, and William Bryan pleaded not guilty in Chatham County Superior Court docket.  Gregory , 64, and Travis, 34, were charged with homicide and aggravated assault.  Bryan ,50, was charged with homicide and try and illegally detain and confine. [Gruntstuff article]
One Year Later
February 23, 2021: Wanda Cooper, the mother of Ahmaud Arbery, filed a multimillion-dollar civil lawsuit against several people involved in the killing or the subsequent investigation.
Cooper filed the lawsuit in the U.S. District Court for the Southern District of Georgia exactly one year after her son's killing.
The suit named Gregory and Travis McMichael, father and son, as well as William "Roddie" Bryan.
The suit said the men "willfully and maliciously conspired to follow, threaten, detain and kill Ahmaud Arbery."
The court filing also named law enforcement officials and local prosecutors and alleged they were intimately involved with an alleged cover-up in the investigation. [NPR article]
Federal Charges
April 28, 2021: the Justice Department brought federal hate crimes charges in the death of Ahmaud Arbery. Travis McMichael and his father, Gregory, were charged along with a third man, William "Roddie" Bryan. The father and son who armed themselves, chased and fatally shot the 25-year-old Black Arbery after spotting him running in their Georgia neighborhood. The McMichaels are also charged with using, carrying and brandishing a firearm during a crime of violence.
The Department charged Bryan with one count of interference with civil rights and attempted kidnapping. [AP story] (next BH, see ; next B & S, see ; next AhA, see or see AA for expanded chronology)
Ahmaud Arbery Running While Black
Jury Selection
October 18, 2021: jury selection in the state trial began. [CNN article]