April 3 Music et al
Howl
Allen Ginsberg
April 3, 1955: the  American Civil Liberties Union announced it would defend Allen Ginsberg's book Howl against obscenity charges. 
A few weeks earlier, U.S. Customs Department had seized 520 copies of the book arriving from England and arrested its publisher, Lawrence Ferlinghetti after undercover cops purchased "Howl" at his bookstore. (see Oct 7)
April 3

Music et al
Elvis Presley
Milton Berle Show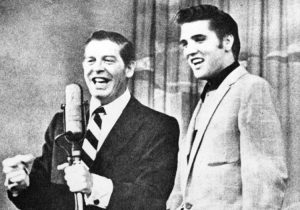 April 3, 1956: Elvis Presley performed on "The Milton Berle Show." The show was broadcast live from the aircraft carrier USS Hancock. Elvis played the songs "Heartbreak Hotel," "Money, Honey," and "Blue Suede Shoes." An estimated 25% of the American population tuned in to hear him. (see Apr 4)
April 3

Music et al
Marcels
"Blue Moon"
From songfacts.com: Richard Rodgers and Lorenz Hart began writing Blue Moon for the 1933 movie musical Hollywood Party, but it was cut from the film.
The following year, it was used in Manhattan Melodrama – starring Clark Gable, William Powell and Myrna Loy – where it was performed by Shirley Ross in a nightclub scene. The song was originally called "The Bad in Every Man," befitting the story of Gable's kind-hearted criminal, but was rejected by MGM until it was re-worked as "Blue Moon."
Blue Moon" by the Marcels  was #1 on the Billboard Hot 100 from  April 3 – 23, 1961,
John Lennon
April 3, 1973: John Lennon  appealed the order to leave the United States by May 21 and sought to show that the Justice Department's legal arguments in the action against him had made it "not just a John-and-Yoko case" but one where "many cases hinge on the outcome."
Lennon's fight to stay in the country will eventually lead to Preident Obama's Deferred Action Policy.  [2016 NPR story] (see "in May")