WWII Hero Calvin Graham
April 3, 1930 –

November 6, 1992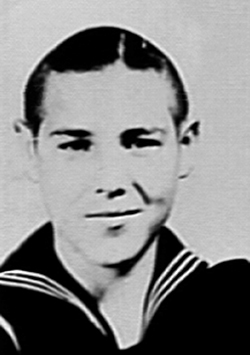 Calvin Graham
Throughout our history, whether our nation has been at war or not, we have had a military and many of those in the military have served outside the United States
Thus, we have always had veterans and while we support their efforts with huge amounts of money toward deployment, and combat, our record of support afterwards for the wounded and homeless veterans is less stellar.
When World War II began, thousands of young men enthusiastically joined to defeat the Axis powers. 
Calvin Graham was one of those young men.
WWII Hero Calvin Graham
Enlistment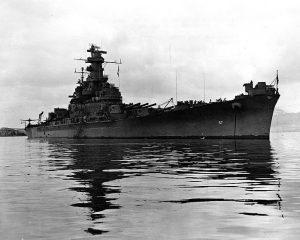 On August 16, 1942 Graham enlisted at the Naval Recruiting Station in his hometown of Houston, TX. The age certification, signed by Graham's mother, showed a birth date of April 3, 1925, making Graham 17.
After boot camp, the Navy sent Graham Pearl Harbor where he was assigned to the USS South Dakota.
Seventy-two days after his enlistment, on October 26, 1942, the USS South Dakota took part in the Battle of the Santa Cruz Islands. The ship shot down 26 Japanese planes. Graham's gun crew accounted for seven of them.
Twenty-one days later, on November 15, 1942, during the Battle of Guadalcanal, Japanese fire hit USS South Dakota  forty-seven times. One explosion threw Calvin down three decks of stairs. Shrapnel tore through his jaw and mouth. In spite of his injuries, he helped pull fellow sailors from danger. Half the ship's crew of 3,300 were killed or wounded. 
WWII Hero Calvin Graham
Background
In Texas, Graham had been one of seven children living at home. His father had died in a car accident, and his mother, a hotel maid, had remarried. With an abusive stepfather, Graham and an older brother moved into a cheap rooming house,
He supported himself by selling newspapers and delivering telegrams on weekends and after school. His mother occasionally visited—sometimes to simply sign his report cards at the end of a semester.  With the country at war, his newspapers had afforded him the opportunity to keep up on events overseas.
WWII Hero Calvin Graham
Hero Calvin Graham
On December 18, 1942, the USS South Dakota returned to the Brooklyn Navy Yard for major repairs, The media profiled the crew for their heroic deeds.
Calvin Graham received a Bronze Star for distinguishing himself in combat, as well as a Purple Heart for his injuries, but he couldn't bask in glory with his fellow crewmen.
But Graham's ruse was up. It turned out that back in August, Graham and a friend had signed the other's enlistment papers where it listed "parent's approval." Then they tricked a desk clerk on their paper route to leave the desk and they used his notary public's seal to stamp their papers."
Now Graham's mother, having recognized her son in newsreel footage, wrote to the Navy and revealed her son's true age. She stated that she "did willingly and knowingly sign consent papers and age certificate to the effect that…Graham was born…on [April  3, 1925] whereas…he was born on April 3, 1930."
Graham returned to Texas and was thrown in a brig at Corpus Christi, Texas, for almost three months.
He had been 12-years-old at enlistment.  He was 12-years-old when he saved sailors. He was still 12-years-old.
WWII Hero Calvin Graham
April 5, 1943
A string of denials
the Navy cancelled Graham's enlistment
the Navy denied accrued pay and allowances and travel allowances
the Navy denied credit for his military service (including the more than 4 months foreign service)
the Navy denied mustering out pay
the Navy gave him a dishonorable discharge and revoked his disability benefit
the Navy took back his decorations, including a Purple Heart and Bronze Star
WWII Hero Calvin Graham
Still more denials
On May 26, 1943, Graham requested 36 days' pay he considered to be due him at the time of his release from the Navy. 
Denied.
February 14, 1944, Calvin Graham: Graham filed an application with the Chief of Naval Personnel for mustering-out payment.
Denied.
October 4, 1944, Graham wrote to the Chief of Naval Personnel requesting a discharge certificate.
Denied.
The basis for each Navy denial was that his enlistment was void and therefore canceled.
Also in October 1944, Graham  presented a claim for arrears of pay and mustering-out pay to the General Accounting Office.
Denied.
WWII Hero Calvin Graham
US Marine
Graham married at age 14, became a father the following year, and found work as a welder in a Houston shipyard. Neither his job nor his marriage lasted long. He soon broke his back in a fall, for which he received a 20 percent service-connected disability. The only work he could find after that was selling magazine subscriptions.
On November 6, 1950, At 17 years old (really!), divorced, and with no service record, Graham was about to be drafted when he enlisted in the Marine Corps.
On August 1, 1951 after injuring his back in a fall off a pier, he left the US Marines and received a 20 percent service-connected disability. He drove a cab for a while, then sold magazine subscriptions door to door.
WWII Hero Calvin Graham
1976
September 20, 1976, Graham again requested an honorable discharge from the Navy for his World War II service. 
Denied.
From the Smithsonian magazine article: When President Jimmy Carter was elected, in 1976, Graham began writing letters, hoping that Carter, "an old Navy man," might be sympathetic. All Graham had wanted was an honorable discharge so he could get help with his medical and dental expenses. "I had already given up fighting" for the discharge, Graham said at the time. "But then they came along with this discharge program for deserters. I know they had their reasons for doing what they did, but I figure I damn sure deserved more than they did."
WWII Hero Calvin Graham
People magazine
On October 24, 1977, People magazine reported that Graham, 47, was unable to work, had spent some $5,000 on dental repairs, suffered from diabetes, and heart trouble. As a result of pier fall, he walked only with a cane. He and his wife lived on $600 a month—part of which came from limited Marine disability payments.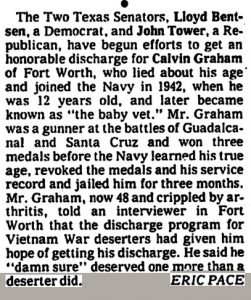 On April 20, 1978, the New York Times reported that US Senators Lloyd Bentsen and John Tower of Texas had introduced a bill to give Graham his long-sought discharge. 
WWII Hero Calvin Graham
35 years, 27 days

days later
On May 1, 1978, the General Counsel of the Navy informed the Secretary of the Navy that authority existed on April 5, 1943 (date of Graham's enlistment cancellation) for the issuance of an honorable discharge.  The next day, May 2, 1978 the Secretary of the Navy authorized the issuance of an honorable discharge to Graham, effective April 5, 1943.
On November 15, 1978, the General Accounting Office received Graham's claim from back-pay due him from his World War II service.
WWII Hero Calvin Graham
SNAFU
February 14, 1979, Graham's claim for back-pay from his World War II service was denied on the basis that the claim was filed more than 6 years after discharge and, by statute, the claim was too late. The existence of the earlier claim (within the 6-year limit) was not known at the time of this decision. The Navy reinstated all of his medals with the exception of the Purple Heart. He was awarded $337 in back pay but was denied health benefits except for disability.
WWII Hero Calvin Graham
Vultures
March 27, 1988, Calvin Graham: Too Young to be a Hero, a made-for-TV movie, starring Rick Schroder (age 17). It told the story of Calvin Graham. Graham received $50,000, but 50% went to two agents, and 20% went to a writer of an unpublished book.
WWII Hero Calvin Graham
Reagan intervention
November 12, 1988: President Reagan signed legislation that granted Calvin full disability benefits, increased his back pay to $4917, and allowed $18,000 for past medical bills, contingent on receipts for the medical services. By this time, some of the doctors who treated him had died and many medical bills were lost. Calvin received only $2,100 of the possible $18,000.
In 1991,  Allan Stover created The Veterans of Underage Military Service in Ellicott City, Maryland.  "Some of these guys came from large families and there wasn't enough food to go around, and this was a way out," a member Jackson said, "Others just had family problems and wanted to get away."
June 6, 1992, Calvin Graham: Graham died at age 62.
On June 21, 1994 at a ceremony in Arlington, Texas Secretary of the Navy, John Dalton presented Graham's Purple Heart to Mary Graham, his widow.
WWII Hero Calvin Graham