April 23 Peace Love Art Activism
BLACK HISTORY
Sam Hose lynched
April 23, 1899: Sam Hose had been employed by a wealthy white man named Alfred Cranford in Newnan, Georgia. Cranford owed Hose money but refused to pay him, and as arguments escalated between the two men, Cranford bought a gun and threatened Hose. When Cranford was killed soon after, Hose was accused of killing the white man and assaulting his wife. Soon an angry mob formed and set off to catch and lynch Hose.
A $500 reward was posted for Hose's capture, and hundreds of white residents launched what was described as the "largest manhunt in the state's history." Local newspapers published sensationalized accounts of the allegations against Mr. Hose, dehumanizing him and reinforcing dangerous racial stereotypes of Black men as predators.
He was captured and because Governor Candler ordered ordered out troops as protection, but a mob decided that the execution needed to take place immediately and within minutes Sam Hose was hanging from a tree. Hose's execution was extremely brutal. He initially refused to confess, but after his ears were cut from his head, he claimed responsibility for the crimes. The Atlanta Constitution reported that 2000 witnesses watched as he was burned alive and his body cut and mutilated. Peculiarly, the man responsible for dousing Hose's body and clothes in kerosene was a stranger from the North, who was reported as saying that, though he did not know how people from his part of the country would respond to this, he felt the need to avenge the terrible crimes that had been committed. Even Hose's bones were taken from the scene as souvenirs.  [Historyengine article] (next BH and Lynching, see Apr 27 or see Lynching for expanded chronology)
School Desegregation
April 23, 1951: students attending Moton High School, Prince Edward County, Virginia led a walk out to protest separate and unequal school facilities. NAACP attorneys represented the students as they spearheaded the challenge to the system of segregated schools in Virginia. This case, along with others, helped to propel the passing of the 1954 landmark desegregation law in the United States. (BH, see Apr 28; SS, see May 17, 1954)
William Lewis Moore
April 23, 1963: William Lewis Moore, a postman from Baltimore, was shot and killed in Attalla, Ala., during a one-man march against segregation. Moore had planned to deliver a letter to the governor of Mississippi urging an end to intolerance.
The gun belonged to a Floyd Simpson, whom Moore had argued with earlier that day, but no charges were ever filed against him.
Moore is among 40 martyrs listed on the Civil Rights Memorial in Montgomery, Ala. (Southern Poverty Law Center article) (see Apr 29)
George Whitmore, Jr./1964
April 23, 1964: Elba Borrero, a 21-year-old Puerto Rican practical nurse, was assaulted at 1:15 a.m. in what she described as an attempted purse-snatching in Brownsville. NYPD Patrolman Frank Isola heard  Borrero scream and ran to the scene. He fired four warning shots at the fleeing assailant. Police Sergeant Thomas J. Collier interviewed Borrero and wrote a report describing the assailant as "an unnamed Negro" and the crime as an attempted purse-snatching. Borrero gave a button that she had ripped off the assailant's coat to the police after the assault, Patrolman Frank Isola encountered George Whitmore Jr. on the street, but concluded that Whitmore was shorter and thinner than the man he saw running from the scene. 
George Whitmore, Jr./1965
April 23, 1965: Whitmore  testified that Detective Aidala and Patrolman Frank Isola beat him. (see Whitmore for expanded story)
Sweet Sweetback's Baadasssss Song
April 23, 1971: Sweet Sweetback's Baadasssss Song released. Melvin Van Peebles wrote, produced, scored, directed and starred in his movie. After beating a couple of white cops he witnessed brutalizing a local black revolutionary, sex show performer Sweetback (Van Peebles) has to go on the run. As he flees through decrepit South Central Los Angeles, Sweetback demonstrates his formidable potency through sex as well as violence, evading the police manhunt by any means necessary. As Sweetback runs off into the sunset, however, Van Peebles warns that the story, like the 1960s racial strife, isn't over. The movie's huge financial success prompted imitation by Hollywood studios that produced black-oriented films such as Shaft and Super Fly. (see Aug 21)
April 23 Peace Love Art Activism
Women's Health
Mary Ware Dennett
April 23, 1929: feminist and women's health and sex education activist Mary Ware Dennett was convicted of obscenity for sending her sex education pamphlet, The Sex Side of Life: An Explanation for Young People, through the mails. Dennett had written the pamphlet for her two adolescent sons fifteen years earlier. As more people found out about it, she was flooded with requests for copies, and she finally published it for general circulation. Her prosecution became a national cause célèbre, and a national defense committee composed of several prominent Americans was organized. (Embryo Project article) (Dennett, see March 3, 1930)
Women's Health
During the 1930s (the Great Depression) companies were eager to sell women contraceptives, but not permitted to by law, used the term "feminine hygiene" to market a wide array of over-the-counter products that are believed to have a contraceptive effect. One of the most popular products is the simple and cheap "Lysol douche," and scores of women rely solely on this ineffective and dangerous method to prevent pregnancy.
April 23 Peace Love Art Activism
The Red Scare
Soviet Foreign Minister Molotov
April 23, 1945: Soviet Foreign Minister Molotov arrived at the White House for a meeting with the new president, Harry Truman, who immediately lashed out at Molotov, "in words of one syllable," as the president later recalled. As Molotov listened incredulously, Truman charged that the Soviets were breaking their agreements and that Stalin needed to keep his word. At the end of Truman's tirade, Molotov indignantly declared that he had never been talked to in such a manner. Truman, not to be outdone, replied that if Molotov had kept his promises, he would not need to be talked to like that. Molotov stormed out of the meeting. Truman was delighted with his own performance, telling one friend that he gave the Soviet official "the straight one-two to the jaw." The president was convinced that a tough stance was the only way to deal with the communists, a policy that came to dominate America's early Cold War policies toward the Soviets. (2012 Politico article) (see July 24)
April 23 Peace Love Art Activism
April 23 Music et al
April 23 & 24, 1960: the first of only 2 performances ever by The Nerk Twins at the Fox and Hounds pub in Caversham, Berkshire, UK. The Nerk Twins were actually Paul McCartney and John Lennon. From Paul in Anthology: "That spring of 1960, John and I went down to a pub in Reading, The Fox And Hound, run by my cousin Betty Robbins and her husband. We worked behind the bar. It was a lovely experience that came from John and I just hitching off down there. At the end of the week we played in the pub as The Nerk Twins. We even made our own posters." (next Beatles, see May 5)
Free Speech
April 23, 1961: an off-off-Broadway musical with Park Commissioner New-bold Morris as the villain was staged between police barriers on a street near Washington Square Park. (see Ban for expanded story)
Judy Garland
April 23, 1961: Judy Garland recorded Live at Carnegie Hall. (see Sept 18)
Merry Pranksters
April 23, 1965:  police raided the Prankster camp. Ken Kesey charged  with marijuana possession. (see May 8 – 10)
Joe Cocker
April 23, 1969: Joe Cocker (age 24) released first album, With a Little Help from My Friends. (see May 29)
April 23 Peace Love Art Activism
Space Race
Vladimir Komarov
April 23, 1967: Vladimir Komarov commanded Soyuz 1. On its descent, the parachute became entangled and Soyuz 1 slams into the ground at high speed, killing Komarov. It is the first death to occur during a space flight. (NPR story) (see Oct 10)
April 23 Peace Love Art Activism
Vietnam
Columbia University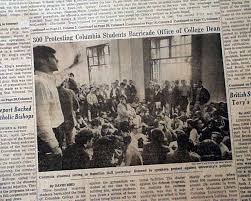 April 23, 1968: 300 Columbia students barricaded the office of the college dean, charging the university with supporting the Vietnam War and violating Harlem residents' civil rights. (2008 Mother Jones article) (see Apr 24)
My Lai Massacre
April 23, 1969: the Office of the Inspector General began a full inquiry into the My Lai incident (see My Lai for expanded story; Vietnam see Apr 24)
Operation Dewey Canyon III
April 23, 1971: in the final event of "Operation Dewey Canyon III," (see Apr 18)  nearly 1,000 Vietnam veterans throw their combat ribbons, helmets and uniforms on the Capitol steps to protest the war. (see Apr 24)
Gerald Ford
April 23, 1975:  at a speech at Tulane University, President Gerald Ford said the Vietnam War was finished as far as America was concerned. "Today, Americans can regain the sense of pride that existed before Vietnam. But it cannot be achieved by re-fighting a war." This was devastating news to the South Vietnamese, who were desperately pleading for U.S. support as the North Vietnamese surrounded Saigon for the final assault on the capital city. (2015 Newsweek article) (see Apr 28)
April 23 Peace Love Art Activism
Consumer Protection
Public Health Cigarette Smoking Act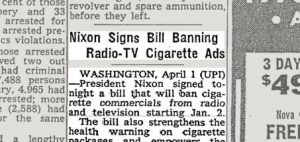 April 23, 1970: President Nixon signed the Public Health Cigarette Smoking Act which banned the advertising of cigarettes on television and radio. (Robert C Byrd Center article) (see January 2, 1971)
April 23 Peace Love Art Activism
AIDS
Dr. Robert Gallo
April 23, 1984: Margaret Heckler, Secretary of the U.S. Department of Health and Human Services, announced that Dr. Robert Gallo and his colleagues at the National Cancer Institute had found the cause of AIDS, the retrovirus HTLV-III. (see July 13)
April 23 Peace Love Art Activism
Environmental Issues
Martinez Manufacturing Complex
April 23, 1988: a spill of approximately 9,400 bbl of San Joaquin Valley (CA) crude oil occurred from the Shell Oil Company Martinez Manufacturing Complex. Part of the high viscosity oil eventually reached Carquinez Strait and Suisun Bay. Areas initially affected by the spill included a 103-acre freshwater marsh, the shorelines of Carquinez Strait and Suisun Bay, saltwater marshes associated with both the strait and the bay, three marinas, two local parks, and waterfront properties in Benicia. (see February 14, 1989)
Fracking earthquakes
April 23, 2015: for the first time, the U.S. Geological Survey unveiled a map of earthquakes thought to be triggered by human activity in the eastern and central United States. Oklahoma was by far the worst-hit state recently, according to the USGS study (see Apr 21 above). The state last year had more earthquakes magnitude 3 or higher than California, part of a huge increase recorded in recent years.
Seismic activity in Texas near the Dallas-Fort Worth area had also increased substantially. Kansas, Colorado, New Mexico and Ohio had all experienced more frequent quakes in the last year. All of the areas highlighted on the map "are located near deep fluid injection wells or other industrial activities capable of inducing earthquakes," the study said. Mark Petersen, chief of the USGS' National Seismic Hazard Project, said the pattern of increased quakes was troubling. (see Apr 26)
April 23 Peace Love Art Activism
Feminism
Take Our Daughters to Work Day
April 23, 1992: The first Take Our Daughters to Work Day takes place. The event was founded by the Ms. Foundation for Women to create an opportunity for girls to share and communicate their expectations for the future. It is held on the fourth Thursday of every April. The program eventually expands to Take Our Daughters and Sons to Work Day in 2003. (see  June 29)
Maj. Gen. William T. Cooley guilty
April 23, 2022,: Col. Christina M. Jimenez, the senior military judge at Wright-Patterson Air Force Base in Dayton, Ohio found Air Force Maj. Gen. William T. Cooley guilty of forcibly kissing a woman in 2018, in the first court-martial trial and conviction of a general officer in the 75-year history of the military branch.
Cooley was accused of abusive sexual conduct with three "specifications" and was convicted of the first one, for "kissing her on the lips and tongue, with an intent to gratify his sexual desire," the Air Force said on Saturday.
Judge Jimenez found General Cooley not guilty of the other two specifications, including for forcing the woman, who is his sister-in-law, to touch him over his clothing and touching her breasts and genitals through her clothes, the authorities said.  [NYT article] (next Feminism, see )
April 23 Peace Love Art Activism
César E. Chávez
Death
April 23, 1993: Chávez died peacefully in his sleep in San Luis, AZ.  (2017 LA Times remembrance) (see May 1993)
Stamp issued
April 23, 2003: the US Postal Service issued the Cesar E Chavez postage stamp. (see April 27, 2012)
April 23 Peace Love Art Activism
Sexual Abuse of Children
Emergency meeting called
April 23, 2002:  Pope John Paul II called emergency meeting with US cardinals in Rome. (see May 2)
Boy Scouts accused
April 23, 2019: Jeff Anderson, a victims' rights attorney, claimed that the Boy Scouts had files on child abusers within their ranks dating back to the 1940s and demanded the full release of thousands of names of alleged offenders in the files.
Nearly 200 of them were from New York and New Jersey.
"For many, many years there's been an excavation of what are called the 'perversion files' — those are files held and hoarded at the Boy Scouts of America headquarters," Anderson said, and that "those 'perversion files' that they've had reflect that they have removed thousands of offenders of childhood sexual abuse over the years and they've kept that in files secretly." [NBC News article] (next SA, see Apr 26; next BSA, see February 18, 2020)
April 23 Peace Love Art Activism
Cultural Milestone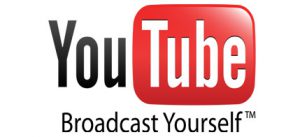 April 23, 2005: co-founder Jawed Karim uploaded the first video to YouTube.com. (see March 21, 2006) 
April 23 Peace Love Art Activism
Iraq War II
April 23, 2006:  a former top CIA official, Tyler Drumheller, revealed evidence that Bush was told before the war by a high-level Iraqi informant that Iraq did not possess WMD. (see May 18)
April 23 Peace Love Art Activism
Irish Troubles
April 23, 2019: the New IRA admitted responsibility for the death of journalist Lyra McKee in Derry.
McKee (29) died as a result of injuries sustained when she was shot on the Creggan estate on April 18th.
The PSNI said it arrested a 57-year-old woman over the killing. Three people were also arrested in connection withMcKee's death. Two individuals who had been detained were released without charge.
In a statement given to The Irish News using a recognised code word, the group offered "full and sincere apologies" to her family and friends.
The New IRA is an amalgam of armed groups opposed to the peace process and it recently claimed responsibility for parcel bombs sent to London and Glasgow in March. (next IT, see May 13, 2020 or see IT for a much expanded chronology)
April 23 Peace Love Art Activism