May 29 Music et al
White Christmas in May
May 29, 1942: Bing Crosby recorded the Irving Berlin song 'White Christmas'. Crosby recorded the song with the John Scott Trotter Orchestra and the Ken Darby Singers in just 18 minutes. According to the Guinness Book of World Records, the version sung by Bing Crosby is the best-selling single of all time, with estimated sales in excess of 50 million copies worldwide. (see February 16, 1948)
May 29

Music et al
Ricky Nelson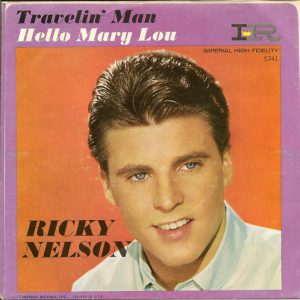 May 29 – June 4, 1961, "Travelin' Man" by Ricky Nelson #1 Billboard Hot 100.
May 29

Music et al
Beach Boys
May 29 – June 11, 1965 – "Help Me Ronda" by Beach Boys #1 on the Billboard Hot 100. (see February 17, 1966)
From Song Facts:  "This was the first Beach Boys single where their guitarist Al Jardine sang lead. The song was written by Brian Wilson and Mike Love. Wilson explained to Goldmine in 2011: "We did two versions of 'Help Me Rhonda.' We did one with the ukulele and we did one with guitars. We chose to use the guitar version. I heard myself singing lead on it originally and then I turned it over to Al. I produced the Beach Boys so I decided who would sing lead. I just had a sixth sense about who should sing what songs. Some of the songs I wrote specifically for Mike, Al and Carl to sing."
May 29

Music et al
Crosby, Stills, & Nash
May 29, 1969: Crosby, Stills, & Nash released first album.  (David Crosby age 28; Stephen Stills age 24; Graham Nash, age 27)
It is always interesting to read contemporary reviews for an album now considered an incomparable classic. Rolling Stone critic Barry Franklin called Crosby, Stills & Nash "an eminently playable record" and "especially satisfying work", finding the songwriting and vocal harmonies particularly exceptional.
I guess that's mostly high praise.
On the other hand, Robert Christgau of the The Village Voice: "I have written elsewhere that this album is perfect, but that is not necessarily a compliment. Only Crosby's vocal on 'Long Time Gone' saves it from a special castrati award." Yikes! (see "In August")
May 29

Music et al