February 16 Music et al
Beatles/Ed Sullivan
February 16, 1964: second appearance on The Ed Sullivan Show. This time in Miami. An estimated 70 million viewers watch that night Set list: She Loves You > That Boy > All My Loving; I Saw Her Standing There > With Love From Me To You > I Want To Hold Your Hand [Sullivan also refers to upcoming Clay/Liston fight in Miami] (next Beatles, see Feb 18) (see Ed Sullivan Meets the Beatles Again for more)
February 16 Music et al
Beatles/India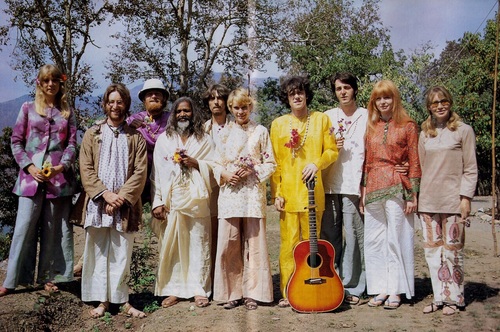 February 16, 1968: from the Beatles Bible site: John and Cynthia Lennon, and George and Pattie Harrison arrived in Delhi, India at 8:15 am, having flown overnight from London Airport.
They were met in Delhi by The Beatles' assistant Mal Evans (who had arrived there on 14 February) and Mia Farrow.
Evans had organised three taxis to take the group from Delhi to Rishikesh, where they were to study meditation with Maharishi Mahesh Yogi. It was a journey of some 150 miles.
Cynthia Lennon later said that "Our arrival at Delhi went very much unheralded. We were bundled unmolested and travel-weary into three battered, ancient Indian taxis without all the usual fuss and frantic rush. It was wonderfully refreshing and stress free. After alighting from the taxis, we were shown to our living quarters. They consisted of a number of stone-built bungalows, set in groups along a rough road. Flowers and shrubs surrounded them and were carefully tended by an Indian gardener whose work speed was dead slow, and stop."   (see Apr 12)
Paul McCartney, Jane Asher, Ringo and wife Maureen will arrive four days later.
February 16 Music et al
Tony Sheridan
February 16, 2013: Tony Sheridan died. Sheridan, the British guitarist, singer and songwriter, was the star on the Beatles' first commercial recording.
The Beatles (then a quintet of John, Paul, George, Stuart Sutcliffe, and Pete Best) met Sheridan in Hamburg. In 1961 Bert Kaempfert offered to record Sheridan with them as his back up band. They would record nine songs altogether over the next two years.
Mr. Sheridan sang seven of them — "My Bonnie," "The Saints," "Why (Can't You Love Me Again)," "Nobody's Child," "Take Out Some Insurance On Me, Baby," "Sweet Georgia Brown" and "Swanee River." The other two were purely Beatles performances: "Cry for a Shadow," an instrumental by Lennon and Harrison, and "Ain't She Sweet," with Lennon singing.
It was the single "My Bonnie" that led Beatle fans in Liverpool to request the song which eventually led record store owner Brian Epstein to visit the Cavern venue and see what all the fuss was about.
Tony Sheridan continued as a musician the rest of his life–his connection to the Beatles opened doors for him. He died in Germany where he lived. He was 72. (next Beatles, see March 21, 2016) 
Reference: NYT article/obit
February 16 Music et al