February 14 Peace Love Art Activism
BLACK HISTORY
Oregon Bans Blacks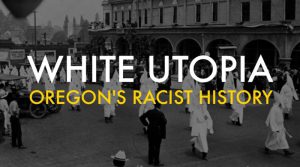 February 14, 1859: Oregon granted statehood in 1859. It was the only state in the Union admitted with a constitution that forbade black people from living, working, or owning property there. It was illegal for black people even to move to the state until 1926. (see Mar 3)
National Negro Congress forms
February 14, 1936:  The National Negro Congress (NNC) (formed in 1935 at Howard University) held its first national meeting in Chicago. The NCC was a confluence of civic, civil rights, labor, and religious groups from across the nation; over 800 delegates representing 551 organizations and over 3 million constituents attended. A. Philip Randolph was elected President and John P. Davis was elected National Secretary. In keeping with their Popular Front orientation, the Communists in attendance did not attempt to hide their affiliation but consciously deferred to non-Communist delegates. (next BH, see Apr 28)
Southern Christian Leadership Conference
February 14, 1957: a follow-up to the January 10 meeting was held in New Orleans. Out of these two meetings came a new organization with Dr. King as its president. Initially called the "Negro Leaders Conference on Nonviolent Integration," then "Southern Negro Leaders Conference," the group eventually chose "Southern Christian Leadership Conference" (SCLC) as its name, and expanded its focus beyond busses to ending all forms of segregation. A small office was established on Auburn Avenue in Atlanta with Ella Baker as SCLC's first — and for a long time only — staff member. (see Mar 26)
Malcolm X
February 14, 1965:  Malcolm X's home firebombed. He and his family escaped injury. A week later, after his return from Detroit, on February 21st, 1965 he would be assassinated at the age of 40. (BH, see Feb 15; MX, see Feb 21)
George Whitmore, Jr.
February 14, 1965: District Attorney Aaron E Koota agreed to reopen the David Coleman case. (see Whitmore for expanded story)
BLACK & SHOT
February 14, 2011: a Westchester County grand jury concluded that there was "no reasonable cause" to indict Officer Aaron Hess who shot and killed Danroy Henry Jr in a car outside a bar last fall in Thornwood, prosecutors announced.
The Westchester district attorney, Janet DiFiore, said the grand jury had heard testimony from 85 witnesses in its investigation into the death of Henry .Hess of the Pleasantville Police Department fired through the windshield of Mr. Henry's car, killing him and wounding his best friend from high school, Brandon Cox, 20. (B & S, and Henry, see  Apr 13 )
Stop and Frisk Policy
February 14, 2012: The NYPD conducted about 685,000 stops in 2011, the highest number on record since the City Council started collecting stop-and-frisk data in 2002. (see Feb 29)
February 14 Peace Love Art Activism
Voting Rights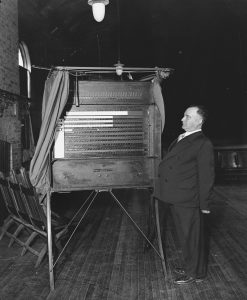 February 14, 1899: Congress approved the use of voting machines in federal elections. (see April 27, 1903)
February 14 Peace Love Art Activism
US Labor History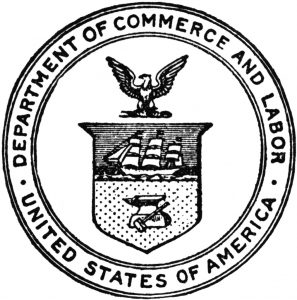 February 14, 1903: the U.S. Department of Commerce and Labor was established. (see June 17)
Volkswagon Chattanooga, TN
February 14, 2014: employees at Volkswagon's Chattanooga, TN plant voted against representation by United Auto Workers, leaving the factory as the only Volkswagen plant worldwide without a formal mechanism for workers' representation. (see Mar 26)
Denver Teacher Strike
February 14, 2019: Denver teachers  returned to the classroom after the Denver Classroom Teachers Association and Denver Public Schools reached a tentative labor agreement.
At issue had been teacher pay — specifically, a system that granted certain teachers incentives for working in high-poverty schools or in hard-to-staff subjects. Union leaders wanted higher base salaries for more teachers and more opportunities to work toward a higher pay grade through professional development.
The tentative agreement includes a base salary increase, between 7 to 11 percent, and changes to the incentive system. (see Feb 15)
February 14 Peace Love Art Activism
Feminism
National American Woman Suffrage Association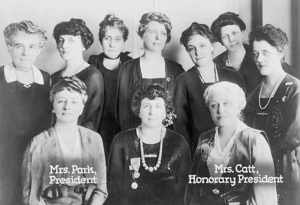 February 14, 1920:  the National American Woman Suffrage Association became the League of Women Voters. The first president of the organization was Maude Wood Park. (Fem and VR, see June 8)
Women's Health
February 14, 1969: now known as NARAL Pro Choice America, NARAL was founded as the National Association for Repeal of Abortion Laws, and later became the National Abortion Rights Action League. It was founded at the first National Conference on Reform of Abortion Laws in Chicago.  21 organizations and 350 individuals  sponsored the conference . (Feminism, see Feb 20; WH, see Mar 21)
TERRORISM
February 14, 2018: Marckles Alcius, of Lowell, Massachusetts, crashed a stolen bakery delivery truck into an East Orange (NJ) Planned Parenthood clinic. Three people, a staff member and two patients, including a pregnant woman, sustained minor injuries in the attack. All three went to the hospital, and were treated for their injuries and released.
The Essex County Prosecutor's Office charged Alcius with attempting to cause widespread injury or damage, six counts of aggravated assault, theft and weapons offenses. (WH, see Mar 20; T, see Feb 27)
February 14 Peace Love Art Activism
Technological & Cultural Milestones
Penicillin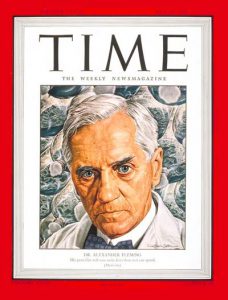 February 14, 1929: Alexander Fleming introduced his mold by-product called penicillin to cure bacterial infections. (see January 31, 1930)
ENIAC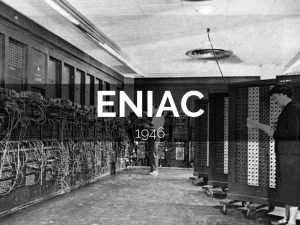 February 14, 1946: the ENIAC (Electronic Numerical Integrator and Computer) was unveiled. The device, built at the University of Pennsylvania, was the world's first general purpose electronic computer. (see February 21, 1947)
Pale Blue Dot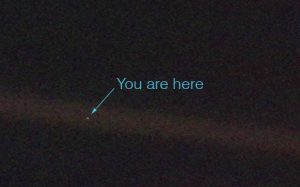 February 14, 1990: Voyager 1 sent back the Pale Blue Dot picture. The satellite was around 3.5 billion miles away from earth.  (see May 31)
YouTube
February 14 2005: the video sharing website YouTube founded. (see Apr 23)
February 14 Peace Love Art Activism
Calvin Graham
Payment request
February 14, 1944, : Graham filed an application with the Chief of Naval Personnel for mustering-out payment.
Back-pay denied
February 14, 1979: Graham's claim for back-pay from his World War II service was denied on the basis that the claim was filed more than 6 years after discharge and, by statute, the claim was too late. The existence of the earlier claim (within the 6-year limit) was not known at the time of this decision. The Navy reinstated all of his medals with the exception of the Purple Heart. He was awarded $337 in back pay but was denied health benefits except for disability. (see Graham for expanded story)
February 14 Peace Love Art Activism
Vietnam
Military Advisors
February 14, 1962: President John F. Kennedy authorized U.S. military advisors in Vietnam to return fire if fired upon. At a news conference, he said, "The training missions we have [in South Vietnam] have been instructed that if they are fired upon, they are of course to fire back, but we have not sent combat troops in [the] generally understood sense of the word." (see Feb 18)
Chicago 8
February 14, 1970: Judge Julius Hoffman sentenced four of the defendants to lengthy prison terms for contempt of court. After sending the jury to begin its deliberations, Hoffman started convicting the defendants and their lawyers for "numerous acts that add up to a total disregard for the conduct of this trial." David Dellinger was found guilty on 31 counts and sentenced to 2 years 5 months 16 days; Renny Davis  on 23 counts was sentenced to 2 years 1 month 14 days; Thomas Hayden on 11 counts was sentenced to 1 year 1 month 14 days; and Abbie Hoffman found guilty on 24 counts and sentenced to 8 months. (see Feb 15)
February 14 Peace Love Art Activism
Nuclear/Chemical Weapons News
Treaty of Tlatelolco
February 14, 1967: the Treaty of Tlatelolco was signed. The nations of Latin America and the Caribbean drafted this treaty to keep their region of the world free of nuclear weapons. Whereas Antarctica had earlier been declared a nuclear-weapon-free zone under the 1961 Antarctic Treaty, this was the first time such a ban was put in place over such a vast, populated area.
The Latin American countries other than Cuba all signed the treaty in 1967, along with Jamaica and Trinidad and Tobago, and all of these ratified the treaty by 1972. The treaty came into force on 22 April 1968, after El Salvador had joined Mexico in ratifying it and waived the conditions for its entry into force in accordance with its Article 28. (US Dept of State article) (see Feb 18)
Iran uranium
February 14, 2006: Iran said it had resumed uranium enrichment, prompting Russia and France to call on Tehran to halt its work. (Washington Post article) (see Sept 7)
Soviet cruise missiles
February 14, 2017: the New York Times reported that "Russia has secretly deployed a new cruise missile that American officials say violates a landmark arms control treaty, posing a major test for President Trump as his administration is facing a crisis over its ties to Moscow." (NYT article) (see Mar 17)
February 14 Peace Love Art Activism
February 14 Music et al
The Beatles
February 14, 1972: John Lennon and Yoko Ono began a week long stay as co-hosts on "The Mike Douglas Show."
Here's a clip. Mike does "Michelle." Yikes! Slide up to 4:40 for John and Yoko. (see Feb 19)
February 14 Peace Love Art Activism
Iran hostage crisis
February 14, 1979: in Kabul, Muslim extremists kidnapped the American ambassador to Afghanistan, Adolph Dubs, who was later killed during a gunfight between his kidnappers and police. (2017 Washingtonian article) (see Oct 20)
February 14 Peace Love Art Activism
Environmental Issues
Union Carbide
February 14, 1989: Union Carbide agreed to pay $470 million to the Indian government for damages it caused in the 1984 Bhopal Disaster. (NYT article) (see Mar 24)
CRA
February 14, 2017: President Trump signed a Congressional Review Act (CRA) resolution undoing a financial disclosure requirement for energy companies. (see Feb 16)
February 14 Peace Love Art Activism
Native Americans
February 14, 2011: The Long Walkers 3 left La Jolla, California. Walkers split into two routes: North and South.  Along the way, they will hold community talks about reversing diabetes and heart disease through diet and exercise. Their statement read, in part, "This is a 5,000+ mile Walk Across America to bring awareness of the devastating effects of diabetes and how it can be reversed by changing our entire diet and lifestyle! This disease is at epidemic levels across America, and throughout Indian Country." (see July 8)
February 14 Peace Love Art Activism
Cannabis
February 14, 2013:  the Obama administration gave the banking industry the green light to finance and do business with legal marijuana sellers, a move that could further legitimize the burgeoning industry. For the first time, legal distributors will be able to secure loans and set up checking and savings accounts with major banks that have largely steered clear of those businesses. The decision eliminates a key hurdle facing marijuana sellers, who can now legally conduct business in 20 states and the District. (next Cannabis, see Mar 21 or see CCC for expanded chronology)
February 14 Peace Love Art Activism
Pledge of Allegiance
February 14, 2018: Boulder County District Attorney's office announced that it had charged Karen Smith with child abuse and third-degree assault after allegedly assaulting a student on February 1 for not standing for the Pledge of Allegiance. (Smith & Pledge, see Aug 30)
February 14 Peace Love Art Activism