March 21 Peace Love Art Activism
Religion and Public Education
Butler Act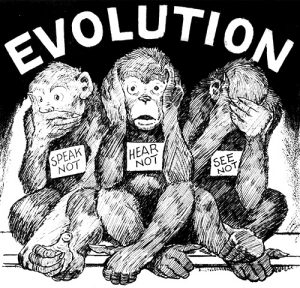 March 21, 1925: the Butler Act became state law in Tennessee that prohibited "the teaching of the Evolution Theory in all the Universities, Normals and all other public schools of Tennessee, which are supported in whole or in part by the public school funds of the State, and to provide penalties for the violations thereof … that it shall be unlawful … to teach any theory that denies the story of the Divine Creation of man as taught in the Bible, and to teach instead that man has descended from a lower order of animals." (see Scopes for expanded story)
March 21 Peace Love Art Activism
Anarchism in the US
Emma Goldman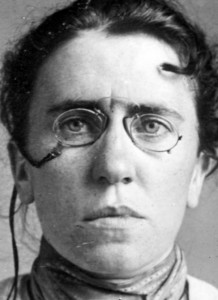 March 21 – April 2, 1934: Goldman delivered five lectures in Chicago. The first day, sixteen hundred attended the lecture under the auspices of the Free Society Forum. Fifteen hundred attended a banquet held in her honor at the Medinah Hotel on March 28. (see Emma Goldman for expanded story)
Federal Loyalty Program
March 21, 1947: President Harry Truman announced a Federal Loyalty Program to remove Communists from employment by the U.S. government. Under his Executive Order 9835, all federal employees had to undergo a loyalty investigation by the FBI. The program institutionalized "guilt-by-association" as federal policy, since an employee's loyalty might be suspect based on associations and affiliations, even those from many years in the past (for example, having joined a left-wing group when in college in the 1930s). A person fell under suspicion despite no evidence of any criminal activity (e.g., spying, treason) or criminal activity by a group he or she had once belonged to. Truman's loyalty program was arguably the most important step in launching the domestic Cold War.
Truman's Order also directed the U.S. Attorney General to create a List of Subversive Organizations. (RS, see Apr 9; list, see December 4)
1980 Olympic boycott
March 21, 1980: after the Soviet Union intervened in Afghanistan in December 1979 to prop up an unstable pro-Soviet government, the United States reacted quickly and sharply. It suspended arms negotiations with the Soviets, condemned the Russian action in the United Nations, and threatened to boycott the Olympics to be held in Moscow in 1980. When the Soviets refused to withdraw their troops from Afghanistan, President Carter finalized his decision to boycott the games.
On March 21, 1980, he met with approximately 150 U.S. athletes and coaches to explain his decision. He told the crowd, "I understand how you feel," and recognized their intense disappointment. However, Carter defended his action, stating, "What we are doing is preserving the principles and the quality of the Olympics, not destroying it." Many of the athletes were devastated by the news.
As one stated, "As citizens, it is an easy decision to make—support the president. As athletes, it is a difficult decision." Others declared that the president was politicizing the Olympics. Most of the athletes only reluctantly supported Carter's decision. (see Apr 20)
Elia Kazan
March 21, 1999: noted film director Elia Kazan was presented with an honorary Oscar. Because he had "named names" of alleged Communists before the House Committee on Un-American Activities (HUAC) on April 10, 1952, many victims of the anti-Communist Hollywood blacklist and their supporters protested the award. Some did not attend the ceremony and others who did attend refused to stand when he was on stage.  
Kazan had directed the film, On the Waterfront (released on July 28, 1954) as an attempt to justify testifying before investigating committees. His former friend and professional colleague, playwright Arthur Miller, wrote the play, The Crucible, which had premiered on January 22, 1953, to draw the connection between the anti-Communist hysteria of the Cold War and the infamous 1692 Salem, Massachusetts witch trials. (see May 12, 2002)
Cuba
March 21, 2016: Obama and Cuban President Raul Castro met. (see Nov 25)
March 21 Peace Love Art Activism
March 21 Music et al
Moondog Coronation Ball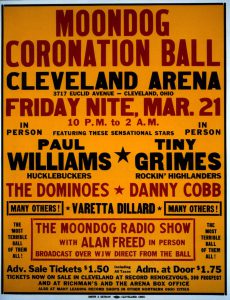 March 21, 1952:  the Moondog Coronation Ball, likely first Rock and Roll concert, held. Alan Freed, the Cleveland disc jockey known as "Moondog" and thought by some to have coined the term "rock and roll," organized the concert at the Cleveland Arena. It attracted nearly 25,000 young people, mostly African-Americans.
Authorities shut down the show, which featured artists such as the Dominoes and Paul "Hucklebuck" Williams, when the thousands of ticket-holders were denied entrance and became unruly. (RR, see Mar 27; TC, see August 1, 1954; see Moondog for expanded story)
Cavern Club
March 21, 1961: The Beatles' first night-time performance at Liverpool's Cavern Club. Their 11 previous appearances at the venue had been lunchtime shows. The band got $42.00 per night. They supported The Blue Genes, who later became The Swinging Blue Jeans.
Although the precise number of their Cavern performances is not known, The Beatles played at least 155 lunchtime and 125 evening shows. Their final performance at the venue took place on 3 August 1963. (see Mar 24)
She Loves You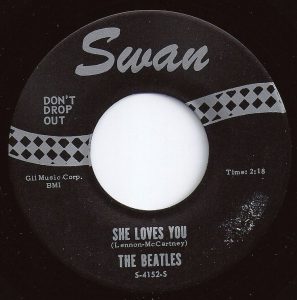 March 21 – April 3, 1964, The Beatles: "She Loves You" #1 on the Billboard Hot 100. (see Mar 23)
March 21, 1964, The Beatles: Beatles appeared on the cover of The Saturday Evening Post, one of America's mainstream magazines at the time.  Post's cover story – "The Secrets of The Beatles" – promised "an intimate account of their American tour and a probing analysis of their incredible power to excite frenzied emotions among the young." 
Mississippi Goddam
March 21, 1964: at Carnegie Hall concert, Nina Simone sang her composition, "Mississippi Goddam."
John Lennon/LSD
March 21, 1967: (from the College of Rock and Roll) John Lennon took his first major LSD trip. (not sure what sources mean by 'major'). He did it while recording backing vocals on the track "Getting Better." George Martin, not realizing the effects of the drug or the fact that John was even on the drug, took John to the roof of Abbey Road Studios so he could get some fresh air. Paul McCartney and George Harrison, upon learning where John was, rushed up to get him down. They understood.
They got back into the studio and worked on a piano track for "Lovely Rita" instead.. (see Mar 23)
Strawberry Fields
March 21, 1984: a section of Central Park was renamed 'Strawberry Fields' to honor John Lennon. (see February 10, 1986)
Beatle catalog
March 21, 2016: Paul McCartney filed legal papers in the US, as part of an attempt to reclaim the publishing rights to The Beatles' back catalog. Although he co-wrote most of the band's hits, the he never controlled the publishing.
However, the US copyright act of 1976 gives writers the opportunity to reclaim the rights after 56 years. The Lennon-McCartney catalog becomes available in 2018, and McCartney recently moved to recapture it. (2017 Billboard article) (see Aug 29)
March 21 Peace Love Art Activism
BLACK HISTORY
SOUTH AFRICA/APARTHEID
Sharpeville  Massacre 1960
March 21, 1960: police fired on a demonstration in Sharpeville, killing 69 people and wounding 181. After the shooting, the South African government banned black political groups and gatherings and arrested thousands. The African National Congress was among the banned groups. Its members went underground and began to plan a campaign of direct attacks on the apartheid government. (SA History site article) (SA/A, see March 29, 1961)
School Desegregation 1973
March 21, 1973: in San Antonio Independent School District v. Rodriguez the Supreme Court ruled that education is not a "fundamental right" and that the Constitution does not require equal education expenditures within a state. The ruling has the effect of locking minority and poor children who live in low-income areas into inferior schools. (see April)
Michael Donald lynched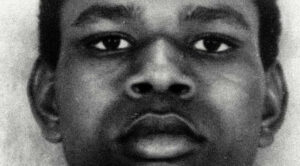 March 21, 1981: Mobile, Alabama. Henry Hays (age 26), and James Llewellyn "Tiger" Knowles (age 17) kidnap, beat, strangle, and slit the throat of Michael Donald before hanging him from a tree. Local police initially stated that Donald had been killed as part of a drug deal gone wrong. (see June 6, 1997). Donald, an African-American, had been walking back from a store and randomly selected by Ku Klux Klan members Hays and Knowles. (next BH, see Dec 11; next lynching & Michael Donald, see June 16, 1983; for expanded chronology of lynching, see also AL4)
Sharpeville Massacre 1985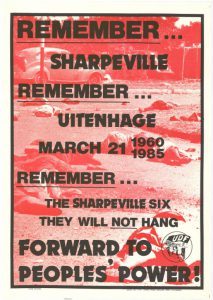 March 21, 1985: police in Langa, South Africa, opened fire on blacks marching to mark the 25th anniversary of the Sharpeville shootings, killing at least 21 demonstrators. (see Apr 15)
School Desegregation 2014
March 21, 2014: according to surveys released by the U.S. Education Department that include data from every U.S. school district.Public school students of color get more punishment and less access to veteran teachers than their white peers.
Black students were suspended or expelled at triple the rate of their white peers, according to the U.S. Education Department's 2011-2012 Civil Rights Data Collection, a survey conducted every two years. Five percent of white students were suspended annually, compared with 16 percent of black students, according to the report. Black girls were suspended at a rate of 12 percent — far greater than girls of other ethnicities and most categories of boys.
At the same time, minority students had less access to experienced teachers. Most minority students and English language learners are stuck in schools with the most new teachers. Seven percent of black students attend schools where as many as 20 percent of teachers fail to meet license and certification requirements. And one in four school districts pay teachers in less-diverse high schools $5,000 more than teachers in schools with higher black and Latino student enrollment. (BH, see Nov 10; SD, see May 13, 2016)
March 21 Peace Love Art Activism
Vietnam
Robert Bailey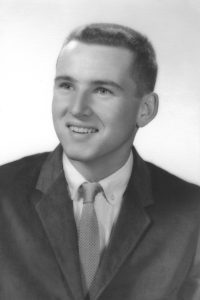 March 21, 1961: Army Major Lawrence Robert Bailey was the first recorded American to be held as a prisoner of war in Southeast Asia. One of eight crew members of a C-47 surveillance aircraft shot down over Laos, Bailey was held by the Pathet Lao for 17 months, losing one-third of his body weight during that time. The other occupants of the plane were presumed to have died in the crash; Bailey always wore a parachute. (see May 4)
March 21 Peace Love Art Activism
FREE SPEECH
Fanny Hill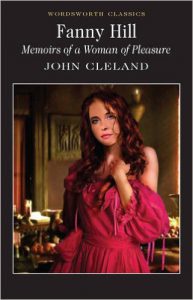 March 21, 1966: Memoirs v. Massachusetts Since the Roth ruling (June 24, 1957), to be declared obscene a work of literature had to be proven by censors to:
appeal to prurient interest,

be patently offensive, and

have no redeeming social value.
The book  in this case was Fanny Hill (or Memoirs of a Woman of Pleasure, 1749) by John Cleland. The Court held in Memoirs v. Massachusetts that, while it might fit the first two criteria (it appealed to prurient interest and was patently offensive), it could not be proven that Fanny Hill had no redeeming social value. The judgment favoring the plaintiff continued that it could still be held obscene under certain circumstances — for instance, if it were marketed solely for its prurient appeal. (see July 4)
Flag burning
March 21, 1990: US v Mark John Haggerty, et al. In a 5-to-4 decision, coming 6 months after Texas v. Johnson (June 21, 1989), the Court struck down the law because "its asserted interest is related to the suppression of free expression and concerned with the content of such expression." Allowing the flag to be burned in a disposal ceremony but prohibiting protesters from setting it ablaze at a political protest made that clear, argued Justice Brennan in one of his final opinions. (FS & flag burning, see June 11)
March 21 Peace Love Art Activism
Feminism & Women's Health
Redstockings
March 21, 1969: the Redstockings organized a public hearing on abortion, called an abortion speak-out, to air women's views on abortion (F, see May 4; BC, January 19, 1970)
National Women's Political Caucus
March 21, 1971: The National Women's Political Caucus (NWPC) is established by Gloria Steinem, Betty Friedan, and Bella Abzug. The organization sought  to encourage women's political involvement and to attain equality for all women. (NWPC site)  (next Feminism  see July 10)
March 21 Peace Love Art Activism
Voting Rights
Dunn v. Blumstein
March 21, 1972:  in the case of Dunn v. Blumstein, the U.S. Supreme Court ruled that states could not require one year of residency for voting eligibility. (see August 22, 1973)
March 21 Peace Love Art Activism
Watergate Scandal
March 21, 1973: White House counsel John Dean had the "Cancer in the Whitehouse" conversation. Dean recalled, "I began by telling the president that there was a cancer growing on the presidency and if the cancer was not removed that the president himself would be killed by it. I also told him that it was important that this cancer be removed immediately because it was growing more deadly every day…
I told the president about the fact that there was no money to meet their [the Watergate burglars] demands. He asked me how much it would cost. I told him I could only make an estimate that it might be as high as a million dollars or more. He told me that that was no problem. He also looked over at [Chief of Staff H.R.] Haldeman and repeated the same statement."  (see Nixon for expanded story)
March 21 Peace Love Art Activism
INDEPENDENCE DAY
March 21, 1990: Namibia independent from South Africa. (see June 11)
March 21 Peace Love Art Activism
Consumer Protection
FDA v. Brown & Williamson Tobacco Corp
March 21, 2000: in FDA v. Brown & Williamson Tobacco Corp a divided Supreme Court ruled the government lacked authority to regulate tobacco as an addictive drug. (Oyez article) (see November 21, 2007)
March 21 Peace Love Art Activism
Cultural Milestone
March 21, 2006: the social media website Twitter launched with the first tweet by co-founder Jack Dorsey. (see Mar 25)
March 21 Peace Love Art Activism
Nuclear/Chemical News
March 21, 2008: more than 300 people participated in an annual Good Friday peace action at the Lawrence Livermore National Laboratory (Livermore, CA).The Tri-Valley Communities Against a Radioactive Environment (CARES) organized the event). The lab was a key participant in the design of all weapons in the U.S. nuclear arsenal. The Alameda County Sheriff arrested 91 of the protesters. CARES Executive Director Marylia Kelley said, "The emphasis is on nonviolence and rejecting violence." (see March 11, 2011)
March 21 Peace Love Art Activism
STAND YOUR GROUND LAW
Trayvon Martin Shooting
March 21, 2012: the Department of Justice and the FBI opened an investigation into the "facts and circumstances" surrounding the killing of Trayvon Martin. The department will "conduct a thorough and independent review of all evidence and take appropriate action at the conclusion of the investigation," according to a statement. (see Mar 28)
March 21 Peace Love Art Activism
LGBTQ
New Hampshire
March 21, 2012: New Hampshire lawmakers rejected a bill that would have made their state legislature the first one to repeal a gay marriage law, handing gay-rights supporters a key victory in the Northeast, where same-sex marriage is prevalent. (see Apr 12)
Michigan
March 21, 2014: Judge Bernard A. Friedman of Federal District Court struck down Michigan's ban on same-sex marriage, the latest in a string of court decisions across the country to rule that denying marriage to gay and lesbian couples is a violation of the Constitution.
Friedman wrote, "The guarantee of equal protection must prevail."
It was not clear from the written decision whether same-sex couples in Michigan could immediately apply for marriage licenses. Friedman did not say whether he planned to delay implementation, as federal judges in other states had done, until the state had a chance to appeal to the Court of Appeal for the Sixth Circuit, in Cincinnati. Soon after the decision was issued, the Michigan attorney general, Bill Schuette, filed notice that the state would appeal.
The two-week trial, which ended March 7, drew special attention because it was the first in several years to include testimony from social-science researchers on the potential impact of same-sex marriage on families and children. The state, arguing that it would be risky to change the definition of marriage, cited studies that concluded that children raised by same-sex couples had worse outcomes in life. 
Those challenging the ban argued that the studies had been widely discredited, and Judge Friedman agreed, calling them deeply flawed. Lawyers for the plaintiffs described the scholars who appeared for the state as religiously motivated and part of a "desperate fringe," and subjected them to withering cross-examination. Scholars called to rebut the testimony described a virtual consensus in the field that other things like income and stability being equal, children fared just as well with same-sex parents. (see Mar 28)
March 21 Peace Love Art Activism
Cannabis
Medical marijuana
March 21, 2014: Maricopa County (AZ) Superior Court Judge Katherine Cooper ruled that 5-year-old  Zander Welton's parents, Jacob and Jennifer Welton, may use medical marijuana extracts for the boy's severe seizures. The Weltons sued Gov. Jan Brewer, Maricopa County Attorney Bill Montgomery, and the state's Department of Health Services in October for fear that they would be prosecuted for treating Zander's seizures with marijuana extracts.
Zander suffered from focal cortical dysplasia, a congenital condition that causes epilepsy and autism. After seeing the CNN documentary, "Weed," the Weltons were inspired to treat Zander's seizures with marijuana extracts, and after two months of use, his seizures had nearly stopped and he was able to run short distances and walk backwards.
Judge Cooper found the 2010 voter-approved Arizona Medical Marijuana Act (AMMA) allows qualifying patients to legally use marijuana extracts, including CBD (cannabidiol) oil, which the Weltons give Zander. (next C, see Apr 14)
Legalized cannabis
March 21, 2016: the Supreme Court denied an Oklahoma and Nebraska challenge to Colorado legalizing marijuana. Even though SCOTUS denied to hear Oklahoma and Nebraska's pot suit against Colorado, the plaintiff states could still take their case to U.S. District Court. (next C, see Apr 19 or see CCC for expanded chronology) 
March 21 Peace Love Art Activism
Terrorism
March 21, 2019:  Cesar A. Sayoc Jr. pleaded guilty in federal court in Manhattan to sending out 16 homemade pipe bombs to prominent Democrats and critics of President Trump. (next T, see Mar 27; next CSJ, see Aug 5)
March 21 Peace Love Art Activism