November 25 Peace Love Art Activism
BLACK HISTORY
TERRORISM
November 25, 1915: a cross was burned on Stone Mountain, Georgia, on this day, marking the revival of the Ku Klux Klan in the early 20th century.
The Klan had been a powerful racist force during the Reconstruction Era in the South following the Civil War. It gradually faded away, but was revived as part of the racist mood of the country in the first decades of the century. (see November 7, 1922)
Anti-Lynching Congress
November 25, 1930: a delegation from the Anti-Lynching Congress, which was meeting in Washington, D.C., delivered a protest to President Herbert Hoover, demanding that he take action to end the lynching of African-Americans. The group was led by Maurice W. Spencer, president of the National Equal Rights League and Race Congress. President Hoover did not respond.
Herbert Hoover was basically sympathetic to the needs of African-Americans in American society, but was not willing to expend any political capital on civil rights. He was very upset, for example, when Southern bigots protested when First Lady Lou Henry Hoover invited the wife of African-American Congressman Oscar DePriest to the White House for tea (along with all the other Congressional wives), on June 12, 1929. He responded by inviting Robert Moton, President of Tuskegee University, to the White House in a symbolic gesture.  (next BH see Nov 22;  next Lynching, see January 12, 1931; next T, see August 27, 1949; see AL3 for expanded chronology of early 20th century lynching)
Interstate Commerce Commission
November 25, 1955: the Interstate Commerce Commission (ICC), the federal agency that regulated railroads and other transporters of goods, banned racial segregation on interstate buses, train lines, and in waiting rooms.
The ICC ruled that "the disadvantages to a traveler who is assigned accommodations or facilities so designated as to imply his inferiority solely because of his race must be regarded under present conditions as unreasonable." The ban was consistent with a 1946 United States Supreme Court decision, Morgan v. Commonwealth of Virginia (see June 3, 1946), which held that a state law requiring segregation on interstate buses traveling through the state was unconstitutional.
However, neither the Supreme Court decision nor the ICC ban covered intrastate travel, and 13 states still required segregation on buses and railways that traveled exclusively within state borders. Some of these states ignored the new ban on segregated interstate travel and continued to enforce unconstitutional laws. According to a report issued by the Public Affairs Research Committee in December 1957, police in Flomaton, Alabama, had been called to arrest African Americans traveling in the white section of an interstate railroad line. The report additionally found that employees of rail and bus lines in Alabama "have flagrantly segregated colored travelers or called police to arrest those who would not easily be intimidated where their rights were involved."
It was not until November 1961, six years after the ICC ban, that it was given force by order of the ICC and Attorney General Robert F. Kennedy, largely spurred by the Freedom Rides. (NYT article) (see Dec 1)
Randolph Evans
November 25, 1976, Thanksgiving Day: NYC police officer Robert Torsney fired a bullet into the head of Randolph Evans, 15, outside a housing project in Brooklyn. Officer Torsney would later claim he had been afflicted with a rare form of epilepsy that had never been noticed before the killing and was never seen after it. The "epilepsy" defense worked. A jury acquitted Torsney of any criminal wrongdoing. (NYT article) (see Dec 17)
Sean Bell
November 25, 2006: a team of plainclothes and undercover NYPD officers shot a total of 50 times at three men killing one of the men, Sean Bell, on the morning before his wedding, and severely wounding two of his friends. (NYT article) (B & S and Sean Bell, see March 16, 2007)
Black Lives Matter
November 25, 2015: Minneapolis police released the names of four men arrested in connection with a shooting during a Black Lives Matter protest outside a police station that injured five protesters. The authorities identified the suspects in the shooting as Allen Lawrence Scarsella, 23; Nathan Gustavsson, 21; Daniel Macey, 26; and Joseph Backman, 27.
All were white. [NYT article] (see Dec 2)
November 25 Peace Love Art Activism
FREE SPEECH
November 25, 1930: an agent of the New England Watch and Ward Society purchased a copy of Lady Chatterly's Lover at the Dunster House Book shop in Cambridge, Massachusetts. James Delancy, the manager, and Joseph Sullivan, his clerk, were both convicted of selling obscene literature, a crime for which Mr. Delancy was fined $800. and assigned four months in the house of corrections while Mr. Sullivan was sentenced to two weeks in prison and a $200. fine. (see April 6, 1931)
November 25 Peace Love Art Activism
US Labor History
St Paul teacher strike
November 25, 1946: teachers strike in St. Paul, Minn., the first organized walkout by teachers in the country. The month-long "strike for better schools" involving some 1,100 teachers—and principals—led to a number of reforms in the way schools were administered and operated. [ST article] (see Dec 3)
November 25, 1960: CBS broadcast the documentary, "Harvest of Shame," on US migrant farm workers the day after Thanksgiving.
Journalist Edward R. Murrow narrated, opening with these words over footage of workers: "This is not taking place in the Congo. It has nothing to do with Johnannesburg or Cape Town. It is not Nyasaland or Nigeria. This is Florida. These are citizens of the United States, 1960. This is a shape-up for migrant workers. The hawkers are chanting the going piece rate at the various fields. This is the way the humans who harvest the food for the best-fed people in the world get hired. One farmer looked at this and said, 'We used to own our slaves. Now we just rent them.' "
The hour-long telecast, shocking to many viewers, immediately led to a greater public and political awareness of the workers' lives. [NPR article]  (see October 3, 1961)
Google fires activists
November 25, 2019: Google fired four employees who had been active in labor organizing at the company, according to a memo that was seen by The New York Times.
The memo, sent by Google's security and investigations team, told employees that the company had dismissed four employees "for clear and repeated violations of our data security policies." Jenn Kaiser, a Google spokeswoman, confirmed the firings but declined to elaborate. (next USLH, see January 21, 2020)
November 25 Peace Love Art Activism
Religion and Public Education
November 25, 1947: the American Unitarian Association announced that it had received permission from the US Supreme Court to enter the McCollum v Champaign case. Its brief stated that the religious group "has an interest in the the proceedings by reason of the nature of the questions involved, the absolute separation of church and state being one of the cardinal principles of Unitarianism." (see December 4, 1947)
November 25 Peace Love Art Activism
Red Scare
Hollywood Ten
November 25, 1947: movie studio executives agreed to blacklist the Hollywood 10, who were jailed for contempt of Congress for failing to cooperate with the House Un-American Activities Committee. (Hollywood Ten: see June 13, 1949; Red Scare, see Dec 4)
Blacklisted Michael Wilson
November 25, 1956: the film Friendly Persuasion, starring Gary Cooper and later nominated for the Academy Awards for Best Picture, Best Director, and Best Supporting Actor, was released on this day — but without any screenwriter credit. The actual screenwriter was Michael Wilson, who had been blacklisted for refusing to cooperate with the House Committee on Un-American Activities (HUAC) in September 1951. Hollywood motion picture companies refused to hire or credit people who did not cooperate with HUAC. The official blacklist began on December 3, 1947.
Wilson's screenwriting credit was restored in later versions of the film. Wilson also co-wrote the script for the award-winning Bridge on the River Kwai (1957), but was not listed on the credits. Wilson was posthumously awarded an Academy Award in 1995 for his work on the Bridge on the River Kwai.
Wilson took his revenge for having been blacklisted when he wrote the script for Planet of the Apes (1968), which includes a scene that is a wicked parody of the House Un-American Activities Committee. In the scene, Charlton Heston has to stand naked and testify before what is, in effect, an Un-Ape Activities Committee.(see February 18, 1957)
The Cold War
November 25, 2016: Cuban state television announced the death of Fidel Castro. He was 90.  [NBC News article] (see January 12, 2017)
November 25 Peace Love Art Activism
November 25 Music et al
The Beatles
November 25, 1963: release of Beatlemania! With The Beatles album in Canada. (see Nov 29)
Incense and Peppermints
November 25 – December 1, 1967: "Incense and Peppermints" by the Strawberry Alarm Clock #1 on the Billboard Hot 100.
Last Waltz
November 25, 1976, Thanksgiving Day, at the Winterland Ballroom in San Francisco, The Band gave their farewell concert. They called it "The Last Waltz." More than a dozen speicial guests joined The Band, including Paul Butterfield, Eric Clapton, Neil Diamond, Bob Dylan, Emmylou Harris, Ronnie Hawkins, Dr. John, Joni Mitchell, Van Morrison, Ringo Starr, Muddy Waters, Ronnie Wood, Bobby Charles, Neil Young, and the Staple Singers. The musical director for the concert was The Band's original record producer, John Simon.
The event was filmed by director Martin Scorsese and made into a documentary of the same name, released in 1978. The film features concert performances, scenes shot on a studio soundstage and interviews by Scorsese with members of The Band. A triple-LP soundtrack recording, produced by Simon and Rob Fraboni, was issued on April 7, 1978.
The Last Waltz is hailed as one of the greatest concert films ever made.
Band Aid
November 25, 1984: Band Aid recorded the charity single "Do They Know It's Christmas?" to raise money to combat the famine in Ethiopia. It is released December 3. (see January 28, 1985)
November 25 Peace Love Art Activism
Nuclear/Chemical News
November 25, 1969, President Nixon ordered all US germ warfare stockpiles destroyed. (see March 5, 1970)
November 25 Peace Love Art Activism
INDEPENDENCE DAY
November 25, 1975: Suriname independent of Netherlands. (see June 29, 1976)
November 25 Peace Love Art Activism
AIDS

November 25, 1985: the Indiana Department of Education ruled that Ryan White must be admitted despite parent and government opposition. (see White for expanded chronology )
November 25 Peace Love Activism
 Iran–Contra Affair
November 25, 1986: the Iran-Contra affair erupted as President Reagan and Attorney General Edwin Meese revealed that profits from secret arms sales to Iran had been diverted to Nicaraguan rebels. (see Nov 26)
November 25 Peace Love Art Activism
Jack Kevorkian
November 25, 1998: Michigan charged Kevorkian with first-degree murder, violating the assisted suicide law and delivering a controlled substance without a license in the death of Thomas Youk. Prosecutors later drop the suicide charge. Kevorkian insists on defending himself during the trial and threatens to starve himself if he is sent to jail. (see JK for expanded chronology)
November 25 Peace Love Art Activism
Terrorism
John Phillip Walker Lindh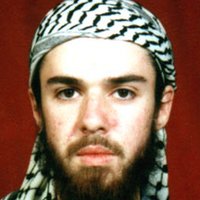 November 25, 2001: John Phillip Walker Lindh, a US citizen, was captured as an enemy combatant during the invasion of Afghanistan. (Terrorism, see Dec 11; Walker, see July 15, 2002)
Department of Homeland Security
November 25, 2002: President Bush signed legislation creating the Department of Homeland Security. (see Dec 11)
Mohammed Hamdi al-Ahdal
November 25, 2003: Yemen arrested Mohammed Hamdi al-Ahdal, a top al-Qaida member suspected of masterminding the 2000 bombing of the USS Cole and the 2002 bombing of a French oil tanker off Yemen's coast. (see April 5, 2004)
November 25 Peace Love Art Activism
LGBTQ
Arkansas' gay marriage ban
November 25, 2014: U.S. District Judge Kristine Baker struck down Arkansas' gay marriage ban, which paved the way for county clerks to resume issuing licenses. Baker ruled in favor of two same-sex couples who had challenged a 2004 constitutional amendment and earlier state law defining marriage as between a man and a woman, arguing that the ban violated the U.S. Constitution and discriminated based on sexual orientation.
Mississippi's ban on gay marriage
November 25, 2014: U.S. District Judge Carlton Reeves ruled against Mississippi's constitutional amendment banning same-sex couples from marrying.  Attorney Roberta Kaplan represented two plaintiff couples on behalf of Campaign for Southern Equality, arguing that Mississippi's marriage ban violates the U.S. Constitution. (see Dec 18)
November 25 Peace Love Art Activism
Immigration History
November 25, 2018: a peaceful march by Central American migrants waiting at the southwestern United States border veered out of control as hundreds of people tried to evade a Mexican police blockade and run toward a giant border crossing that led into San Diego.
In response, the United States Customs and Border Protection agency shut down the border crossing in both directions and fired tear gas to push back migrants from the border fence. The border was reopened later that evening. [NYT article] (see Dec 21)
November 25 Peace Love Art Activism
Environmental Issues
November 25, 2020:  the Army Corps of Engineers denied a permit for the proposed Pebble Mine in Alaska, likely dealing a death blow to a long-disputed project that aimed to extract one of the world's largest deposits of copper and gold ore, but which threatened breeding grounds for salmon in the pristine Bristol Bay region.
The fight over the mine's fate had raged for more than a decade. The plan was scuttled years ago under the Obama administration, only to find new life under President Trump. But opposition, from Alaska Native American communities, environmentalists and the fishing industry never diminished, and recently even the president's son, Donald Trump Jr., a sportsman who had fished in the region, came out against the project.
On this date, it failed to obtain a critical permit required under the federal Clean Water Act that was considered a must for it to proceed. In a statement, the Army Corps' Alaska District Commander, Col. Damon Delarosa, said the mine, proposed for a remote tundra region about 200 miles from Anchorage, would be "contrary to the public interest" because "it does not comply with Clean Water Act guidelines." [NYT article] (next EI, see Dec 8)
November 25 Peace Love Art Activism