Drummer Greg Duke Dewey
Drummer with Country Joe and the Fish at Woodstock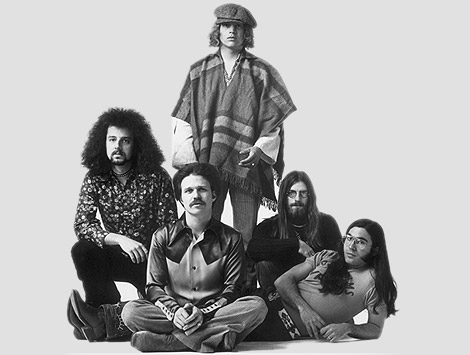 Greg Duke Dewey
I note the various performers from the Woodstock Music and Art Fair and try do that on their birthdays. Unfortunately I cannot find birthdays for many of those performers.
Greg Duke Dewey is one of them. I've decided to do that today. He was 21 when he played Woodstock, which puts his birth year as either 1947 or 48.
And just as it's difficult to find birthdays, it is sometimes difficult to find much about performers, particularly those who "simply" backed up the named performer.
Country Joe was such a name and those behind him that weekend less known. Fortunately for me (and so, you) Greg Dewey wrote a long essay about his Woodstock experience and it is from that essay that much of the following was mined.
He he and the band flew to New York from San Francisco. Who did they meet on the plane none other than Colonel Jim Sanders. Dewey asked the Colonel what he thought about hippies? Sanders responded, "They eat chicken, don't they?"
Drummer Greg Duke Dewey
Woodstock
Dewey remembers that the Woodstock crowd just kept getting bigger and bigger. At least until Sunday's afternoon downpour when time, hunger, the soaking, and Monday responsibilities sent thousand of that crowd home.
It was after that storm's delay that the Fish played.
Relating a story I'd never read, Dewey said since drums were an acoustic instrument and not subject to the issues electric instruments and water caused, he asked his equipment manager to set up his drums, but the storm nearly blew them down. He sought shelter under the stage. That worked well until  up above stage hands used axes to punch holes in the stage to drain the water. Torrents came down on Dewey.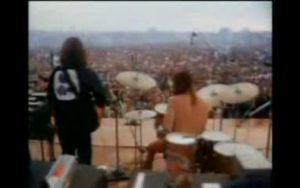 Eventually, with new sheets of plywood under them, the band went on. Dewey says he never felt more compelled to play for an audience given all they'd gone through, especially the storm. It was about 6:30 PM and the previous act, Joe Cocker, had ended his set at about 3 PM.
In Dewey's words, "…what set this concert apart from all other concerts for us musicians is this: We ALL came the first night, so we could hear each other. Normally we are all buzzing around the world at the same time so we don't have time to hear one another unless we are in a concert together, and at this one, we were ALL going to be there."
Drummer Greg Duke Dewey
Hotel stories
He also remembered the hotel in Liberty where "…there were huge games of cards…." Also "…a table with some of The Band, Airplane, Steve Miller Band, Jimi himself, Grace, Marty Balin, Garcia and the Dead, Janice, myself, Mitch Mitchell, Noel Redding, Richie Havens, Sebastian, guys from Blood Sweat and Tears, David Crosby, Sly's band, Joe Cocker's band… everyone would be down in the restaurant/bar, it was open 24 hours a day for four days. We ate a lot of food and drank a grunt-load of booze, and the party never stopped, because the concert went on around the clock."
Finally, "The big thing was for me, about this experience, is that we, the musicians had to make friends with each other, and live together as if on a ship for four days, as we all, in turn, flew out over the massive 500,000 strong audience to play for them."
Drummer Greg Duke Dewey
Greatest Hits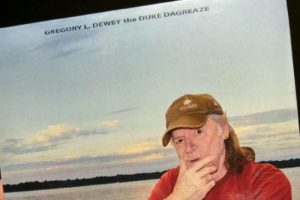 In early 2018, Dewey began a GoFundMe page for a greatest hits album. One fan wrote at the page: What a wonderful set of three CDs…was not expecting such a wealth of music. Duke you are the best! 
Drummer Greg Duke Dewey
Thanks
Greg has continued to drum with various bands to this day. Those include The Rowans, Bodacious, Janey & Dennnis, Don McLean, Mad River, Alice Stuart, Jerry Corbitt, and Grootna.
Drummer Greg Duke Dewey
50th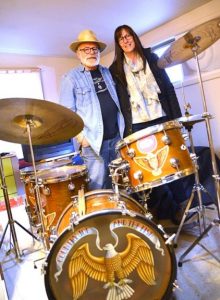 From a Yellow Springs News article:
Dewey is loaning his drums for the special exhibit, "We Are Golden — Reflections on the 50th Anniversary of the Woodstock Festival and Aspirations for a Peaceful Future" at the Bethel Woods Center for the Arts.
Robin Green of the museum, who made the 10-hour trip to retrieve the drums, explained the exhibit's purpose as to spark a conversation across the generations about peace and love.
Woodstock, remembered as nonviolent and communal, still has lessons for the present, Green believes. 
"They were trying to symbolize peace, and to protest the Vietnam War," she said. "We can all take something away from it."
"I'm still hopeful for peace and that we can all live in harmony," she added.
Thanks for the memories…and the drum set, Greg!
Drummer Greg Duke Dewey