Santana Percussionist Mike Carabello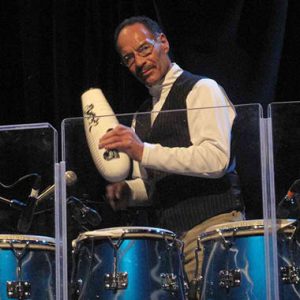 born November 18, 1947
Happy birthday
Country Joe McDonald had just finished his 9-song solo set at the Woodstock Music and Art Fair. Few remember the first 8 songs, but any Woodstock fan remembers the last: Fish Cheer > I-Feel-Like-I'm-Fixin'-To-Die Rag.
Quite an experience to shout out FUCK four times along with 400,000 other people.
Joe over, the people sitting in front of me on that famous field turned and asked if I'd ever heard of the next band that Chip Monck had just introduced? I said no.
Neither had 399,000 others, but when Santana finished "Soul Sacrifice" they knew.
Santana Percussionist Mike Carabello
Human earthquake
This white suburban middle class kid had never heard such rock and roll. Carlos Santana's guitar playing was amazing, but it was more than that. The beat pounded, but it was more than that, too. Afro-Caribbean?
Three percussionists. That was it! The whole combination of voluminous electricity with three heaving beating hearts
No wonder 400,000 people stood, cheered, shouted, stomped, called, whistled, and applauded to create a human earthquake.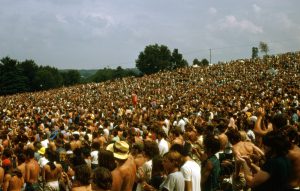 Mike Carabello was 21 at the Woodstock Music and Art Fair when he played with Santana that sunny Saturday afternoon. A bit younger than most performers, but still older than a few.
Santana Percussionist Mike Carabello
Youth
Mike Carabello grew up in San Francisco hearing lots of music in his grandparents's home. They had moved to California from Puerto Rico.
On weekends his father took him fishing to San Francisco's Municipal Pier in Aquatic Park, but more than fish, Carabello caught percussion.
"I'd see these beatniks playing bongos and congas there."
On one weekend a different group was there and they were playing Afro-Cuban drumming. Carabello found himself "fishing" there more and more.
Santana Percussionist Mike Carabello
Mike Carabello
In 1966, Carlos Santana and Gregg Rolie formed the Santana Blues Band with Tim Frazer on guitar, Gus Rodrigues on bass, Rod Harper on drums and Michael Carabello on congas. Carabello provided the third element in what became simply Santana.
Carabello brought his Puerto Rican sensibility to the band helping it create the sound that astounded so many at Woodstock.
Though Santana is the band Carabello is most associated with in its various incarnations, he has played with and for many others including Elvin Bishop, Boz Scaggs, Buddy Miles, Harvey Mandel, Neal Schon, and the Steve Miller Band.
Here is his credit list from All Music.
Santana Percussionist Mike Carabello
Santana IV
In April 2016 Santana released its twenty-third studio album: Santana IV. Santana IV because it was the fourth album released by the band consisting primarily of its original members.
"No one does it [this kind of music] better" according to Felix Contreras in an NPR review. "Drummer Michael Shrieve and conguero Michael Carabello lay a familiar rhythmic foundation that allows guitarists Carlos Santana and Neal Schon to inspire one another in solos that are as melodic as they are rhythmic."
As the Dead sang, the music never stopped.
Many happy returns Michael Carabello.
Carlos Santana describes how he met Michael Carabello and they started the original Santana group. At Mohegan Sun 2019.
Santana Percussionist Mike Carabello