Lynette Squeaky Fromme Sentenced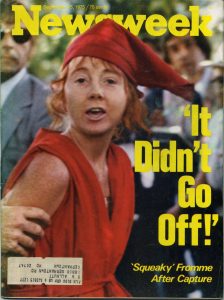 Life Sentence
On November 26, 1975, a jury found Lynette "Squeaky" Fromme guilty of attempting to assassinate President Gerald Ford on the previous September 5. The judge sentenced her to life in prison.
Fromme was a follower of then jailed (now dead) Charles Manson, cult leader of the infamous Manson Family whose members had murdered Sharon Tate (8 months pregnant) and her friends: Folgers coffee heiress Abigail Folger, Wojciech Frykowski, and Hollywood hairstylist Jay Sebring at Roman Polanski's home in Los Angeles, California on August 9, 1969 as well as killing Leno and Rosemary LaBiana, wealthy Los Angeles residents, the following day.
Lynette Squeaky Fromme Sentenced
Early life
Lynette Alice Fromme was born  in Santa Monica, California on October 22, 1948. In 1967, often an outsider whose didn't fit into the traditional academic settings her parents wanted her to succeed in, she met Charles Manson in Venice, California. She joined his "family" and traveled with them.
Lynette Squeaky Fromme Sentenced
Squeaky
Back in California, the family lived as caretakers on the Spahn Ranch. The 80-year-old George Spahn nicknamed Fromme "Squeaky" because of the sound she made when he would touch her.
Fromme was not charged with involvement in the August 1969 murders. During the trial, Fromme and other family members "camped" outside the Los Angeles County courtroom where the Manson family trial occurred.
After a jury convicted Manson, authorities moved him from prison to prison, Fromme moved from town to town to be near him.
Lynette Squeaky Fromme Sentenced
Assassination attempt
In 1972, Fromme moved to Sacramento, CA and it was there on September 5, 1975 that she aimed a loaded pistol an President Gerald Ford in Sacramento. Fromme was concerned about the cutting of redwood trees in California and felt that her actions would bring attention to that concern. The gun didn't go off, and Secret Service agents wrestled Fromme to the ground.
Lynette Squeaky Fromme Sentenced
Escape
On December 23, 1987, Fromme escaped from the Federal Prison Camp, Ain Alderson, West Virginia. She hoped to meet the still-imprisoned Manson whom she heard was ill. Authorities captured her two days later and sent her to the Federal Medical Center, Carswell in Fort Worth, Texas.
Lynette Squeaky Fromme Sentenced
Parole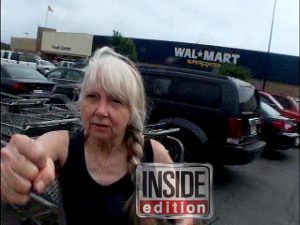 She was released on August 14, 2009 at the age of 60, after serving 34 years.
Under parole, Fromme moved to Marcy, NY to live with her boyfriend. Oneida County District Attorney Scott McNamara confirmed that, but officials would not release her exact address.
With the death of Manson, the surviving members of his cult briefly became newsworthy again.
Lynette Squeaky Fromme Sentenced
Reflexion
In August 2018, the Peasenhall Press published Reflexion. 
From the Manson Blog site: In nearly 500 pages Fromme vividly chronicles her life with Charles Manson from the time she met him in May of 1967 to the final arrest of the so-called "Manson Family" in Death Valley in October of 1969. From Venice Beach, to the redwoods around Mendocino, to San Francisco's Haight-Ashbury, to Topanga Canyon and the Spiral Staircase and Condemned Houses, to Dennis Wilson's Sunset Drive mansion, to Spahn's Movie Ranch in Chatsworth, and finally to the Myers and Barker Ranches in Goler Wash in the Mojave Desert — everything is here in Fromme's reflexion on her extensive travels and experiences with Manson and the like people around them who were "preparing to survive either a revolution, or the static institutions that were systematically trading all of our vital necessities for money."
Lynette Squeaky Fromme Sentenced