November 26 Peace Love Art Activism
Technological Milestone
Streetcars
November 26, 1832: in New York City, the first public streetcar line in the U.S. began carrying passengers. The fare was 12½¢.  (see March 18, 1834)
Cloverleaf interchange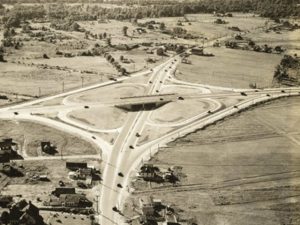 November 26, 1931: the first cloverleaf interchange to be built in the United States, at the junction of NJ Rt. 25 (now U.S. Rt. 1) and NJ Rt. 4 (now NJ Rt. 35) in Woodbridge, New Jersey, was featured on the cover of the Engineering News-Record. (see February 16, 1937)
November 26 Peace Love Art Activism
US Labor History
Newark, NJ fire kills 19
November 26, 1910: six young women burn to death and 19 more die when they leap from the fourth-story windows of a blazing factory in Newark, N.J. The floors and stairs were wooden; the only door through which the women could flee was locked. (see March 25, 1911)
Portland Teacher Strike
November 26, 2023: the union representing teachers, counselors and other school employees in Portland, Ore., reached a tentative deal with the city's public school district on Sunday, ending a strike that had kept nearly 45,000 students out of classes for more than three weeks in Oregon's largest district. [NYT article] (next LH, see )
November 26 Peace Love Art Activism
FREE SPEECH/book burning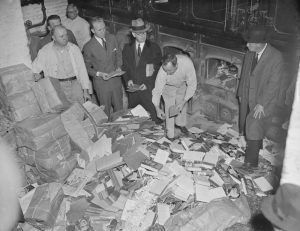 November 26, 1935: New York City on this day burned "tons" of allegedly obscene books and magazines, with an estimated retail value of $150,000. The material had been seized and burned at the instigation of the New York Society for the Suppression of Vice, the anti-obscenity organization founded by Anthony Comstock, author of the infamous Comstock Act (enacted on March 3, 1873). The burned material included 476 books, 11,450 magazines, and about 100,000 pamphlets. Not all of the burned books were confiscated because of sex-related themes. Fifteen copies of the book The Man in the Monkey Suit were seized and burned because it presented policemen in "an unfavorable light."
The burning of the books took place despite the publicity surrounding the burning of "offensive" books by the new Nazi regime in Germany over the previous year and a half. (see Dec 18)
November 26 Peace Love Art Activism
BLACK HISTORY
MARTIN LUTHER KING, JR
November 26, 1960: on NBC's nationally televised program "The Nation's Future," the Martin Luther King Jr. debated James J. Kilpatrick on the subject of sit-in demonstrations. Kilpatrick, editor of The Richmond News Leader at the time, was a prominent segregationist. The subject: "Are Sit-In Strikes Justifiable?"
Kilpatrick: "… it is an interesting experience to be here tonight and see Mr. King assert a right to obey those laws he chooses to obey and disobey those he chooses not to obey and insist the whole time that he has what he terms the highest respect for law, because he is abiding by the moral law of the universe."
King: "… I think in disobeying these laws, the students are really seeking to affirm the just law of the land and the Constitution of the United States. I would say this — that all people should obey just laws, but I would also say, with St. Augustine, than an unjust law is no law at all. And when we find an unjust law, I think we have a moral obligation to take a stand against it …" (BH, see Dec 5; MLK, see May 13, 1961)
Rodney King
November 26, 1991: Superior Court Judge Stanley Weisberg ordered the trial of the four officers charged in the Rodney King beating [Sgt. Stacey Koon and officers Laurence Michael Powell, Timothy Wind, and Theodore Briseno ] to be moved to Simi Valley. [LAT article on riots] (BH, see March 31, 1992; King, see April 29, 1992)
November 26 Peace Love Art Activism
November 26 Music et al
November 26, 1962: Beatles record their second single, "Please Please Me."
From Beatles Bible: "At the end of the session George Martin addressed the group over the studio's talkback system. "Congratulations, gentlemen," he told them, "You've just made your first number one."(see Dec 7)
November 26 Peace Love Art Activism
Vietnam
Memorandum 273
November 26, 1963: the administration of new President Lyndon B. Johnson administration issued National Security Action Memorandum 273, which officially reaffirmed the U.S. commitment to the Republic of Vietnam and pledged "to assist the people and Government of that country to win their contest against the externally directed and supported Communist conspiracy." Johnson also gave his personal sanction for a stepped-up program of "clandestine operations by the GVN (Government of Vietnam) against the North." (document) (see Dec 24)
"Alice's Restaurant"
November 26, 1965: Arlo Guthrie arrested in Great Barrington, MA for littering on Thanksgiving in the nearby town of Stockbridge. The resulting events and adventure would be immortalized in the song "Alice's Restaurant." (see Nov 27)
John Lennon, MBE
November 26, 1969: John Lennon returned his MBE to the Queen on this day, as an act of protest against the Vietnam war. His typical Lennon-esque note to the Queen read:
Your Majesty,
I am returning my Member of the British Empire as a protest against Britain's involvement in the Nigeria-Biafra thing, against our support of America in Vietnam and against 'Cold Turkey' slipping down the charts.
                With love. John Lennon of Bag
[Beatles Bible entry] (see Thanksgiving in the Vietnam War for both Guthrie and Lennon; also  for Lennon, see November 29; for Vietnam, see Dec 1)
November 26 Peace Love Art Activism
Native Americans
Plymouth Rock protest
November 26, 1970: a group of about 200 Native-Americans protested Thanksgiving with a demonstration at Plymouth Rock, Massachusetts. Representatives from 25 tribes from around the country declared it a "national day of mourning." One leader stated that the landing of the Pilgrims from England in 1620 "was the start of everything bad that has happened to the American Indian." Several members of the group attempted to "bury" the original Plymouth Rock by pouring sand over it. Another 25 boarded the replica of the Mayflower, the ship that brought the Pilgrims to America. (see June 12, 1971)
Baby Veronica
November 26, 2013: with custody of the girl Veronica awarded to Matt and Melanie Capobianco, the South Carolina couple has filed a motion to collect more than $1 million in attorneys' fees from Brown and his tribe. Court documents filed by the Cherokee Nation state it would be "inappropriate, unreasonable and unconscionable" for the adopted parents of a 4-year-old Cherokee girl to seek the legal fees.
The tribe claims federal and state law gives the tribe sovereign immunity. But that would not apply to Dusten Brown, the biological father who had custody of Veronica for two years and fought a legal battle to keep her in Oklahoma.
The Tulsa World reported that a judge in Nowata County, where the Brown family lives will likely have a hearing on the issue. (see BV for expanded chronology)
November 26 Peace Love Art Activism
Watergate Scandal
November 26, 1973: President Richard Nixon's personal secretary, Rose Mary Woods, told a federal court that she'd accidentally caused part of the 18 1/2-minute gap in a key Watergate tape. Arlo Guthrie will later claim it was Nixon listening to Arlo's "Alice's Restaurant."(see Watergate for expanded chronology)
November 26 Peace Love Art Activism
Lynette "Squeaky" Fromme
November 26, 1975, a federal jury found Lynette "Squeaky" Fromme, a follower of Charles Manson, guilty of trying to assassinate President Gerald R. Ford. (see Lynette "Squeaky" Fromme for more)
November 26 Peace Love Art Activism
Iran hostage crisis
November 26, 1978:  Muslim religious leaders and politicians seeking to topple Shah of Iran called a general strike that virtually paralyzed the country. (see Dec 2)
November 26 Peace Love Art Activism
Iran–Contra Affair
November 26, 1986: President Ronald Reagan announced that on December 1 former Senator John Tower, former Secretary of State Edmund Muskie, and former National Security Adviser Brent Scowcroft would serve as members of the Special Review Board looking into the scandal (they became known as the Tower Commission). Reagan denied involvement in the scandal. (see Dec 19)
November 26 Peace Love Art Activism
Jack Kevorkian
November 26, 1994: hours after Michigan's ban on assisted suicide expired, 72-year-old Margaret Garrish died of carbon monoxide poisoning in her home in Royal Oak. She had arthritis and osteoporosis. Kevorkian was not present when police arrived. (see JK for expanded chronology)
November 26 Peace Love Art Activism
2000 Presidential election
November 26,, 2000: Florida Secretary of State Katherine Harris certified Republican George W. Bush the winner over Democrat Al Gore in the state's presidential balloting by 537 votes. (see Dec 13)
November 26 Peace Love Art Activism
TERRORISM
November 26, 2010: federal agents arrested nineteen-year-old Somali-born Mohamed Osman Mohamud during a sting in Portland, OR. Mohamud was accused of planning to detonate van of explosives during Christmas tree lighting ceremony. [NPR story on sentencing] (see January 8, 2011)
November 26 Peace Love Art Activism
Nuclear/Chemical News & ICAN
November 26, 2011: the International Campaign to Abolish Nuclear Weapons [ICAN] welcomed am historic resolution adopted by the International Red Cross and Red Crescent movement in favor of an international agreement to prohibit nuclear weapons. (Nuclear, see January 30, 2012; ICAN, see March 5, 2012)
November 26 Peace Love Art Activism
Women's Health
November 26, 2013: the U.S. Supreme Court accepted for review two cases challenging the federal contraception rule, which required the inclusion of contraception coverage in health plans. One of the cases was brought by Hobby Lobby, an arts and crafts supply chain with over 13,000 employees. The other case was brought by Conestoga Wood Specialties, a Pennsylvania wood furniture company.  [ACLU article] (see Dec 31)
November 26 Peace Love Art Activism
Space
November 26, 2018: InSight [Interior Exploration using Seismic Investigations, Geodesy and Heat Transport] sent back acknowledgment of its safe arrival on Mars. That was the end of a journey of more than six months and 300 million miles (launched on May 5).  It set down at Elysium Planitia, near the Equator in the northern hemisphere.
As InSight descended and each milestone of the landing process was called out, "the hairs on the back of my neck would start rising a little bit higher, a little bit higher," Tom Hoffman, the project manager for the mission, said at a news conference after the landing. "And then when we finally got the confirmation of touchdown, it was completely amazing. The whole room went crazy. My inner four-year-old came out."  [NYT article] (see Dec 13)
November 26 Peace Love Art Activism