January 30 Peace Love Art Activism
BLACK HISTORY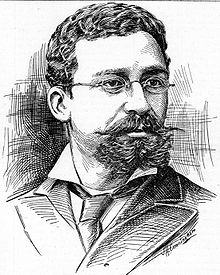 January 30, 1844: Richard Theodore Greener was born.  In 1870 he will  become the first African American to graduate from Harvard University. (see February 4, 1846)
Robert Johnson lynched
January 30, 1934: Deputy Constable Thomas Grave, assigned to move  Robert Johnson (see Jan 28), decided to do so after midnight; this was not standard procedure, and Graves later claimed he opted for a late night transfer to avoid waking up early in the morning. Around 2:30 a.m. on January 30th, Graves placed Johnson in the front seat of the police car and began driving to the county jail; on the way, Graves's vehicle was stopped by three cars full of white men who allegedly disarmed Graves and made him lie face down in the backseat of his car while they kidnapped Robert Johnson.
The mob carried Johnson off to a wooded part of town along the Hillsborough River near Sligh Avenue, where about thirty people were gathered to watch the lynching. Johnson was killed with four shots to the head and one to the body, all fired from the pistol the mob had taken from Deputy Constable Graves.
Governor David Sholtz called for an investigation of the lynching and a grand jury was convened. Though Deputy Constable Graves testified that he was beaten by the mob, the grand jury noted that he bore no bruises or other signs of injury. Nevertheless, the grand jury's investigation didn't produce any charges of conspiracy, and no one was prosecuted for Robert Johnson's murder. (next BH & Lynching, see Oct 26; for expanded chronology of lynching, see also AL4)
Martin Luther King, Jr home bombed
January 30, 1956: speaking at an afternoon meeting held after his arrest on speeding charges and following reports of MIA dissension had appeared in the press, King insisted that MIA leaders should continue the bus boycott. He told the Executive Board members of the Montgomery Improvement Association, "If we went tonight and asked the people to get back on the bus, we would be ostracized….My intimidations are a small price to pay if victory can be won."
At 9:15 p.m., while King spoke at a mass meeting, his home was bombed. His wife and daughter were not injured. Later King addressed an angry crowd that gathered outside the house, pleading for nonviolence. (see Boycott for expanded chronology; bombing, see Aug 25)
George Whitmore/Death Penalty
January 30, 1965: The New York Times published an editorial praising both Stanley J. Reiben (Whitmore's lawyer) and Frank Hogan (NY prosecutor)  for acting "in the highest tradition of the bar." The editorial said that the case "provokes fresh doubt" about the validity of the death penalty and urged its abolition. (BH, see Feb 1; see Whitmore for expanded story;  DP, see May 13)
Mississippi officially ratifies abolition of slavery
January 30, 2013: after viewing the popular film, Lincoln, Dr. Ranjan Batraafter, an associate professor of neurobiology and anatomical sciences at the University of Mississippi Medical Center, did research about how an amendment is ratified. He found that although Mississippi had ratified the 13th amendment in 1995, the state never officially notified the US Archivist. Therefore, Mississippi's the ratification was not official.
On this date Secretary of State Delbert Hosemann agreed to file the paperwork and make it official and sent the Office of the Federal Register a copy of the 1995 Senate resolution, adopted by both the Mississippi Senate and House. (Guardian article) (see Feb 7)
SOUTH AFRICA/APARTHEID
January 30, 2015:  the South African government granted parole to Eugene de Kock, a death squad leader for the apartheid state, after two decades in jail. "In the interest of nation building and reconciliation, I have decided to place Mr. de Kock on parole," said Justice Minister Michael Masutha. (next SA/A, see December 26, 2021)
BLACK & SHOT
January 30, 2015: the family of slain Bronx teen Ramarley Graham agreed to accept $3.9 million from the city to settle their wrongful death lawsuit.  (B & S, see April 2; Graham, see March 26, 2017)
January 30 Peace Love Art Activism
Vietnam
USSR & Hanoi
January 30, 1950: the Soviet Union extended diplomatic recognition to Hanoi . The Chinese and the Soviet military and economic assistance enabled North Vietnam to fight first the French and then the Americans. (see Feb 7)
General Nguyễn Khánh
January 30, 1964: General Nguyễn Khánh ousted the military junta led by General Dương Văn Minh from the leadership of South Vietnam without firing a shot. It came less than three months after Minh's junta had themselves come to power in a bloody coup against then President Ngô Đình Diệm. The coup was bloodless and took less than a few hours—after power had been seized Minh's aide and bodyguard, Major Nguyễn Văn Nhung was arrested and summarily executed.
The New York Times reported, ""The bloodless coup d'état executed by the short, partly bald general apparently took Saigon by surprise."  (V, see Feb 1; SVL, see Sept 13 – 14)
Tet Offensive
January 30, 1968: Viet Cong and NVA troops launched the Tet Offensive attacking a hundred cities and towns throughout South Vietnam. The surprise offensive was closely observed by American TV news crews in Vietnam which filmed the U.S. embassy in Saigon being attacked by 17 Viet Cong commandos, along with bloody scenes from battle areas showing American soldiers under fire, dead and wounded.
The graphic color film footage was then quickly relayed back to the states for broadcast on nightly news programs. (see Feb 1)
January 30 Peace Love Art Activism
January 30 Music et al
Billboard #1 Single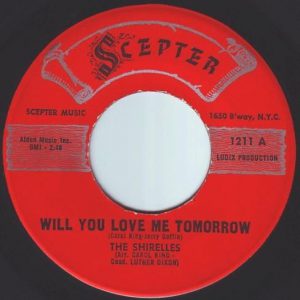 January 30 – February 12, 1961: "Will You Still Love Me Tomorrow" by the Shirelles #1 Billboard Hot 100. Carole King and Jerry Goffin's first #1 hit. Also, the first song to reach #1 by an all-girl group.
Velvet Underground
January 30, 1968: Velvet Underground released White Light/White Heat album. One of the album"s songs is "Sister Ray" – The song concerns drug use, violence, homosexuality and transvestism. Reed said of the lyrics: "'Sister Ray' was done as a joke—no, not as a joke—but it has eight characters in it and this guy gets killed and nobody does anything. It was built around this story that I wrote about this scene of total debauchery and decay. I like to think of 'Sister Ray' as a transvestite smack dealer. The situation is a bunch of drag queens taking some sailors home with them, shooting up on smack and having this orgy when the police appear."
The recording engineer is famously rumored to have walked out while recording the song. Lou Reed recalled: "The engineer said, 'I don't have to listen to this. I'll put it in Record, and then I'm leaving. When you're done, come get me.'"
The Beatles
January 30, 1969: atop the Apple building at 3 Savile Row, London, the Beatles, with Billy Preston, gave their final live performance, in what became the climax of their Let It Be film.  George Harrison later said, "We went on the roof in order to resolve the live concert idea, because it was much simpler than going anywhere else; also nobody had ever done that, so it would be interesting to see what happened when we started playing up there. It was a nice little social study.We set up a camera in the Apple reception area, behind a window so nobody could see it, and we filmed people coming in. The police and everybody came in saying, 'You can't do that! You've got to stop.'
It was a cold day, and a bitter wind was blowing on the rooftop by midday. To cope with the weather, John Lennon borrowed Yoko Ono's fur coat, and Ringo Starr wore his wife Maureen Starkey's red mac. The 42-minute show was recorded onto two eight-track machines in the basement of Apple, by George Martin, engineer Glyn Johns and tape operator Alan Parsons. (see Feb 15)
January 30 Peace Love Art Activism
Irish Troubles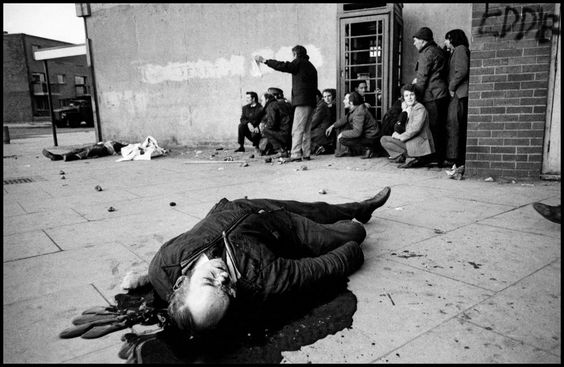 January 30, 1972:  in Derry (Londonderry) Northern Ireland, British paratroopers responded to a civil rights march by Catholics, in defiance of a ban against marches, and shot dead thirteen unarmed marchers. The day became known as "Bloody Sunday" or the "Bogside Massacre." (see IT for expanded chronology)
January 30 Peace Love Art Activism
Watergate Scandal
January 30, 1973: former Nixon aides G. Gordon Liddy and James W. McCord Jr. convicted of conspiracy, burglary and wiretapping in the Watergate incident. (see Watergate for expanded chronology)
January 30 Peace Love Art Activism
Iran hostage crisis
January 30, 1981: an estimated 2 million New Yorkers turned out for a ticker-tape parade honoring the freed American hostages from Iran. (see IHC for expanded coverage]
January 30 Peace Love Art Activism
Native Americans
January 30, 1989 American Indian Movement leader Russell C Means told Congress that there was "rampant graft and corruption" among tribal governments and in Federal programs intended to assist American Indians.
"Graft and corruption is rampant through the contracting auspices of the B.I.A. and its surrogate tribal governments," Means said. "Indian-front contractors bid for and receive Government contracts only to proceed to build shoddy, dangerous bridges, buildings, schools, roads and dams."  (see Nov 28)
January 30 Peace Love Art Activism
Cannabis
January 30, 1997: The New England Journal of Medicine published an editorial written by Jerome P. Kassirer, MD, titled "Federal Foolishness and Marijuana." The article stated: "Federal authorities should rescind their prohibition of the medicinal use of marijuana for seriously ill patients and allow physicians to decide which patients to treat. The government should change marijuana's status from that of a Schedule 1 drug (considered to be potentially addictive and with no current medical use) to that of a Schedule 2 drug (potentially addictive but with some accepted medical use) and regulate it accordingly." (see October 29, 1998 or see CCC for expanded chronology)
January 30 Peace Love Art Activism
TERRORISM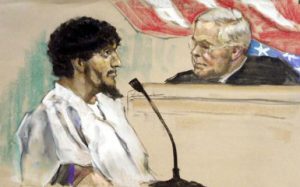 January 30, 2003: "Shoe Bomber," Richard Reid, sentenced to life in prison with no possibility of parole with three life sentences to be served consecutively. (see Mar 1)
January 30 Peace Love Art Activism
Japanese Internment
January 30, 2011: the first Fred Korematsu Day was celebrated (see Korematsu vs United States) to commemorate Korematsu, who was evacuated and interned during World War II along with about 120,000 other Japanese-Americans following the attack on Pearl Harbor. California established the day in September 2010. (see JI for expanded chronology)
January 30 Peace Love Art Activism
US Labor History
2011 Union membership
January 30, 2012: the Department of Labor released a report stating that the union membership rate–the percent of wage and salary workers who were members of a union–was 11.8 percent essentially unchanged from 11.9 percent in 2010.
The number of wage and salary workers belonging to unions, at 14.8 million, also showed little movement over the year.
In 1983, the first year for which comparable union data are available, the union membership rate was 20.1 percent and there were 17.7 million union workers. (see Apr 30)
January 30 Peace Love Art Activism
Nuclear News
 Byron nuclear power plant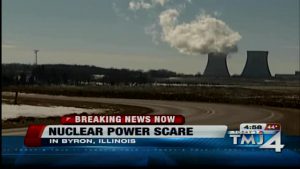 January 30, 2012: in Illinois, the Byron nuclear power plant accidentally released radioactive steam. (see Mar 5)
Hawaii false alarm
January 30, 2018: officials said that the Hawaii emergency management services worker who sent a false alert warning of an incoming ballistic missile on January 13 had a long history of poor performance and sent the warning Officials said that the worker thought the state faced an actual threat.
The continuing commission investigation had revealed a series of missteps that led to the false alert, including major gaps in Hawaii's protocol for handling public safety alerts.
The state reported that the employee had been fired. [NYT article] (see Mar 1)
North Korea/Iran
January 30, 2019: Daniel R. Coats, the director of national intelligence concluded that North Korea was "unlikely to give up" all of its nuclear stockpiles, and that Iran was not "…undertaking the key nuclear weapons-development activity" needed to make a bomb. Both evaluations directly contradicted two top tenets of President Trump's foreign policy. [NYT article]
Weapons grade plutonium
January 30, 2019: the U.S. Department of Energy disclosed that it already had shipped one-half metric ton of weapons-grade plutonium from South Carolina to the Nevada National Security Site. The Justice Department notified a federal judge in Reno the government had already trucked the radioactive material to the site 70 miles north of Las Vegas when Nevada filed a request for an injunction to block the move in November. Department lawyers said in a nine-page filing that the previously classified information about the shipment from South Carolina can be disclosed now because enough time has passed to protect national security. They didn't specify when the transfer occurred (next N/C N, see Feb 1; next Iran,  see July 1)
January 30, 2022: North Korea fired what was presumed to be its longest range ballistic missile since 2017, an escalation of its weapons program and a possible sign of larger tests to come, according to South Korea's President.
Both the South Korean and Japanese governments reported the launch of an Intermediate Range Ballistic Missile (IRBM), with officials in Tokyo saying the missile reached a height of 2,000 kilometers (1,243 miles) with a range of 800 kilometers (497 miles), before falling into waters off the east coast of the Korean Peninsula.
"If the missile were fired at a normal apogee, its range would be up to 3,500 kilometers to 5,500 kilometers, making it an Intermediate Range Ballistic Missile and North Korea's longest test since 2017," Joseph Dempsey, research associate for defense and military analysis at the International Institute for Strategic Studies in London, told CNN. (next N/C N, see July 6, 2023)
January 30 Peace Love Art Activism
Stop and Frisk Policy
January 30, 2013: New York City Mayor Bill de Blasio announced  the city had reached an agreement with civil rights lawyers who had challenged the Police Department's stop-and-frisk practices, which would allow the sweeping reforms ordered by federal judge Shira A. Scheindlin last summer to be carried out. Those reforms, which included the appointment of a federal monitor, were blocked last fall after the Bloomberg administration appealed the judge's rulings, which found that the city's stop-and-frisk policies were unconstitutional and that the department had resorted to "a policy of indirect racial profiling." (see June 18)
January 30 Peace Love Art Activism
LGBTQ
Maine Supreme Court
January 30, 2014: in a 5-1 decision the Maine Supreme Judicial Court guaranteed the right of a transgender child to use the school bathroom designated for the gender with which he or she identifies. It is the first time any court in the nation has ruled it is unlawful to force a transgender child to use the school bathroom designated for the sex he or she was born with rather than the one with which the child identifies, according to the Gay & Lesbian Advocates & Defenders of Boston, which represented the girl and her family.
The court's carefully worded majority opinion focused on students' educational needs as well as anti-discrimination laws. "Our opinion must not be read to require schools to permit students casual access to any bathroom of their choice," Justice Warren Silver wrote for the majority. "Decisions about how to address students' legitimate gender identity issues are not to be taken lightly. Where, as here, it has been clearly established that a student's psychological well-being and educational success depend upon being permitted to use the communal bathroom consistent with her gender identity, denying access to the appropriate bathroom constitutes sexual orientation discrimination in violation of the MHRC." (see Jan 31)
BSA
January 30, 2017: the Boy Scouts of America communications director Effie Delimarko announced that the Scouts would allow transgender children who identify as boys to join its troops. Previously the group had used the gender assigned on one's birth certificate to determine a member's eligibility. However, the group felt "that approach is no longer sufficient as communities and state laws are interpreting gender identity differently." (LGBTQ, see Feb 22; BSA, see May 11)
January 30 Peace Love Art Activism
Immigration History
January 30, 2017: the acting Attorney General Sally Yates told Justice Department lawyers not to make legal arguments defending President Donald Trump's executive order on immigration and refugees. Yates, an Obama appointee who was serving until Trump attorney general nominee Jeff Sessions was confirmed, did not believe the substance of the order was lawful.
Within four hours, President Trump fired Yates, saying she had betrayed the administration. Trump replaced Yates with Dana J. Boente, the US attorney for the Eastern District of Virginia, saying that Boente would serve as attorney general until Congress acted to confirm Senator Jeff Sessions of Alabama. In his first act in his new role, Mr. Boente recinded Yates's order. (NYT article) (see Feb 3)
January 30 Peace Love Art Activism
Trump Impeachment
January 30, 2020:  the NYT reported that Senator Lamar Alexander, Republican of Tennessee, said that although he believed that Democrats had proved their case that President Trump acted "inappropriately" in his dealings with Ukraine, he did not think the president's actions were impeachable and would vote against considering new evidence in the impeachment trial.
Alexander's statement was a strong indication that Republicans had lined up the votes to block a call for more witnesses and documents and press toward a quick acquittal. His opposition was a significant victory for the White House and Republican leaders.
"The question then is not whether the president did it, but whether the United States Senate or the American people should decide what to do about what he did," Alexander said. (next Trump Impeachment, see Jan 31 or see TI for expanded chronology)
January 30 Peace Love Art Activism