Bobby Blue Bland 
"Two Steps From The Blues"
Remembering and appreciating Bobby Blue Bland
January 27, 1930 — June 23, 2013
Early life
Robert Calvin Brooks was born in Barretville, Tennessee. His stepfather, Leroy Bridgeforth was also called Leroy Bland and that became Bobby's last name.
In his late teens, Bland started singing with gospel groups in Memphis where he lived with his mother. Memphis is, of course, the home of Beale Street and Bland gravitated there and found other young struggling musicians such as B.B. King, Rosco Gordon, Junior Parker, and Johnny Ace.
His early attempts at recording were not only unsuccessful, but interrupted by a stint in the Army.  He returned to Memphis and signed a contract with Duke Records. Unfortunately, the contract gave Bland a half cent per record sold, not the usual two cents. Bland signed such a contract because he had quit school and could not read.
Bobby Blue Bland 
Success "Farther On Up the Road"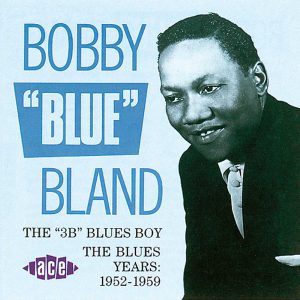 Bland slowly gained experience and in 1957 had an R & B #1 hit with "Farther  Up the Road" which also reached #43 on the (mainly white) Billboard Hot 100.
It should sound familiar to many of you!
Bobby Blue Bland 
Two Steps from the Blues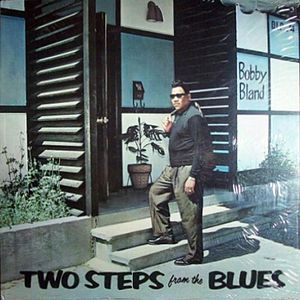 It was on January 1, 1961 that Duke Records released Bland Two Steps from the Blues album, which like most albums of the time was mainly a collection of previously released singles. But what a collection it is!
AllMusic's Stephen Thomas Erlewine says that "Two Steps from the Blues is the definitive Bobby "Blue" Bland album and one of the great records in electric blues and soul-blues. In fact, it's one of the key albums in modern blues, marking a turning point when juke joint blues were seamlessly blended with gospel and Southern soul, creating a distinctly Southern sound where all of these styles blended so thoroughly it was impossible to tell where one began and one ended."
Tracks:
Side One

"Two Steps from the Blues" (Don D. Robey, John Riley Brown) 

"Cry Cry Cry" (Don D. Robey) 

"I'm Not Ashamed" (Don Robey, Joseph Scott)

"Don't Cry No More" (Don Robey)

"Lead Me On" (Don D. Robey)

"I Pity the Fool" (Deadric Malone)

Side Two

"I've Just Got to Forget You" (Don D. Robey)

"Little Boy Blue" (Charles Harper)

"St. James Infirmary" (folk song; credited to Joe Primrose) 

"I'll Take Care of You"

"I Don't Want No Woman" (Don Robey)

"I've Been Wrong So Long" (Don D. Robey, Ray Agee)
Bobby Blue Bland 
One of the Greatest
Bland's greatest financial success was during the early 60s, but he continued to perform the rest of his long life despite substance and health challenges.
He was inducted into the Blues Hall of Fame in 1981, the Rock and Roll Hall of Fame in 1992,  the Grammy Lifetime Achievement Award in 1997, and the Memphis Music Hall of Fame in 2012…
Bobby Blue Bland