John Lennon Instant Karma
J

anuary 27, 1970
While only a few might say that Instant Karma is John Lennon's greatest song, many would agree that it's one of his best solo works.
No matter where one ranks it (if one needs to do that to begin with) most songs do not happen in one day, but with Instant Karma, one day it was. The way John describes it: "I wrote it for breakfast, recorded it for lunch and we're putting it out for dinner."
Only the dinner reference is hyperbole. It took ten days to release!
John Lennon Instant Karma
Third single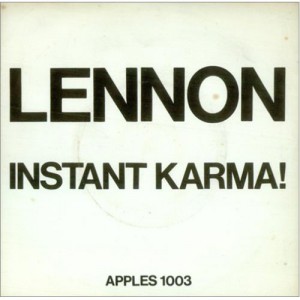 Instant Karma was the third Lennon single to appear before the official Beatles breakup.
John Lennon Instant Karma
Melinde Kendall
According to the Beatles Bible site, "Its title came from Melinde Kendall, the wife of Yoko Ono's former husband Tony Cox. She had used the phrase in conversation during Lennon and Ono's stay with them in Denmark during December 1969 and the following month."
John Lennon Instant Karma
Inspiration
According to Lennon himself, "It just came to me. Everybody was going on about karma, especially in the Sixties. But it occurred to me that karma is instant as well as it influences your past life or your future life. There really is a reaction to what you do now. That's what people ought to be concerned about. Also, I'm fascinated by commercials and promotion as an art form. I enjoy them. So the idea of instant karma was like the idea of instant coffee: presenting something in a new form. I just liked it." [from David Sheff's All We Are Saying]
Phil Spector
It was January 27, 1970. Phil Spector was visiting George Harrison in London and John called George about the project. George suggested Phil produce. They booked time at the studio that evening.  There were just four people: John on piano, George on acoustic guitar, Klaus Voormann on bass, and Alan White on drums. Very late that night, Billy Preston and some friends helped add vocal backgrounds.
Instant Karma!
The flip side was Yoko Ono's Who Has Seen the Wind.
John Lennon Instant Karma