February 5 Peace Love Art Activism
Immigration History
Immigration Act of 1917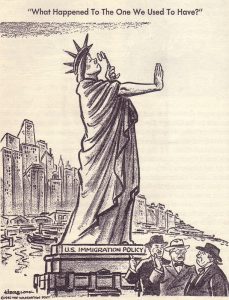 February 5, 1917: Congress passed the Immigration Act of 1917, also known as the Asiatic Barred Zone Act, over President Woodrow Wilson's veto. Intended to prevent "undesirables" from immigrating to the United States, the act primarily targeted individuals migrating from Asia. The Act barred people from "any country not owned by the U.S. adjacent to the continent of Asia"  from immigrating to the United States. The bill also utilized an English literacy test and an increased tax of eight dollars per person for immigrants aged sixteen years and older.
The new bill was not meant to impact immigrants from Northern and Western Europe but targeted Asian, Mexican, and Mediterranean immigrants in an attempt to curb their migration. One author of the bill, Alabama Congressman John Burnett, estimated it would exclude approximately forty percent of Mediterranean immigrants, ninety percent of those from Mexico, and all Indian and non-Caucasian immigrants.
The bill also restricted the immigration of people with mental and physical handicaps, the poor, and people with criminal records or suspected of being involved in prostitution. Proponents claimed the bill would keep burdensome immigrants from entering the country and thus "promote the moral and material prosperity" of new immigrants permitted to enter.
The bill remained law for thirty-five years, until the Immigration and Naturalization Act of 1952 eliminated racial restrictions in immigration and naturalization statutes. (Smithsonian article) (see Mar 2)
Trump ban denied
February 5, 2017: a federal appeals court rejected a request by the Justice Department to immediately restore President Trump's targeted travel ban, deepening a legal showdown over his authority to tighten the nation's borders in the name of protecting Americans from terrorism.
In the legal back and forth over the travel ban, the United States District Court of Appeals for the Ninth Circuit in San Francisco said a reply from the Trump administration was due the next day. (see Feb 6)
Trump's Wall
February 5, 2019: Gov. Michelle Lujan Grisham of New Mexico ordered the withdrawal of the majority of the state's National Guard troops from the U.S. border with Mexico, in a move that challenges President Trump's description of a security crisis.
Grisham announced the partial withdrawal shortly before Trump's State of the Union address. Her Republican predecessor deployed National Guard troops to the border in April 2018 at Trump's suggestion, and 118 remained there before Tuesday's reversal.
"New Mexico will not take part in the president's charade of border fear-mongering by misusing our diligent National Guard troops," Lujan Grisham said in a statement.
At the same time, the governor said a small contingent — around a dozen guardsmen — will remain in the southwestern corner of the state to assist with humanitarian needs in a remote corridor for cross-border immigration. She also mobilized state police to assist local law enforcement. (IH & TW, see Feb 11 or see TW for expanded post on wall)
Global Entry

February 5, 2020: the NYT reported that the Department of Homeland Security had temporarily barred New Yorkers from enrolling in Global Entry and similar programs that allowed travelers to speed through borders and airport lines, escalating a conflict between the Trump administration and the state over a law that allows undocumented immigrants to obtain driver's licenses.
Chad Wolf, the acting secretary of homeland security, said in a letter to the New York State government that residents would no longer be able to apply for such programs because of the so-called Green Light Law. That measure prevents agencies like Immigration and Customs Enforcement, which arrests and deports undocumented immigrants, as well as Customs and Border Protection from gaining access to the state's Department of Motor Vehicles databases without a court order. (next IH, see Feb 7)
February 5 Peace Love Art Activism
SEPARATION OF CHURCH AND STATE
February 5, 1953: President Dwight Eisenhower spoke at the first National Prayer Breakfast, held in Washington, D.C. The breakfast became an annual event and every president since has spoken at it.
The Fellowship Foundation, a conservative Christian group organized the breakfast, but it is "hosted" by members of the Congress, making it potentially a government-sponsored religious activity in violation of the Establishment Clause (it depends on whether it is officially sponsored by some members or Congress as a body).      The secretive Fellowship is also referred to as "The Family." The Prayer Breakfast was part of a national effort to promote religion, which included adding the words "under God" to the Pledge of Allegiance (see Pledge for expanded chronology)
For its first fifteen years, the breakfast was sex-segregated, with separate events in different rooms for men and women. President Richard Nixon was the first to preside over a gender-integrated breakfast. (next Separation, see June 28, 1957)
February 5 Peace Love Art Activism
February 5 Music et al
Roots of Rock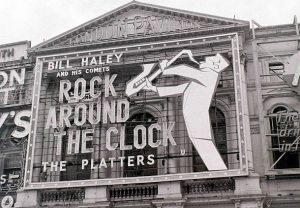 February 5, 1957: Bill Haley and the Comets disembarked from the Queen Elizabeth at Southampton to launch the first European tour ever by a major American rock-and-roll act. When Haley and his band reached London's Waterloo Station later that same day, mayhem ensued. Thousands of fans formed a crush at the station to greet the group in a raucous display the press dubbed "the Second Battle of Waterloo."
For the generation of war babies just becoming teenagers in Great Britain, Haley's tour offered the first chance to see a real, live rock-and-roll show. Those shows made a particularly strong impression on certain members of that generation who would go on to change the course of music history. (see Feb 22)
Acid Test
February 5, 1966: Acid Test in Los Angeles at the Sepulveda Unitarian Universalist Society Church, called "The Onion" because of its architecture.  
Minister Paul Swayer had met Pranksters' leader Ken Kesey at the annual California Unitarian Church conference at Asilomar State Beach. According to Sawyer's memoir, Prankster Ken Babbs called to ask if they could put on an Acid Test, and Sawyer said they could as long as they didn't give out acid to the audience. (see Feb 11)
Petula Clark
February 5 – 18, 1966: "My Love" by Petula Clark #1 on the Billboard Hot 100.
Cultural Milestone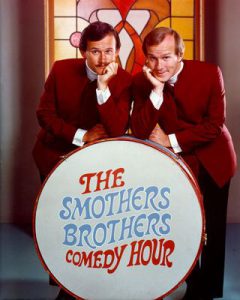 February 5, 1967: the first episode of The Smothers Brothers Comedy Hour aired on CBS. The show pushed the boundaries of what was typically acceptable on television at that time. (see July)
February 5 Peace Love Art Activism
Nuclear/Chemical Weapons News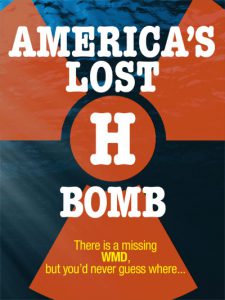 February 5, 1958: a 7,600-pound Mark 15 hydrogen bomb was lost in the waters off Tybee Island near Savannah, GA, by the US Air Force. The Air Force had been running practice exercises at about 2 AM that morning when the B-47 bomber carrying the bomb collided in midair with an F-86 fighter plane. The F-86 pilot ejected before the collision but the B-47 remained airborne. Struggling, the pilot requested permission to jettison the bomb to reduce weight and prevent the bomb from exploding during an emergency landing.
Permission was granted and the bomb was jettisoned at 7,200 feet while the bomber was traveling about 200 knots. When the bomb struck the sea, no explosion was seen. The B-47 safely landed at the nearby Hunter Air Force Base.
The bomb was never found although it was thought to have been found in 2004 (ABC News article). (see Feb 6)
February 5 Peace Love Art Activism
BLACK HISTORY
Byron De La Beckwith
February 5, 1964: Byron De La Beckwith took the witness stand in his defense and said he did not kill Medgar W. Evers. (see Feb 7)
Exactly 30 years later on February 5, 1994 (after his third trial) after six hours of deliberation a jury of eight blacks and four whites unanimously convicted Byron de la Beckwith of murder and immediately sentenced to life in prison.  (BH, see Apr 18; ME, see December 22, 1997)
Howard Beach
On December 20, 1986 white teens in Howard Beach had chased Michael Griffith, an African-American youth, onto a freeway where he was hit by a motorist. Griffith died from his injuries setting off a wave of protests and racial tensions in New York.
On February 5, 1988 Scott Kern received a sentence of six to eighteen years imprisonment for the death of Griffith. (see Feb 11)
Stop and Frisk Policy
February 5, 2007: angered by stop-and-frisk statistics, Rev. Al Sharpton says he'll initiate a suit against the NYPD. (see July 28)
Trayvon Martin Shooting
February 5, 2013: Judge Debra Nelson denied a motion by George Zimmerman's lawyer Mark O'Mara to delay the trial date of June 10. O'Mara argued that the prosecution has been slow to turn over evidence and that he did not have enough time to prepare his case. Zimmerman remained free on $1 million bond — with GPS monitoring– while awaiting trial. (Stand, see  May 24; Trayvon, see April 5)
Laquan McDonald
February 5, 2019:  it was reported that fellow inmates assaulted Jason Van Dyke soon after his being transferred to a prison in Danbury, Connecticut earlier this month. Jennifer Blagg, his attorney, said that Van Dyke suffered facial injuries.
Van Dyke was moved the Federal Correctional Institution in Otisville, about 75 miles northwest of New York City in March.  (B & S, see Mar 2; LM, see Mar 19)
February 5 Peace Love Art Activism
Vietnam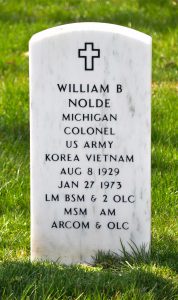 February 5, 1973: services were held at Arlington National Cemetery for U.S. Army Col. William B. Nolde, the last official American combat casualty before the Vietnam cease-fire took effect. (LA Times article) (see Feb 11)
February 5 Peace Love Art Activism
Sara Jane Moore
February 5, 1979, Sara Jane Moore, (convicted of trying to assassinate President Ford in 1975) escaped from a minimum-security Federal prison but was recaptured about four hours later.  (see December 31, 2007)
February 5 Peace Love Art Activism
Jack Kevorkian
February 5, 1991: a Michigan court barred Kevorkian from assisting in suicides. (see Kevorkian for expanded story)
February 5 Peace Love Art Activism
US Labor History
February 5, 1993: President Bill Clinton signed the Family and Medical Leave Act. The law required most employers of 50 or more workers to grant up to 12 weeks of unpaid leave for a family or medical emergency. (see Apr 28)
February 5 Peace Love Art Activism
CLINTON IMPEACHMENT
February 5, 1998: Ken Starr said his inquiry was "moving very quickly and we've made very significant progress."  (see Clinton for expanded story)
February 5 Peace Love Art Activism
IRAQ War II
February 5, 2003: Secretary of State Colin Powell addressed the UN Security Council on Iraq and weapons of mass destruction. (see Feb 10)
February 5 Peace Love Art Activism
Consumer Protection
February 5, 2014: CVS/Caremark, the country's largest drugstore chain, announced that it planned to stop selling cigarettes and other tobacco products by October. (see June 16, 2015)
February 5 Peace Love Art Activism
Sexual Abuse of Children
United Nations report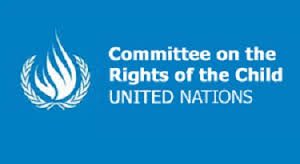 February 5, 2014: the UN Committee on the Rights of the Child denounced the Holy See for adopting policies which allowed priests to sexually abuse thousands of children. In a report, it criticized Vatican attitudes towards homosexuality, contraception and abortion.
The Committee said that "the Holy See has not acknowledged the extent of the crimes committed, has not taken the necessary measures to address cases of child sexual abuse and to protect children, and has adopted policies and practices which have led to the continuation of the abuse by and the impunity of the perpetrators."
The committee also said the "practice of offenders' mobility", referring to the transfer of child abusers from parish to parish within countries, and sometimes abroad, placed "children in many countries at high risk of sexual abuse, as dozens of child sexual offenders are reported to be still in contact with children".
The Vatican responded by saying it would examine the report – but also accused its authors of interference.  (LGBTQ, see Feb 9; BC, see Feb 21; Abuse, see Feb 18)
Larry Nassar
February 5, 2018: adding to long prison terms Larry Nassar already faced for additional sex crimes, Judge Janice Cunningham sentenced the former USA Gymnastics and Michigan State University team doctor to another 40 to 125 years in prison for sexually abusing young athletes under the guise of medical treatment.
"I am not convinced that you truly understand that what you did was wrong and the devastating impact that you have had on the victims, their families and friends," Cunningham told Nassar in court before handing down the punishment. "Clearly you are in denial. You don't get it. And I do not believe that there is a likelihood that you could be reformed." (SAC & Nassar, see May 16)
February 5 Peace Love Art Activism
Voting Rights
February 5, 2018: the US Supreme Court refused to stay the Pennsylvania Supreme Court's order requiring lawmakers to redraw the state's congressional map, which the state court had found to be marred by partisan gerrymandering. (VR, see Feb 6; PA, see Mar 19)
February 5 Peace Love Art Activism
Trump Impeachment
February 5,2020: the NYT reported that, after five months of hearings, investigations and cascading revelations about President Trump's dealings with Ukraine, a divided United States Senate acquitted him of charges that he abused his power and obstructed Congress to aid his own re-election, bringing an acrimonious impeachment trial to its expected end.
In a pair of votes whose outcome was never in doubt, the Senate fell well short of the two-thirds margin that would have been needed to remove Mr. Trump, formally concluding the three-week-long trial of the 45th president that has roiled Washington and threatened the presidency. The verdicts came down almost entirely upon party lines, with every Democrat voting "guilty" on both charges and Republicans uniformly voting "not guilty" on the obstruction of Congress charge.
Only one Republican, Senator Mitt Romney of Utah, broke with his party to judge Mr. Trump guilty of abuse of power. (next TI, see Feb 7 or see Trump for expanded chronology)
February 5 Peace Love Art Activism
LGBTQ
February 5, 2020: the federal government agreed to allow federally funded foster care agencies in South Carolina to deny services to same-sex or non-Christian couples.
The waiver issued by the U.S. Department of Health and Human Services would allow Greenville's Miracle Hill Ministries to continue as a state-supported foster care agency.
As part of the waiver's requirements, any family that Miracle Hill does not allow to take care of foster children must be referred to other agencies or the state Department of Social Services.
Gay rights groups and non-Christian religious groups opposed the waiver, saying it would cut down on the number of people willing to be foster parents and allows public money to take away rights. [NBC New story] (next LGBTQ, see June 12)
February 5 Peace Love Art Activism