February 10 Music et al
Breakfast at Tiffany's
February 10 – April 6, 1962: soundtrack from Breakfast at Tiffany's was the Billboard #1 stereo album.
The Beatles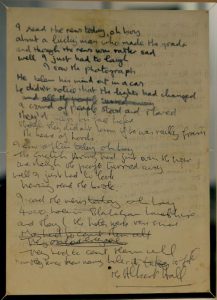 February 10, 1967: the Beatles recorded the orchestral overdubs for "A Day In The Life."
From the Beatles Bible site: John Lennon had suggested the use of a symphony orchestra to fill the song's instrumental passages, but was unable to put his ideas into adequate words. Paul McCartney suggested asking the players to build from their instruments' lowest possible notes to the highest, and George Martin was given the task of turning the vision into reality.
Forty orchestral musicians were hired for the session.
The session was recorded onto a separate reel of tape running in parallel with The Beatles' previously-recorded instruments and vocals. This required EMI's staff to create a technical solution to allow two four-track machines to run together. (see March 18 – 24)
February 10 Music et al
John Lennon
February 10, 1986: though recorded on August 30, 1972, this date marks the release of Live in New York City, Lennon's last full-length concert performance. It came right after the release of Some Time in New York City.
Backing Lennon and Ono were Elephant's Memory, who had served as Lennon and Ono's backing band on Some Time in New York City. Although the material Lennon performed was largely drawn from his three most recent albums of the period (John Lennon/Plastic Ono Band, Imagine and Some Time in New York City), he also included in the setlist his Beatles hit "Come Together" and paid tribute to Elvis Presley with "Hound Dog" before leading the audience in a singalong of "Give Peace a Chance". (see January 20, 1988)
Love Is Blue
February 10 – March 15, 1968: "Love Is Blue" by Paul Mauriat #1 on the Billboard Hot 100. The first instrumental to hit number 1 on the Billboard charts since the Tornados hit with "Telstar" in 1962 and the only American number-one single to be recorded in France.
February 10 Music et al
Road to Woodstock
February 10, 1969: Michael Lang and Artie Kornfeld met with John Roberts and Joel Rosenman the second time. The idea of a concert to promote the proposed recording studio was discussed.  (see Road for expanded story)
February 10 Music et al