November 22 Peace Love Art Activism
BLACK HISTORY
Redefining slavery
November 22, 1865: after the physical and economic devastation of the Civil War, Southern states faced the daunting task of rebuilding with the young white male population drastically reduced by war-time casualties and, due to emancipation, without the enslaved black labor supply on which the entire region had been built. In response, some Southern state legislatures passed race-specific laws to establish new forms of labor relations between black workers and white "employers" that ostensibly complied with the letter of the law while re-creating the involuntary, master-slave relationship.
The Mississippi legislature on November 22, 1865, passed "An Act to regulate the relation of master and apprentice, as relates to freedmen, free negroes, and mulattoes."  [text] Under the law, sheriffs, justices of the peace, and other county civil officers were authorized and required to identify all minor black children in their jurisdictions who were orphans or whose parents could not properly care for them. Once identified, the local probate court was required to "apprentice" black children to white "masters or mistresses" until age 18 for girls and age 21 for boys.
Though not required to pay a wage to the children, whites were required to pay a fee to the county for the apprentice arrangement and the children's former owners were to be given preference. The law purportedly required white "masters" to provide their apprentices with education, medical care, food, and clothing but also re-established many of the more notorious features of slavery, including authorizing white masters to "re-capture" any apprentice who left their employment without consent, and threatened children with criminal punishment for refusing to return to work. (see Nov 24)
Nation of Islam
November 22, 1930: Elijah Muhammad founded the Nation of Islam in Detroit. (next BH, see January 12, 1931)
Eleanor Roosevelt
November 22, 1938: first Lady Eleanor Roosevelt violated racial segregation laws in Birmingham, Alabama, by integrating the meeting of the Southern Conference for Human Welfare. At the first day of the conference, white and African-American delegates mixed freely. Someone reported this to local authorities. City Commissioner Eugene Connor ordered the conference to be segregated the following day. Eleanor refused to comply and placed her chair squarely between the separated white and African-American sections. Connor became infamous as "Bull" Connor in the 1963 civil rights demonstrations in Birmingham, when he used fire hoses and police dogs against civil rights demonstrators. (see Dec 12)
Albany Movement
November 22, 1961: when Albany (GA) State College students went to the bus terminal to return home for the Thanksgiving holiday, an Albany State dean — whose job depended on the all-white Georgia Board of Regents — was stationed there to direct them to the "Colored" waiting room. Five young people — 3 from the NAACP Youth Council and 2 from Albany State — defied the dean and the orders of Police Chief Pritchett to leave the white waiting room. They were arrested. Bertha Gober, one of the Albany State students, chose to remain in jail over the holidays to dramatize their demand for justice. (see Albany Movement for expanded chronology)
Star Trek kiss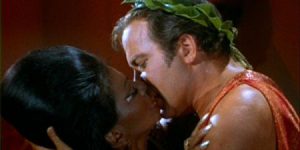 November 22, 1968: in a Star Trek episode a kiss between William Shatner and Nichelle Nichols is believed to have been the first interracial kiss ever broadcast on national television. It occurred on an episode entitled "Plato's Stepchildren," Season 3, Episode 10.  (see January 3, 1969)
Black and Shot: Tamir Rice

November 22, 2014: responding to reports of someone with a gun, Cleveland police officer Timothy Loehmann shot and killed 12-year-old Tamir Rice.
The weapon Rice had in his hand was a pellet gun. Rice died a day later in the hospital. Video footage released by police showed that Loehmann  shot Rice within two seconds of exiting his car. [some chronology]  (B & S, see Dec 2; Rice, see June 11, 2015)
Groveland Four Exonerated
November 22, 2021:  Administrative Judge Heidi Davis officially exonerated Ernest Thomas,  Samuel Shepherd, Charles Greenlee, and Walter Irvin, four young African American men of the false accusation that they raped a white woman in 1949, making partial and belated amends for one of the greatest miscarriages of justice of Florida's Jim Crow era.
At the request of the local prosecutor, Davis dismissed the indictments Thomas and Shepherd, who were fatally shot by law enforcement, and set aside the convictions and sentences of Greenlee and Irvin. The men known as the Groveland Four, who ranged from 16 to 26 at the time, were accused of raping a woman in the central Florida town of Groveland in 1949.
"We followed the evidence to see where it led us and it led us to this moment," said Bill Gladson, the local state attorney, following the hearing in the same Lake County courthouse where the original trials were held. Gladson, a Republican, moved last month to have the men officially exonerated. [NPR story] (next BH, see Dec 6; next Lynching, see  March 7, 2022, or see AL4 for expanded chronology)
November 22 Peace Love Art Activism
Feminism
"The Uprising of the 20,000″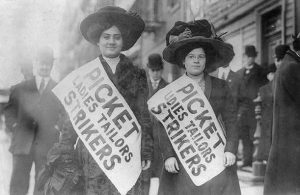 November 22, 1909:  "The Uprising of the 20,000." Some 20,000 female garment workers strike in New York; Judge tells arrested pickets: "You are on strike against God." The walkout, believed to be the first major successful strike by female workers in American history, ended the following February with union contracts bringing better pay and working conditions. [JWA article] (next Feminism, see January 2, 1910; Labor March 9, 1910)
Rosenfeld v. Southern Pacific Company
November 22, 1968: the federal court ruled that women cannot be prohibited from working overtime or participating in labor that requires lifting excessive weight. The decision reinforces the U.S. Equal Employment Opportunity Commission's 1968 issuance of revised guidelines on sex discrimination, which include that  sex-segregated "help-wanted" ads are illegal. (see Dec 1)
Reed v. Reed
November 22, 1971: The Supreme Court decided Reed v. Reed, an Equal Protection case. The Court ruled that the administrators of estates cannot be named in a way that discriminates between sexes.
After the death of their adopted son Richard Lynn Reed, Sally and Cecil Reed sought to be named the administrator of their son's estate; the Reeds were separated. The Idaho Probate Court specified that "males must be preferred to females" in appointing administrators of estates, so Cecil was appointed administrator.
In a unanimous decision, the Supreme Court held that the law's dissimilar treatment of men and women was unconstitutional.
From Chief Justice Burger's opinion; To give a mandatory preference to members of either sex over members of the other, merely to accomplish the elimination of hearings on the merits, is to make the very kind of arbitrary legislative choice forbidden by the Equal Protection Clause of the Fourteenth Amendment; and whatever may be said as to the positive values of avoiding intrafamily controversy, the choice in this context may not lawfully be mandated solely on the basis of sex. (see Dec 15)
November 22 Peace Love Art Activism
INDEPENDENCE DAY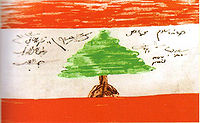 November 22, 1943: Lebanon independent from France. (see June 17, 1944)
November 22 Peace Love Art Activism
Religion and Public Education
November 22, 1947: the American Ethical Union announced that it had asked the United States Supreme Court for permission to join in a brief submitted to test the constitutional validity of a system under which sectarian religious instruction is conducted in public school buildings during regular school hours. (see November 25, 1947)
November 22 Peace Love Art Activism
November 22, 1963
Cold War
In Paris, the C.I.A. gave a disaffected comrade of Castro's a poison pen that was to be used against the Cuban leader. It was never used. (see Dec 20)
John F Kennedy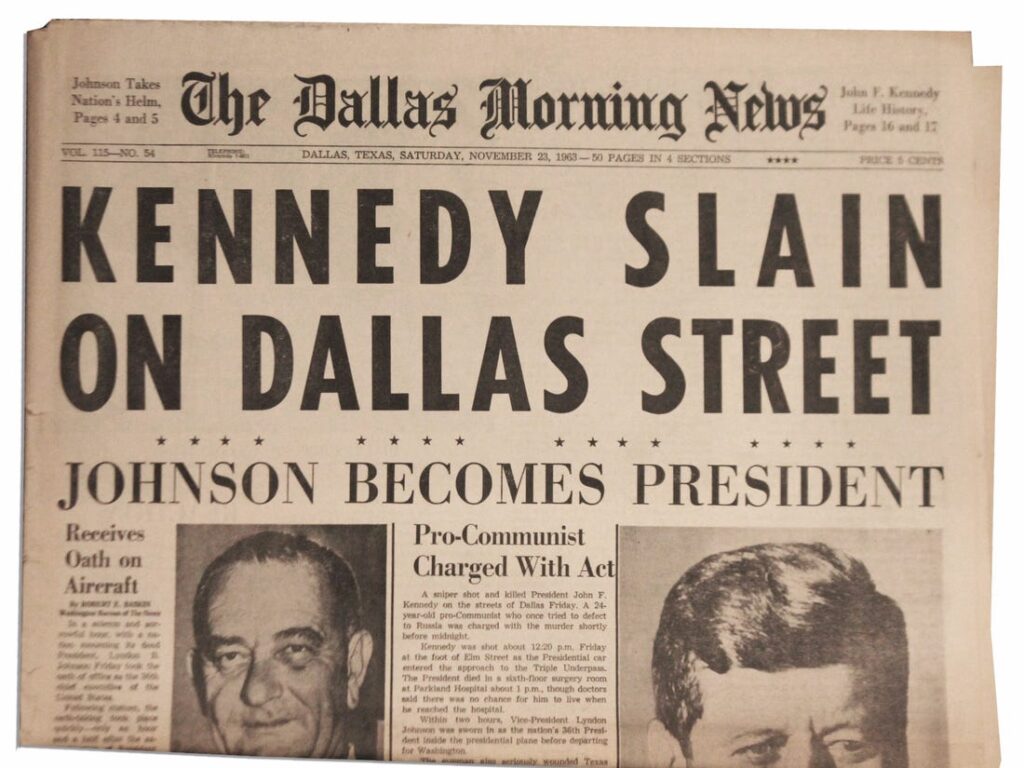 November 22, 1963: JFK assassinated in Dallas. LBJ sworn in. (see Nov 24)
Space Race & Technological Milestone
The Relay 1 first broadcast. It was to be a prerecorded address from the President Kennedy to the Japanese people, but was instead the announcement of the Kennedy's assassination. Later that day, satellite carried a broadcast titled Record, Life of the Late John F. Kennedy, the first television program broadcast simultaneously in the U.S. and Japan.  (Space Race, see October 12, 1964; TM, see Dec 7) 
November 22 Peace Love Art Activism
Beatles/CBS
November 22, 1963: The "CBS Morning News With Mike Wallace" runs a story on the Beatles for the network's morning news show.  CBS planned to repeat the segment that evening on Walter Cronkite's newscast.  However, that day, in mid afternoon, Walter Cronkite was breaking the tragic news to a shocked nation that their President, John F. Kennedy, had been shot and killed while visiting Dallas, Texas.
Beatles/with the Beatles
The UK release of the 2nd Beatle album: with the beatles (see Nov 29)
LSD
On his deathbed, unable to speak, Aldous Huxley made a written request to his wife Laura for "LSD, 100 µg, intramuscular." (see June 17, 1964)
Bob Marries Sara
November 22, 1965:  during a break on his tour, Dylan married Sara Lownds in a secret ceremony on Long Island, NY. The only guests were manager Albert Grossman and a maid of honor for Sara.  A son, Jesse Byron Dylan, will be born on January 6, 1966. (see March 16, 1966)
Alice's Restaurant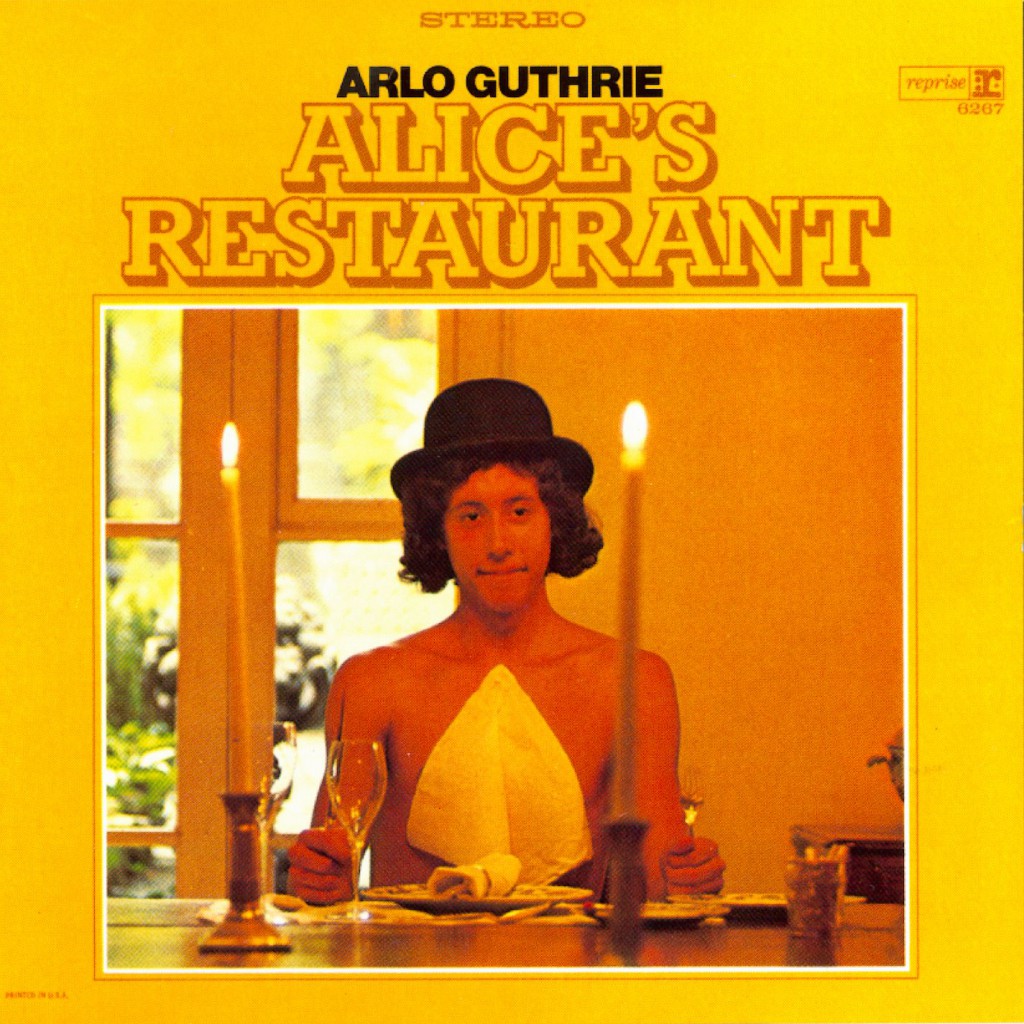 November 22, 1967:  Reprise Records released Arlo Guthrie's "Alice's Restaurant" album.
White album
November 22, 1968: released The Beatles, usually referred to as the White Album. [link to site with information] The "White Album's" original working title was A Doll's House, which is the name of Henrik Ibsen's play written in the 19th century. In addition, according to Geoffrey Giuliano, author of The Beatles Album, an illustration was prepared for the cover of A Doll's House by the famed artist Patrick. However the title was changed when the British band Family released the similarly titled Music in a Doll's House ear­lier that year. The plain white cover was opted for instead after McCartney then requested the albums sleeve design "be as stark a con­trast to Peter Blake's vivid cover art for Sgt. Pepper's Lonely Hearts Club Band as possible, the complete opposite of it…" he said. (see Nov 28)
Kinks
November 22, 1968, The Kinks released The Kinks Are The Village Green Preservation Society album.
The Vatican, Jesus and the Beatles
November 22, 2008: the official Vatican newspaper L'Osservatore Romano suggested that the infamous statement by John Lennon of the Beatles– who outraged many people in 1966 by saying that the band was "more popular than Jesus"– should be recognized as "the boasting of an English working-class lad struggling to cope with unexpected success." In an editorial marking the 40th anniversary for the "White Album," L'Osservatore Romano said that the influence of the Beatles has shown "an extraordinary resistance to the effects of time, providing inspiration for several generations of pop musicians." (see June 18, 2010)
November 22 Peace Love Art Activism
Jack Kevorkian
November 22, 1998: CBS's "60 Minutes" aired Kevorkian's videotape of Thomas Youk.  The broadcast triggered an intense debate within medical, legal and media circles. (see JK for expanded chronology)
November 22 Peace Love Art Activism
TERRORISM
November 22, 2005: Jose Padilla, an American once accused of plotting with al-Qaida to detonate a radioactive "dirty bomb," was charged with supporting terrorism. (see April 22, 2006)
November 22 Peace Love Art Activism
Stop and Frisk Policy
November 22, 2013: a federal appeals panel denied a request by lawyers for New York City that it overturn Judge Shira Scheindlin's sweeping ruling on the Police Department's stop-and-frisk practices on grounds that her impartiality had been called into question. The city had sought to have Scheindlin's ruling vacated, but the appeals court declined the request, effectively saying the appeal process should run its course. The appeals court added that the city could renew its request later as part of the full appeal. (see Dec 16)
The city's request appeared to be strategic. While Mayor Michael R. Bloomberg disagrees with Judge Scheindlin's ruling, Mayor-elect Bill de Blasio does not, and has promised to withdraw the city's appeal when he takes office in January. Ending the appeal would mean that Judge Scheindlin's order would most likely go into effect. (see Nov 29)
November 22 Peace Love Art Activism
Women's Health
November 22, 2017: U.S. District Court Judge Lee Yeakel struck down Texas restrictions on a common second-trimester  abortion procedure, ruling that the law blocked a woman's constitutionally guaranteed right to an abortion.
The Texas law, Senate Bill 8, which was supposed to go into effect in September, would have required doctors to stop the heart of a fetus before it could be removed in an abortion, Yeakel ruled that the law imposed an unnecessary medical procedure on women with no known benefit to them.
"The Act does not further the health of the woman before the fetus is viable," Yeakel wrote. [Reuters article] (see Dec 6)
November 22 Peace Love Art Activism