November 29 Beatles singles
The way most fans first heard the Beatles was by way of their singles, those little records with the big holes. By late 1963, the Beatles were exploding in the UK and the Ed Sullivan fuse was lighted for early 1964.
They recorded "I Want to Hold Your Hand" on October 17, 1963 and Parlophone released it in the UK on November 29, 1963, more than two months before that famous Sullivan Show appearance. There were more than one million advance orders. With such numbers, it must have hit #1 immediately, yes?
November 29 Beatles Singles
No
Their hit "She Loves You" blocked "I Want to Hold Your Hand" for two weeks before it finally reached #1 on the British charts. Once there, it stayed for five weeks and remained in the UK top fifty for twenty-one weeks in total.
Capital records released "I Want to Hold Your Hand" in the US on December 26. With great backing by Capital (unlike their previous US releases). It became the Billboard #1 single on February 1, where it stayed for seven weeks to be replaced by, you guessed it, "She Loves You."
November 29 Beatles Singles
Exactly six years later…
A lot of troubled water had passed under the Beatle bridge between the UK release of "I Want to Hold Your Hand" and the double-A sided "Come Together/Something" hitting #1 on the Billboard Hot 100 exactly six years later on November 29, 1969.
John Lennon wrote "Come Together" though writing credits showed the traditional Lennon/McCartney authorship.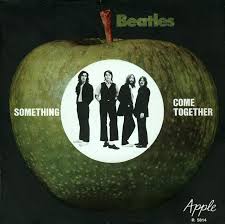 According to Lennon, "The thing was created in the studio. It's gobbledygook; Come Together was an expression that Leary had come up with for his attempt at being president or whatever he wanted to be, and he asked me to write a campaign song. I tried and tried, but I couldn't come up with one. But I came up with this, Come Together, which would've been no good to him – you couldn't have a campaign song like that, right?"
For a more contemporary view of the song and Lennon, see >>> Imagining John Lennon, In a Time Of Anguish
November 29 Beatles Singles
George Harrison
And on November 29, 2001,  musician, singer, songwriter, and music and film producer George Harrison died.
November 29 Beatles Singles