Cheap Thrills Love Child
Cheap Thrills Love Child. What?
On November 30, 1968 two ladies were at #1. Diana Ross & the Supremes with their "Love Child" single and Big Brother & the Holding Company's Janis Joplin's "Cheap Thrills" album. I would never compare these great singers. The sexy silky smooth Motown's Ms Ross. The tough as nuts, sensitive as a teenager's ego Texas Janis.
We Baby Boomers were fortunate to have such women sing to us.
Cheap Thrills Love Child.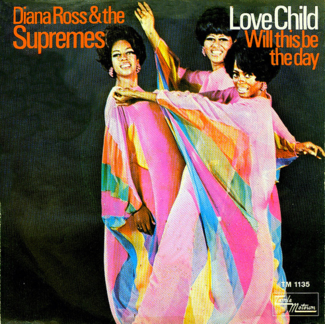 Cheap Thrills Love Child
So Long Hey Jude
On November 30 (until December 13, 1968) Diana Ross  & the Supremes' single, "Love Child" became the Billboard #1 single. It was their 11th #1 single in the US. It knocked the Beatles' "Hey Jude" out of the #1 spot, a spot "Hey Jude" had held for two months.
Cheap Thrills Love Child.
I started my life in an old, cold, rundown tenement slum
My father left, he never even married Mom
I shared the guilt my mama knew
So afraid that others knew I had no name
Cheap Thrills Love Child
Big Brother
On the same date, November 30 (thru December 20, 1968) Big Brother and the Holding Company's Cheap Thrills returned to the Billboard #1 album spot. It had alrady been there from October 12 to November 15 when Jimi Hendrix's Electric Landland album replaced it for two weeks.
It's tough to choose one song from Thrills, but to my mind "Ball and Chain"  has one of the greatest starts to any song ever. It leaves you hanging…and then simply drops you!
Janis loved comic artists. R. Crumb in particular. She asked him to do something and what he came up with is an unforgettable album cover, one for the ages and one that listeners held and stared at while the album spun — over and over.
According to Columbia's art director John Berg:  [Janis] Joplin commissioned it, and she delivered Cheap Thrills to me personally in the office. There were no changes with R. Crumb. He refused to be paid, saying, "I don't want Columbia's filthy lucre."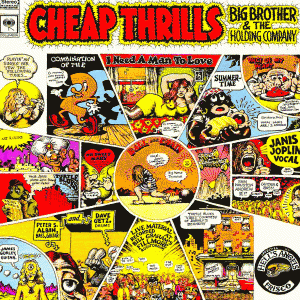 Cheap Thrills Love Child
Janis Joplin
Janis Joplin was only with Big Brother from 1966 to 1969 and Cheap Thrills was her last album with them. But what an album! Rolling Stone magazine's review didn't quite think so, but the NYT wrote quite a bit about Big Brother & Janis. Ironically, today the cover is ranked number 9 on Rolling Stone's list of one hundred greatest album covers.
Cheap Thrills Love Child
Cheap Thrills Love Child. Cheap Thrills Love Child. Cheap Thrills Love Child.