November 11 Peace Love Art Activism
Anarchism
Haymarket Riot executions
On May 4, 1886, a labor demonstration for an eight-hour workday at Haymarket Square in Chicago turned into a riot when an anarchist bomb exploded leaving more than 100 wounded and 8 police officers dead. After Chicago authorities arrested and detained nearly every anarchist and socialist in town, eight men, who were either speakers in or organizers of the protest, were charged with murder. On this date, November 11, 1886,  George Engel, Adolph Fischer, Albert Parsons and August Spies were executed; the date will be commemorated as "Black Friday" in radical circles.(Haymarket, see June 26, 1993; Anarchism, see "August – December 1889")
World War I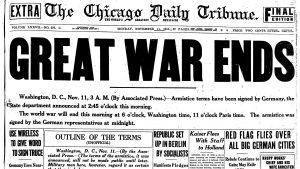 November 11, 1918: World War I ends. (see April 30, 1919)
November 11 Peace Love Art Activism
Feminism
Voting Rights
November 11, 1909: Alice Paul arrested for throwing stones through a window at the Guildhall while the Lord Mayor's banquet was in Progress. Inside the hall, Lucy Burns found Winston Churchill, waved a tiny banner in his face, and asked him, "How can you dine here while women are starving in prison?" (Feminism, see Nov 22; VR, see December 2010)
Women's Health
November 11, 1921: the first national birth control conference in the U.S. was organized by birth control pioneer Margaret Sanger and held at the Plaza Hotel in New York City. The official list of sponsors included such notables as Winston Churchill, a member of the British Parliament and future Prime Minister, and the celebrated American novelist Theodore Dreiser. (Birth control conference) (see Nov 13)
Church of England
November 11, 1992: The Church of England voted to allow women to become priests. [UPI] (see March 11, 1993)
November 11 Peace Love Art Activism
Fellowship of Reconciliation
November 11, 1915: The Fellowship of Reconciliation (FOR) was a pacifist organization which became one of the leading advocates for the right of conscientious objection to participation in war during World War I. The FOR continues its mission today. (FOR site)
November 11 Peace Love Art Activism
INDEPENDENCE DAYS
Poland
November 11, 1918:  Poland independent after 123 years of partitions by Russia, Prussia, and Austria. (see Nov 18)
Rhodesia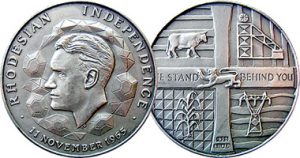 November 11, 1965:  Rhodesia proclaimed its independence from Britain. (see 1960s for full list)
Angola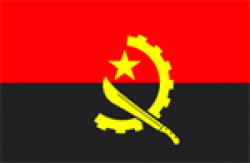 November 11, 1975: Angola independent of Portugal. [BBC article] (see Nov 25)
November 11 Peace Love Art Activism
US Labor History
Anarchism and Wesley Everest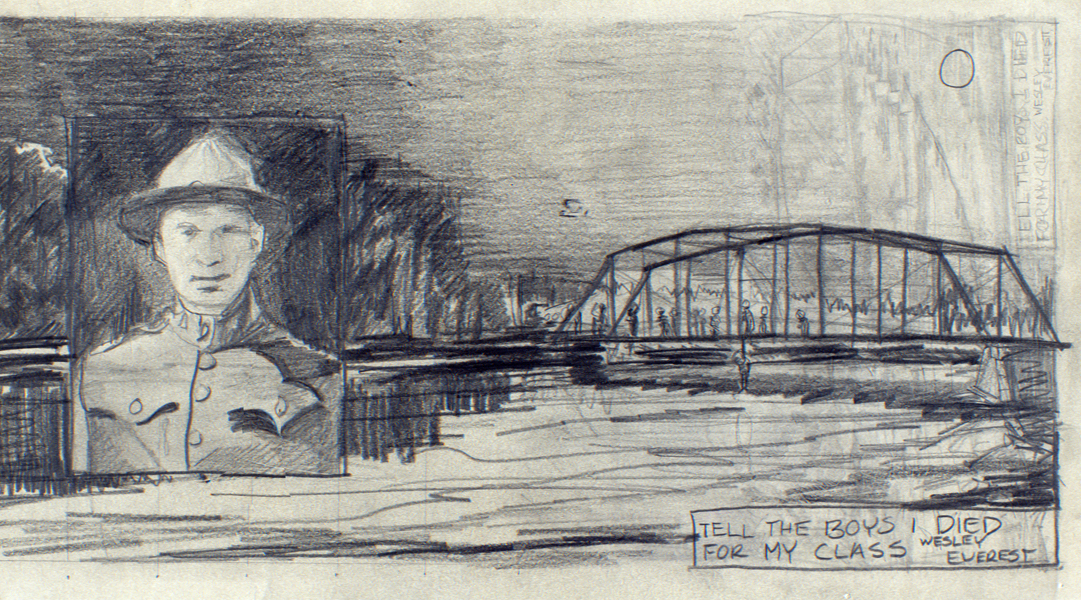 November 11, 1919: in Centralia, Washington International Workers of the World member and army veteran Wesley Everest was turned over to a lynch mob by jail guards and lynched. [libcome.org article] (see January 8, 1920)
November 11 Peace Love Art Activism
LGBT
 Harry Hay, Mattachine Review
November 11, 1950 in Los Angeles, gay rights activist Harry Hay founded America's first national gay rights organization. In an attempt to change public perception of homosexuality, the Mattachine Society aims to "eliminate discrimination, derision, prejudice and bigotry," to assimilate homosexuals into mainstream society, and to cultivate the notion of an "ethical homosexual culture."
The group's name name was from a fictional jester who told truths to the king no one else dared to. [NYPL article] (see December 15, 1950)
November 11 Peace Love Art Activism
Lonnie Donegan
November 11, 1956: Paul McCartney saw skiffle king Lonnie Donegan perform at Liverpool's Empire Theatre. The concert inspired McCartney to start playing the guitar. Shortly afterwards he traded the trumpet he had received four months previously on his 14th birthday for a guitar.(see July 6, 1957)
…seven years later…
Brian Epstein & Ed Sullivan
November 11 – 12, 1963: Beatles manager Brian Epstein traveled to New York and persuaded Ed Sullivan to book the Beatles for an unprecedented three consecutive appearances on Sullivan's much-watched Sunday evening variety show – February 9th, 16th and 23rd, 1964.  CBS-TV got one year's exclusive rights to the Beatles' U.S. television appearances. (see Nov 15)
Sam Cooke
November 11, 1964, Sam Cooke recorded A Change Is Gonna Come. (see Change for more)
November 11, 1968: Two Virgins album released. It was composed of the experimental tapes of various sound effects made in May of 1968. The cover showed John and Yoko posing nude. The album released in a brown paper. (see John Yoko for more)
November 11 Peace Love Art Activism
Vietnam
South Vietnam Leadership
November 11, 1960: Lieutenant Colonel Vương Văn Đông and Colonel Nguyễn Chánh Thi of the Airborne Division of the Army of the Republic of Vietnam led a failed coup attempt against President Ngô Đình Diệm of South Vietnam. (Vietnam, see Dec 20; SVL, see February 27, 1962)
POW release
November 11, 1967: in a ceremony in Phnom Penh, Cambodia, the Viet Cong released three POWs: Charles Jackson, Edward Johnson, and Daniel Pitzer, two of them African American.
The three men were turned over to Tom Hayden, a "new left" antiwar activist. U.S. officials in Saigon said that the released prisoners had been "brainwashed," but the State Department denied it. The Viet Cong said that the release was a response to antiwar protests in the U.S. and a gesture towards the "courageous struggle" of blacks in the United States.  (NYT article) (see Nov 20)
Long Binh
November 11, 1972: the U.S. Army turned over its base at Long Binh to the South Vietnamese army, symbolizing the end of direct U.S. military involvement in the Vietnam War. (see Nov 21)
November 11 Peace Love Art Activism
Space Race
November 11 – 15, 1966: on the last Gemini flight, Jim Lovell and Edwin "Buzz" Aldrin dock with an Agena and Aldrin makes three space walks, performing a number of physical tasks without undue effort. (see Dec 24)
November 11 Peace Love Art Activism
Stop and Frisk Policy
November 11, 2014: NYPD Commissioner William Bratton said the NYC Police Department was on pace to stop, question, and/or frisk about 50,000 New Yorkers in 2014. "This year, as of today, we've done about 45,000, so we'll probably end the year with about 50,000," Bratton told The New Yorker's Jeffrey Toobin at the American Justice Summit at John Jay College of Criminal Justice in Manhattan, according to Capital New York. "It'll be down about 75 percent from what it was last year."  [Huff Post article] (see Dec 31)
November 11 Peace Love Art Activism
 Japanese Internment Camps
November 11, 2017:  Walmart removed the posters it was selling on its website of Japanese-American incarceration during World War II. Walmart took them down after author Jamie Ford tweeted the company asking why it was selling the posters and noting the offensive description of the products.
One particular poster featured a child waiting to be taken to an incarceration camp, and was advertised as "the perfect wall art for any home, bedroom, playroom, classroom, dorm room or office workspace."
The commercial giant said, ""We are very sorry such a sensitive topic was handled in such an insensitive way. The description used for these products was beyond tone-deaf, and unfortunately it wasn't caught by us or the marketplace seller who listed these products on our site. When we were contacted about these over the weekend, we quickly removed the items from our Marketplace. We apologize this wasn't caught sooner." (see Internment for expanded story) [Huff Post story]
November 11 Peace Love Art Activism
Native Americans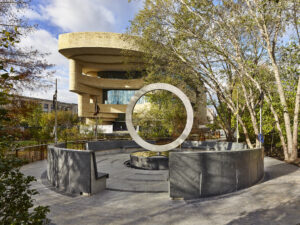 November 11, 2022: the National Native American Veterans Memorial designed by Harvey Pratt on the grounds of the National Museum of the American Indian in Washington, D.C. was dedicated.
Pratt said he chose concepts that he hoped would be universal to the nearly 600 recognized tribes of Native Americans, Alaska Natives, as well as Native Hawaiians.
"Unfortunately in American society, for the most part, American Indians are pretty invisible. The memorial is one way to represent, to make us visible," said Cynthia Chavez Lamar, a member of the San Felipe Pueblo tribe and the first Native woman to head a Smithsonian museum, who directs the museum. [NPR article] (next NA, see Nov 30)
November 11 Peace Love Art Activism